Personal Information Manager for Windows- How it Helps Organizing Our Daily Activities
Are you feeling stressed, overburdened due to personal and professional life? Do you think that 24 hours are not enough to manage all your daily activities? Are you able to manage time for your friends and family? If you don't, then there can be two reasons for that.
You are accumulating more work from the clients than you are able to handle. So, when you are unable to finish it on time, you are getting pressurized.
You are acquiring optimum work, but unable to organize it in the right way. Also, you might not know the right way to do it.
For the reason number one, you need to be patient, understand your limitations, and learn to say "NO" sometimes, to yourself and to your clients. Undertake work only whichever is possible for you, finish it before/on time and be relaxed, spend time with your family.
And for reason number two, we'll discuss some great ways to organize your daily/ weekly/ monthly/ quarterly tasks successfully and tell you how you can multitask without any stress! The method we'll discuss will not only save a few precious hours of you in a day but will also make you become an organized smart professional!
This amazing personal information management software will make it all possible, we'll discuss how it can help you. So just hang in there.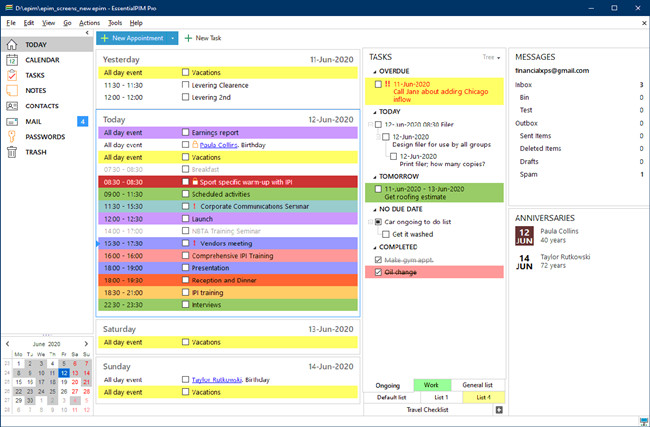 Prioritize Your Work
The EssentialPIM software has all the features and functionalities which allow you to introduce and set new tasks with setting up the priorities for each. There is an option called "task" where you can add a new task, give it a specific name so that you can easily identify it whenever needed, and also set a priority.
When you add multiple tasks in the same way, the software will check for the tasks which have higher priorities and will keep sending reminders to you so that you can finish them at the earliest. The best personal information manager will also show the progress of each task from time to time- so that you have a track of each of them!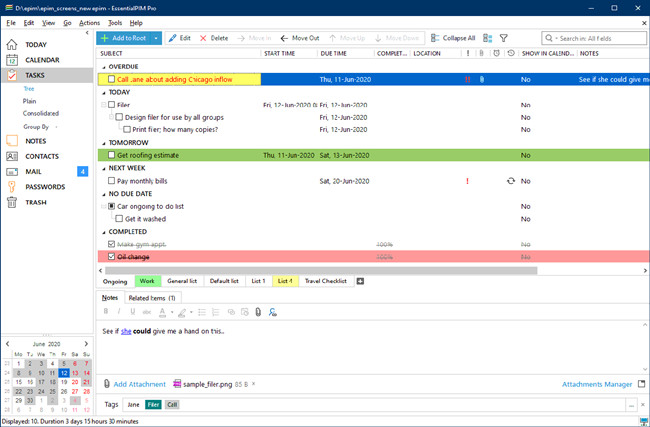 Related: How to Set a Program to High Priority on Windows 10, 8, 7
Don't Forget Your Best Friend's Birthday, Ever
Another excellent feature of this software is that it can be integrated with the Google Calendars, where you have options to mark the important dates with all its details such as a special note of the event, time of the event, date of the event, and more.
You may also set the notifications for the same event so that the software keeps sending you reminders about the event and you never miss it! So forget the tension about failing to wish your friend on his/her birthday, or not wishing your spouse on a marriage anniversary, the personal information manager will take care of it!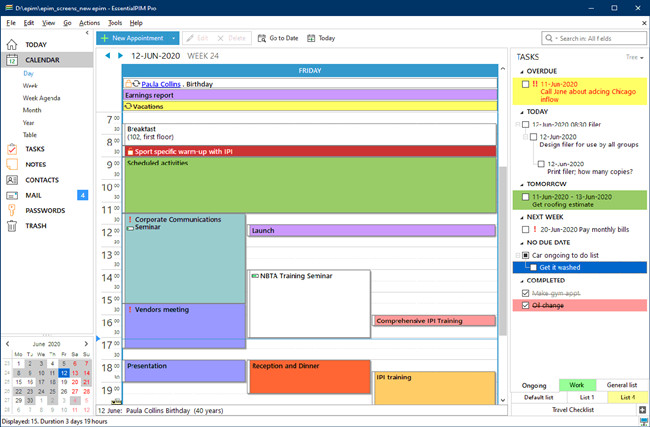 Store Important Data for the Lifetime!
EssentialPIM believes that data is the most important thing in anyone's professional life, the better you can manage it – the better professional you become. We often are in situations where we keep losing important data from time to time, as we don't store it somewhere which is secure.
But an essential personal information manager has an optional EPIM Cloud service that takes complete care of all that data you save in the software.
The service also allows you to sync the EPIM data with other copies of the software. Some data might not be that important for you today, but you might be searching for it eagerly at some point in time! That's why it is better to store them securely.
Don't Waste Time in Searching!
Surveys say that on average, people around the world regularly spend a lot of time just searching for information. It shows that there is a need for software that can search for information, retrieve that from the database, and show it to the person looking for it. That's what Google does!
Hasn't it saved our time in a big way, hasn't it changed our lives? But the problem is, we don't have Google searching for information from our personal desktop and let us find the data we immediately want for.
But not to worry! There's no Google, but there's EssentialPIM which will exactly show us the data we are looking for within just a single click! It features an excellent tagging system where you can tag any information while storing any event, task, or anything else that is related to it.
Through the tags, the tool will find the exact data you are looking for and show you the results. Those tags will work as the keywords, just the same way the search engines like Google does it for all. There's also an advanced search option for more advanced users and their advanced searching needs.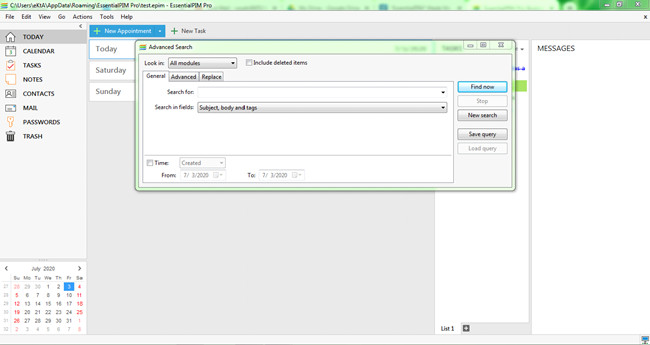 And yes, the best thing about this software is it's completely free of cost! You can easily download and install the Windows version of it for free by visiting this link. Also, the free versions for Android and iOS devices and tablets are available on the EssentialPIM official website.
In case if you are looking for more features with advanced functionalities, then you can opt for the paid (Pro) version of EssentialPIM.
More Articles:
How to Set CPU Priority to Prefer Foreground Applications
How to Search for a Word on a Web Page Windows 10
Change Language in Google Search Results and Google Chrome Settings