[5 Ways] Razer BlackWidow Chroma V2 Driver Error
The Razer BlackWidow Chroma V2 is an excellent gaming wired keyboard that has become a must-have for gamers. However, some gamers have reported that their Razer Chroma V2 occasionally exhibits driver errors. If so, you will not be able to play games. It's annoying.
Fortunately, you can use this article to understand some potential causes of this error and explore the 5 best ways to deal with it.
Why is Razer BlackWidow Chroma V2 not working?
Some Windows 10/11 users have reported that their computer does not detect the Razer BlackWidow Chroma V2 keyboard, or the keyboard does not respond no matter what they try to type. We have thoroughly investigated this error and found several potential culprits that could cause this error to appear on Windows. Here is a list of potential reasons that could trigger this error:
Connection issues – Make sure your keyboard is properly connected to your computer and doesn't have any USB socket issues, as your connection is usually the trigger.
Razer Synapse version issue – You may also encounter this error code if you are trying to run a version of Razer Synapse that is not fully compatible with your Windows system.
Outdated/faulty keyboard drivers – A potential keyboard driver conflict could also be the root cause of this particular issue.
Dedicated keyboard driver not installed – You may also have this issue because the dedicated keyboard driver is not installed on your Windows computer. This usually happens with older BlackWindow Chroma iterations.
# Solution 1: Check the Physical Connection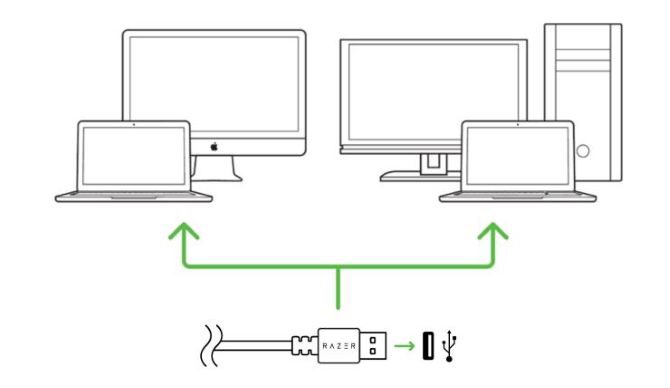 Before resorting to other solutions, you should first make sure that your Razer BlackWidow Chroma V2 keyboard is properly connected to your computer's USB port. The cable connecting the computer to the keyboard is plugged in. If you are using a USB keyboard, try connecting the keyboard to the ports on the front and back of the computer.
Check that the cable between the keyboard and the computer are securely engaged. Plug the keyboard into a different port if you've made sure it's connected correctly. If it works, the previous port is defective.
# Solution 2: Force the Firmware Menu
If you have a BlackWidow Chroma V1 keyboard model, you may simply be dealing with a firmware issue that prevents compatible drivers from being installed. If you are sure this is the case for you, then the problem is easy to solve. You may be able to force-install a compatible driver by holding down the FN key while plugging in the keyboard.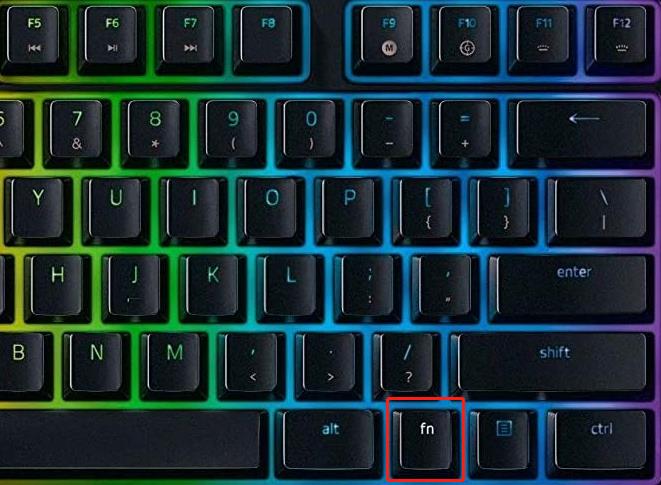 After a few seconds of connecting the keyboard by holding down the FN key while plugging it in, you should see a pop-up menu asking if you want to install the Razer keyboard driver. When this happens, follow the on-screen instructions to complete the installation of the latest driver version and see if the problem is now resolved.
# Solution 3: Update the Keyboard Driver
There are many reasons why a Razer BlackWidow Chroma V2 keyboard may not work properly. One of the most common is that your drivers are outdated. Keyboard drivers are important PC components that enable your keyboard to work with your operating system. If you have any issues with your keyboard, you need to update its drivers first. Updating your keyboard drivers provides better performance and stability.
Driver Booster is a free driver updater tool for Windows that quickly and safely updates outdated and faulty drivers and installs the best matching missing drivers for your device drivers and gaming components. Driver Booster searches for the perfect driver for your hardware from their database, which supports over 6 million devices and drivers from over 1200 major brands. You can install, update or even uninstall directly from IObit Driver Booster.
Driver Booster is not just a driver scan tool. It can also use its built-in tools to fix "no sound", "wrong resolution" and "network failure" errors to keep your PC system and external devices running smoothly. Therefore, Driver Booster has become the best choice for users to update drivers with faster scanning speed, more optimized update engine, faster update and higher success rate.
Step 1: Download, install and run Driver Booster on Windows 11 or Windows 10.
Step 2: Press SCAN.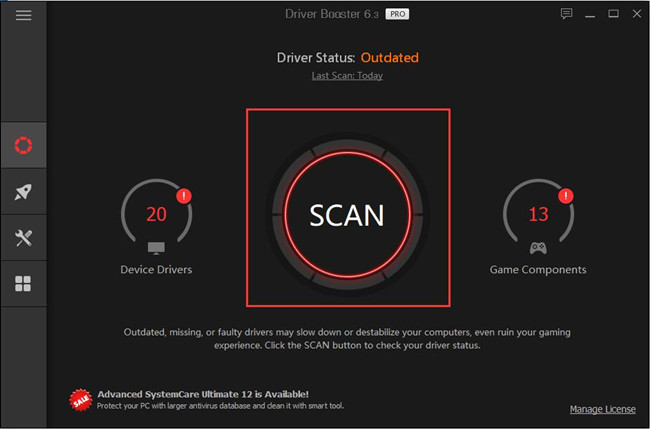 After clicking the icon Scan, Driver Booster will scan the PC drivers. It can be stopped when clicking STOP. After finishing scanning, the list of missing or outdated drivers will display on the left side.
Step 3: Find out your Razer BlackWidow Chroma V2 keyboard and click the icon Update next to it to download the latest driver for this keyboard device.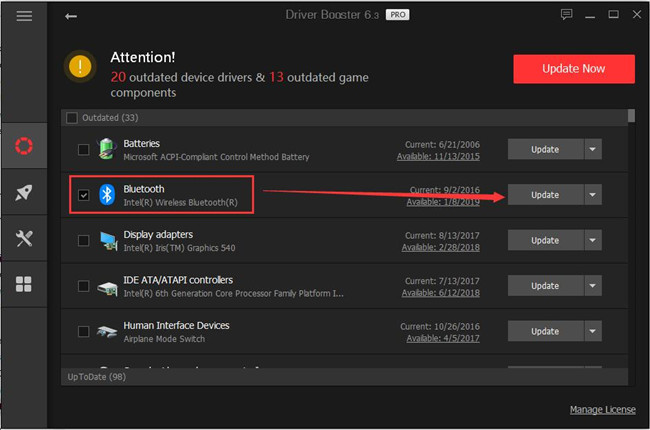 Tips: You can also select Update Now at the top right of the interface to install all the outdated drivers with one click.
# Solution 4: Uninstall and Reinstall Razer Synapse
If you are experiencing this issue with the Razer BlackWidow Chroma V2 driver error only when the Synapse utility is running in the background, you can fix it with the hotfix released for Razer Synapse. Razer Synapse is a cloud-based program that allows you to manage and store configuration settings for Razer peripherals.
To take advantage of this fix, you should uninstall the current version of Razer Synapse before installing the latest available version from official sources. To do so, follow the instructions below:
Step 1: Click the Start icon and type Control Panel on the search box.
Step 2: Click Control Panel to open it.
Step 3: Choose Programs and Features.
Step 4: In the Programs and Features window, select Razer Synapse and click Uninstall.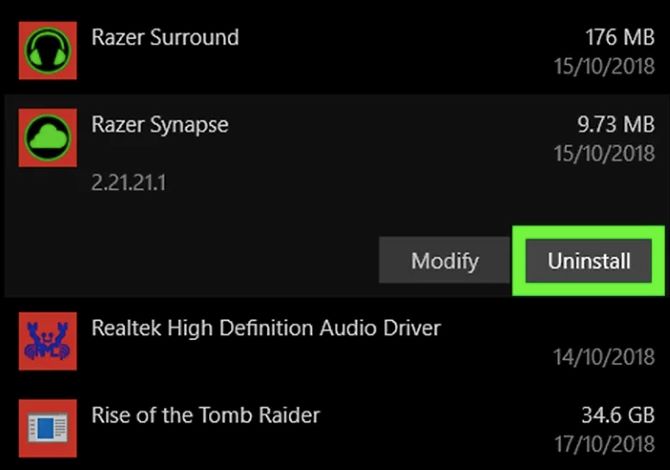 Step 5: Inside the uninstallation screen, follow the on-screen instruction to complete the uninstallation process.
Step 6: Restart your system and check if Razer Synapse is deleted from Programs and Features. If it's gone, that means the tool was uninstalled correctly and deleted.
Step 7: Go to the official download page of Razer Synapse.
Step 8: Click on the Download Now icon.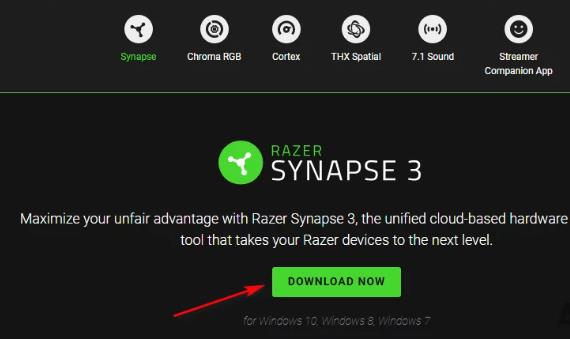 Step 9: After downloading the file, double-click it and follow the on-screen prompts to complete the installation process.
# Solution 5: Contact Razer Support
If none of the above methods work for you, the next logical solution is to contact official Razer support and ask them to mitigate the issue. Razer takes customer support very seriously and offers several ways to get in touch with them.
If you need to contact Razer Support, you can do so by phone or email. Several users affected by this Razer BlackWidow Chroma V2 driver error have confirmed that getting in touch with a Razer support agent finally allowed them to resolve this issue.
Conclusion:
Hope this post helped you find the best solution for you out of the five solutions above to fix your Razer BlackWidow Chroma V2 Keyboard issues. Finally, if none of these solutions work, you may need to replace the keyboard itself.
More Articles:
Razer Kraken Mic Not Working on Windows 10, 8, 7
Download Razer Naga Drivers for Windows 10, 8, 7
Tags :
drivers
keyboard
razer