Download and Update Sabrent USB to Serial Driver (2023 Update)
A USB-to-serial adapter is a useful tool for connecting a computer to a serial port. The device allows high-speed data transfer from a cell phone or digital camera to a computer. It's important to download the latest version of the driver for your USB-to-serial adapter. This will ensure that your Sabrent USB to Serial device works well.
Therefore, this article will provide three effective methods to update the Sabrent USB to Serial driver. You can choose the manual update method or the automatic update method according to your own needs.
# What is USB to Serial Driver?
A USB-to-serial adapter, or USB adapter for short, is a protocol converter used to convert USB data signals to and from serial communication standards (serial ports). USB-to-serial adapters usually require a driver to be installed (provided on the CD that came with the adapter and usually also on the manufacturer's website).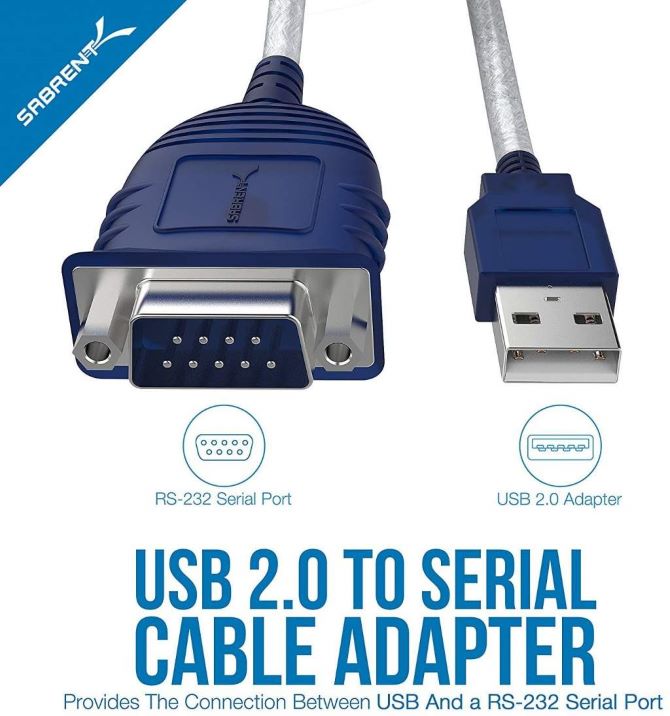 Potential risks of installing the wrong USB drivers include PC instability, slower performance, and random crashes.
The benefits of updating USB Adapter drivers include better hardware performance, enabling more hardware features, and enhanced general interoperability. Therefore, the following three methods will be introduced to update Sabrent USB to Serial driver.
# Update Sabrent USB to Serial Driver via Device Manager
Device Manager is an administrative tool that you can use to manage devices on your computer. Device Manager provides a graphical view of the hardware installed on your computer. All devices communicate with Windows through a piece of software called a "device driver."
You can use Device Manager to view and change device properties, update device drivers, configure device settings, and uninstall devices. So, if you are a newbie to computers, you can update your Sabrent USB to Serial driver with the following simple steps:
Step 1: Right-click the Start icon > Choose Device Manager.
Step 2: On the Device Manager window, unfold the Ports (COM & LPT) section.
Step 3: Find Sabrent USB to Serial option and right-click on it.
Step 4: Select Update driver.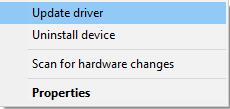 Step 5: Select Search automatically for updated driver software.
After searching, Windows will automatically install a fresh driver for your Sabrent USB to Serial device. Once done, restart the computer.
# Automatically Update Sabrent USB to Serial Driver
Although Sabrent USB to Serial drivers should be updated through Device Manager, it usually doesn't work. What is widely loved and supported by users today is to use an automatic driver update tool. And Driver Booster is one of the most popular software among them.
Driver Booster automatically fetches recommended drivers and updates for your hardware. It supports more than 8,000,000 device drivers and can fix missing/wrong/outdated driver issues to help you reduce system freezes and crashes. To ensure the safety of users' computers, Driver Booster only provides qualified WHQL drivers, and the newly adopted HTTPS connection can encrypt your connection with the server when downloading drivers.
Driver Booster also makes it easy to keep your graphics drivers and Game Ready drivers always updated for optimal hardware performance and taking your games to the next level. It also quickly shuts down background processes and unnecessary Windows services to unleash the full potential of PC gaming. Therefore, you can download Driver Booster to update all outdated drivers including Sabrent USB to Serial driver on your PC.
Step 1: Download, install and run Driver Booster on Windows 11 or Windows 10.
Step 2: One-click the Scan icon.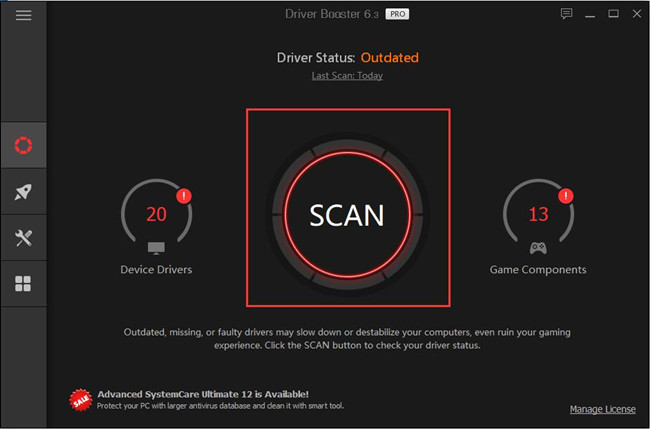 Driver Booster starts detecting all the drivers installed on your PC and after detection, it will give you a list including information about the outdated, missing, and faulty drivers.
Step 3: Find out Sabrent USB to Serial and click the icon Update next to this device.
Tips: You can choose to update all the outdated drivers at one time. Just click the option Update Now at the top right.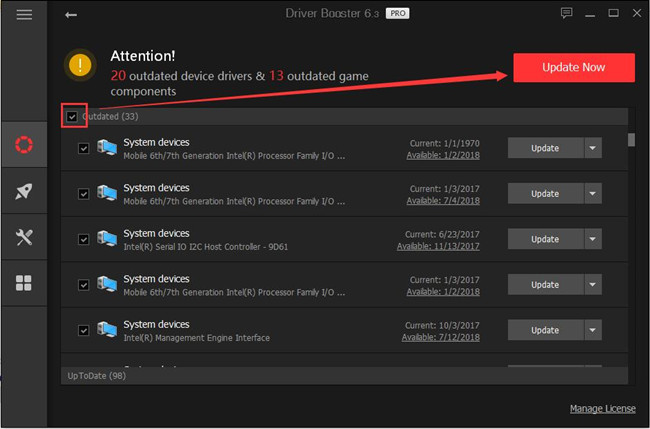 Step 4: Wait for the updating to be completed.
The driver update time lasts about 6 minutes on a PC and 22 minutes on a laptop.
# Manually Update Sabrent USB to Serial Driver via the official site
The driver will not be installed until it has been submitted to Microsoft and approved by them. Some due to a lack of resources may find uploading these drivers on their official website a more convenient option. Drivers downloaded from the manufacturer will be the most rigorously tested and the latest available. The manufacturer is almost always the original source for any drivers you find elsewhere.
Finding the correct USB to Serial driver on Sabrent's website can be very difficult and often requires a lot of time searching. Even for experienced computer users, it's still a long time. Incorrect driver versions can complicate your PC's performance and sometimes cause more damage. But if you insist on using this method, the following steps may help you.
Step 1: Go to the official site of Sabrent.
Step 2: Click the Support option at the top of page.
Step 3: On the Support page, click the Downloads icon.

Step 4: Type your product model number into the search box.
For example, if you have the Sabrent RS-232 device, you should input RS232 into the search box as the picture shows.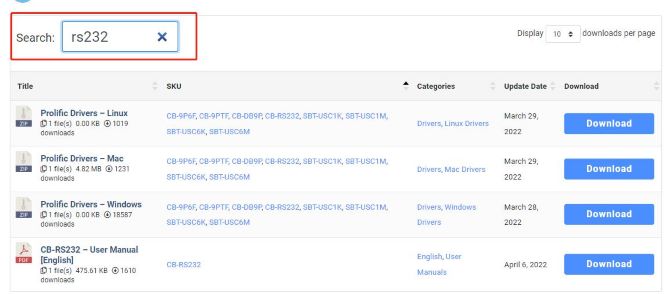 Step 5: Make sure your operating system.
Sabrent's official site supports you to download the driver for Linux, Windows, and Mac. So, according to your own OS to choose the file.
Step 6: Click the Download icon next to the file that is compatible with your OS.

Step 7: After downloading, follow the instructions on the screen to finish the Sabrent USB to Serial driver installation.
# FAQ about Sabrent USB to Serial Driver
Q1: How do I update the Sabrent USB to Serial drivers?
Manually, you can update Sabrent USB drivers through Device Manager, or automatically using the driver update software – Driver Booster.
Q2: Why is Sabrent USB to Serial not working?
Sabrent USB to Serial not working is usually caused by a driver issue, such as an outdated, corrupt, or bug in the current version. While there may be other reasons, they are not necessarily driver related.
Q3: Do you need a driver for Sabrent USB to serial?
Yes. To handle the packets and move data in and out of the program accessing the USB device, a software driver is needed. The software driver sits between the hardware and the computer program you are using, and it must be installed and working correctly.
More Articles:
Download FT232R USB UART Driver on Windows 11/10/8/7
Download USB OTG Drivers for Windows 11/10/8/7
How to Download WD SES Devices USB Device Driver for Windows 10, 8, 7
Tags :
drivers
usb issues