How To Record Nintendo 3DS Gameplay With/Without Capture Card
Are you looking for an easy way to record your Nintendo 3DS gameplay in high quality? Are you interested in showing how amazing you are on 3DS gameplay with friends, family, or the online community?
The Nintendo 3DS is one of the most popular gaming devices. If you are a passionate Nintendo 3DS gamer, you may need a reliable tool to capture your 3DS gameplay effectively, namely, to record 3DS gameplay.
However, the Nintendo 3DS does not have a default method to record the gameplay within the device. What should you do to record 3DS gameplay? Just read this guide to find efficient and easy solutions.
In this post, we'll show you how you can record your Nintendo 3DS on your laptop or computer, as well as what equipment you need to record and how to start recording right away.
Tips: While this guide focuses on recording Nintendo 3DS gameplay, you can follow this tutorial to record Nintendo Switch gameplay as well.
2 Ways to Record Nintendo 3DS Gameplay
Developed in 2010, the Nintendo 3DS has now released two variants (Nintendo 3DS XL, Nintendo 2DS) and three upgraded versions (New Nintendo 3DS, New Nintendo 3DS XL, New Nintendo 2DS XL).
If you have got a Nintendo 3DS gaming device, and you're searching for a way to record the gameplay, this post will get you covered.
There are generally two methods to record 3DS gameplay, one is the recommended method which is using a capture card, and another is without it. You can record 3DS gameplay on your PC using the recommended method.
Now that you know the different methods to record Nintendo 3DS gameplay, let's find out how these two methods work. Continue reading and pick one of them to record on 3DS gameplay now!
Way 1: Record 3DS Gameplay with Capture Card on PC (Recommended)
If you want to record 3DS gameplay with high quality, using a capture card will be the recommended method.
The capture card allows video recording and uploading on your PC effectively. There are a bunch of game capture cards for different devices available in the market.
For Nintendo, there is a special card known as a 3DS capture card, which allows you to record your 3DS gameplay with ease.
Now let's get into the step-by-step guide on how to record 3DS gameplay with capture card.
Two Steps you should Do:
Step 1: Connect Your 3DS Gameplay to Your PC
1. To begin with, you should purchase a Nintendo 3DS capture card in the market. Make sure it comes along with an additional Mini USB port.
2. Install the 3DS capture card to the 3DS game console. Connect an HDMI cable from your console with the input port, then run another HDMI cable from the card's output port to your PC monitor.
3. Now connect your 3DS capture card to your PC using a USB cable.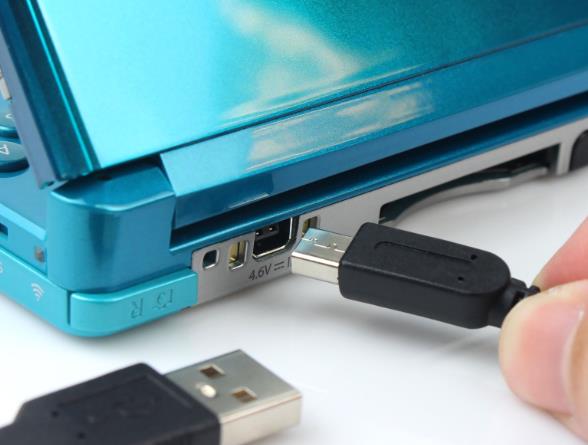 4. Install Nintendo 3DS viewer software. This software comes along with your 3DS capture card.
5. Once you connect your Nintendo 3DS to PC, you can quickly start streaming 3DS gameplay on your PC.
Step 2: Record 3DS Gameplay on Your PC
Now, the 3DS gameplay is displayed on your computer. What you need to do is to choose a professional screen recorder to help record what happens on your computer screen.
iTop Screen Recorder is such a helpful and easy-to-use recording tool that we'd like to recommend. This 3DS gameplay screen recorder utilizes hardware acceleration to record 3DS gameplay in 4K UHD, 1080p 60fps FHD with no fps drops and no lags.
It also empowers you to record 3DS gameplay with a microphone voice and yourself at the same time through a webcam. You can take screenshots during recording to capture your best 3DS gameplays and highlights.
Key features of iTop Screen Recorder:
Flexibly select any 3DS gameplay area for recording without a time limit
Record 3DS gameplay with system audio, microphone, and webcam
Record HD gameplay video with advanced hardware acceleration, no lag
Support various output formats and edit videos after recording
Upload recorded 3DS gameplay to YouTube, Facebook, and Twitter immediately
Next, we'll show you how to record your Nintendo 3DS gameplay with iTop Screen Recorder step by step.
Steps to record 3DS gameplay with a desktop screen recorder
1.Download and install iTop Screen Recorder on your PC, then launch it to proceed.
2. Select either full, half, or a specific area for recording 3DS gameplay on your computer screen.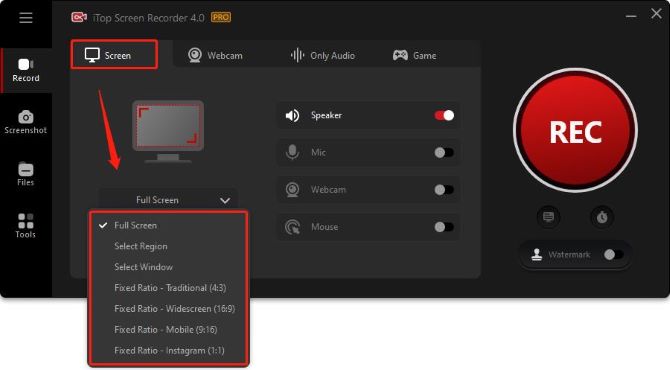 3. Turn on the speaker, mic, mouse, and webcam to record 3DS gameplay with yourself and yourself speaking.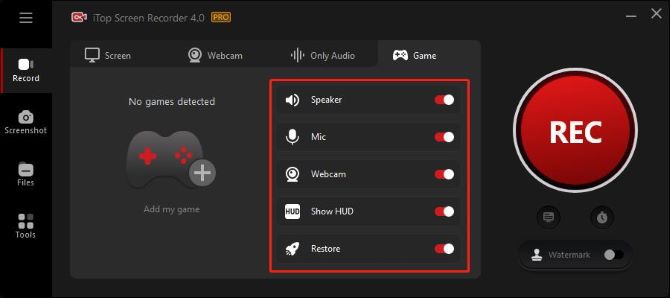 4. Click Settings (three lines on the top left), then scroll down.
Under Record, select enable hardware acceleration to record 3DS gameplay with no lag.
Under Mouse, choose to add highlight effect or add click animation to your mouse display.
Scroll down to Webcam. Toggle on record webcam overlay while recording if you need to capture yourself playing 3DS games. Select the detected camera as webcam, and choose the overlay position and overlay size of the webcam.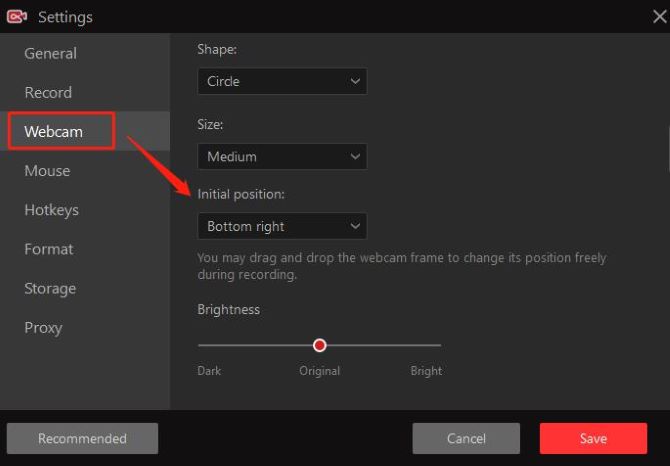 Tips: You can also adjust the video format, size, quality, and advanced audio settings by scrolling down to format.
5. Start recording Nintendo 3DS gameplay by clicking the red REC button.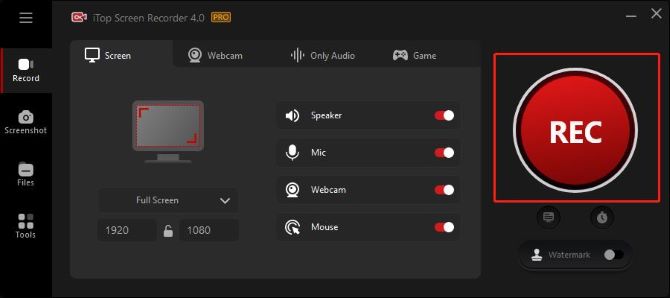 Tips: If you want to take screenshots while recording, press the F11 hotkey.
6. To stop recording 3DS gameplay, click on the red stop button on the floating toolbar anytime. Click on the pause button to temporarily stop recording.

Check the recorded 3DS gameplay video from Files > Video. Right-click the video name to preview, edit, denoise, or view it in the local file.
You can now go ahead and upload your recorded 3DS gameplay to YouTube after login YouTube website.
iTop Screen Recorder has a concise interface that is friendly to first-time users and those who are not so skilled in PC techniques.
Tips: If you'd like to record 3DS gameplay without downloading another software and signing up, the iTop online screen recorder is a handy tool for you to choose from.
Way 2: Record Nintendo 3DS Gameplay Without Capture Card
If you do not have a capture card or don't want to spend money on buying one, is there any method you can still apply to record your 3DS gameplay?
Yes. You can record 3DS gameplay without a capture card. In this case, you will use a smartphone or an external digital camera to record the Nintendo 3DS screen.
However, this will take a lot of effort before you can record your 3DS.
You will need a stable tripod for both the smartphone and the Nintendo 3DS device. It might record unnecessary noise in your surroundings since you are using an external recording device. Also, the video quality may not be satisfying.
But still, it is an economical method to capture Nintendo 3DS videos and is a lot cheaper than buying a 3DS capture card.
Steps to start recording 3DS without a capture card
1. Set your smartphone or digital camera on a tripod and adjust till you get a perfect-focused position on your 3DS gameplay.
2. Open the digital camera or the camera on your phone, and look for a suitable view angle that can capture your full 3DS screen. Adjust the light to get the best video.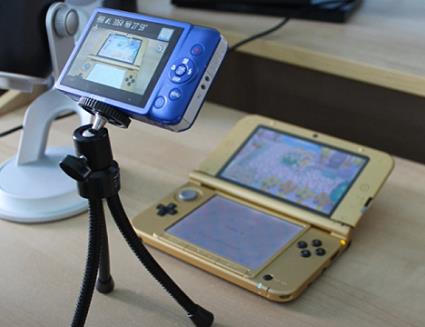 3. If you are using a phone to record, make sure every other application running on your phone is closed during this period to prevent interruptions from notifications.
4. Ensure your recording environment is calm and begin your 3DS gameplay recording.
5. Turn off your digital camera or phone camera if you are done with the recording, then save your video.
With this tutorial, you should now be able to capture the Nintendo 3DS gaming videos with ease. After recording on 3DS gameplay, you can share the video with friends, and upload it on social media like Facebook, YouTube, and Twitter as you like.
FAQs about How To Record 3DS Gameplay
Q1: Can I record my 3DS gameplay without a capture card?
A: Yes. To record 3DS gameplay without a capture card, you can use a digital camera or your smartphone. Just fix the device on your tripod, adjust the settings, then click the record button to start recording.
Q2: How to record a Nintendo 3DS gameplay on PC?
A: To get started, you should connect your computer to your Nintendo 3DS using a USB cable and two HDMI cables. Then choose a desired desktop screen recorder to capture the 3DS gameplay on your PC.
Q3: What are the capture cards for recording on 3DS gameplay?
A: Elgato HD60 S is recommended to record 3DS game videos. This capture card is compatible with the Nintendo 3DS games and with others such as PS5, Xbox One, etc. It allows you to capture footage at 1080 and 60 FPS and deal with 3DS gameplay efficiently.
Q4: How to record myself playing Nintendo 3DS games?
A: You can use a professional third-party screen recorder to capture your Nintendo 3DS gameplay and yourself simultaneously with the webcam feature.
Q5: What are the advantages to record the 3DS gameplay video on a PC?
A: Record 3DS gameplay on PC, you can save your recorded video easily and there is no need to transfer the files. You can also avoid complex steps that Nintendo set up to cumber you in storing, editing, and posting your personal video.
More Articles:
How to Record VR Gameplay on PC
How to Record Steam Gameplay on PC
Tags :
screen record