Fixed: Slow Internet Speed on Windows 10, 8, 7
All of a sudden, you find your PC internet slows down on Windows 10. It shows slow downloading speed and keeps loading in browsing a website or watching a YouTube video. Strange enough, your internet speed is high all the time except when you download something online. Or your computer internet gets slow after Windows 10 upgrade.
In either case, you need to boost the internet to better optimize your PC on Windows 10, 8, 7 or Mac as well.
Why is My Internet so Slow?
The slow internet may be caused by a variety of reasons. But when getting to the bottom of the network connection, you can easily narrow down the culprits. For fast-speed internet, high-quality WIFI router and PC with good functionalities are necessary. In this sense, such elements like the internet router or modem, network signal, and the network drivers and settings on your PC can affect the performance of the internet greatly.
Understandably, if your network router is corrupted, or WIFI signal is weak, or network driver is incompatible on an old computer, Windows 10 slow internet speed will come up.
How to Fix Internet Slow on Windows 10, 8 7?
Anything related to the network can never be fixed with a single method. There is much need for you to troubleshoot the internet on your PC from one factor to another. Now, take your time and patience to speed up the internet on Windows 10.
Solution 1: Test the Internet Speed on Different Devices
First and foremost, to make this problem easier, you would better figure out it is either the problem with your device or the issues with the network hardware.
You need to:
1. Connect different devices to the network and check whether all the devices, PC on Windows 10 or the smartphone are working at low internet speed.
2. Check if your PC can get high network speed when connected to another internet connection.
By way of these operations, you can know if the slow internet is due to your device or the network router or modem. That is to say, provided all the computers and mobile phones are reacting slowly with the network on, perhaps your network connection itself went wrong. More often than not, your network cable is corrupted, or WIFI router loses its functionalities or the connection works under the influence of bad weather.
Solution 2: Fix Slow Internet Automatically
Whatever, on encountering Windows 10 slow internet, you can directly make full use of a tool to boost the internet speed. That will significantly save your time and energy. Here Advanced System Care is capable of helping you speed up the internet. More specifically, this powerful tool can optimize the network connection of the browsers like Firefox, Microsoft Edge, Internet Explorer, etc. Of course, it will boost the overall internet speed on Windows 10.
1. Download, install and run Advanced SystemCare.
2. Under Toolbox, click Internet Booster.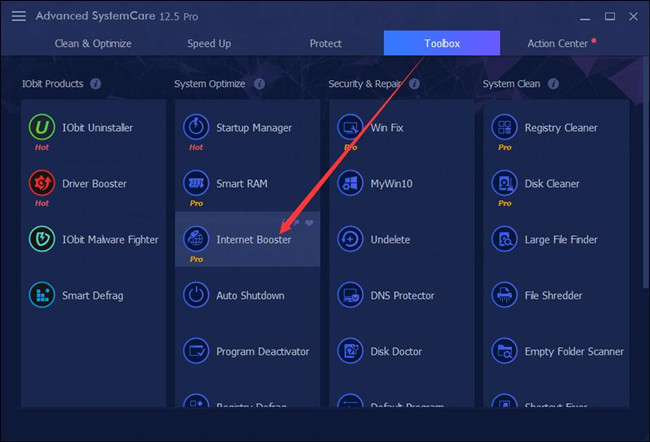 Then you can see Advanced SystemCare will install this toolbox immediately.
3. In IObit Internet Booster, under TCP Optimize, hit Recommended or Optimize TCP.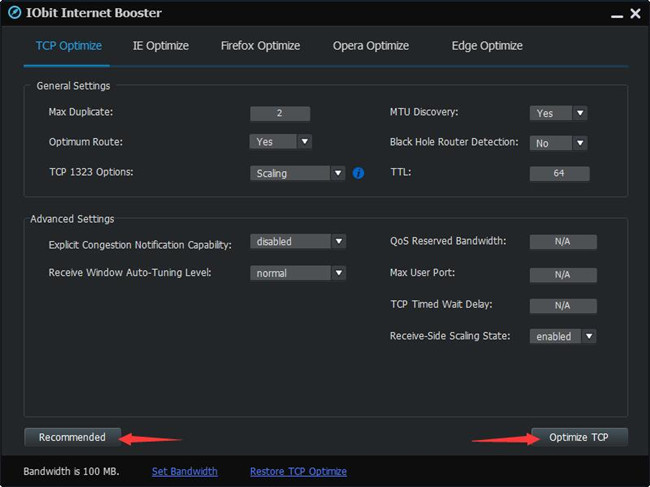 Advanced SystemCare will automatically recommend the best settings or optimize the settings to speed up the internet, such as Optimum router and QoS Reserved Bandwidth.
Here if you meet with slow internet in some browsers, like IE, Firefox, Opera, Microsoft Edge, it is worth a shot to utilize Advanced SystemCare to boost the browsing internet speed automatically.
For instance, if you feel like optimize IE network settings for enhanced speed, you can go on.
4. Under IE Optimize, click Recommended or Optimize IE.
As you can see, Internet Booster will consider all the internet-related settings to speed up the network in IE, including Host Resolution Priority, DNS Error Cache, Performance Optimization, and Appearance Optimization.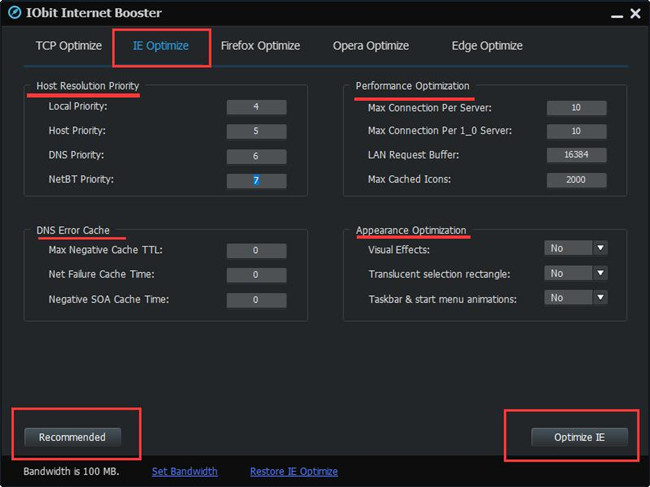 Possibly, Advanced SystemCare can greatly boost the internet speed and get rid of slow internet smoothly and automatically.
Solution 3: Restart the WIFI Router
As for some users, if you prefer to increase internet network speed on your own, you have to get down to every respects that may influence the network. After checking in Solution 1, if you are sure that the problems lie in your device settings or network configuration rather than the external factors, you need to fix the internet slow from WIFI router.
In case the network router runs into error after long-time use, you can turn it off for a while and then turn on it. Most people find it useful especially the network is so slow as if it is going to drop.
Solution 4: Remove Network Signal Interference
Once you rebooted the router or modem, but the internet seems slow as well, shift your attention to network signal instead. Sometimes, placing the PC too far from the WIFI router or many barriers may get your network down on Windows 10.
In this way, you can try to put your PC closer to the signal or remove the items blocking the network.
On the other hand, too many devices connecting to a network will, of course, slow down the internet. You can disconnect some devices, or close some applications in line with the priorities.
Solution 5: Set No Network Bandwidth Limit
By default, Windows 10 will only work at 80% network bandwidth with the left 20% for Windows Update, Windows-based programs, services, etc. Now for faster internet speed, you can get the most of the network unless there are any available updates on Windows 10.
1. Press Windows + R to elevate the Run box and then type in gpedit.msc in the box.
2. In Group Policy, bound for Computer Configuration\Administrative Templates\Network\QoS Packet Scheduler.
3. Under QoS Packet Scheduler, on the right pane, double click Limit reservable bandwidth to change the properties of bandwidth limit.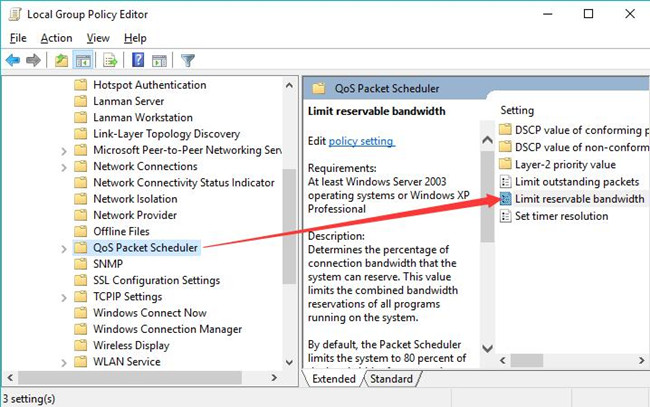 4. Set Limit reservable bandwidth Enabled and then make Bandwidth limit 0.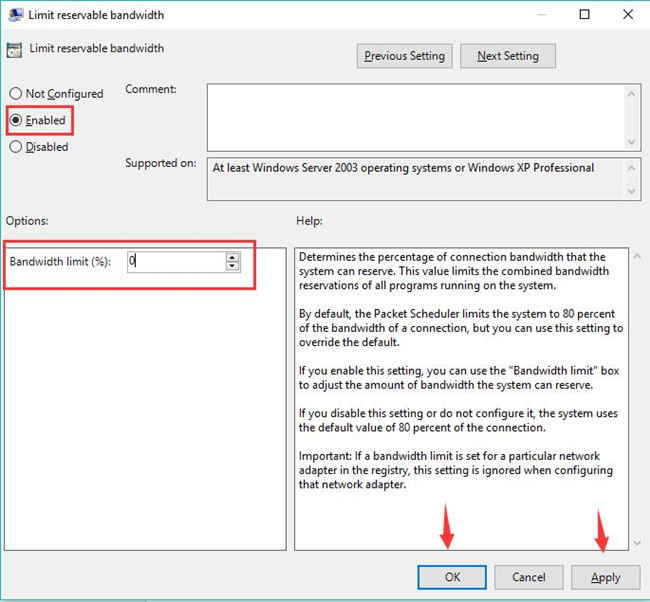 5. Stroke Apply and OK to save changes.
Without any bandwidth limit, you can enjoy much faster internet on Windows 10. Internet extremely slow after Windows 10 Creators Update will disappear.
Solution 6: Update the Network Driver
Incompatible or corrupted network driver won't bring you high-speed internet. Especially, supposing you are plagued by slow internet after Windows upgrade, there is a surge of need to make sure the WIFI driver is updated.
Since your internet speed is slow, here there is a high probability that you need to ask a professional and reliable tool. Driver Booster, the top one driver updater, is no doubt the best helper for you to get the latest network driver for Windows 10. Meanwhile, to some extent, Driver Booster is capable of fixing network failure, including internet with low speed.
1. Download, install and run Driver Booster.
2. Hit Scan. Driver Booster will start automatically searching for missing, outdated, and faulty drivers.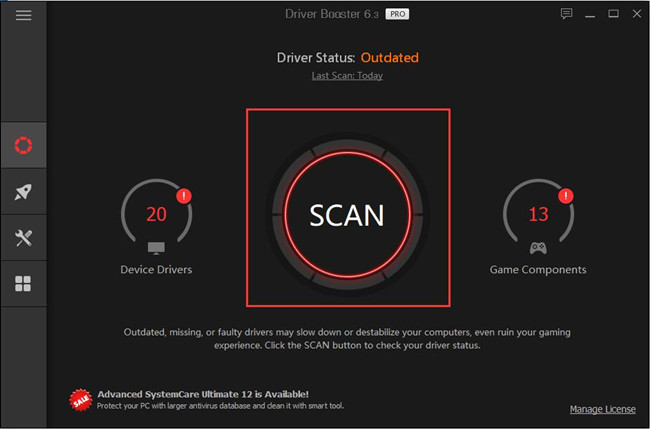 3. Locate Network adapters and Update the network driver.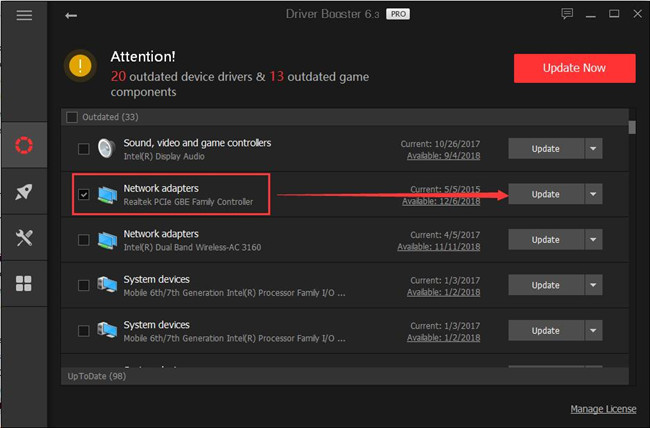 4. On the left side, choose Tools and then Fix Network Failure on the other side.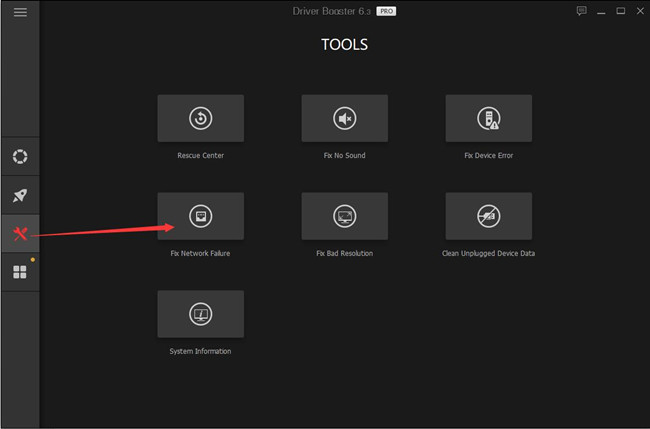 Once Driver Booster updated the WIFI driver and tried fixing the slow internet, check if Windows 10 slow WIFI goes faster.
Solution 7: Change DNS Settings
DNS configuration can also impact the internet speed on Windows 10. There is a chance that websites load slowly in some browsers like Google Chrome. In this case, you would better ascertain you have set the most suitable settings for the DNS or TCP/TP address.
1. Go to Start > Settings > Network & Internet > Change adapter options.
2. In Network Connections, right click the network to open its Properties.
3. Double click Internet Protocol Version (TCP/IPV4).
4. Then tick the circles of Obtain an IP address automatically and Obtain a DNS server address automatically.
4. Click Apply and OK.
Here if you find it burdensome to change the settings, it is also available to finish this operation in Advanced SystemCare. It will automatically allocate the most suitable DNS address for you.
In Advanced SystemCare, go to Toolbox > DNS Protector. Then you can choose whichever DNS you want or just restore it.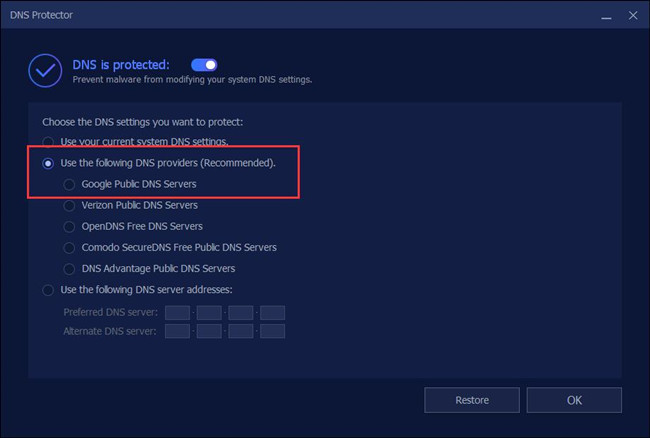 Have you sped up the internet on Windows 10 now? You can attempt to browse to check it.
Solution 8: Disable Windows Auto-tuning
Of course, Windows Auto-tuning can transfer more efficient data, but as users reported, it can also bring forth conflicts, leading to slow network speed.
1. Input Command Prompt in the search box and then right click it to Run as administrator.
2. In Command Prompt, enter the command netsh interface tcp show global and then press the Enter key to check if Windows Auto-tuning level is Normal.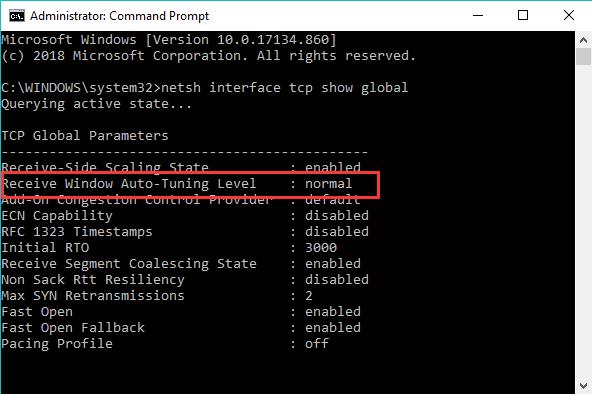 3. If your Windows Auto-Tuning Level is Normal, try to run the command netsh int tcp set global autotuninglevel=disabled to disable it.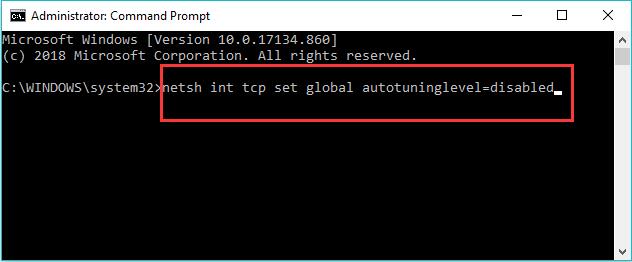 The instant Windows Auto-tuning has been disabled, you can also boost the internet on Windows 7, 8, 10.
Solution 9: Disable Background Intelligent Transfer Service
It is believed that this Background Intelligent Transfer Service (BITS) will occupy idle network bandwidth so as to enable programs like Windows update, MSN Explorer to download programs or files. There is nothing strange that this service will lead to slow WIFI connection on Windows 10. From this point of view, stopping the background service is worth a try to fix Windows 10 slow internet.
1. Press Windows + R to activate the Run box and then enter services.msc in the box.
2. In Services, aim at and right click Background Intelligent Transfer Service to open its Properties.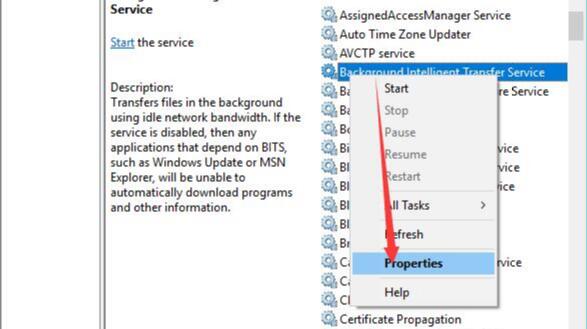 3. Under General, locate BITS Startup type to set as Manual.
4. Click Apply and OK.
In doing so, BITS won't take up bandwidth to download Windows update automatically unless you allow it. And you know how to speed up your internet in Windows 10 from a different way.
Bonus Tip:
It goes without saying that different PCs with different hardware and software configuration will enjoy different internet speeds even if connected to the same network. In this respect, there is a high probability that you would better use a tool to help maintain your PC.
For this part, Advanced SystemCare can also accomplish that automatically. It will clean and optimize the system for the immediate response of the PC. In case slow internet on Windows 10 shows on your computer now and then, just have a try.
In Advanced SystemCare, under Clean & Optimize, check the box of Select All and then choose to Scan for the PC with malicious files, registries, programs that may block or use up network bandwidth.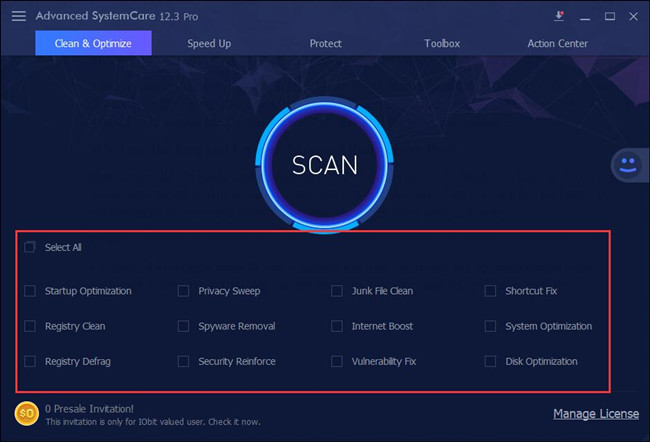 To conclude, if the above ways are of avail to you, don't be upset, try contacting the ISP for help or paying more for better network service. But in most cases, ways offered here can fix internet slow problem for most of you.