How to Stop Device Census from Using Webcam Windows 10
From this post, you can get the answer to the question "What is Device Census and why is it using my Webcam". Some of you are wondering why on Windows 10, there is always a process device census constantly using your camera.
Every time you start Windows 10, the device census is running on your PC with occupying too much CPU.
Thus cause various system problems, such as slow performance in some programs. So you may sometimes want to disable device census on Windows 10 in order to stop it from using a webcam.
It is high time that you got down to dealing with this device census keep accessing webcam after the last Windows 10 update. But in the very beginning, you may need to figure out what exactly this device census is. And then learn to disable device census as you wish.
What is Device Census?
Generally, the device census Kaspersky is to examine your system and tell Microsoft which build would match perfectly on your PC if there is an update.
As you know, on Windows systems, there is a kind of Telemetry Service with which Microsoft get to know whether some hardware errors happening to your PC.
And as a part of this Telemetry service, device census is the process featuring on gathering data on the usage of the webcam on Windows 10.
That is why every time you start your PC or webcam, you can always see that the device census is using the webcam.
Normally, device census will access your PC automatically without your permission.
How to Stop Device Census from Using Webcam?
If you do not hope the device census uses the webcam on Windows 10 unwittingly, there are two options open to you, either choosing to deactivate webcam or to disable device census on your PC.
It is up to you whether you are to stop device census or to make changes to the webcam settings on Windows 10.
Let's get ready to restrict the access to Webcam on Windows 10.
Now that you do not want the device census to constantly use your webcam on Windows 10, you may as well attempt to manage the applications using a webcam. You can determine which software can access the webcam and which cannot do that.
1. Navigate to Start > Settings > Privacy.
2. Under Camera, locate the choice Allow apps to access your camera and then decide to switch Off this option.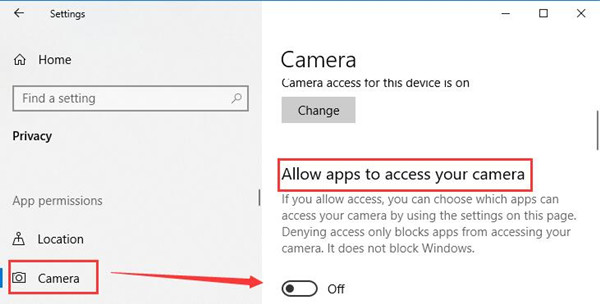 If you have disabled applications to access your camera, when you boot up, the error message that device census is using my camera will not come to you again on Windows 10.
Or to restrict a specific application from using a webcam, you can choose to do as the follows.
In Privacy settings, under Camera, find out the option Choose which apps can access your camera.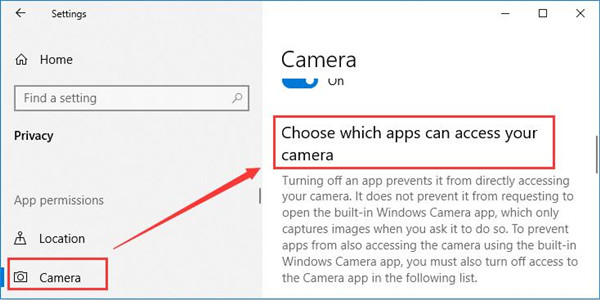 Under this circumstance, you can select the applications which can access the camera on your PC, such as Cortana, Feedback hub, etc. And device census constantly using camera will also be fixed in this way.
To make a summarization, for this host process for Windows tasks is using the camera on Windows 10, like device census process, you are qualified to try to limit the usage of some software when using the camera, as you can see from this thread.
Related Articles:
Fixed: Logitech Camera Not Working Windows 10
Fixed: Skype Camera Not Working Windows 10
Tags :
camera