Solved: Unable to Start Dolby Audio Driver on Windows 10/11
When the Dolby advanced audio error that Unable to start the Dolby audio driver, please restart the computer or reinstall the driver if the problem persists happens to you, you must be very upset for you cannot enjoy the music, movie, etc.
In effect, the reason why the Dolby sound issue appeared is obvious which you can easily get from the popped error message, it is mainly due to the Dolby audio driver issues. You can solve the Lenovo, Acer Aspire, HP or any other brands of the computer cannot start the Dolby audio driver issues if you can follow the next ways.
You are suggested uninstalling and then updating the Dolby advanced audio driver to the latest version in different ways with reference to the next methods. What is more, you are also suggested changing the bit and depth of the Dolby audio.
Solutions:
Solution 1: Uninstall the Dolby Audio Driver
You will simply think about that you can reinstall Windows 10 Dolby audio driver in view of the error message, here you are able to follow the next procedures to make it start on Windows 10. But before you get down to uninstalling Dolby driver, you are supposed to remove the incompatible driver.
1. Open Device Manager.
2. In Device Manager, expand Sound, video and game controllers and then right-click the Dolby audio adapter to Uninstall device.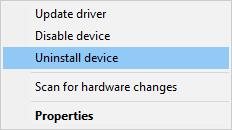 Here perhaps your audio driver is Lenovo Dolby audio driver or Dolby advanced audio driver for Windows 10.
After that, bound for Control Panel to get rid of Dolby advanced audio driver as well.
3. Right-click the Start button and click Control Panel from the list to open it.
4. Navigate to Programs and features and tap it to get into it.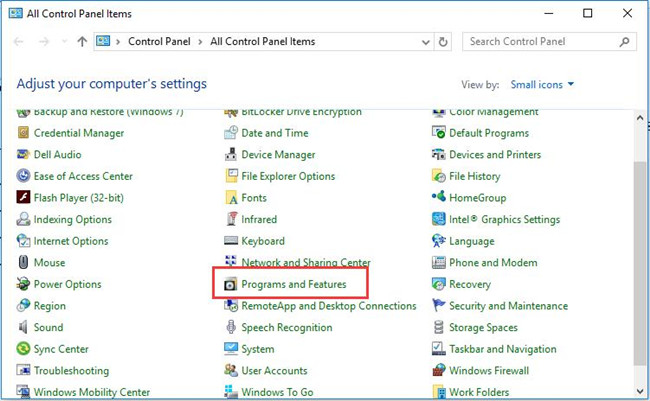 5. Find out the right Dolby audio driver and right-click it to Uninstall it.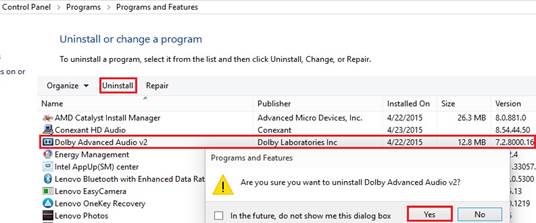 Here the Dolby driver is Dobly Advanced Audio v2. Maybe yours is Dolby digital plus audio driver 7.5.1.1.
It is often the case that you cannot find the exact Dolby audio driver when unable to start the Dolby audio driver happens in Windows 10.
In this way, you can also locate the IDT High Definition audio driver or Realtek audio driver or Conexant Smartaudio driver in Program and features window. Once you have found them, Uninstall them all.

And then you are required to reboot your laptop or desktop to make it take effect. Now you can start your Dolby audio driver and enjoy the beautiful music or games.
Solution 2: Reinstall Dolby Audio driver
You may have uninstalled the Dolby audio driver or any other audio driver from the control panel, now it is the time that you reinstalled them.
There are three different ways for installing the new Dolby audio driver you can choose to start the audio driver.
Firstly, go to the Manufacturer's site to download the new Dolby audio driver.
Secondly, reinstall the Dolby audio driver via device manager. Thirdly, download and install the Dolby audio driver automatically.
1. As for the first way to reinstall the audio drivers, you can directly go to the website to download the latest Dolby audio driver, such as Lenovo, Dell, ASUS official site. It is a way requiring your resourceful knowledge.
For instance, you are entitled to leave for Lenovo site to update Lenovo Dolby audio driver for Windows 10.
2. Choose to Update driver in Device Manager if you hope to get the Dolby sound driver within Windows 10.
3. The third way to automatically update Dolby driver demands you to download Driver Booster at the beginning.
Then you are instructed to click three clicks on the screen, namely, Scan > Update.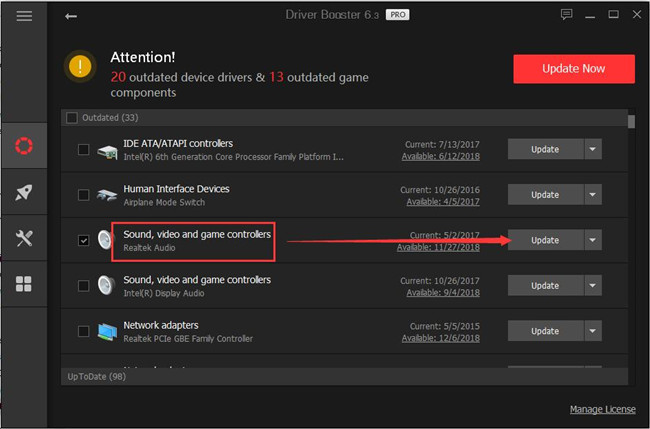 Each step is prepared to help you install the new Dolby audio drivers. Meanwhile, it is rather quick for you to install the audio driver for Windows 10 with the help of Driver Booster which is a safe and professional driver tool.
Here once you noticed you are still unable to start Dolby audio driver on Windows 10, you can take advantage of Driver Booster's Fix No Sound functionality under Tools tab on the left pane.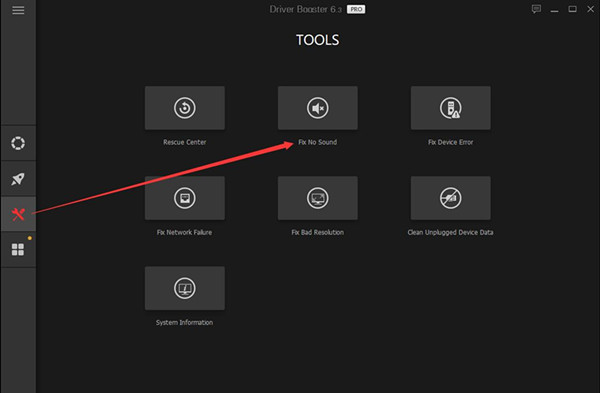 If you have reinstalled the Dolby audio driver and allowed Driver Booster to fix this Dolby sound issue, you can try to check if the Dolby audio driver is working.
Solution 3: Disable Automatic Driver Installation
Sometimes, Windows 10 will install the updated audio driver for you automatically so long as there is any update. In case the automatically updated Dolby audio driver is incompatible or corrupted, you would better choose to disallow automatic installation on Windows 10.
1. Right click This PC from the Desktop to open its Properties.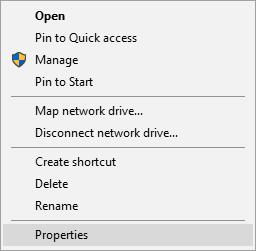 2. In Properties, find out Computer name, domain, and working settings and then decide to Change settings.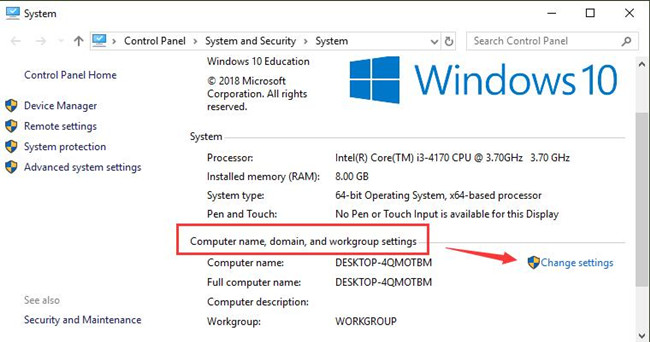 3. Under the Hardware tab, select Device installation settings.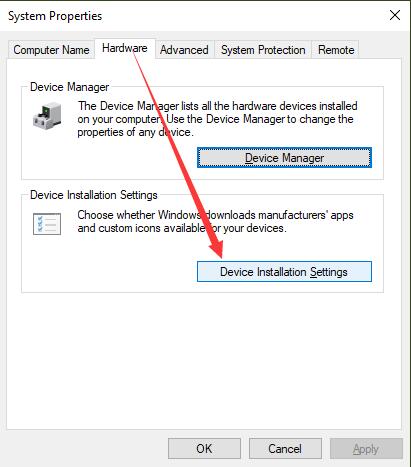 4. Then tick the circle of No to disable automatic device installation.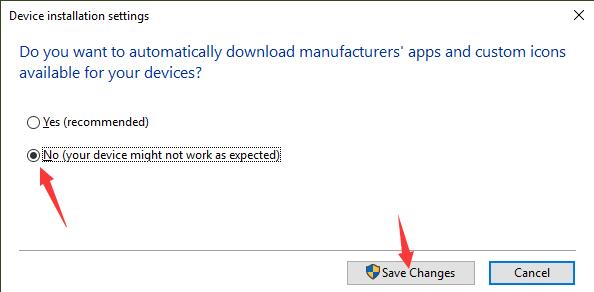 Lastly, hit Save Changes to make it happen on Windows 10. You can play a song to see whether unable to start Dolby audio driver remains on your PC. If needed, you may as well change the device installation settings to Yes to allow Windows 10 to automatically download manufacturer's apps and custom icons.
Solution 4: Change the default Format
In the condition where you cannot solve the Dolby audio driver not working or not starting issue by reinstalling the Dolby audio driver, it is a perfect choice for you to try to change the sound or headphone default format.
1. Right-click the sound or headphone icon in the right corner of the desktop. And here is the solution to fix sound icon missing in the taskbar if you can not find it.
2. Choose Playback devices.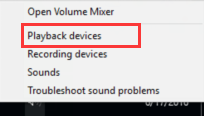 3. Right-click the Speaker or Headphone to set it as the default device. Here set the Speaker as the default device.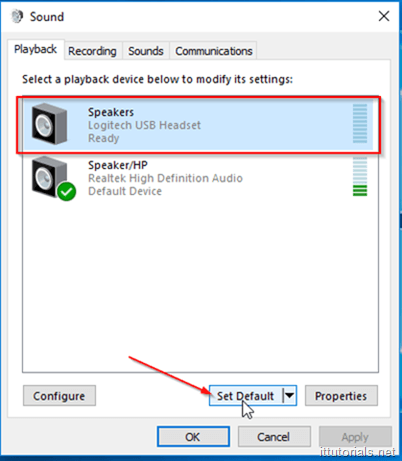 4. Click Properties to open it.
5. Scroll to Advanced and locate Default Format. Here you can change the rate and depth of the default device and then Test it to check if the Dolby audio driver is starting.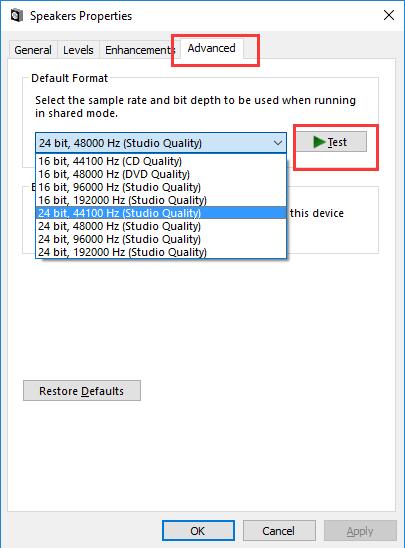 It is not easy for you to change a default format which can exactly solve the Dolby advanced audio driver does not start. So you are supposed to try changing it for several times until it works well on Windows 10.
In conclusion, if you are experiencing the Dolby audio driver unable to start, it is certain that you can find a solution from this article.
More Articles:
Fix Dolby Digital Live/DTS Not Working on Windows 11/10
Fixed: Multimedia Audio Controller Driver is Missing Windows 11/10
Tags :
audio issues
drivers