What is IDP.Generic and How Do I Remove IDP-Generic Virus
Now and then, your antivirus software like Avast or AVG detects that there is a virus on your computer named IDP.Generic. You have no idea what this IDP.Generic is, not to mention how to do with it. Below get through the so-called threat on your PC and then decide either to get rid of it or leave it alone.
Overview:
What is IDP.Generic? Is IDP.Generic a virus?
IDP, in this concept IDP.Generic, is short for Identity Detection Protection, while "Generic" refers to the generalized file recognized by the antivirus programs. That is to say, while the third-party software like Avast warns you that a file has been infected with IDP.Generic, it is actually unable to tell you which file it is.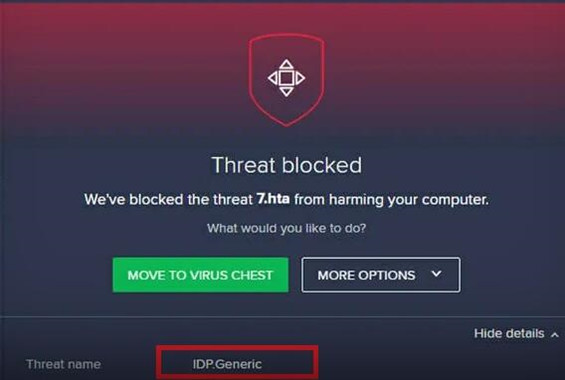 But from the definition, you may wonder if this IDP.Generic will steal your identity such as some private information. Yes, it will if files have indeed infected by it. However, in most cases, the reasons why your security software will prompt you of IDP.Generic virus consist in its outdated functions.
In other words, sometimes, antivirus programs like AVG have just failed to recognize this file, so it had to label it as a virus in case it is a real virus. That is to say, there is a high probability that IDP.Generic is a false positive as your antivirus program has just mistakenly taken it as a virus.
Related: What is Hxtsr.exe? How to Disable Hxtsr.exe on Your Computer?
How to check if IDP.Generic is a virus?
Anyway, it is wise for you to check the condition of the IDP.Generic with another powerful security software. As mentioned above, sometimes, if your antivirus software is outdated, it may be unable to recognize some files due to the lacking updates. For this part, there is much need to see if another virus detecting software would detect this IDP.Generic on your PC.
Of course, so long as the security software is reliable, it is up to you to utilize which one to give a full scan for your computer, be it Avast or AVG or Bitdefender. Here steps to use Windows Defender – Windows embedded antivirus tool to scan the virus and threats on Windows 10,8, 7.
1. Go to Start > Settings > Update & Security.
2. Under Windows Security, try to Open Windows Defender Security Center.
3. In Windows Defender Security Center, hit Virus & threat protection.
4. Then choose to give a Full scan for Windows 10.
If there is any virus, you will know from the scanning results of the Windows Defender. If IDP Generic has been categorized as a virus here, perhaps you need to take measures.
What to do if IDP.Generic Virus Avast is a False Positive?
If in another software, there is not IDP.Generic virus, maybe it displays that Avast IDP.Generic virus a false positive. Under this condition, you are supposed to get this IDP.Generic file out of the virus or threat list in Avast or any other antivirus software.
Here take IDP.Generic Avast as an example, and the steps below will show you how to fix this virus if it is a false positive.
1. Open Avast app.
2. Find out Protection > Virus Chest.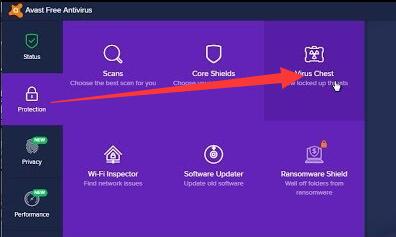 3. Then in Virus Chest, right click the file to Restore and add to exclusions.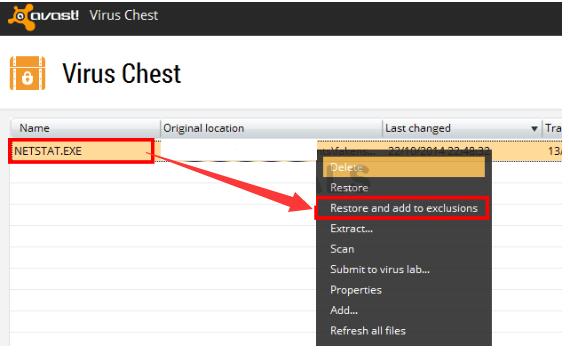 In this sense, the false positive will be removed as well. On your computer, if it is another antivirus program, you can follow similar steps to finish that as well.
How to Remove IDP.Generic virus?
Once two or more antivirus programs detect that there is IDP.Generic on Avast or AVG, which means that your private information such as banking information, password, etc. will be stolen by this virus. To put it in other words, IDP Generic is a virus rather than a false positive on your computer. So you can't help getting rid of it from Windows 10 to keep your information safe.
As said above, it is uncertain while file IDP.Generic refers to, but it may be infected by some software or any other components on your PC. Therefore, if you are to remove IDP Generic virus, it is mainly to make sure there are no threatening programs or files.
If Avast IDP.Generic pop up right after you downloaded certain software, try to uninstall that program in Control Panel > Programs > Uninstall a program > Uninstall.
Offer a full scan for your computer to ensure there is no problematic software, files, etc. on your computer.
If the above methods are useless, IDP Generic Avast remains, perhaps you have to restore your PC.
More: How to Disable and Uninstall Avast on Windows 10, 8, 7
How to Keep Away from IDP.Generic Virus?
As you can see, it seems tricky to get rid of IDP.Generic virus, so you would better pay more attention to daily use of PC to avoid the appearance of this IDP Generic virus. You may as well attach importance on details below.
1. Scan the computer at intervals.
2. Be careful when opening emails from unknown senders.
3. Don't browse insecure websites, etc.
4. Keep your antivirus software updated.
In a word, IDP.Generic virus can be complex in some cases, but it is hoped that this article will help you understand it better and fix IDP Generic Avast issue.