Fixed: GeForce Experience Error Code 0x0003 on Windows 10, 8, 7
It is a common phenomenon that NVIDIA GeForce Experience crashes with an error message that "Something went wrong. Try rebooting your PC and then launch GeForce Experience. Error Code: 0x0003". Sometimes, you will also stumble upon GeForce Experience error code 0x0001 on Windows 10.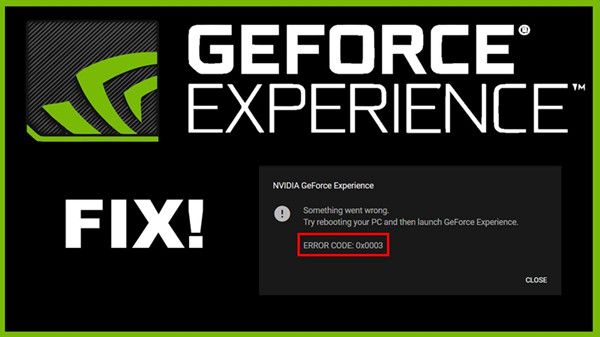 Why Does GeForce Experience Error Code 0x0003 happen to my computer?
As for why GeForce Experience error 0x0003 comes to your PC, the reasons vary from users to users. Normally, the most potential culprits for his game issue are as follows:
1. Your NVIDIA Telemetry container service has been prohibited from interacting with the Desktop. The NVIDIA Telemetry container service (NvTelemetryContainer) is designed to gather data about the operating system and then send the gathered data to the NVIDIA GeForce Experience client.
It has to be allowed to communicate with your Desktop, otherwise, GeForce Experience error codes will appear like 0x0003 and 0x0001, or in some cases, NVIDIA Telemetry container service won't start.
2. NVIDIA related services have not been activated. It is understandable that GeForce Experience won't work and prompts users error 0x0003.
3. Problematic NVIDIA graphics driver and network driver. If your NVIDIA display driver or the network adapter driver runs into errors, there is a high probability that GeForce Experience crashes will come up.
Of course, on different PC on different operating systems, the causes of the NVIDIA error 0x0003 may differ, but for most of you, you can get the error fixed with the following solutions.
How to Fix NVIDIA GeForce Experience Error Code 0x0003?
In line with reasons for this error code 0x0003 on GeForce Experience, it is necessary to try the solutions below to deal with the NVIDIA crash on Windows 10. Either by restarting NVIDIA services or updating the NVIDIA driver, you may as well get down to fixing this error with patience.
Solutions:
Solution 1: Allow NVIDIA Telemetry to Interact with the Desktop
As mentioned above, this NVIDIA Telemetry container service connects the system and NVIDIA client, so you need to make sure this service has been permitted to interact with the Desktop. In so doing, for some of you, you will notice GeForce Experience error code 0x0003 has been resolved.
1. Search Services in the search box and then hit the Enter keyboard key to get into the Services window.
2. In the Services window, find out and right click Nvidia Telemetry Container to open its Properties.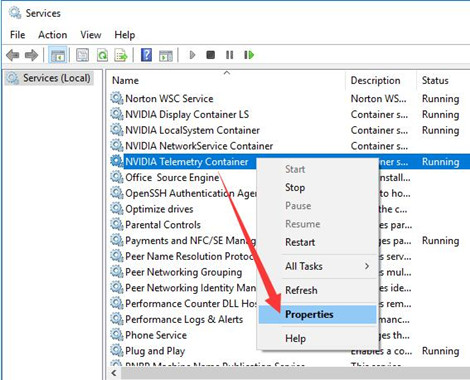 3. In Properties window,under the tab Log On, tick the circle of Allow service to interact with desktop and then click Apply and OK to save changes.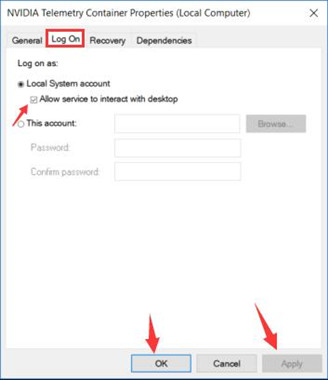 4. Close the Services program and start GeForce Experience to see if NVIDIA error code 0x0003 persists on your PC.
Solution 2: Restart NVIDIA Services
NVIDIA services like NVIDIA Display Service, NVIDIA Network Service Container, NVIDIA Local System Container will also cause GeForce Experience error code 0x0003, therefore, it is worth a shot to restart these services in order to fix NVIDIA error on Windows 10.
1. In the Services window, locate NVIDIA Display Service and right click it to Start this NVIDIA service.
2. Similarly, right click NVIDIA Network Service Container and NVIDIA Local System Container to Start them as well.
After you finished starting these services, restart your GeForce Experience game again, and you will notice that error 0x0003 won't appear again.
Solution 3: Uninstall and Reinstall NVIDIA Components
Some NVIDIA components may go corrupted on your PC, hence there is a need for you to uninstall these components and then re-download them on NVIDIA official site. It has proved useful for some users to fix this GeForce Experience error code 0x0003.
Part 1: Uninstall NVIDIA programs or components in Control Panel
1. Open Control Panel.
2. Find out Programs > Uninstall a program. You need to View by Category if you wish to locate Programs easily.
3. Find out every component labeled by NVIDIA Corporation and right click them to Uninstall them. Here it is likely that you will uninstall NVIDIA GeForce Experience client.
4. Reboot Windows 10 to take effect.
Part 2: Reinstall NVIDIA components from NVIDIA official site
Upon re-launching your computer, try to navigate to the NVIDIA website and then hit the Download icon to get the NVIDIA GeForce Experience downloaded.

Then the required components for NVIDIA client will also be installed. You can re-launch the GeForce Experience application to check if error 0x0003 remains.
Related: How to Uninstall NVIDIA Drivers on Windows 10
Solution 4: Update NVIDIA Graphics and Network Drivers
Ensuring that your NVIDIA display driver and the network adapter driver are updated is also a feasible way to fix GeForce 0x0003. That is to say, the outdated, missing, or corrupted graphics driver and network driver will also bring about NVIDIA crashes.
Here, to save your time and energy, it is strongly recommended to make full use of Driver Booster, the top one driver finder, downloader, and updater. It will help you download and update all the device drivers automatically. In this sense, Driver Booster can be a reliable tool for you to get rid of GeForce Experience 0x0003 and 0x0001 error.
1. Download, install and run Driver Booster on your PC.
2. Then click the Scan button. You can see Driver Booster is searching for problematic drivers on your computer.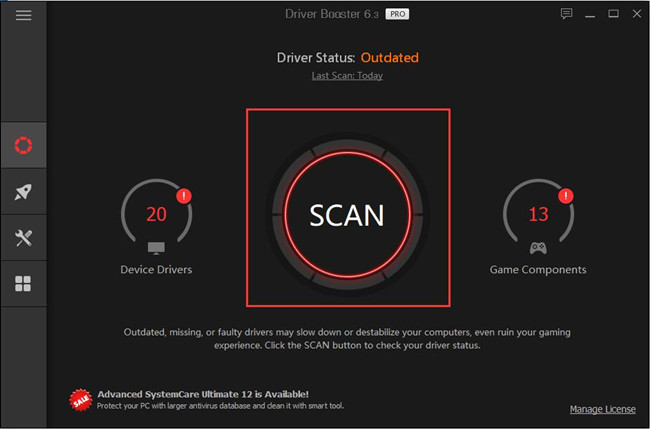 3. In the search results, find out Display adapters and hit Update to let Driver Booster to automatically update the NVIDIA graphics driver.
Here you are also supposed to update the network driver using Driver Booster. You can Update Now to update all the drivers at one time.
The time Driver Booster installed the device drivers for you, check if NVIDIA GeForce Experience not working caused by error 0x0003 has been removed.
Solution 5: Reset the Network Adapter
Sometimes, the erroneous network adapter configuration will result in error code 0x0003 or 0x0001 on GeForce Experience. In this case, you would better reset your network adapter using the Winsock Reset Command. It will help some of you.
1. Type in Command Prompt in the search box and then right click the result to Run as administrator.
2. In Command Prompt, enter netsh winsock reset and then hit Enter key to reset the network adapter.

3. Reboot Windows 10 to take effect.
4. Restart NVIDIA GeForce Experience and the error 0x0003 won't come up.
Solution 6: Check for Windows Updates
No matter what you are encountering, Something went wrong. Try rebooting your PC and then launch GeForce Experience. ERROR CODE: 0x0001 or 0x0003, it is useful to make sure Windows 10, 8, 7 has been updated. Updates will bring you more powerful patches to fix bugs or errors. So you can try to check updates for Windows 7, 8, 10.
1. Go to Start > Settings > Update & Security.
2. Under Windows Update, hit the option – Check for updates.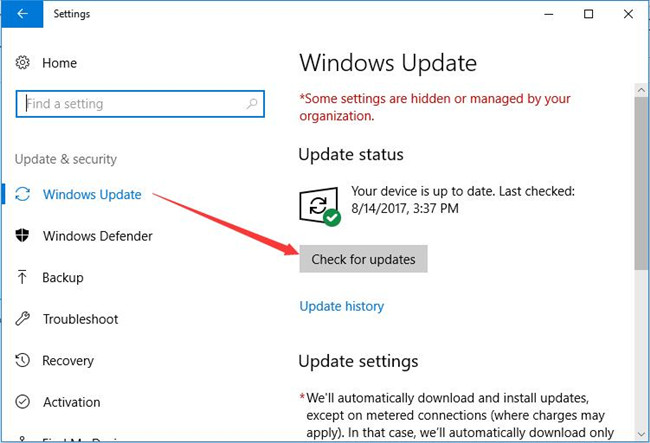 If there are any Windows updates, it will install it for you. After that, it is possible that GeForce Experience runs as normal.
In brief, so long as there are errors regarding NVIDIA, for instance, GeForce Experience error code 0x0003, you can try the solutions above to solve the NVIDIA errors.
More Articles:
You Are Not Currently Using a Display Attached to an NVIDIA GPU
Fix NVIDIA G-Sync Not Working On Windows 10
Tags :
error code
nvidia