Fixed: NVIDIA Driver Keeps Crashing on Windows 10
Contents:
NVIDIA Driver Crashes Overview
When you are playing games or watching movies on your computer, only to find the NVIDIA driver has been crashing for every 5 to 10 minutes, which is so annoying in that this constantly crashing NVIDIA driver may make your display freeze or even cause a blacking screen.
Furthermore, once your NVIDIA driver keeps crashing all the time, some of you may soon get an error message saying "display driver stopped responding and successfully recovered", now and then, thus making it necessary to fix the NVIDIA driver crashing or flashing issue on Windows 10.
Why NVIDIA Driver Crashes?
As for why the crashing NVIDIA drivers happened to you, the reasons are apparent. With the release of Windows 10, there are numerous driver compatibility problem between Windows 10 and device drivers, therefore, one of the crashing NVIDIA drivers may lie in the driver error, maybe the NVIDIA drivers are outdated or corrupted in Windows 10, if so, you are advised to uninstall the NVIDIA drivers and then reinstall it by various convenient and advanced ways.
On the other hand, the NVIDIA constantly crashing may due to the faulty setting of NVIDIA in NVIDIA Control Panel which makes it crash or freeze constantly, or for which some antivirus programs influenced the performance of NVIDIA, so you are able to solve this crashing NVIDIA driver issue in resetting these settings.
How to Fix NVIDIA Driver Keeps Crashing on Windows 10
As you had already known why the graphic driver crashes on your computer, there are server ways you can try to fix it. In different conditions, there are different solutions.
Solutions:
3: Turn off Vsync and Choose Maximum Performance
4: Disable Antivirus programs temporarily
Solution 1: Uninstall NVIDIA drivers
As we have discussed before, the NVIDIA crashing or going crazy, to some extent, result from the outdated or conflicting NVIDIA drivers, so it is no doubt the first choice to uninstall the problematic NVIDIA driver for device manager and then naturally you are to reinstall it in the way you like.
1. Enter Device Manager.
2. Expand the Display adapters by right clicking it.
3. Locate the right NVIDIA driver, here such as NVIDIA GeForce GTX 980, 960,750.
4. Right click the NVIDIA driver and choose to Uninstall it.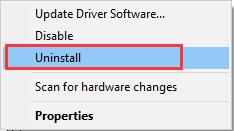 5. Goes to Control Panel > Program and Features to find the NVIDIA control panel to uninstall it.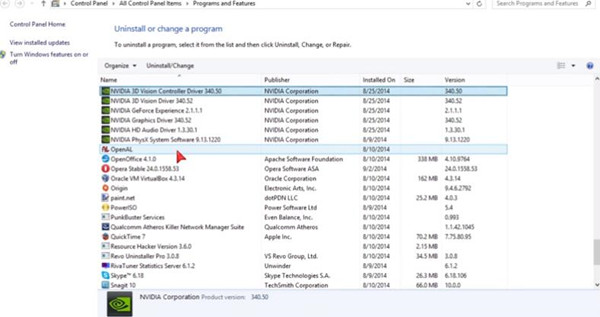 Beside uinstall NVIDIA driver manually, you can also uninstall NVIDIA driver automatically.
6. Reinstall the NVIDIA drivers by restarting your computer to let Windows 10 automatically reinstall a new NVIDIA driver, such as GeForce GTX 980.
Solution 2: Update NVIDIA drivers
Sometimes, Windows 10 failed to install the advanced NVIDIA drivers for you, so it is conceivable that your NVIDIA drivers keep crashing or flashing with the incompatible NVIDIA drivers.
Here you can choose to update the NVIDIA Drivers manually from the NVIDIA site or automatically by Driver Booster, both of which will reinstall the latest and compatible NVIDIA drivers for you.
You can directly from NVIDIA website to download and update your NVIDIA drivers, such as NVIDIA GeForce GTX series, Experience series, etc.
But for people who want to complete downloading or updating the NVIDIA driver more quickly and safely, you are strongly recommended to make full use of Driver Booster.
Driver Booster is a powerful driver update software. As the toptenreviews top 1 driver update software, it can detect the most outdated and missing drivers for your computer and update them automatically. It is a piece of cake for it to download or update the NVIDIA drivers for you, especially for most of you are using NVIDIA GeForce, Driver Booster will make you relieved.
In the first place, you should download and launch it on your PC.
After a while, with the windows popped up, you are to click Scan and Update buttons. In this process, you can update all your outdated or missing or corrupted drivers for Windows 10, including NVIDIA drivers.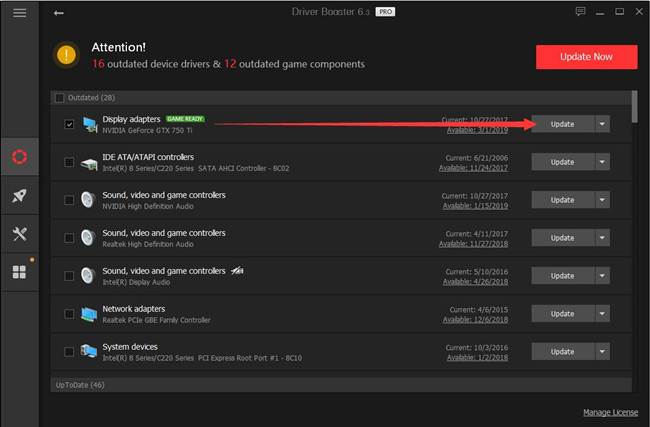 If you successfully updated your NVIDIA drivers, such as NVIDIA GeForce GTX 980 you are likely to have fixed the NVIDIA drivers crashing or flashing issues. But if not, you can also keep going on reading.
Solution 3: Turn off Vsync and Choose Maximum Performance
In NVIDIA Control Panel, you can try to disable the Vertical sync and select the Maximum Performance for Power management for the purpose of the faulty settings of NVIDIA causing the NVIDIA driver crashing.
1: Go to NVIDIA Control Panel by right-clicking the desktop and choosing it.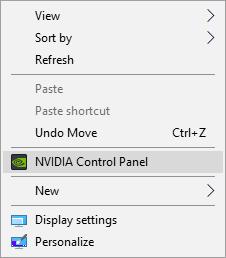 2: Click Manage 3D settings and then set Maximum performance in Power management mode. And also scroll down to turn Vertical sync off. Finally, click Apply to save the changes.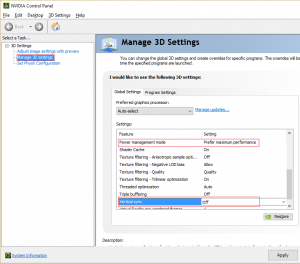 3: Right click the battery icon on the bottom of your PC and choose Power Options.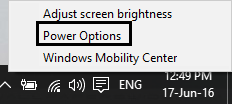 4: Under choose or customize a plan in Power Options windows, choose High Performance.
5: Restart your PC.
After that, the NVIDIA crashing or periodical freezing issue may disappear and the display of the movie or game turns out as good as a refresh one.
Related View: How to Change Advanced Power Plan for Windows 10?
Solution 4: Disable Antivirus programs temporarily
There is a great possibility that the NVIDIA drivers constantly crashing or freezing in due to some Antivirus prohibiting the working of NVIDIA, so it is a wise decision for you to temporarily turn off the antivirus software or programs.
You can right-click the Antivirus program icon and choose to disable it for a limited time, in which, you can try to reconnect your Wi-Fi to the computer and see if the NVIDIA works well on Windows 10 once you have disabled the antivirus programs.
If the NVIDIA stops crashing or freezing periodically when you are disabling the antivirus program, you can easily get to the conclusion that it is the antivirus program that led to this NVIDIA crashing or freezing, you can disable it when you are using NVIDIA GeForce or unload it forever in case of more NVIDIA drivers issues.
In short, concerning the NVIDIA crashing or freezing or flashing problems, it is a perfect choice if you can choose to pay your attention to this post and follow the steps one by one as you can undoubtedly benefit a lot from it. And this NVIDIA driver crashing issue is a rather simple trouble to tackle with. Of course, if you are using AMD graphic, here is the tutorial: 3 Ways to Fix AMD Driver Crashes on Windows 10.
More Articles:
Display Driver Failed to Start on Windows 10
Fix Video Controller (VGA) Driver Issues on Windows 10
Tags :
graphic issues
nvidia