Fixed: You Are Not Currently Using a Display Attached to an NVIDIA GPU
Some people reported that after upgrading the system from Windows 7, Windows 8 to Windows 10, the NVIDIA Control Panel runs into a problem. When you are opening the control panel, it pops up an error message: NVIDIA Display Settings are not available. You are not currently using a display attached to an NVIDIA GPU.

Contents:
Why Your Computer Does Not Use the NVIDIA Graphic Card?
The message "You are not currently using a display attached to an NVIDIA GPU" means that your computer does not use your NVIDIA graphic card. However, if it is not the NVIDIA graphics card, what kind of graphics card does your computer use?
On Desktop:
In fact, this indicates that your computer should be a dual graphics card configuration with both a discrete graphics card and an integrated graphics card, and the NVIDIA graphics card is your discrete graphics card.
When the NVIDIA display settings not available error appears, it means that the monitor is connected to the integrated graphics card, so it will prompt that the discrete graphics card has no output, and of course, it is impossible to set it.
On Laptop:
If this error appears on your Dell, ASUS, Lenovo, MSI, and other manufacturer's laptop, there may be the following reasons:
The graphics card driver has a problem or it is not installed correctly.
NVIDIA graphics card is disabled.
Two services of your NVIDIA graphics card are disabled.
How to Fix the Problem that Your NVIDIA GPU Does Not Used Currently?
For this NVIDIA Control Panel settings not available error, there are several solutions to fix it. You can follow next solutions one by one.
Solutions:
Solution 1: Plug Monitor to the NVIDIA Graphic Card Port (Desktop)
For the desktop, as mentioned above, the monitor cable connects to the wrong porter on your desktop. You should connect your monitor cable to the NVIDIA graphic card port. If the problem occurs to your ASUS laptop or other laptops, see next solutions.
Improper way of monitor connection:
As shown in the figure below, the monitor video cable is HDMI. Of course, your cable may also be DP, DVI, VGA. The video cable of the monitor is obviously plugged into the display interface in the I/O area of the motherboard, so the device used is an integrated graphics card. If you have a discrete graphics card, then you are wrong!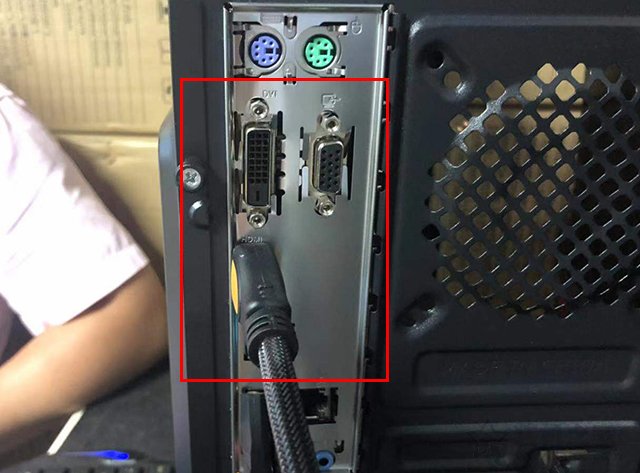 Correct way of Monitor Connection:
Just plug the video cable into the corresponding display interface in the discrete graphics card, as shown in the figure below.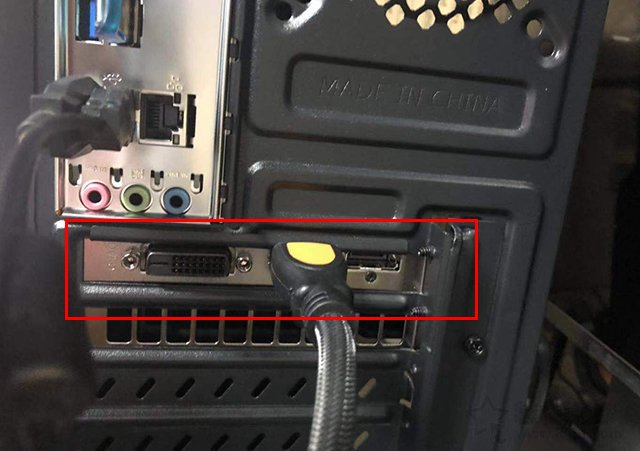 Solution 2: Enable NVIDIA Driver Helper Service and NVIDIA Update Service Daemon
If your desktop or laptop NVIDIA display does not work, it may be because the two NVIDIA services are not enabled, the one is NVIDIA Driver Helper Service and another one is NVIDIA Update Service Daemon. Some people reported that after resetting these two services, the Control Panel can work properly.
1. Type Services in the search box, and then click the results to open the Services desktop application.
2. Find the NVIDIA Driver Helper Service > Start.
3. Right click NVIDIA Driver Helper Service > Properties.
4. In the Startup type, set it as Automatic, and then click Apply and OK.
5. Find the NVIDIA Update Service and perform the same operation.
Solution 3: Disable and Enable NVIDIA Graphic Card
The NVIDIA GPU error may lie in that your graphic card is disabled. So you should check the NVIDIA graphic card settings and re-enable it.
1. Go to Device Manager > Display adapters > NVIDIA GeForce GTX 750 Ti (or other model).
2. Right-click the NVIDIA graphic card and select Enable device. Here if it is running, you should disable it at first and then enable it again.
Solution 4: Update the NVIDIA Display Driver
The outdated or faulty NVIDIA driver can also be the reason why your NVIDIA graphic cannot be used as normal. If you have two graphic cards on your computer, maybe you should update the two graphic drivers, in which one is NVIDIA graphic driver (usually it is the discrete graphic card), and another one is Intel HD graphic driver (usually it is the integrated graphic card).
Manual Way:
If you want to update the driver by yourself, you can enter the NVIDIA official site and Intel official site to download these two model drivers and then install it one by one.
Automatic way:
But it is strongly recommended to turn to a driver tool – Driver Booster to update NVIDIA driver automatically, which is professional and efficient.
1. Download, install and run Driver Booster on your computer.
2. Click Scan. Driver Booster will start to scan your computer hardware including your NVIDIA graphic card and the integrated Intel graphic card.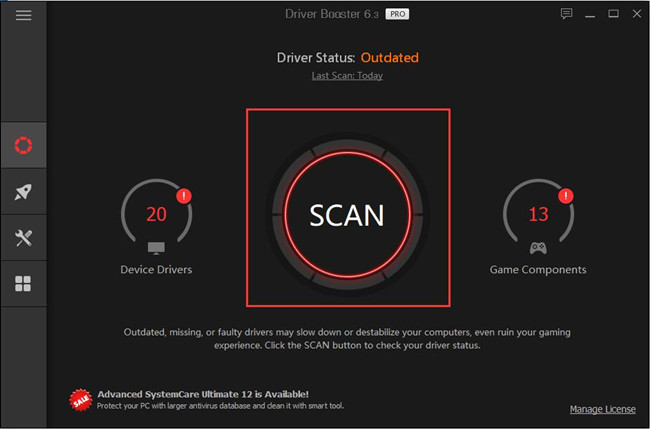 3. Find the NVIDIA graphic card and Intel graphic card below the Display adapters, click Update. Driver Booster start downloading the latest NVIDIA graphic driver and Intel graphic driver and installing them automatically.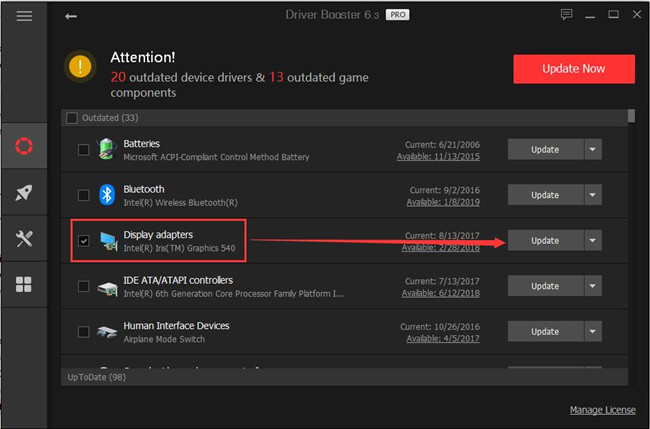 After the computer is restarted, double click the NVIDIA Control Panel to open it.
Solution 5: Uninstall and Reinstall NVIDIA Graphic Driver
Another way to fix the error "you are not currently using a display attached to an NVIDIA GPU" is to uninstall and reinstall the NVIDIA graphic driver.
1. Open Device Manager.
2. Expand Display adapters, right click NVIDIA graphic card to select uninstall device.
3. In the Uninstall device window, check the box Delete the driver software for this device and click Uninstall.
4. Goes Control Panel > Programs and Features to uninstall all the programs related to NVIDIA.
5. Restart computer.
6. Download the latest NVIDIA driver from the NVIDIA official site or use Driver Booster to update the NVIDIA driver automatically.
If you want to uninstall the NVIDIA driver completely, here is a step-by-step tutorial with images: how to uninstall NVIDIA drivers completely.
Conclusion:
For the error "You Are Not Currently Using a Display Attached to an NVIDIA GPU", on desktop, it is usually because the video port of the monitor is wrongly plugged. You only need to plug the video interface into the NVIDIA graphics card port to solve the problem. If you use ASUS, Dell, or Lenovo laptop, just update the driver and check the services related to NVIDIA.
More Articles:
Fixed: NVIDIA Driver Keeps Crashing on Windows 11/10
Solved: Need to Reinstall NVIDIA Drivers Every Reboot
Tags :
nvidia