Why It Is Important To Keep Your Drivers Up-to-Date
We all know that computers are composed of different hardware, such as motherboard, CPU, graphics card, sound card, monitor, power supply, mouse, keyboard, etc. But they cannot work autonomously.
Windows system provides software called drivers to work with the hardware. If your graphics card wants to display images, you must install the graphics card driver. This article tells you the importance of drivers on the computer.
Overview
On computers, drivers are computer software programs that control and operate the specific device that you can attach to your computer. Basically, the driver is a piece of software that acts as a medium or a translator between device and the OS and programs.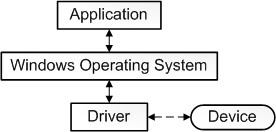 A commonly known driver is device driver, which is a group of files and allows hardware devices to communicate with the computer. You cannot connect, communicate, receive or able to send data to hardware devices directly without driver.
Each device connected to a computer like keyboard, mouse, and printer must have a driver. And each device has its own drivers. Driver is also a translator that accepts commands, and then translates them into specific commands so they can be understood by the hardware devices. If your computer crashes, there is a high probability that the driver is the culprit.
Assigning one specific word to a driver is challenging because it acts as a software, translator or as a device in some cases.
Drivers are files with .SYS extension in DOS systems and .DRV extension in windows environment. For example, your operating system language is English but your hardware device language is Spanish. Then, hardware can act as language interpreter converting English to Spanish and vice verse.
WHY IT IS IMPORTANT TO KEEP YOUR DRIVERS UP-TO-DATE?
Drivers are specific programs that allow your PC operating system to communicate with hardware devices that you want to use. You can send and receive data easily by connecting hardware devices that have drivers. If you want to play games with the best performance, then you need to have the latest graphic drivers.
Outdated or erroneous drivers can cause crashes to your computer or cause Blue Screen of Death or other errors. It will stop your applications from running normally and can cause error messages.
Error messages like this:
Error: Cannot load the CnxtSdk.dll
STOP: 0xc000026C (Unable to load device driver) Driver Name
STOP: 0xc0000221 Bad image check sum, the image user32.dll is possibly corrupt
These are some error messages pop up due to outdated drivers. You must update your drivers in three days. If your PC continues to crash while you are opening a program or playing a game, then chances are that you have outdated drivers. Unexpected shutdown of computer or crashes of system are signs of outdated drivers. So you should keep your drivers up to date so that you can run your applications normally.
WAYS TO UPDATE YOUR DRIVERS
There are many ways to update your drivers. One method is that you visit the manufacturer website and find the particular maker and model of your hardware device. Download that specific driver from the website and install it on your PC. You have to download the correct driver, otherwise your system will experience errors.
A second and an easy method is to download high-quality and premium driver-updating software. You can download DriverPack from Softwarestoic official website. This software will scan your computer system and find out all the old and outdated drivers and then update all the drivers automatically. That will definitely install all drivers and you don't have to do this manually.
More Articles:
Download and Update Samsung NVME Drivers on Windows 10, 8, 7
Download Gigabyte Motherboard Drivers – Windows 10, 8, 7
Tags :
drivers