8 Ways to Fix No Service on Android Phone (2023 Update)
Is there no service on your Android Phone? You may also find that no mobile network is available on this way. Thus, you can do nothing with your phone. You can only make emergency calls but the phone has no service or signal. Can't call others? Can't chat with others on social media platforms?
Don't worry! This tutorial will get you out of the phone no service and mobile network connection issue.
What Does "Phone no Service" Mean?
When your Android phone says no service or signal, it means that there is no cellular network, nor is there a WIFI network connection. In other words, your smartphone just fails to extract traffic from the network carrier to support phone calls and the use of the mobile network.
Why Does My Phone Say no Service?
When you found that even if you have inserted the SIM card but there is no service on Android, you need to think over some common reasons for this Android no signal error:
The Android OS is problematic, causing crashes;
The SIM card goes wrong, for instance, not being inserted correctly;
There are problems with the IMEI (International Mobile Equipment Identity) that is used by service providers to identify valid devices;
The Android phone runs into a problem and can't allow users to access the service or signal.
8 Ways to Fix my Android Phone When There Is No Service?
If your Android phone like a Samsung device says no service or mobile network, it may arise from one of the above causes. Therefore, you might as well troubleshoot the error of the Android signal and service unavailable issue by trying the following solutions.
#1: Restart the Mobile Phone
Whether you found no service on Android phones all of a sudden or on a specific occasion, you can first try to power off your phone and then power on it.
A restart can refresh the system so that your Android phone can research service and network connections on your Samsung or any other Android smartphone.
#2: Turn Airplane Mode on and off
Does your phone recognize the SIM card but no signal? you can try to turn on and then turn off the airplane mode on the device.
Just like how the phone restart works to activate the system to research the service or network, enabling and then disabling the Airplane mode can also refresh the network service. Therefore, you can also recover the missing service for your Android phone.
1. On your Android phone, toggle down the main menu.
2. Locate and turn off Airplane mode.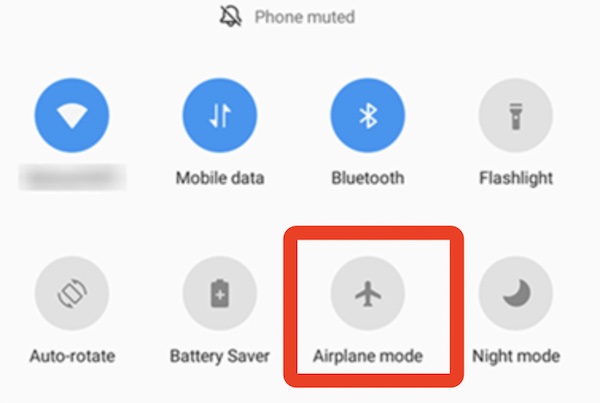 3. Then turn on Airplane mode.
You can then check the sign of the service on your phone. Some of you may notice that your phone says there is signal and your device can connect to the network.
#3: Check the SIM Card
What is the purpose of a SIM card? Usually, a SIM card contains a computer chip that stores some information or data and does some simple mathematics. Without a proper SIM card, users can't access the mobile network and service.
If your SIM card is not appropriately inserted, odds are that you find the warning of "No service" in the top left/right corner of the smartphone.
If your SIM card is properly inserted but it still has no service, it may imply that the SIM card is physically damaged.
Once you found that your SIM card is faulty, you need to go to the network carrier shop and replace a new SIM card by retaining your number. The new SIM card can help your phone find available services and connect to the mobile network.
#4: Re-select the Network Carrier
What does a network carrier do in offering Android phone services? The network carrier works to offer network communication services to phone users. Carriers are essential in providing traffic between mobile phones and landlines.
In this case, if there is no network connection on Samsung or other brands of Android phones, you can re-select the network carrier to check whether another company of carrier can offer your phone services.
1. On your Android phone, open Settings > WIFI & network > SIM & network.
2. Find out your SIM name > Network operators of your Android phone.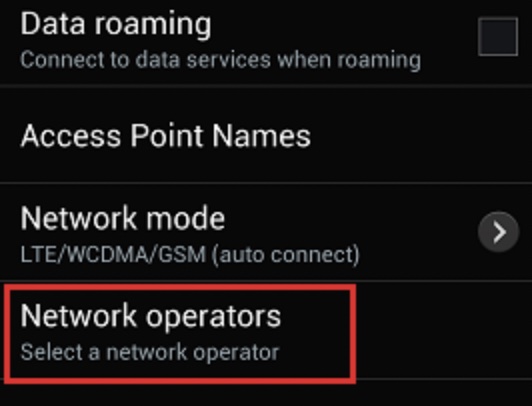 3. Turn off the "Choose automatically" option.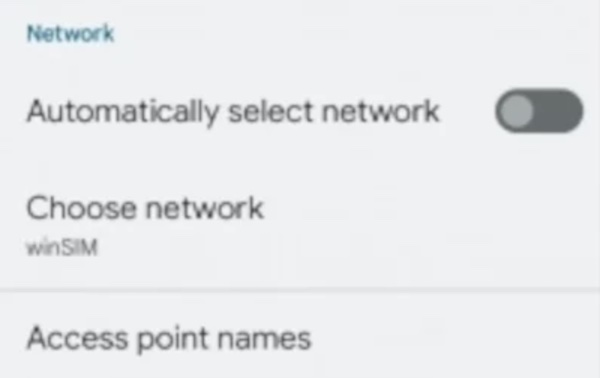 4. Select another carrier.
After selecting another network carrier, you can notice that your phone won't say that there is no service. You can call others and surf online with the mobile network.
#5: Fix Android Phone No Service Automatically
If the mobile network is unavailable and your phone is "dead" without service, you can also make full use of an automatic tool to fix this Android phone no signal on Samsung and other brands of Android phones.
Broken Android Data Extraction is a safe and professional tool that can help you fix Android devices no normal, and extract data from a broken phone, and it also supports most Samsung phones such as Samsung Galaxy Note.
In this case, since the Android phone service isn't working, you can use this automatic tool to fix the "dead" Android device and re-gain network connection or service. This tool cannot only help you fix broken Android phones but also extract data from damaged phone internal storage and SD card such as contacts, messages, call logs, and videos.
1. Download, install and run Broken Android Phone Data Extraction.
2. Connect the Android phone to the Windows-based or Mac-based computer with a USB cable.
You can then notice that the tool is working to detect your Android phone.
3. Hit Start and then check the model of your Android phone.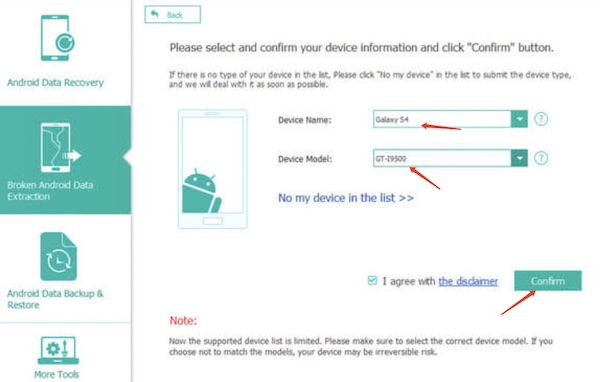 4. Click Start to fix the phone problems and then scan data on your phone for further use.
Wait until the tool automatically fixes your Android phone service not working issue. After the work, you will no longer see any service signal.
#6: Verify IMEI
IMEI (International Mobile Equipment Identity) is a unique number assigned to your phone. This identifier is used while it reports that the phone is lost or stolen to block the device. That is what IMEI does on your phone. Thus, if you want to fix the error of no mobile network, you may as well check IMEI.
If you want to verify the IMEI, just dial "*#06#" on your phone. Once the phone shows you that the IMEI is invalid or null, it means that you need to take more solutions to fix this Android phone no service or searching problem on your Android smartphone and the device fails to find a signal from the cellular carrier.
#7: Factory Reset the Phone
If you have checked the hardware of the SIM card and many other settings related to mobile networks on Android phones, but there is still no signal or service, perhaps you have to factory reset the Android phone.
Note:

A factory reset of mobile phones will erase all data, so you may need to back up data or information on the phone in case of data loss. You can back up the phone data to iCloud or store them in external storage via a computer.
If you determine to factory reset the Android phone, follow the steps below:
1. On your Android phone, find out Settings > System.
2. Locate and tap Reset > Factory reset (Erase all data).
In so doing, users can fix Samsung or Huawei, or any other Android phones that have no network connection with the "No service" error.
#8: Ask the Phone Manufacturer or Network Service Providers for Help
If the above solutions fail to help your device find service, you may have to resort to external help. That is to say, you can take the phone with no service to the store of phone manufacturer or the network service center such as AT&T, China Telecom, CenturyLink, and NTT.
Sometimes, the technical staff at these stores can help you troubleshoot this no service on phone issue. If needed, the network service providers can even replace a new SIM card to help you regain the lost service.
How to Avoid No Service Issue by Connecting the Android Phone to the Mobile Network Correctly?
Don't know why your SIM card is correctly inserted but there is no mobile network or service? In some cases, you just fail to connect your Samsung or Huawei phone to the cellular network, causing the Android phone not to work with services. Hence, you need to learn how to connect your phone to the mobile network correctly.
1. On your Android phone, go to Settings > Cellular.
2. Turn on Cellular data.
3. The phone will start searching for the mobile network.
After that, you can find that your Samsung or any other Android phone connects to the network connection and you can call or chat with others.
Troubleshoot: How to Ensure Your SIM Card Has Service (Activated)?
Unless your SIM card is physically damaged, it will not result in no service or signal error on your Android phone.
However, if your phone is in the city area with network coverage and good condition but there is just no network connection, it may imply that some errors happen that stop your phone from accessing services from the SIM card.
If you want to avoid the "no service" error on your phone, you can protect your SIM card in daily life in case it causes no signal issue. You can try to:
Clean the dust between the SIM card and the card slot. You can just power off the phone, remove the SIM card, and then clean the gold connectors on the SIM card with a clean cloth;
Check the position of the SIM card to avoid its being misplaced.
Summary:
This tutorial tries to show you how to fix no service error on Android phones with different solutions. Please be patient and troubleshoot this mobile phone service or signal problem from the perspective of the SIM card issue, network settings, and the phone system.