Download Corsair Headset Drivers on Windows 11, 10, 8, 7, and Mac
Users need to install right Corsair drivers for Corsair headsets. Especially, when you noticed that there is no sound from the Corsair headset or your Corsair microphone doesn't pick up any sound.
It is quite necessary for you to update the Corsair headset drivers, such as Corsair HS70, 60, 50 or 35 or Corsair Void drivers.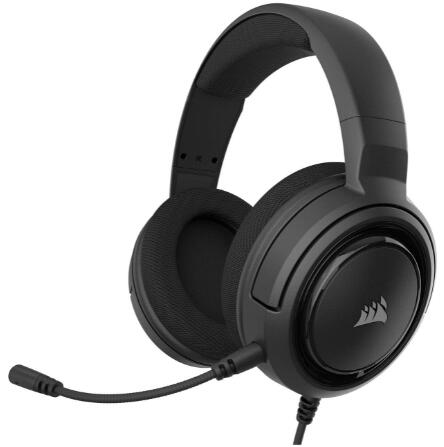 Sometimes, you need to download the latest headset driver on Windows or Mac to obtain improved headset performance. You may be frustrated since your Corsair iCue isn't detected at all. This post will show you different methods to get updated Corsair headphone drivers or software.
How to Download Corsair Headset Drivers on Windows and Mac?
You can choose to download Corsair drivers within the system or using any third-party driver tool. That is to say, you can install a suitable driver for the Corsair headset like Corsair game headset by Windows system or by a tool to find the right driver automatically for you.
If you are proficient in computer, you can also download Corsair headset drivers and software on your own from Corsair official website. After you downloaded the right microphone driver, you can start setting gaming headset for PC as before.
Methods:
Method 1: Download Corsair Drivers Automatically
If you find it challenging to find the right driver for the Corsair headset, it is a good idea to rely on a reliable driver tool to help you automatically download drivers efficiently.
Here, Driver Booster is recommendable since it is rated the top one driver software by many users who have kept it on computers for a long time to keep all drivers up-to-date.
1. Download, install and run Driver Booster on Windows 10 or Windows 11.
2. Click Scan. Driver Booster will start searching for any problematic driver.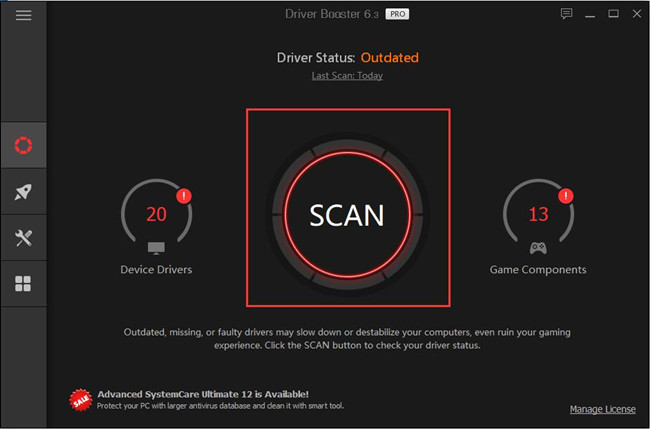 3. In the search result, locate Corsair headset and then Update it within the tool.
This driver tool will begin searching for the latest Corsair driver immediately. Soon, you will be informed that the latest Corsair headset driver is installed such as Corsair HS35 or HS60 or Corsair Void Elite drivers. You can use your headphone again to see if it can work well with the computer.
Method 2: Update Corsair Headset Drivers in Device Manager
It is also worth a shot to update the Corsair headphone driver within the system. If you are lucky, you may see that Windows Device Manager can easily download the newest Corsair microphone driver. In this way, you can fix Corsair iCue not detected error by the system.
1. Open Device Manager.
2. Expand Audio inputs and outputs, and then right-click the Corsair headset to Update driver.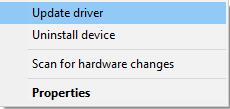 3. Search automatically for the updated driver software.
Wait to check whether Device Manager can find the most updated driver for your microphone. If so, you can connect the Corsair headset to the computer to see if any Corsair error will pop up.
Once you noticed that a yellow exclamation mark remains beside the Corsair headphone, you may hit upon headset issues like USB headset not working issue.
Method 3: Download Corsair Headset Driver from Corsair Support
Of course, it is also your privilege to gain newly released Corsair microphone drivers from the Corsair Support. You can navigate to Corsair website to find out and download the new packages to fix various Corsair headset not working or not turning on or not pairing or not connecting to PC issues.
You need to check your Corsair headphone model before getting down to download the right Corsair driver instead of any incompatible or outdated drivers.
1. Go to Corsair official website.
2. On Corsair website, enter the Corsair Category and then model of headset. For instance, here you can select Corsair ICUE and then enter a model of HS70.
3. As you can see, users can choose to download Corsair One, Corsair ICUE or Vengeance PC or Corsair One Pro headset driver and software if needed.
4. Click the best matched result.

5. Download the Corsair headset driver on your PC.
6. Install it by following the on-screen instructions.
You can reconnect your Corsair Wireless gaming headset or Corsair Bluetooth driver to the computer. Here it is also available that you try to search Corsair headset drivers for Mac on Corsair official website. Besides, you can also install the latest Corsair headset software from Corsair official website to solve problems like Corsair utility engine not opening error.
Hopefully, you can download Corsair drivers like Corsair ICUE or wireless or Bluetooth driver like Corsair link or ICUE or Void drivers and software with the help of this post. With a compatible Corsair driver with Windows or Mac, you may find your headphone runs more smoothly on the computer.
More Articles:
Download Sades Headset Drivers Windows 11, 10, 8, 7
Fix Turtle Beach PX24 Headset/Microphone Not Working on Windows 11, 10
Fixed: Logitech G430 Mic Not Working on Windows 11, 10, 8, 7
Tags :
audio issues
drivers
microphone