Download ScanSnap iX500 Drivers for Windows 10, 8, 7
Fujitsu ScanSnap iX500 scanner as a daily office scanne is popular among the public because it does not occupy much office space and is versatile. But sometimes, it does not work because of the driver issue especially after upgrading your computer system to the latest Windows 10. Here you can follow this article to update Fujitsu ScanSnap drivers step by step.
How to Download and Update Fujitsu ScanSnap iX500 Drivers?
Driver is a software which is equipped for a hardware. So if your driver is faulty or missing, the hardware cannot work properly. If your ScanSnap iX500 driver is not compatible or missing, you can do nothing with this scanner. Here this post offers you three ways to update ScanSnap iX500 drivers for Windows 10, 8, 7, Vista and XP.
Method 1: Update iX500 Scanner Drivers in Device Manager
After upgrading your system from Windows 7 to Windows 10, maybe your Fujitsu ScanSnap iX1500 or iX500 driver needs to be updated to work properly. You can simply update it in device manager.
1. Open Device Manager by search it in the search box in the taskbar.
2. Expand Print queue, and then find the ScanSnap iX500. Then right-click it to select Update Driver.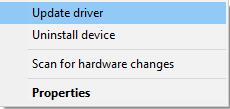 3. Click Search automatically for updated software.
Now you can use the ScanSnap iX500 scanner normally.
Tips: And if this method cannot help you find the right driver, you should uninstall it and then reinstall it again with the next two methods. For uninstalling the driver, you can right-click your ScanSnap and select Uninstall.
Method 2: Update Fujitsu ScanSnap iX500 Drivers Automatically
If you do not have much time and knowledge for how to update the iX500 Scanner drivers, you can update it automatically.
Driver Booster is a good helper for you to download and update ScanSnap drivers easily and fast. This software provides you with a foolproof method to find graphic, audio, scanner, printer, monitor, keyboard, mouse, touchpad, Bluetooth and other drivers and then helps you update it automatically.
Besides updating drivers, Driver Booster can also find the missing game components such as Microsoft Visual C++, OpenAL, .Net Framework, etc. So using this software to fix the driver issue will be a suitable solution.
1. Download, install and run Driver Booster on your computer.
2. Click Scan button. Then Driver Booster will start to scan all your computer internal devices and external devices such as your Fujitsu ScanSnap iX500 Scanner which is connected to your computer. And several seconds later, you will see the scan results.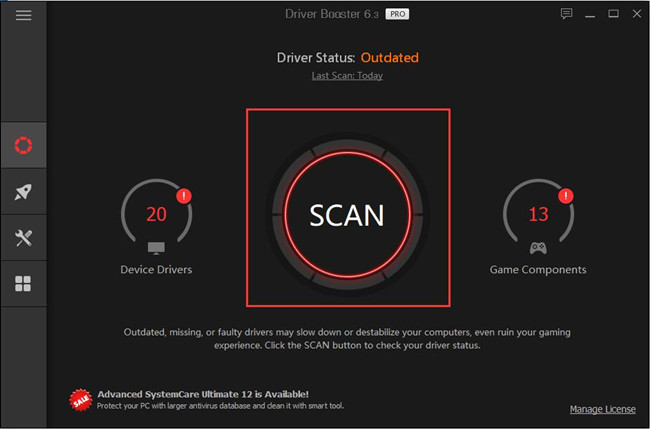 3. Find the iX500 device, and then click Update. Driver Booster will start downloading and updating Fujitsu iX500 driver automatically. Here if you want to update all the drivers, you can also click Update Now to update them one time.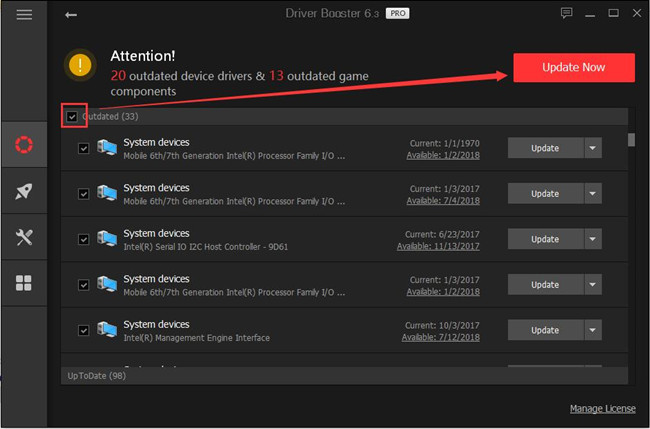 Method 3: Download ScanSnap iX500 Drivers Manually
1. Goes to: Fujitsu Scansnap drivers download center. This is the official Fujitsu ScanSnap driver and software page. Here you can download all the ScanSnap series drivers for Windows, MacOs, and OS X.
2. Select Scansnap iX500. And here you can also select these products such as ScanSnap iX1500, ScanSnap iX100, ScanSnap S1300i, ScanSnap S1100i, ScanSnap SV600, etc.
3. Select the target OS. Here you can download ScanSnap iX500 drivers for Windows 10. Of course, you can also select Windows 8, Windows 7, Vista and XP.
4. Click Display Software list.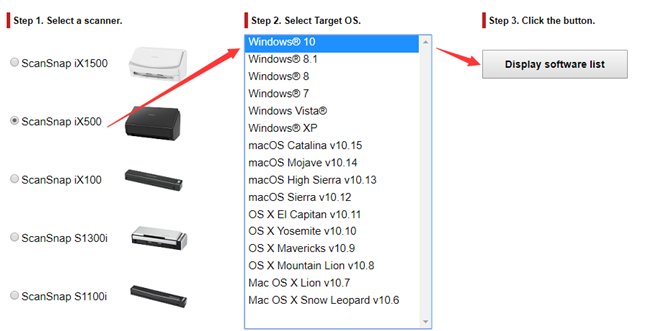 5. In the ScanSnap iX500 download page, you should download the ScanSnap Installer.

6. Install the ScanSnap Installer step by step.
Tips: The ScanSnap Installer allows you to install ScanSnap Manager, ScanSnap Online Update and ScanSnap Manuals.
Now if you use ScanSnap iX1500, iX500, iX100 Scanner, you can follow above solutions to download and update it.
More Articles:
Fixed: Scanner Need a WIA Driver
Tags :
drivers
scanner