Download Logitech G430 Drivers for Windows 10, 8, 7 and Mac
As a top computer peripheral manufacturer, Logitech has launched a lot of popular and classic products one after another, and Logitech G430 gaming headset is one of them.
As a classic gaming headset, updating Logitech G430 driver is an essential part. When you upgrade the system from Windows 7 to Windows 10, your G430 headset may have no sound, which may be caused by incompatible drivers.
Sometimes, when you install a new game or new software, the headset may not be able to run in enhanced performance due to a conflict of programs. So updating drivers for your gaming headset is necessary.
How to Update Logitech G430 Gaming Headset for Windows 10, 8, 7 and Mac?
There are several ways you can use to fix the Logitech G430 driver issue or to update its drivers. You can update it automatically, with the device manager or download it from Logitech g430 support page.
Method 1: Update Logitech G430 Headset Drivers Automatically
If your G430 headset does not work, one thing you should consider is the driver issue. You can update its driver automatically. Here you can use Driver Booster to help you.
Driver Booster is a professional driver finder, driver downloader and driver updater. This tool can help you find the outdated, missing, and erroneous drivers automatically. It can help you update the headset, speaker, Bluetooth, keyboard, mouse, touchpad drivers, etc. for Windows 10, 8, 7.
Besides drivers issue, it also provides the game boost function. It can help you update the game components such as OpenAL, Microsoft XNA Framework, Microsoft Redistribute C++, etc. Playing game with this software will get the perfect game experience.
1. Download, install and run Driver Booster on your computer.
2. Click Scan. Driver Booster start scan all the hardware including the G430 headset. Then it will detect hardware's drivers to identify if there are missing, outdated or error drivers.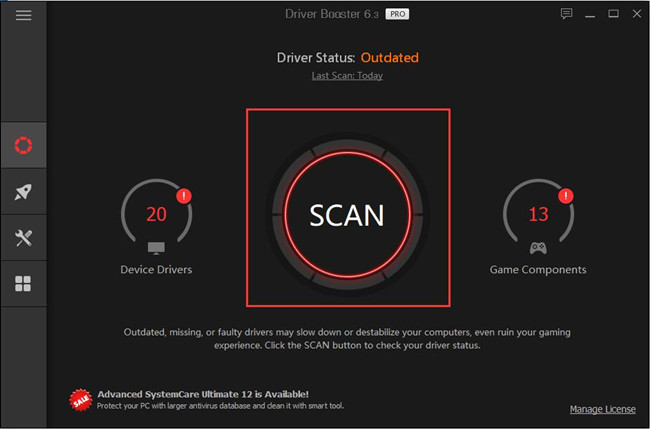 3. Find the Logitech G430 Gaming Headset, and click Update. Of course, you can update all the drivers one time by the button of Update Now.
After the G430 drivers updated, you can test it by playing a game or video as you like.
Method 2: Update G430 Headset Drivers in Device Manager
Windows provides an easy way to manage all the internal devices and external devices for your laptop and desktop. So if you added a Logitech headset such as G430 for your laptop, you can manage it with device manager. For downloading the latest headset drivers, device manager is a suitable way.
1. Enter device manager.
2. Extend Sound, video and game controllers, you will find the Logitech G430 gaming headset.
3. Right-click it and select Update Driver.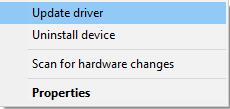 4. Click Search automatically for updated driver software. Then Microsoft will start search G430 drivers automatically and install it.
Method 3: Download Logitech G430 Drivers for Windows and Mac on Logitech Support Page
Logitech provides the support page for all the popular product such as Logitech G430, Logitech H930, etc. In the support page, you can find all the software such as Logitech G430 software and drivers to download.
1. Goes to here: logitech.com/support/g430.
2. Find the Download tab, and you can see the Logitech gaming software in the right side. Logitech gaming software provides power and intelligence for the Logitech devices including the mice, keyboard, headset and other devices.
3. Click Show All And then Select the System from the drop-down list. If your system is Windows, you can select Windows 10, Windows 8, Windows 7, etc. If your system is Mac, you can select MacOs 10.13, MacOs10.12, and OS X 10.11.
4. Find the suitable downloads from the right side. If your system is 32 bit, you should download the software on 32 bit. If your system is 64 bit, you should download software on 64 bit.
5. Install Logitech gaming software step by step.
Now you can follow the above three ways to download Logitech G430 gaming headset drivers for your laptop and desktop step by step.
More Articles:
How to Download Logitech G930 Drivers
Download and Update Logitech G933 Gaming Headset Drivers
Tags :
drivers
logitech