Download and Update Logitech G930 Drivers for Windows 10, 8, 7, and Mac
For gamers, Logitech headsets are a necessity in games, among which Logitech gaming headset G930 wins many users' hearts. However, in some cases, after you updated to Windows 10, Logitech G930 headset runs into errors all of a sudden, for instance, this headset failed to be detected by Windows 7, 8, and 10. Whatever problem occurs to Logitech headset, there is much need for you to download and update Logitech G930 drivers to make it compatible with the system.
How to Download and Update Logitech G930 Headset Drivers for Windows 10, 8, 7, and Mac?
Usually, wireless gaming headset Logitech G930 driver can be downloaded within Windows embedded tool – Device Manager. Or for some computer veterans, Logitech's official site is always open to you for the most updated Logitech drivers, not limited to G930, any other Logitech drivers like Logitech G430 driver. But to some people who are not so good at computer, turning to a third-party driver tool is a choice worth trying.
Methods:
Method 1: Download Logitech G930 Drivers Automatically
If you have any Logitech headset G930 driver issue, but you have no idea how to get the latest Logitech driver, you may as well turn to Driver Booster, the top one driver finder, downloader, and finder. Driver Booster will not only find the old Logitech gaming headset G930 driver but also the updated driver. Either to update the Logitech driver or keep the old one is up to you.
1. Download, install and run Driver Booster.
2. Hit Scan. Then you can notice Driver Booster is scanning your PC for the outdated, missing, and corrupted drivers.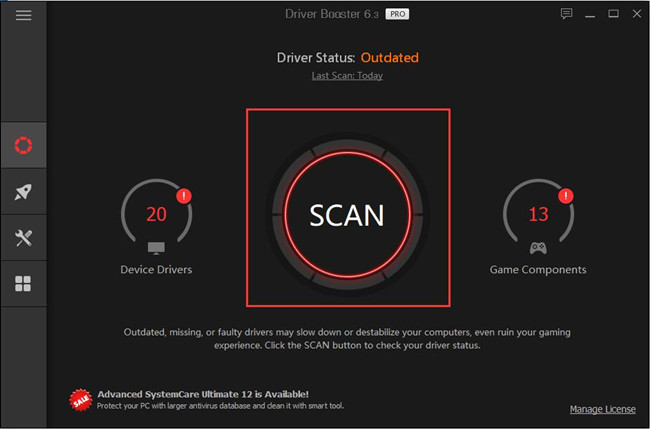 3. Locate Logitech G930 headset driver and Update it by Driver Booster.
Then you can see Driver Booster is installing the updated Logitech gaming headset G930 driver. Right after that, check whether Logitech wireless gaming headset is working on Windows 7, 8, 10. For users who hit upon Logitech G930 microphone not working, it is also feasible to update the microphone driver in order to fix the Logitech issue.
Method 2: Update Logitech G930 Headset Driver in Device Manager
No matter you are using Logitech G930 Bluetooth or wireless headset, you can choose to update the driver within Device Manager. Sometimes, your Logitech headset error will be fixed in Windows systems.
1. Open Device Manager.
2. Expand Sound, video and game controllers and then right click the Logitech G930 headset driver to Update driver.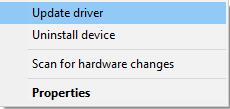 3. Then choose to Search automatically for updated driver software.
Wait until the Device Manager finds the driver you need. In some situations, you can just leave the old Logitech G930 driver on the PC in case of future use.
Under some circumstances, it is predicted that drivers for Logitech gaming headset or microphone G930 will be downloaded on Windows 10 with the assistance of Device Manager.
Method 3: Update Logitech G930 Drivers on Logitech Official site
You can also try to download the latest Logitech G930 headset driver via Logitech site, like gaming headset Logitech G930 and G430 drivers. On this website, various drivers for Logitech headset, microphone, keyboard, mouse, are available for you. In most cases, Logitech G930 drivers can be found here for both Windows and Mac systems.
1. Navigate to Logitech.com/support/g930.
2. On the left side, hit Downloads and then Download the Logitech driver.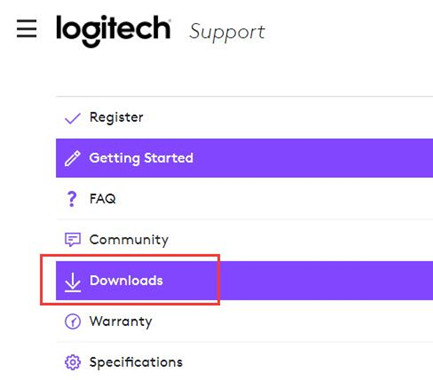 Here as you can see, you can download Logitech gaming software to manage Logitech devices.
Upon Logitech G930 headset drivers updated, reconnect it to your PC in games and you can see your headset or microphone works well on Windows. There will be no more Logitech headset G930 driver issue.
All in all, Logitech devices are widely used among users, so it is of great necessity to ensure your Logitech drivers are compatible with the system and the game. With this article, you will have a general idea about getting the old and latest Logitech drivers for Windows 7, 8, and 10.
More Articles:
How to Download Logitech G933 Headset Drivers
Download and Update Logitech M510 Drivers on Windows 10, 8, 7
Tags :
audio issues
drivers
logitech