Download Logitech G933 drivers on Windows 10, 8, 7
It is frustrating when Logitech G933 wireless headset is not working, because it means you are not able to chat with other gamers while playing games. If you are having such an issue, it could be the Logitech G933 driver problem.
Let us learn the below three methods to download the latest Logitech G933 headset drivers.
Methods:
Method 1: Update Logitech G933 Driver Automatically
Timing is everything, so firstly we can try to automatically update the driver through a safe, fast, and professional driver updater tool — Driver Booster.
Driver Booster can scan your computer for outdated or missing drivers and provide you with an easy way to download and install the latest drivers, which effectively resolves driver-related system issues and device malfunctions. With access to a comprehensive database of over 350,000 drivers, it is likely that you will always have the latest updates and enjoy uninterrupted device operation.
Here are the specific steps you can follow.
Step 1: Download and install Driver Booster where you can choose free download or free trial. It only takes about 23.8MB and supports Windows 10/8.1/8/7/Vista/XP system.
Step 2: Open Driver Booster, and click the Scan button to check your driver status. It can scan your device drivers and game components. What a good helper it is to improve your gaming experience!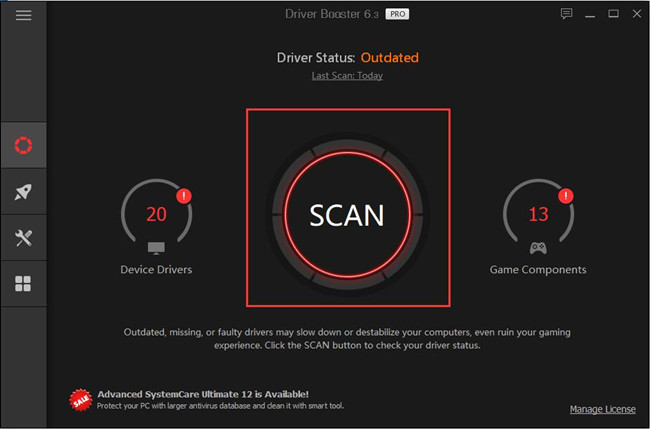 Step 3: After the scanning is over, you will see the Logitech G933 driver is outdated. Click the Update button beside the driver, and then an official updated version of Logitech G933 driver will be downloaded and installed on your PC automatically. With this software, you can also update Logitech G930 drivers, G430 drivers easily and fasts.
As for how to update the drivers manually on the Windows system, we shall check the following methods.
Method 2: Update Logitech G933 Driver via Device Manager
Device Manager is a Control Panel applet in Microsoft Windows operating systems. It allows users to view and control the drivers attached to the computer. So, when your headset does not perform well, we can also use the Device Manager to update the drivers.
Step 1: Open the "Run" dialog box by pressing Windows + R combination key.
Step 2: Type devmgmt.msc and click OK.
Step 2: Find the device (G933) under "Audio, video and gaming controllers" right click it and select Update driver.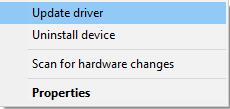 Step 3: Click on Search automatically for updated driver software.
Note: If Windows doesn't find a new driver, that doesn't necessarily mean the driver you have already installed is up to date. Windows Device Manager isn't very good at detecting outdated drivers. Thus, let us move on to the next method.
Method 3: Download Logitech G933 Driver on Logitech Website
Logitech official website regularly releases updates for the driver software. So you can download its drivers from Logitech website. Here are the steps:
Step 1: Go to the Logitech support website where you can download Logitech drivers and get assistance to fix various Logitech product issues. Drop down the page, you can also check a variety of Logitech software.
Step 2: Enter Logitech G933 drivers in the search box.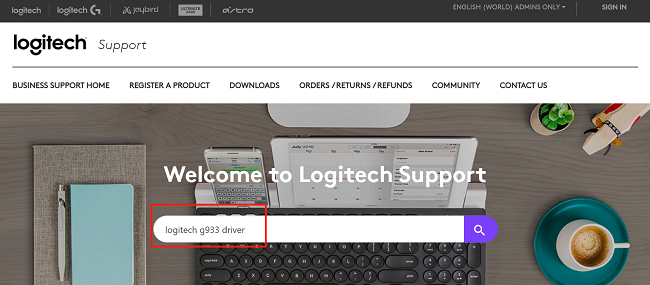 Step 3: Select Downloads and click Logitech G HUB which enables you to customize Logitech G gaming mice, keyboards, headsets, speakers, and other devices. In other cases, you might want to update Logitech G933 Gaming Software as well whose download files are also accessible here.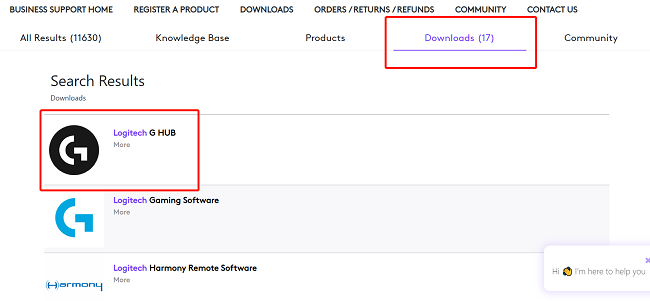 Step 4: Click on the Download now. The updated Logitech G933 software can fix some bugs so that your headset performance can be improved.
After downloading and installing the latest version of the driver, Logitech G933 firmware update is also completed. On the Logitech website, you can also get access to Logitech G933 Manual if you need it.
If you still have any questions about Logitech G933 drivers, software, firmware updates, feel free to leave your comments on this website.
More Articles:
6 Ways to Fix Logitech Speaker Not Working on Windows 10
Logitech G930 Keeps Disconnecting and Reconnecting (Solutions)
Tags :
audio issues
drivers
logitech