6 Ways to Fix Logitech Speaker Not Working on Windows 10/11
It is of great importance for us to keep the Logitech Z906 speaker or other speakers working due to the necessary use of it.
However, we often find the Logitech speaker does not work in Windows 10/11 after the Windows 10/11 upgrade or Windows 10/11 update. So people are always so concerned about it that they are searching for the way to resolve the Logitech speaker no sound problem.
Here this article will mainly focus on how to do if you are experiencing the Logitech speaker not working issue when you are using Logitech PC Sound speaker, Logitech Bluetooth Speaker, or Logitech Surround Sound speaker.
Solutions:
Solution 1: Check the Speaker Settings and Related Settings
If your Logitech Z213 Speaker, Z323 speaker stopped working, you should at first check the following items:
1. Check whether if Logitech Bluetooth speaker or Logitech PC speaker is broken by plugging it to another computer to check the condition of the speaker.
2. And you should turn on the speaker power button.
3. Check whether the cable is fine and whether it is plugged in the right ports. If you are using the laptop, there is only one port. But if you are using the desktop, you should carefully plug the speaker to the right port. Following the icons in the background of the case to plug it.
4. Check if the main volume sound is turned on, someone may think the Subwoofer is the main volume. And if you are using an audio software, make sure the software audio is turn on.
5. Make sure your computer audio is not set as "Mute". And here is the solution to fix PC no sound issue.
If all these you have checked are in a good condition, but the Logitech speaker is still out of work, you can go ahead to the next methods.
It consists of updating the speaker drivers manually and automatically, adjusting the Logitech speaker settings and running troubleshooter to fix the Logitech speaker no sound issues.
Related: How to Connect Creative Bluetooth Speaker to PC
Solution 2: Uninstall Logitech Speaker Driver
It is proved that people often come across the Logitech speaker not working after they upgraded their Windows system. So at first, you can uninstall the Logitech speaker driver in a manual way by using device manager to make it be compatible with Windows 10/11.
Step 1: Open Device Manager.
Step 2: Locate Sound, video and game controllers and expand it. You can find the Logitech speaker device.
Step 3: Choose Uninstall to uninstall Logitech speaker drivers.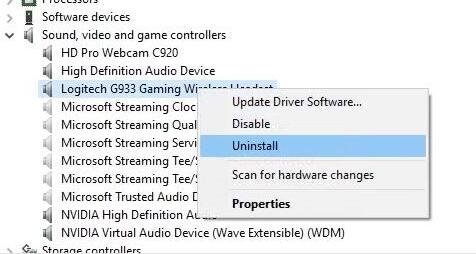 Step 4: Close device manager and restart the computer.
After you have restarted the computer, your Logitech Bluetooth speaker, Logitech Surround sound system, and Logitech PC speaker may work well on your computer.
Related: Install Realtek HD Audio Driver Failure Windows 10/11
Solution 3: Update Logitech Speaker Drivers Automatically
If you cannot find the Logitech speaker driver by yourself or you do not want to waste your energy and time in that, you can use Driver Booster to update the drivers for you automatically.
Driver Booster, an automatically drivers download and update tool, can help users to get the latest graphic driver, audio driver, USB driver, mouse driver etc with one click. And as the best driver scanner, it can detect the most outdated and missing drivers for your computer.
At the beginning, you should download Driver Booster, install and run it on your computer.
Step 1: Scan your computer. Click Scan, and Driver Booster will automatically scan all the drivers which need to be updated, including Logitech speaker driver.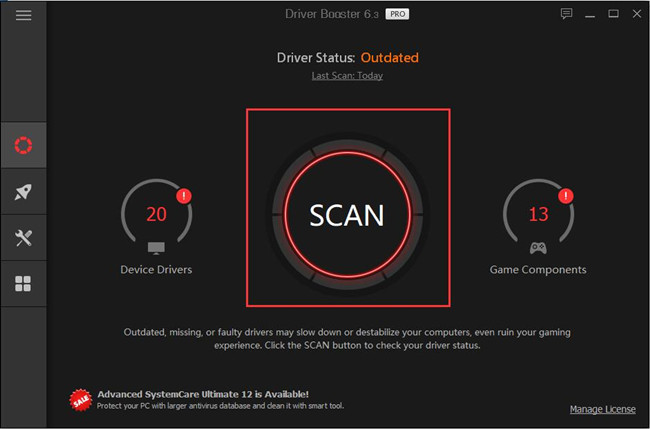 After you clicked the scan button, it will show you how many drivers you can update.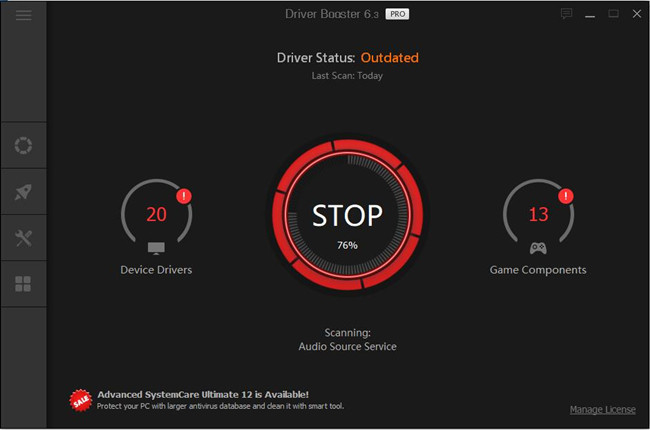 Step 2: Update driver. Clicking Update or Update Now to download all the Logitech Speaker drivers in this way with only a click.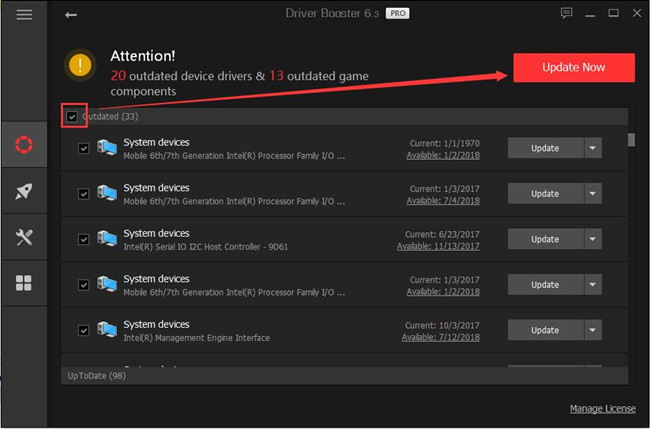 You are able to install the Logitech speaker drivers by following the installation guideline.
So within several seconds and two clicks, we can finish the whole downloading process quickly and conveniently.
Solution 4: Set the Logitech Speaker as Default Playback device
If you are running the Windows system such as Windows 11, Windows 10, Windows 8, and Windows 7, you should to make sure the Logitech speaker is the currently using speaker. If it is not, the speaker will not work properly. So you should check and set it as right.
1. In the taskbar, right-click the sound icon and choose Playback devices, you will see all the playback devices in the list. And here is the solution if the sound icon missing in taskbar.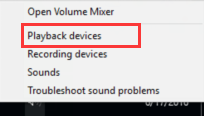 2. Choose Logitech speaker, and then click Set as Default or right-click it to choose set as Default from the context menu.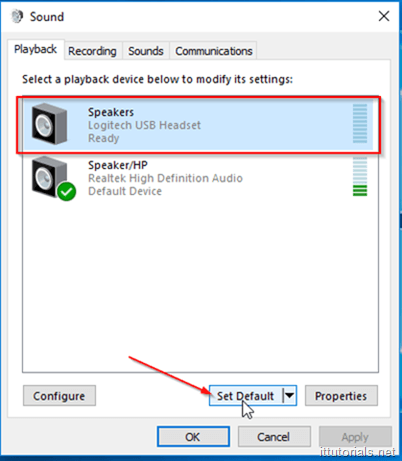 After that, open an audio software or Youtube to test if you can hear sound from Logitech speaker.
Related: No Audio Output Device is Installed
Solution 5: Set the Speaker Sound Effect
If you have just upgraded your computer to Windows 10/11, the Logitech speaker stopped working issue may be probably caused by the wrong setting. In other words, it means that it may not work because of the default setting coming with Windows 10. So maybe you can try to change the Logitech speaker setting.
1. right-click the Sound icon and then select Playback devices from the options.
2. Right-click the default device and then select Properties.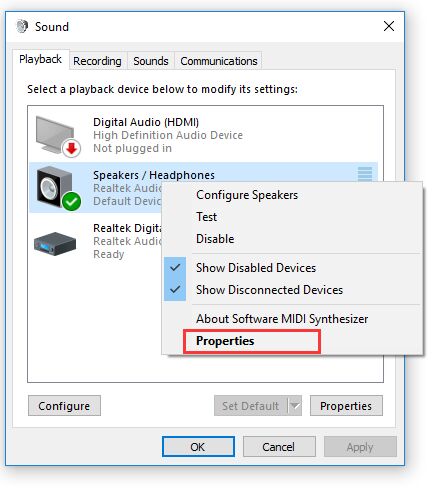 After you have entered the Properties window, you will see the Enhancements.
3. Locate the Enhancements. And then tick Disable all sound effects.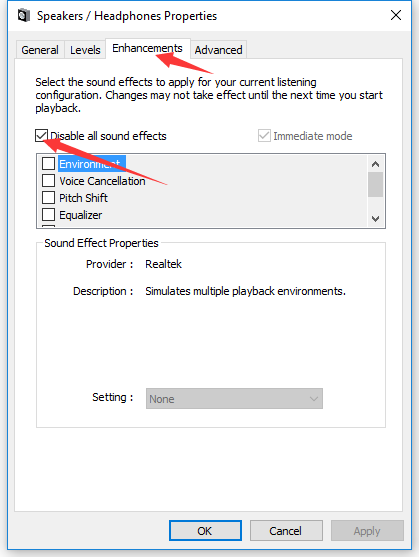 All finished, you can try to check whether your Logither Stereo speaker, Logitech speaker with a subwoofer can be working or not by playing a video or audio.
Related: Computer Volume Too Low on Windows 10/11
Solution 6: Run Troubleshooter to Fix the Logitech Speaker Not Working Issue
If the Logitech speaker no sound problem still exists after you have tried all the solutions above, maybe you can try to troubleshoot the Logitech speaker sound problems. Troubleshooter is a tool which is embedded in the Windows 10, it would be fast to use it to fix the Logitech speaker not working or connected but no sound issues.
Step 1: Type Troubleshooting in the search box and press Enter to the Troubleshooting window.
Step 2: Find out View all and click it.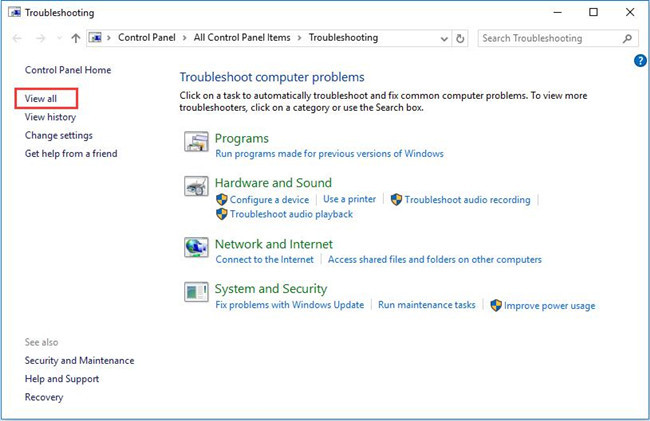 After that, you will enter all the Categories window.
Step 3: Select Hardware and Devices.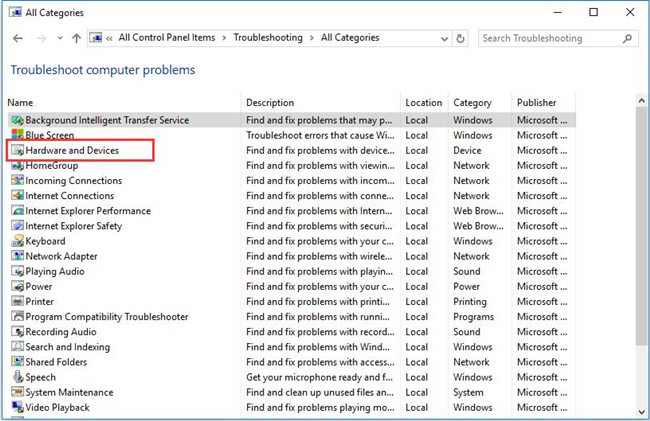 In this window, you will see all the computer problems.
Step 4: In the Hardware and Devices window, make sure the Advanced option is selected.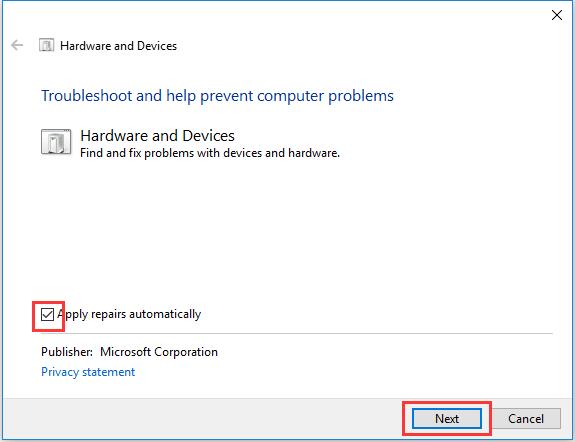 In this way, the Windows 10 will automatically repair your driver problems.
Step 5: After you have clicked Next and the system will detect your drivers.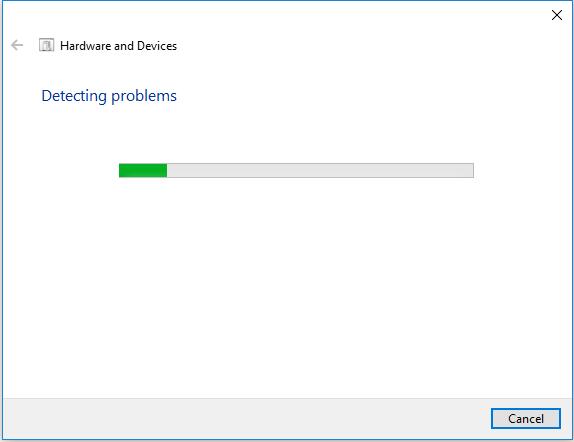 After that, the Windows will tell you whether there are some problems that cause the Logitech speaker not working in Windows 10.
Step 6: Choose Apply this fix.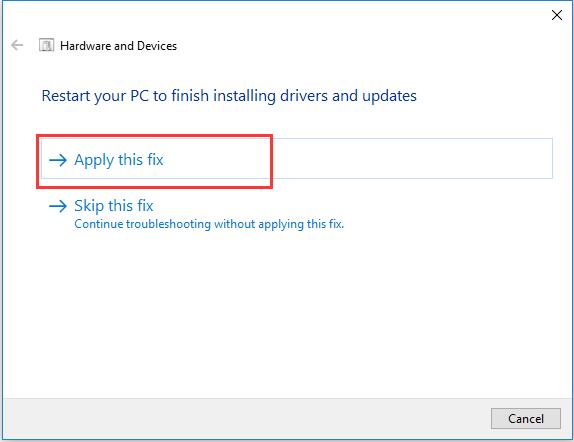 After that, the Windows will fix the error that the Logitech speaker is not working in Windows 10 all by itself. You just need to restart your computer and the speaker may work this time.
It is a common phenomenon that the Logitech Bluetooth speakers, Logitech computer speakers and Surround sound speakers cannot work in Windows 10. And these solutions also applies to Windows 8 and Windows 7. So when it really happens in your daily life, you can take the solutions listed above.
More Articles:
Fix Logitech G930 Constantly Keeps Connecting and Disconnecting Issue
[Fixed]: Windows 10/11 Not Detect the Bluetooth Speaker
Tags :
audio issues
logitech