Fix: Your Account Has Been Disabled on Windows 10
Some clients argued that sometimes after entering safe mode, Windows 10 would take you to the lock screen with Date and Time. When they manage to sign in, it turns out that they are able to log on to any Microsoft programs, such as MSN, but still reminded that the account has been disabled on Windows 10.
Contents:
Why this account disabled phenomenon happens to you?
The reasons lie in two aspects. The one is due to your inappropriately logging out from Windows 10. The other one hinges on something goes wrong with your applications or drivers on Windows 10.
On that basis, to help you completely resolve the administrator account disabled trouble with Windows 10, several efficient and powerful ways are offered to you.
Solution 1: Activate Administrator Account in Command Prompt
You may have no idea that there is an administrator account on Windows 10 only when it is in safe mode. Accordingly, now that you have met a problem that account has been disabled, why not enter safe mode and activate the hidden administrator account to create a new user account?
Therefore, if you hope to make this disabled account back to work, the first thing you have to do is activating administrator account in Command Prompt on Windows 10.
1. Press Shift key all the time and at the same time hit Restart from Power button.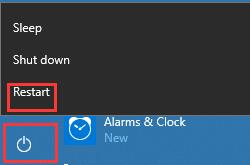 2. Under Advanced Recovery Options, choose You are supposed to hold Shift key until the presence of Advanced recovery options.
3. In Advanced Options, click Command Prompt.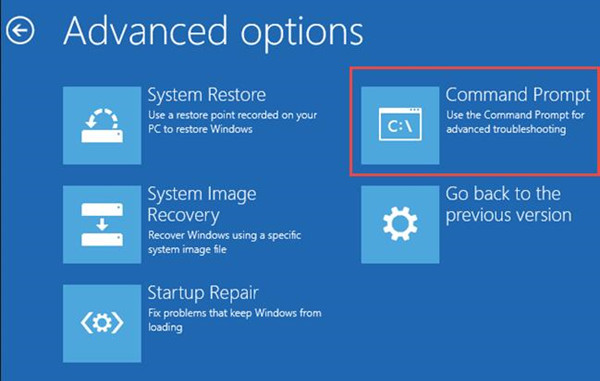 4. In Command Prompt, copy or input the command below.
net user administrator /active:yes

5. Then tap Enter to execute the command.
6. Reboot your computer.
At this moment, the problem your account has been disabled. Please See Your System Administrator on Windows 10. If not, go on to try more ways.
Solution 2: Create a New Account in Safe Mode
Now that you have woken up the hidden administrator on Windows 10, you now are enabled to create a new account to fix this issue that this account has been disabled on Windows 10. But you are to memorize that only in safe mode can this administrator account would exert some of its privileges and can you add a new account.
1. Hit Power button and choose Restart, at the same time, press Shift all the time until the Advanced Recovery Options menu appears.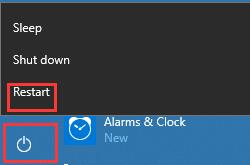 2. Then on the Advanced Recovery Options menu, choose as follows Advanced options > Startup settings > Restart.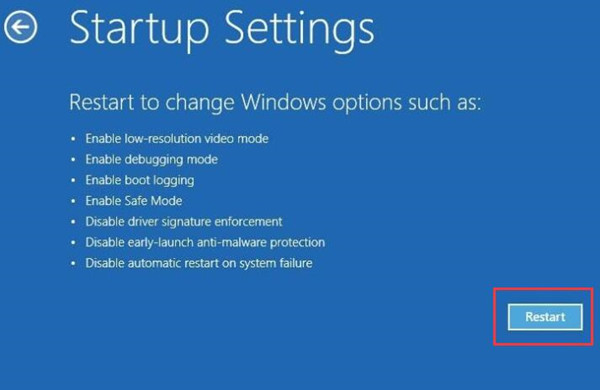 Tips: But here for some users, you may fail to find Command Prompt from the path above. If it is the case, you may as well manage to go to Troubleshoot > Advanced options > Command Prompt. Then enter the command at Command Prompt as that shows in step 4.
3. At the moment you click Restart, the lock screen would show you various options. Press 6 to choose to Enable Safe Mode with Command Prompt.
Then you would be able to log on to Windows 10 in safe mode with an administrator account.
4. Open Command Prompt and enter the command below to it and hit Enter.
net user /add <name of the user account you want to create>
After that, input the following command at once.
net localgroup administrators <name of the user account you want to create> /add

5. All finished, enter shutdown /r in at the command prompt.
Now you have succeeded in creating a new user account via Command Prompt on Windows 10.
With the new user account, you can login in without the issue that account has been disabled on Windows 10.
Nevertheless, though the way of creating a new account fails to help you fix the account cannot login problem, there are other measures are available for you to tackle the problem.
Solution 3: Enable the Disabled User Account
As long as you have made a new account for Windows in safe mode, there is in very much need for you to make sure you have not disabled or log out of it accidentally or enable the disabled account.
1. Press Windows + R to open Run box. Enter lusrmgr.msc in the Run dialog and tap Enter.
2. Under Users, locate Administrator and right click it to open its Properties.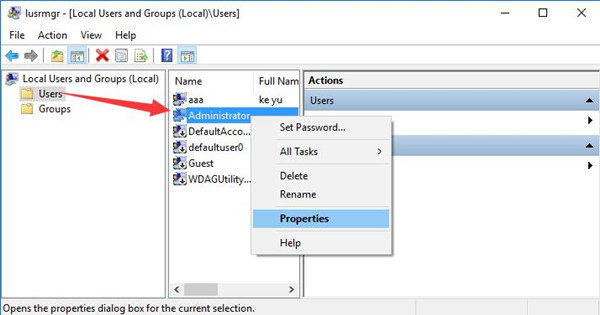 3. In General tab, make sure to Uncheck Account is disabled.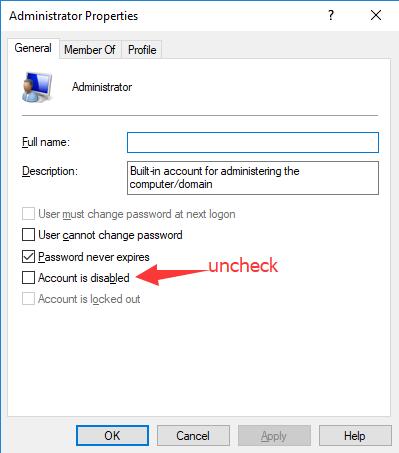 4. Then click OK to save the changes. Now you would be able to solve the account disabled issue and sign in with the original account again.
If the disabled account still exists, hang on to the methods below.
Solution 4: Restore PC to the Easier Point
In this method, you need to run System Image Restore on Windows 10, which is to say in performing System Image restore, Windows 10 would get to a point where the problem that your account has been disabled no longer exist.
1. Hit Shift key all the time and at the same time, click Restart from Power button.
2. In the presence of Advanced Recovery Options, click troubleshoot and then choose System image restore.
There will be some system restore point you can choose from and you are supposed to select the one that makes your account has been disabled issue disappear on Windows 10.
3. Choose an account type. Here you are to select Administrator.
If you have followed the steps, now you need to wait for some time to make Windows 10 finish the System Image Restore.
When you have completed the process, you would find the account disabled issue have been resolved.
Solution 5: Utilize ReimagePlus
Some users may be accustomed to fixing problems quickly and convenient, ReimagePlus may be a good tool for you. ReimagePlus can help you resolve with various Windows 10 troubles, such as blue or black of death and freeze. Now if the disabled account haunted you, it is wise of you to use it to make the account back to normal.
If you have downloaded the third-party tool–ReimagePlus, there is nothing you have to be anxious about. May your account disabled can be fixed with the help of it.
Solution 6: Reset System Settings
Sometimes, to make things easier, you might as well struggle to reset the computer settings but avoiding chooses to save any files which may help you remedy the problem that administrator account has been a disabled issue on Windows 10.
Maybe after you have reset some settings for Windows 10, you can log on to with your account this time.
In a word, this post focuses on teaching you how to deal with the trouble that your account has been disabled on Windows 10. If you are the one meeting with this issue, take a glance at it and maybe the disabled account can be working now.
More Articles:
Fixed: The User Profile Service Failed the Sign-in Windows 10
Top 4 Ways to Change Standard User to Administrator
Tags :
account