Intel Bluetooth Driver Download and Update on Windows 11, 10, 8, 7
Some of you failed to connect the Intel Bluetooth to Windows 10/11, and when you open the Device Manager to check the condition of this device, you just find that the Intel Bluetooth displays with a yellow exclamation beside it.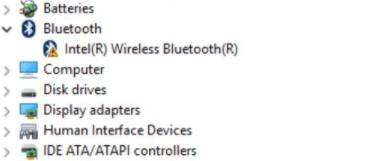 Or simply, after updating Windows 10 or Windows 11, some users wish to update the Intel Bluetooth driver to make it work well with the system. Whatever your purpose is, you can refer to this post to find a method that best suits your need in downloading and updating the Intel Wireless Bluetooth driver on Windows 10/11.
For some users, after learning exactly about what Intel Bluetooth works for you, you cannot wait to update its driver to enjoy its outstanding performance on your PC.
What is Intel Bluetooth Driver?
Bluetooth is a kind of wireless technology that allows short-range wireless communication between electronic devices. While as a technology company, Intel has released Intel Wireless Adapters that support the Bluetooth feature. With Intel Bluetooth on your PC, keyboards, headsets, mice, and speakers can be connected to the laptop wirelessly.
While in the work of Intel Bluetooth, the Intel Bluetooth driver plays an irreplaceable role, so once the Intel Bluetooth driver is not working, for instance, outdated, you need to update it as soon as possible.
How to Download and Update Intel Bluetooth Driver on Windows 7, 8, 10 and 11?
The role of the Intel driver for the Intel Bluetooth is to build the bridge between the Intel Bluetooth hardware and the system. Normally, the time you try to connect the Intel Bluetooth to Windows 10, the system will automatically install a driver for it to run.
However, when the Intel Bluetooth driver runs into a diver issue, like driver corruption, or the Intel Bluetooth driver just shows a yellow mark, the Intel Bluetooth does not work on Windows 10/11.
Anyway, select a method to update the Intel driver. It may not only bring you better Bluetooth performance but also resolve some issues with this hardware.
Methods:
Method 1: Update Intel Bluetooth Driver Automatically
This method is the most efficient and troubles-saving. For some users, updating the driver regularly is required to gain excellent performance on the device. In this way, Driver Booster, an automatic driver searching, downloading, and installing tool, is a perfect choice for you.
Having been used worldwide, Driver Booster can also help you fix some device problems like audio errors automatically. Here, this tool can also download the latest Intel Bluetooth driver on Windows 10 32- or 64-bit, or any other Windows systems.
1. Download, install and run Driver Booster on Windows 11 or Windows 10.
2. Click Scan to search for all the outdated, corrupted, and missing drivers.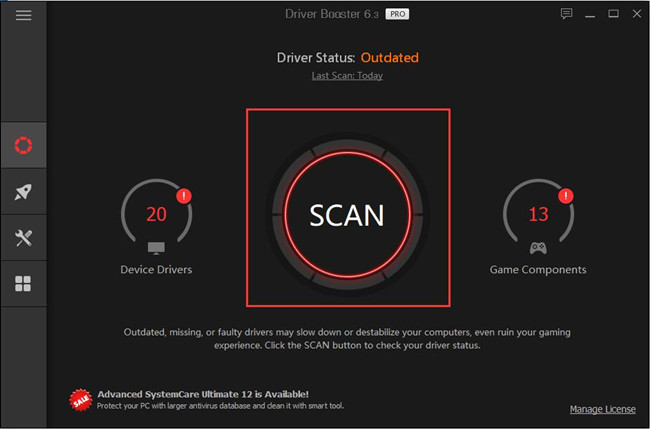 3. Under Bluetooth, find out the Intel Bluetooth driver and Update it.
Driver Booster will be searching for the latest driver for you.
Once found, the Intel Bluetooth driver will be downloaded and installed immediately. In this case, there is no need for you to search for the driver yourself.
Method 2: Update Intel Bluetooth Driver via Device Manager
Windows Device Manager will also be useful when you want to install the up-to-date Intel Bluetooth driver. Or when you noticed the yellow mark of the driver, you can directly update the driver in Device Manager.
1. Open Device Manager.
2. Expand Bluetooth, and then locate and right click the Intel Bluetooth driver to Update driver.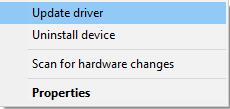 3. Try to Search Automatically for the updated driver.
After receiving your order, the inbuilt-tool Device Manager will search online and offline to get the compatible Bluetooth driver for you. About this method, users hold divided opinions. Some consider it convenient and useful in driver management, like driver updating, since it is offered within the Windows system.
Whereas some others complain that Device Manager is unable to find the latest device driver as a Windows embedded tool. And the usefulness and efficiency of Device Manager depend largely on your device. So try it to update the Bluetooth driver in Windows 10.
In Device Manager, especially, if you hit upon Intel Bluetooth driver failed issue, you cannot only update the Bluetooth driver but also roll back this driver, which is proved helpful by some users.
In Device Manager, right-click the Intel Bluetooth to Roll back driver. Then Device Manager will search the previous driver package for you and install it instead.
However, if you have completely removed the packages of the previous Intel Bluetooth driver versions, perhaps you have to go to Intel's site to download the one you need, which also provides you with the latest Intel drivers.
Method 3: Download Intel Bluetooth Driver from Intel Official Website
On Intel's official website, various Intel drivers are provided, such as Intel USB 3.0 eXtensible Host Controller diver, Intel graphics driver, and Intel Bluetooth driver. You can go to the Intel site to find, download, and install the Intel Bluetooth driver yourself if you are proficient in fixing computer problems yourselves.
1. Navigate to Intel's official website.
2. Under Select your product, click Wireless.

3. Locate Intel Wireless Bluetooth for Windows 10.

4. Hit Download to get the Intel Bluetooth driver package on Windows 10 32 or 64 bit.
5. Here you can also see the list of products that can use this package.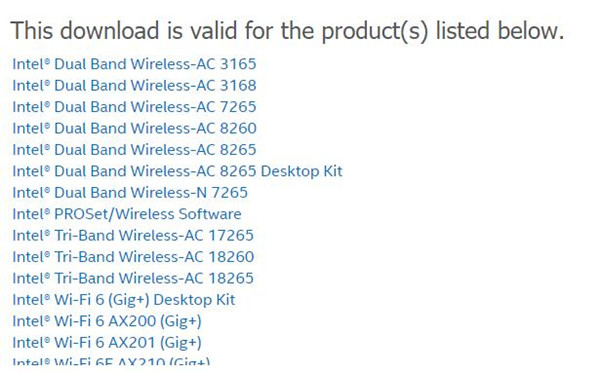 6. Follow the on-screen instructions to finish the installing.
This method may be troublesome and time-consuming, but it meets the needs of users to download drivers themselves. And on the Intel website, you can download all Intel device drivers so long as the company has released them.
In summary, from this report, you can learn to download Intel Bluetooth drivers manually or within Windows systems or automatically via a reliable driver tool. That will help you fix many driver issues as well.
More Articles:
Fixed: Intel Optane(tm) Memory Pinning Unable to Load DLL
Fix Bluetooth Keyboard Not Detected on Windows 10/11
5 Ways to Solve Bluetooth Mouse Not Working on Windows 10/11
Tags :
Bluetooth
drivers
Intel