Fix Invalid Value For Registry When Opening Photos
When you feel like to open, view and edit Windows 10 photos, it warns you the registry error of invalid value for registry, and you are unable to edit photos.
In fact, no matter it is Windows 10 invalid value for registry JPG error or JPEG, PDF, or PNG, you can restore them. And this thread would offer solutions for invalid registry value Windows 10.
Or whatever programs you are running, Windows 10 invalid value for registry outlook or audio, this registry error on Windows 10 will come up.
Now you would better learn more about this invalid registry value on Windows 10 so as to fix the invalid value for registry problem.
How Do I Fix Invalid Value for Registry Windows 10 When Opening Photos?
To remove the invalid value for registry when viewing jpgs, when you need to do mainly lies in changing settings in registry editor.
Solutions:
2: Change Photo Values in Registry Editor
Solution 1: Reset Photos
It is well-known that Windows 10 will experience anniversary updates, especially, after creators update, new features are added. So you may encounter invalid registry Windows 10.
Here to repair Windows 10 invalid value for registry, it is advisable that you manage to reset invalid registry value Windows 10 photos.
1. Navigate to Start > Settings > Apps.
2. Under Apps & features, scroll down to locate Photos and click Advanced options.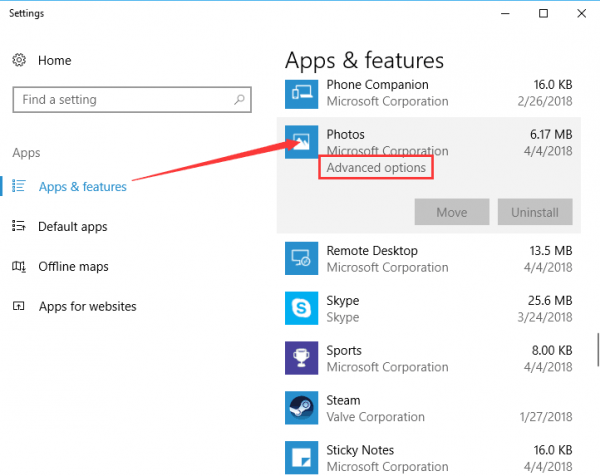 3. Click Reset to fix registry error in Windows 10.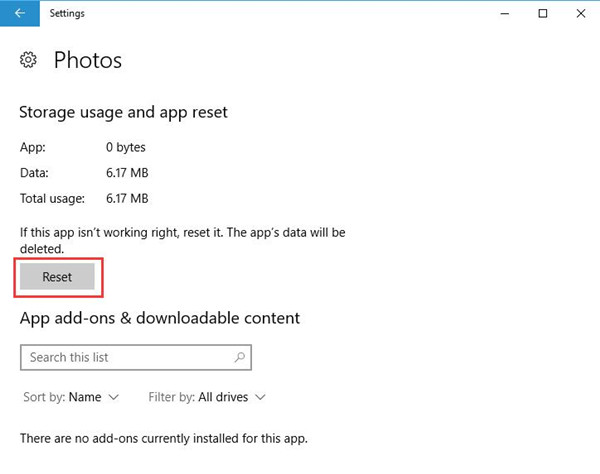 But in this way, all photo data will b deleted. You must be cautious if you have to.
Now it turns out you have successfully solved Windows 10 invalid value for registry jpg or pdf.
You can open, view or edit photos on Windows 10 without Windows photo not working.
Solution 2: Change Photo Values in Registry Editor
Although it is risky and troublesome to use the registry editor to tackle invalid value for registry error, you have to do it if reset Windows 10 photos are useless in your case.
So long as you feel like to get the essence of how to fix registry in Windows 10, for example, invalid value for registry avi or mkv, follow the steps earnestly.
1. Press Windows + R to open the Run box and type in regedit in the box. Then hit OK to navigate to Registry Editor.
2. In Registry Editor, go as the path:
HKEY_CURRENT_USER\Software\Classes\Local Settings\Software\Microsoft\Windows\CurrentVersion\AppModel\Repository\Families\Microsoft.Windows.Photos_8wekyb3d8bbwe
3. Double click Microsoft Windows.Photos_8wekyb3d8bbwe to expand it.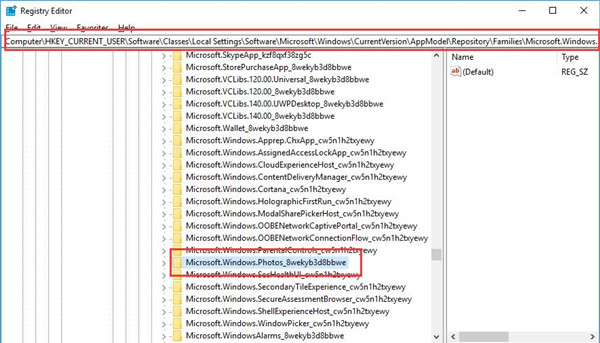 Then the situations can be divided into two parts:
Situation one: you will see 8 entries for this key, of which four are outdated or corrupted. You are to delete them all according to their version number, the smaller, the more outdated.
Situation Two: Only four entries exist in this key as you have uninstalled the photo application, you are suggested to delete two from your PC in virtue of the version number as well.
4. Right click the entry to be deleted to gain Permissions.
Here you will find you are unable to delete the entries even if you have administrative privileges, you have to take ownership of the registry key as first.
5. Click Advanced under Security tab.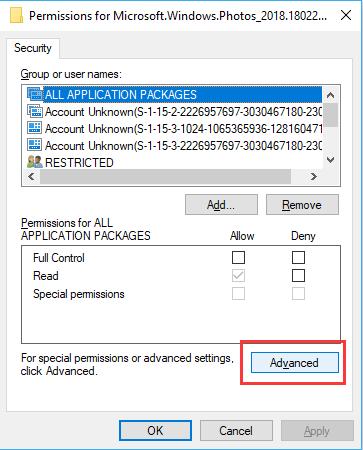 6. Hit Change in the following window and another window would pop up, in this window, Enter the object name to select and then click Check names.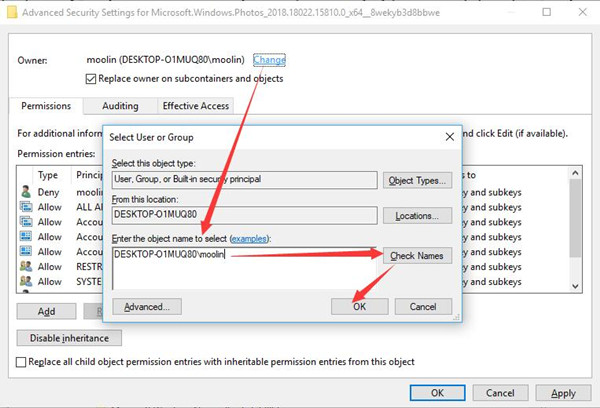 Finally, stroke OK and you can find it turns back to the previous window.
7. Check the box of Replace owner on subcontainers and objects. And then hit Apply and OK to save changes.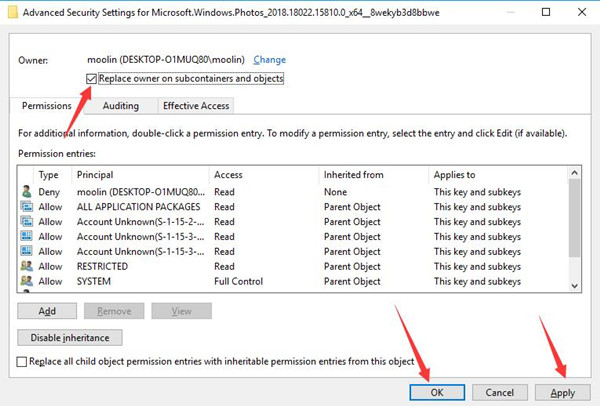 8. Choose the account you have selected (here it is DESKTOP-O1MUQ80\moolin) and tick the box of Full Control.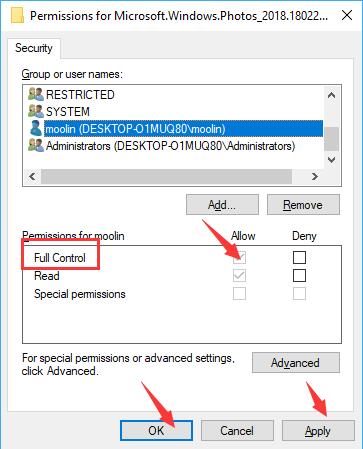 Then click Apply and OK to take effects.
At this moment, you will have full right to change settings in order to solve invalid registry value on Windows 10.
9. Back to the entries of the key Microsoft.Windows.Photos_8wekyb3d8bbwe and right click to Delete them.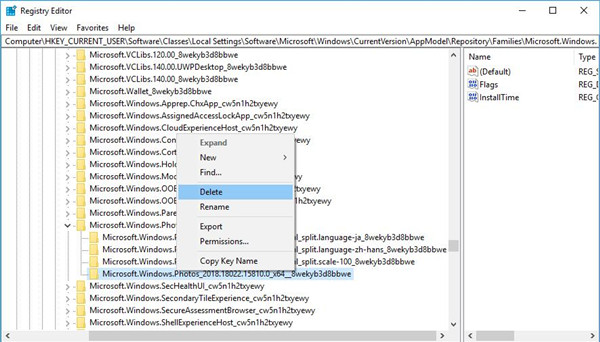 You will be reminded to permanently delete the entry from your PC, just to confirm it.
Once you remove these outdated entries for Windows 10 photo app, it is natural that you can open photos normally.
Above all, these two ways can be used to fix Windows 10 registry error effectively, for instance, invalid value for registry jpg and picture won't open Windows 10.
Related Articles:
How to Download and Install Photo Gallery on Windows 10
How to Fix Lock Screen Photos Cannot Change Problem
Tags :
photo