How to Manage Extensions in Microsoft Edge
I like extensions because it can help do more things easily and fast. And there are many extensions is customized for some special condition. Like other browser such as Google Chrome or Firefox, if you use the Microsoft Edge, you can also add extensions, set the extension and uninstall them as you like. This is article is talking about manage Microsoft Edge extensions.
Contents:
Where is the Extensions Option in Microsoft Edge?
As a new browser, maybe you cannot find the extensions option. Actually, the extension function can be found easily. In the upper right corner of Microsoft Edge, click More, you will find the option Extensions list below.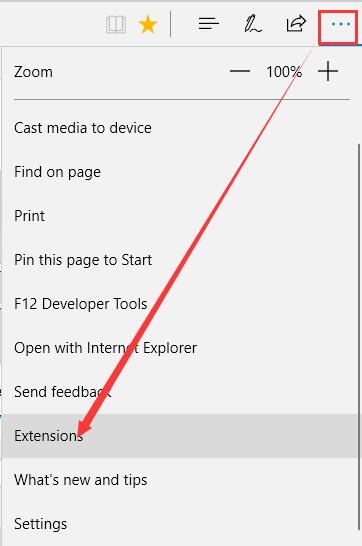 After you find the extensions option, you can consider to add the useful extensions to it.
How to Add Extensions to Microsoft Edge?
Adding the extensions such as AdBlock to the Microsoft Edge is very helpful. Some extensions can use for public business and some can use for home entertainment. So you can follow the next steps to do it.
1. Click More > Extensions to open the Extensions options.
2. Click Get extensions from the store. Then you will enter the Windows 10 store extensions page.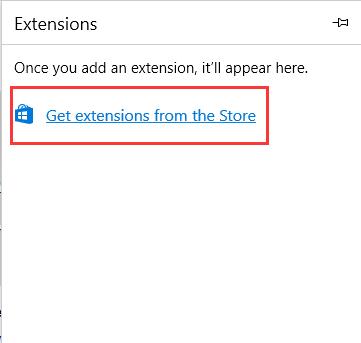 3. Choose the extension you want to add to Microsoft Edge. Here choosing AdBlock.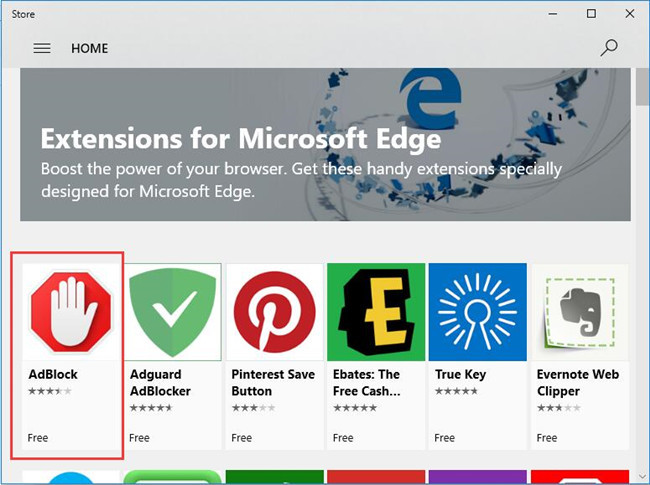 Here we can see the AdBlock is a free a Microsoft Edge extension, and it is available on PC platform. And you can see more information about it such as screenshots by scrolling down the screen.
4. Click Get.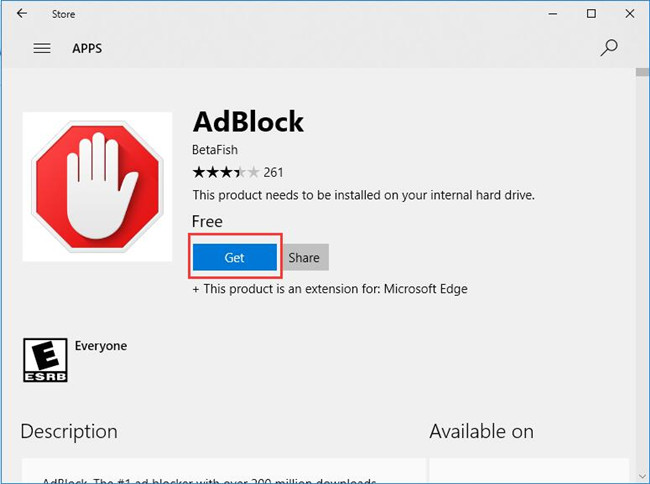 After that, Windows Store will download and install the extension. You can pause to download or stop download it.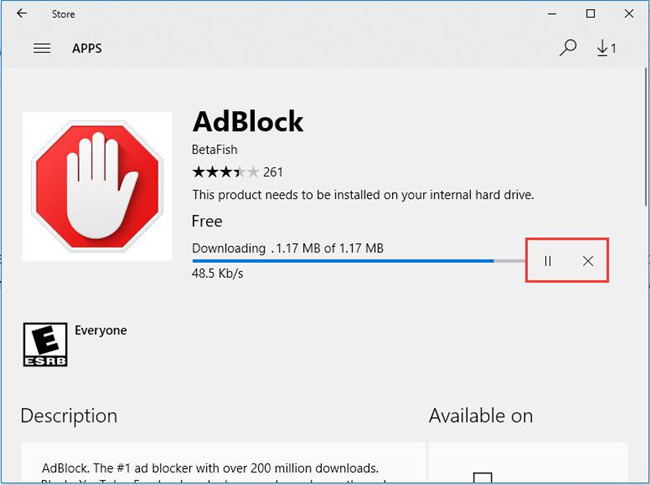 5. Click Launch.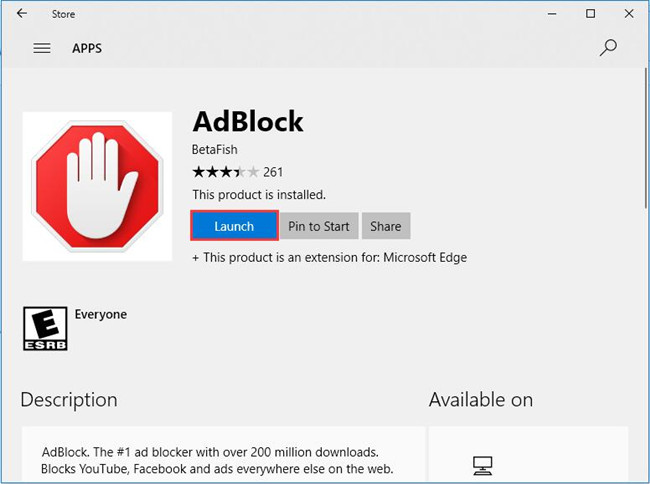 In Microsoft Edge will pops a window: you have a new extension.
6. Click Turn in on.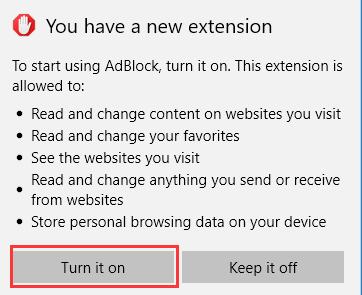 The AdBlock extension is add to Microsoft Edge. And you can see it from extensions option.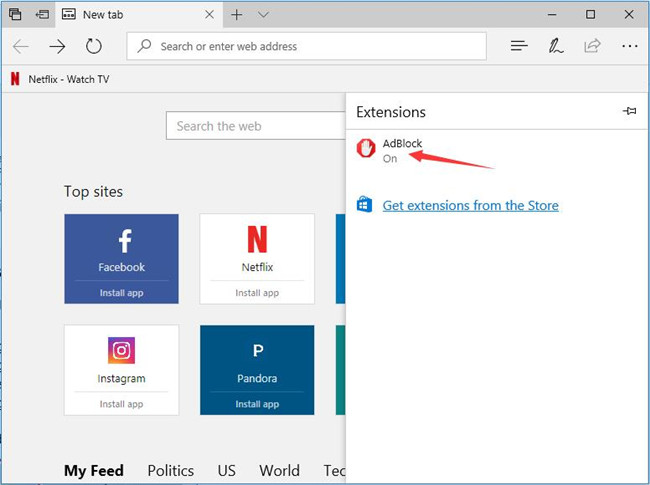 How to Remove Extensions from Microsoft Edge?
After installed extensions to Microsoft Edge, maybe it will cause some errors or lead to the browser runs slow, so you if you do not want to use an extension again, you can disable it or uninstall it. Here is the method and here use AdBlock as the example.
1. Find the extensions you want to disable or uninstall such as AdBlock extension from More > Extensions. In extensions settings, there are list of all the installed extensions.
2. Click AdBlock to open the AdBlock settings or click the Settings icon to open it.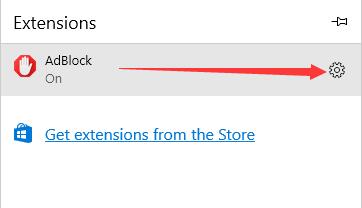 3. Turn off Adblock. In default, it is enabled after you entering the AdBlock settings.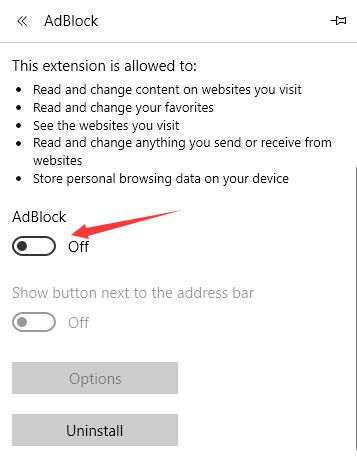 This will disable the AdBlock in Microsoft Edge.
And if you don't want to use it anymore, you can uninstall it.
4. Click Uninstall to uninstall the AdBlock extension. In pops up window click OK.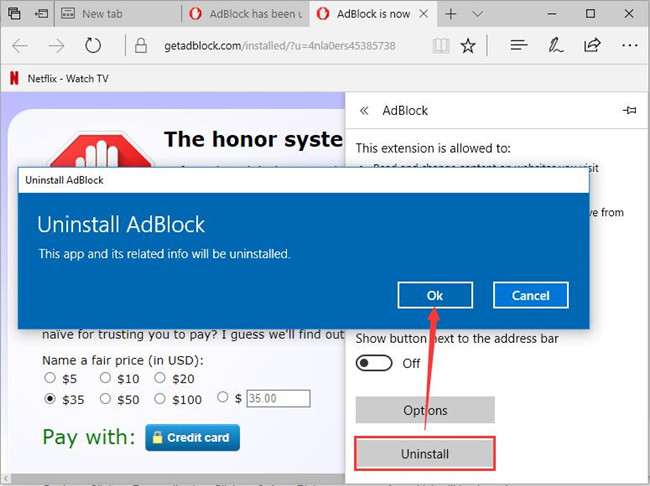 Now you have already disabled or uninstalled the extension on Microsoft Edge.
More Articles:
How to Block Ads on Twitch with Adblock on Windows (2021 Update)
How to Use Cortana in Microsoft Edge
Tags :
microsoft edge