Fixed: Mouse Double Clicks Windows 10, 8, 7
The mouse is an indispensable assistant for the computer. You can quickly do anything with the mouse, such as selecting, dragging, and opening a file, and so on. However, work with high frequency will make the mouse unusable. For example, the mouse always double-clicks itself is one of the problems.
There are different conditions where your mouse keeps twice-clicks. You may only click a left button, but the mouse operates twice. You Logitech mouse runs well, but it suddenly double-clicks itself, etc.
Why does my mouse keep double clicking?
In general, mouse single-click changes to double click due to mouse failures. Of course, it may also be caused by incorrect settings. If it is a hardware problem, most of it is because the micro switch is faulty, and the contacts on the copper sheet are oxidized, which causes a virtual connection, so sometimes it is clicked directly twice, and sometimes it is clicked but there is no response.
How Do I Stop My Mouse From Double Clicking Windows 10?
Next are the solutions you can take to fix your mouse keeps double-clicking when single clicking it. All these ways are feasible to your Logitech, Razer, Microsoft and other brand mouse.
Solution 1: Test your Mouse
Simple test and easy to operate. You can plug out your cable mouse or wireless mouse and connect it to another USB port or another computer to test if your mouse can work properly. If the mouse is broken, I think you should get a new one.
Solution 2: Reset Mouse Double-Click Speed
The first thing you should check and reset is the mouse double-click speed. When the double-click speed is set low, just open this settings to reset it.
1. Type mouse settings in search box to open the mouse tab.
2. Click Additional mouse options.
3. In the Buttons tab, you can see Double-click Speed option.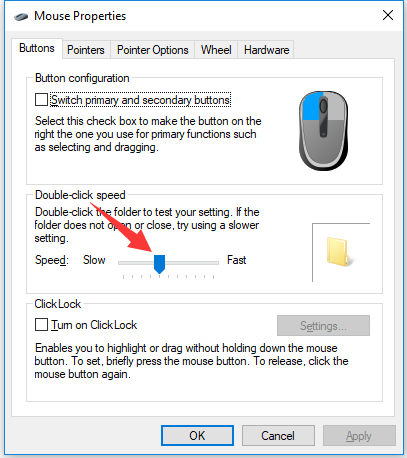 4. Move the speed scroll-bar control to adjust the double-click speed.
After that you can click mouse left button to see if the button clicks twice automatically.
Related: How to Adjust Mouse Settings on Windows 10
Solution 3: Set the File Explorer Options
Some people reported that when single-clicking the mouse left button, the file or folder is opened. Why the single-click changes to double-click? So when your mouse has started double-clicking on single-click randomly, you should check the File Explorer options.
Windows system has two file or folder opening type, you can select single-click or double-click to open your file.
1. Open Control Panel.
2. Find the File Explorer Option and open it.
3. In Click items as follows, select Double-click to open an item (single-click to select).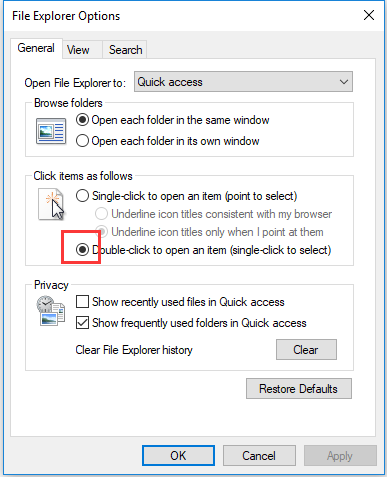 Related: How to Get Help With File Explorer on Windows 10
Solution 4: Update Mouse Drivers
If your mouse keeps double-clicking when you single click the left mouse button or right mouse button, it may be caused by the outdated or interrupted mouse drivers. So updating the driver is necessary.
1. Open the device manager.
2. Expand Mice and other pointing devices and find the mouse you are using.
3. Right-click it and select Uninstall.
4. Goes to the mouse manufacturer's official site to find the latest mouse driver and download it to the local disk.
5. Install the mouse driver step by step.
Besides updating moue drivers manually, if you do not want to take much time to search the mouse driver, you can update the mouse driver automatically.
Driver Booster is a professional mouse driver downloader, driver finder and driver updater which can help you find all the latest drivers for your Logitech mouse, Razer mouse, Dell mouse, etc.
1. Download, install and run Driver Booster on Windows 10.
2. Click Scan Now Driver Booster will start scan all your drivers including the USB cable mouse or wireless mouse driver.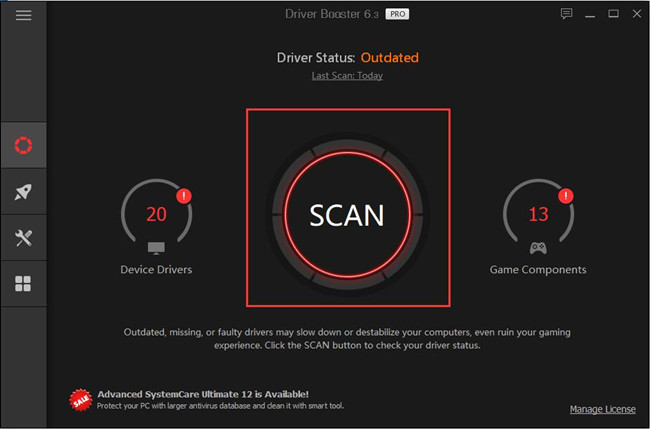 3. Find you mouse device, and then click Update. Driver Booster will start download and update the latest driver automatically.
Special Solution:
This solution is a special solution that people shared online. And some users fixed mouse double-clicking problem with this solution, so try it if above ways does not work.
Press the right click button and hold-it, turn the mouse off and on, leave the right mouse button pressed while clicking on the left click button 5 times Quit pressing the right click button and turn the mouse off. Click and hold the right mouse button, turn the mouse on and finally release the right mouse button.
Solution 5: Fix Mouse Micro Switch Problem
As it was mentioned above, if it is the physical problem when mouse occurs to double clicking problem, it may be because the microswitch, and you can replace it with a new one.
On Youtube, there are many videos with which you can learn about it. You can follow the next tutorial to fix your Mouse double click problems step by step.
Now following above methods the mouse keeps double-clicking problem will be solved, and you can use your mouse to do anything again.
More Articles:
How to Turn Off Mouse Acceleration
Fixed: Mouse Settings Keeps Resetting
Tags :
mouse