[4 Ways] There is a .NET Framework File Missing On Windows 11/10/8
To run applications built with it on a Windows PC, a fully functional .NET Framework is required. The NET Framework is a key feature for running many Windows applications. However, some users reported that they encountered the error message of "There is A .NET Framework File Missing" on Windows 11/10. If you run into the same problem, don't panic.
In this article, we will teach you how to fix the missing .NET Framework issue on Windows 10/11. We will also provide you with two simple and effective methods on how to download .NET Framework on your PC.
Solution 1: Manually Enable Microsoft .Net Framework
If you previously downloaded and installed .Net Framework, but your computer still tells you that .Net Framework is missing, then you need to go into Control Panel and enable it manually. You can disable and re-enable the feature from optional features to fix the framework.
This procedure will fix any issues caused by temporary glitches and file corruption, or by accidental .NET Framework being disabled.
Follow the steps below:
Step 1: Press the Win key + R key together.
Step 2: Type appwiz.cpl and press Enter.
Step 3: In the Programs and Features window, click Turn Windows features on or off from the left side.
Step 4: To turn on .NET Framework 3.5 (includes .NET 2.0 and 3.0), check it in the list and click OK.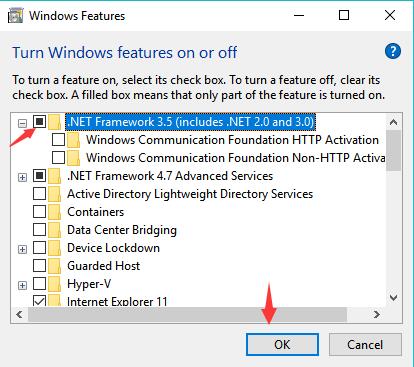 Step 5: Follow the on-screen instructions to complete the installation and restart the computer.
Solution 2: Download Microsoft .Net Framework Automatically
If manually enabling .NET Framework in Control Panel doesn't help, then you can only install the latest version of .NET Framework. You can install it in two ways, a manual method and an automatic method. If you do not have computer knowledge and skills, we still recommend you use the Driver Booster tool to automatically download .NET Framework.
Driver Booster will quickly spot missing and outdated drivers and find the latest versions that exactly match your system and device. The driver database supports over 6 million devices and drivers from over 1200 major brands. In addition, the driver sources are all from the original hardware manufacturers, and have passed the Microsoft WHQL test and IObit test.
And you don't have to worry about operation problems at all. Solve most of your system driver issues with just one click. Ongoing driver updates and maintenance help your PC avoid freezes, network issues, audio issues, blue screens of death, wrong resolutions, and more. So, you can use Driver Booster to automatically download the latest version of Microsoft .Net Framework.
Step 1: Download, install and run Driver Booster on your Windows system.
Step 2: Click the icon Scan.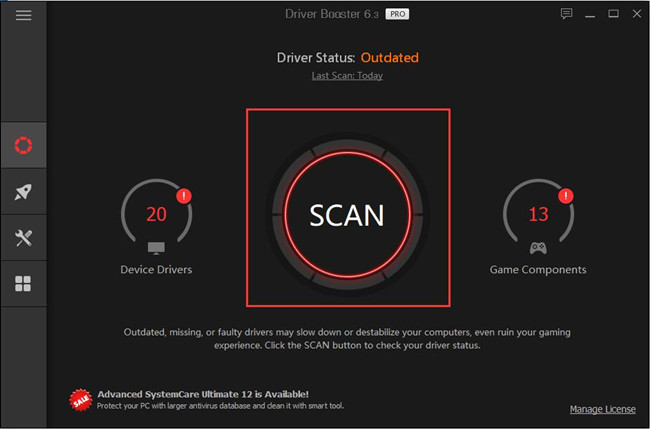 The first feature you'll notice is the "Scan" button, which lets you check all of your PC's drivers. IObit Driver Booster scans your system and provides you with a list of all outdated drivers after scanning your PC.
Step 3: Check the .Net Framework application and click the Update icon.
Tips: Also, you can update all your outdated and missing drivers by hitting Update Now in the upper right corner.
Solution 3: Download Microsoft .Net Framework Manually from the official site
This "There Is A .NET Framework File Missing" error message occurs because some files may not work on your computer. You just download and install it and they work flawlessly. If you don't want to use automatic tools to download NET Framework, you can download it manually from Microsoft's official website.
Microsoft provides an offline installer for the .NET Framework on its official website. However, you will need to select a supported .NET Framework version on the download page and follow the on-screen instructions to complete the installation. You can rest assured that by following the steps below, you will have no problems installing.
Step 1: Visit the .NET Framework download page on the Microsoft website.
Step 2: Expand the Supported versions drop-down section.

Step 3: Select the .NET Framework version you want to install on your computer.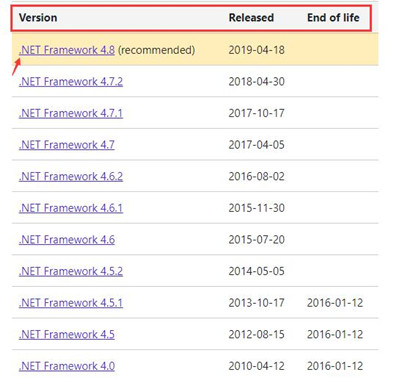 Step 4: Scroll to the "Runtime" section and select Download .NET Framework Runtime to download the web installer.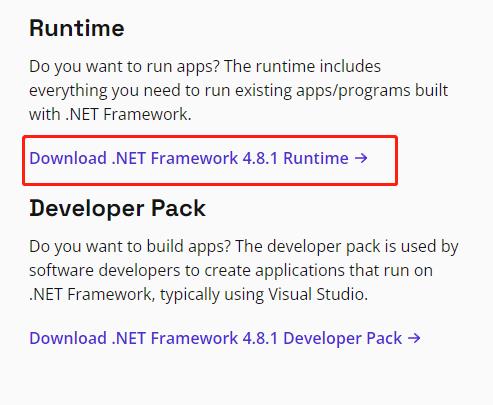 Step 5: Run the installer, and follow the on-screen instructions to finish the installation.
Step 6: Reboot your computer.
Solution 4: Update or Reinstall the Windows System
If you find that .NET Framework is missing in Windows 10/11, you can try to download the latest Windows update. Because this error may be caused by the system compatibility which is preventing certain components from being successfully added to your system.
Microsoft Update solves this problem by installing all necessary operating system components, allowing for a wider range of hardware and software options for stable compatibility.
If updating the system does not solve your problem, in this case, the only effective solution is to reinstall the Windows system. From frequent error messages to dramatically slowed-down operations, sometimes the only way to fix these pesky issues is to reinstall everything.
Reinstalling Windows will help improve device performance and return your computer system to its cleanest state.
Conclusion:
That's all for this article. Hope you can fix .NET Framework missing error on your Windows computer with the above four methods. After reading this article, you should know how to fix the missing .NET Framework issue in Windows.