AMD Graphics Driver Not Working after Windows Update
Many people have reported that after Windows 10 update, their AMD graphics, such as AMD Radeon HD 2000, 3000, 4000 series have lost the previous resolution and failed to use multiple monitors on Windows 10.
When you open Device Manager, only to find there is a yellow exclamation next to it, implying your AMD graphics driver is not installed correctly.
Or sometimes, Windows 10 just shows you that no graphics driver is installed, or the AMD driver is not functioning properly. Eventually, due to your AMD driver error, AMD graphics card not detected comes to Windows 10.
How can you do to fix this AMD display or graphics corrupted issue on Windows 10? The not working AMD Radeon series problems may lie in the AMD graphics drivers. Let's get down to solving it effectively and efficiently.
Solutions:
1: Uninstall and Reinstall AMD Graphics Drivers In Device Manager
2: Update AMD Graphics Drivers
3: Restore AMD Graphics Driver from Windows Update
Solution 1: Uninstall and Reinstall AMD driver In Device Manager
Just as it has been mentioned above, improper or corrupted AMD video card drivers would result in its failure to work on Windows 10.
For most cases, AMD with 22.19.128.0 driver after Windows Update would often happen to this issue, so it is wise for you to uninstall it completely and restore it to the version 8.970.100.9001.
1. Type Device Manager in the search box and hit Enter to open it.
2. Navigate to AMD graphics card Driver in Display Adapters.
3. Double click the AMD driver to open its Properties.
4. Under Driver tab, check the AMD driver version. You may see it shows you 22.19.128.0.
If it the case for you, manage to update it to AMD driver version 8.970.100.9001 in device manager on Windows 10.
5. Double click AMD driver and choose Uninstall. Here try to uninstall AMD Radeon HD 6456 on Windows 10.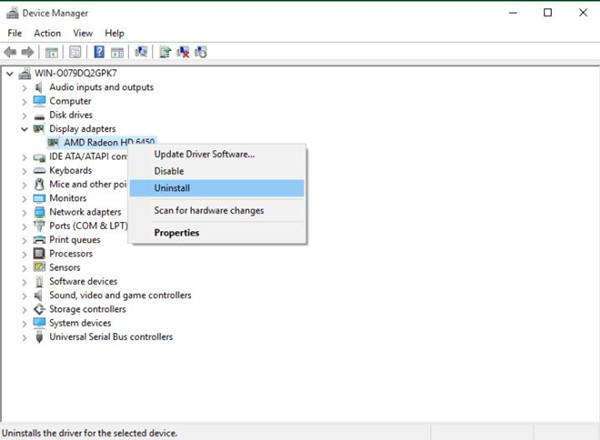 6. Tick the box Delete the driver software for this device. And click OK.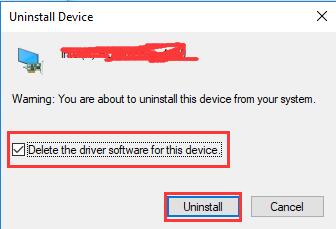 7. Restart your computer to let Windows 10 update the AMD drivers for you.
Then you can check you have recovered your AMD driver in AMD driver to 8.970.100.9001 version. And the issue that AMD display card is not working or fails to perform multiple monitors and your preferred resolution on Windows 10 will have been resolved.
For some other users, you may have entered AMD official site to download the driver 8.970.100.9001. But to your surprise, AMD site informs you that it would no longer provide you with any AMD driver for Windows 10 and you are capable of getting the AMD 8.970.100.9001 driver from Windows Update.
And when you asked if I can use AMD display driver on Windows 7 or 8 on Windows 10, the answer is NO. AMD driver should be properly matched on Windows 10.
Solution 2: Update AMD Graphics Drivers
As mentioned above, no matter your AMD graphics card problem is, no AMD driver installed or AMD graphics card not recognized by Windows 10, it shows in device manager and denotes your AMD driver is not working well with Windows 10.
On that occasion, to make things easier, you can try to utilize Driver Booster to update the AMD display driver for you automatically. In this way, the AMD driver installation error can be fixed quickly and effectively. Even if your AMD graphics driver is faulty on Windows 10, perhaps Driver Booster will detect out it and find a compatible one for you.
1. Download, install and run Driver Booster on Windows 10, 8, 7.
2. Hit Scan on Driver Booster interface.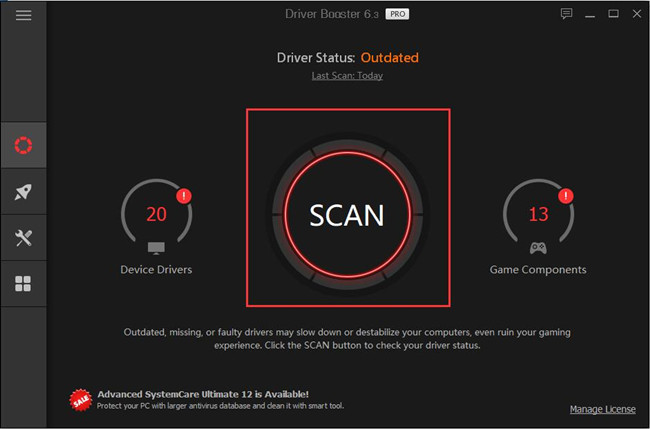 Then you can apparently see Driver Booster is looking for the missing, outdated, or faulty driver on Windows 10.
3. Pinpoint Display adapters, and decide to Update.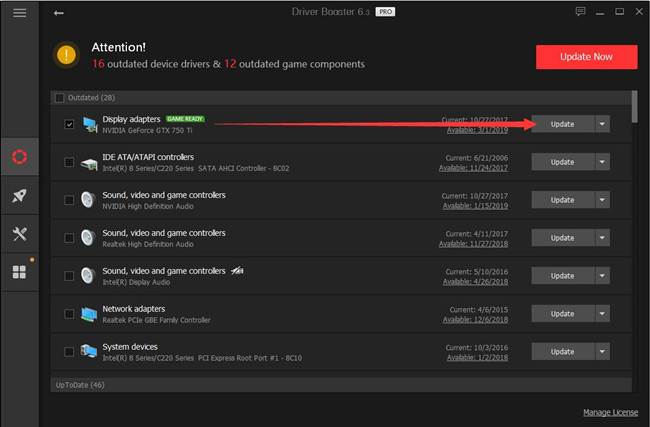 As you can see, you can take advantage of Driver Booster to find the appropriate AMD display driver for Windows 10. After that, you can check in Device Manager whether AMD graphics driver is still showing a yellow exclamation or shows no AMD graphics driver is installed.
If updating AMD driver can't get AMD graphics card detected on Windows 10, it is likely that you need to restore the AMD driver to 8.970.100.9001 or just the previous driver version.
It is said that AMD site disables you to download Windows 10 AMD drivers, you can struggle to gain it via Windows Update to fix AMD graphics driver failed error.
Solution 3: Restore AMD Graphics Driver from Windows Update
If it occurs to you that AMD display card multi-monitor and resolution is not working, which denotes the corrupted or damaged AMD driver on Windows 10 after the update. As AMD 22.19.128.0 driver cannot make AMD work normally on Windows 10, you may choose to use Windows Update to automatically restore it to 8.970.100.9001.
Windows Update is an embedded tool on Windows 10 to offer you considerable device drivers. You can make full use of it to recover the AMD driver version to fix the AMD graphics not working issue on Windows 10.
Go as the path: Start > Settings > Update and Security > Check for Updates.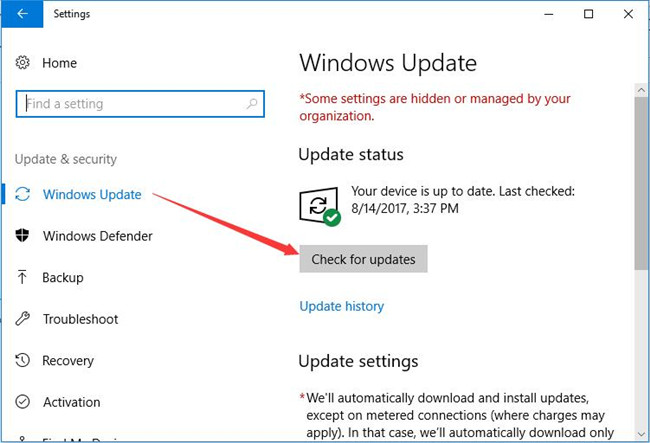 Then Windows 10 would scan your PC with any conflicting drivers and install them for you. Of course, in this way you can also find proper AMD driver for Windows 10.
It is obvious that this post concentrates on teaching you how to restore resolution or fix AMD not working trouble on Windows 10.
More Articles:
How to Use AMD Virtual Super Resolution on Windows 10/11?
Fix AMD Driver Crashes on Windows 11/10
Tags :
amd
drivers
graphic issues