How to Change Refresh Rate on My Monitor in Windows 10
The screen refresh frequency refers to the horizontal or vertical scanning frequency of the monitor. There is fast and slow screen refresh frequency. The unit of refresh rate is Hertz, where 1Hz means it can draw 1 image per second.
In general, when the low frequency flat displays, the flickering image on the screen appears more often, to a certain extent, the lower refresh rate can also cause visual fatigue, what is worse, it can damage your vision. So, it is very important to set proper Refresh Rate for your computer.
You are able to solve different problems about refresh rate, for instance, the desktop screen keep tearing on Windows 10 because of the improper refresh rate.
Under this circumstance, you must have realized how urgent for you to adjust your refresh rate.
Steps to Change Monitor Refresh Rate in Windows 10
Step 1: click Start button. And then choose Settings.
Step 2: click System button.
Step 3: Under display, you can customize your display, see "advanced display settings" at the bottom and click it.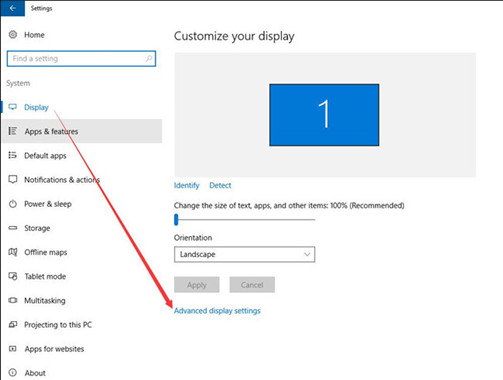 Step 4: scroll down to find "display adapter properties" and click it. After finishing all the steps , you can now go to the next step.
Step 5: Find the "monitor" panel and set "Screen refresh rate" to the proper parameter and then press "ok". Here choose to set the refresh rate as 60 Hertz.
All finished, you are capable of changing the refresh rate as you wish according to your actual situation.
As it is to us all, there are many other settings about the display, such as the Screen resolution, Color and so on. For example, if you want to change screen resolution for Windows 10, you can consult how to change screen resolution for Windows 10.
In conclusion, from this article, you can see clearly that it is essential to choose the right refresh rate. To be more specific, the high refresh rate is usually the best choice, especially the high refresh rate can relax your eyes and alleviate your headache.
On the other hand, if you come across the flicking screen just after you have adjusted your refresh rate to the highest refresh rate, maybe it is time that you turned the refresh rate to lower one.
More Articles:
Fix Generic PnP Monitor Driver Issue on Windows 10
How to Customize Lock Screen on Windows 10
Tags :
monitor
screen