Download Focusrite Scarlett Solo Driver on Windows 11, 10, 8, 7 and Mac
Does Focusrite Scarlett Solo need drivers? Yes, it needs. Many users tend to use Scarlett Solo to capture the music anywhere.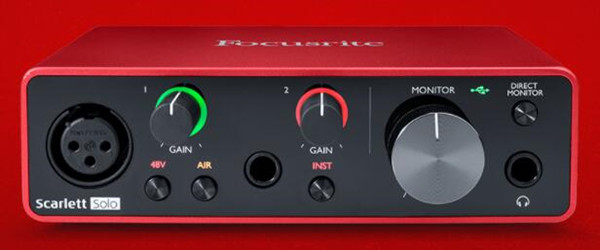 However, it makes no sense if you even have no idea how this interface works on Windows or Mac systems. Such interfaces as Scarlett 2nd Gen Solo, 2i2, 2i4, Scarlett 1st Gen Solo, 2i2, 2i4, iTrack Solo need drivers on Windows and Mac.
Without a compatible driver, your Focusrite Scarlett solo may show you the error message, "Windows was unable to install your Focusrite Scar USB".
Sometimes, the Scarlett Solo interface may be cracked or broken. Normally, if you wish to use the Focusrite Scarlett Solo to capture sound, try the methods below.
How to Download Focusrite Scarlett Solo Driver on Windows and Mac?
Drivers are needed to get the Focusrite Scarlett Solo 2i4 or 2i2 or other devices to run on Windows Vista, 7, 8, 10, 11 and Mac. You can adopt a suitable method to update the Focusrite Scarlett solo driver.
Methods:
Method 1: Download Focusrite Scarlett Solo Driver Automatically (Windows)
If you had no idea where you can find the Focusrite Scarlett Solo 2nd or 3rd drivers, you can rely on a reliable tool to help you locate, download and install a compatible Scarlett solo driver on Windows 11, 10, 8, 7.
Especially, when you are eager to use this sound to connect microphones, musical instruments, or line-level audio signals to a computer running macOS or Windows, it is good to download Driver Booster, a professional driver tool to install drivers automatically and quickly.
1. Download, install and run Driver Booster on Windows 11 or other system.
2. Click Scan. You can see Driver Booster is scanning all your device drivers to check whether there are outdated, missing, or corrupted drivers.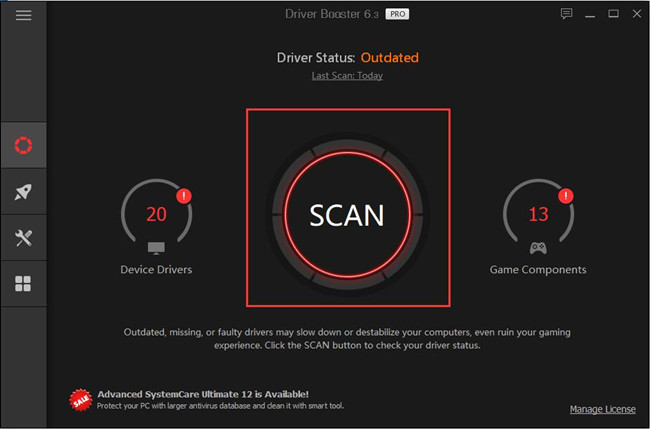 3. Find out Focusrite Scarlett Solo driver and then Update it.
The Scarlett solo or Scarlett 2i2 or 2i4 or any other drivers will be installed, and they are compatible with your operating system. Therefore, you may as well try to use the Scarlett Solo to see if it still captures cracking sound or shows the driver unavailable message.
If you are experiencing other audio errors, like Realtek HD Audio Driver Failure, you can also try Driver Booster.
Method 2: Update Focusrite Scarlett Solo Driver in Device Manager (Windows)
You can also install Focusrite Scarlett solo driver for Windows 10 or any other Windows system within the system. That is to say, you can make the best of the inbuilt driver tool, Device Manager to help you find the latest Scarlett Focusrite solo, driver.
1. Open Device Manager.
2. Find out the Focusrite Scarlett solo and then right click it to Update driver.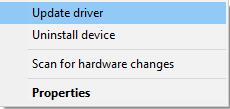 3. Search automatically for the updated driver software.
If Device Manager finds the compatible driver, it will prompt you and ask you whether to install it on the Windows system or not. Possibly, the Focusrite Scarlett USB drivers are updated via Device Manager.
Method 3: Download Focusrite Scarlett Solo Drivers Manually (Windows and Mac)
Scarlett recording equipment is now in its third generation and you have own one of its devices.
Whatever your Focusrite Scarlett Solo model is, you can find all the drivers from Focusrite official website, like Scarlett 1st Gen Solo, 2i2, 2i4, Scarlett 2nd Gen Solo, 2i2, 2i4, 6i6, 18i8, 18i20, All Clarett USB interfaces, All Clarett Thunderbolt interfaces, Saffire 6 USB 2.0, and Saffire 6 USB 1.1.
Compared with the automatic method, this way to find the driver yourself may be more troublesome, so just follow method 1 if you are not proficient in fixing computer problems yourself.
To download Focusrite Scarlett solo driver Windows and Mac, try the following steps.
Navigate to Focusrite Scarlett Download Center.
Here you can see all Scarlett categories: Scarlett 3rd Generation, Scarlett 2nd Generation, Scarlett 1st Generation, Clarett, etc.

Apart from the Focusrite Scarlett range, you can also download drivers for Focusrite Clarett, Saffire, iTrack, Red, OctoPre, etc.
Select your Scarlett Solo device, such as Scarlett 3rd Generation, and then Scarlett Solo or Scarlett Solo Studio.

Now, you can download Focusrite Scarlett drivers for Windows and Mac.
Download Scarlett Solo Drivers for Windows 11, 10, 8, 7
1. On the left side, select Windows system from the drop-down menu. Then you will see the driver list on the right side.
2. On the right-side, click Download button to get Focusrite Control for Windows on your Windows computer. If you want to know more about the driver information, you can see the link of release notes.

3. Double-click the .exe file and finish the installation concerning the on-screen instructions.
FAQ:
Is my Focusrite Solo Devices Compatible with Windows 11?
Although Windows 11 has just been released, it is supported by most Focursite products. The Focursrite Control downloaded from Focursrite official website works very well with Windows 11.
Here is a list of Focusrite Devices Compatible With Windows 11:
Scarlett 3rd Gen Range (Solo, 2i2, 4i4, 8i6, 18i8 and 18i20)
Scarlett 2nd Gen Range
Scarlett 1st Gen Range
Clarett+ and Clarett USB Ranges
Saffire 6 USB 2.0
iTrack Solo
Red 2 & Red 3 plug-in suite
Clarett Range (2Pre, 4Pre, 8Pre, 8PreX)
Red Range
Download and Install Scarlett Solo Drivers on Mac
1. On the left side, select Mac system, and then on the right side, the available Mac solo drivers will show up. Here you can see different versions of Focusrite Control for Mac.
2. Select the compatible Focusrite Control for Mac and then Download. If you are not sure what version is suitable for your Macbook or Mac Pro, you should read the Release notes.

3. Double-click the Focusrite Control package to install this driver on Mac step by step.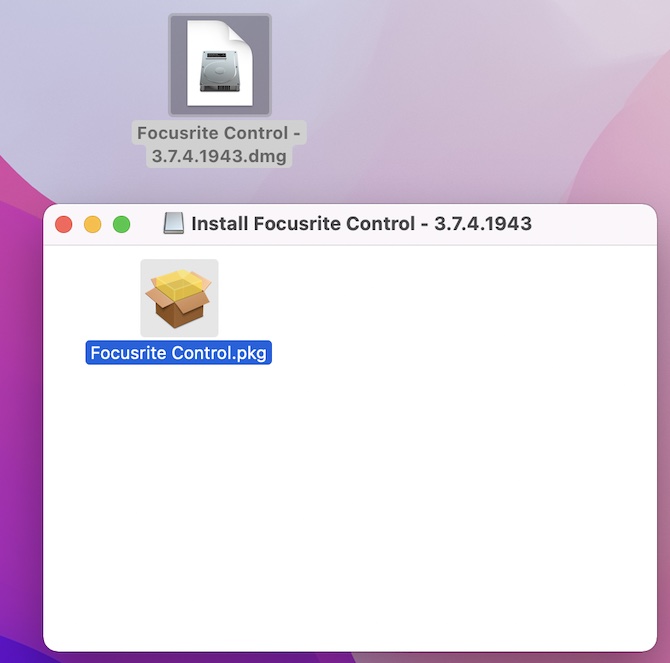 FAQ:
Does the Scarlett Solo 2nd Gen and Scarlett Solo Gen Need Driver for Mac?
When you try to download the Scarlett Solo 2nd Gen driver for Mac, it shows you this device does not require driver to run on Mac. It is the same for the first-generation Scarlett Solo.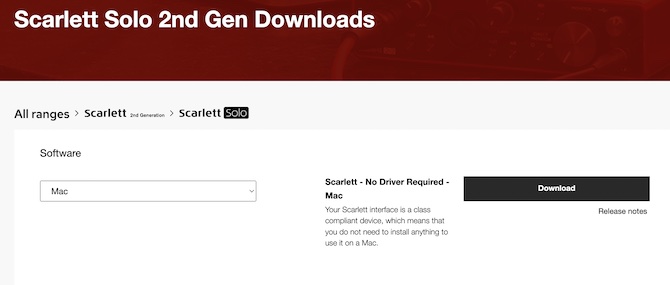 What if the Scarlett Solo Driver cannot be installed?
Some users reported that they just failed to install the Scarlett drivers on Windows and Mac even after following the above methods. Actually, it reflects that there may be driver conflicts or incompatibility with the system, or something just goes wrong with the system or the Focusrite drivers. Therefore, you need to:
1. Turn off the programs and enter the safe mode.
2. Follow one of the above methods to install Scarlett Solo driver Windows or Mac again in the safe mode.
In short, either you are a professional musician or music lover, updating the Focusrite Scarlett drivers on Windows or Mac is always necessary to get the Focusrite interface to run.
More Articles:
Download PreSonus AudioBox USB Driver on Windows 11, 10, 8, 7, and Mac
Fixed: Logitech G430 Mic Not Working on Windows 11, 10, 8, 7
Tags :
audio issues
drivers