[3 Ways] Download Killer Wireless 1535 driver on Windows 11/10
Killer Wireless 1535 network adapter provides fast and secure connections, high speed, and the ability to reduce latency and maximize performance with a dedicated control center. However, some users have reported problems with the Killer Wireless 1535 devices. This issue can occur if incompatible or outdated drivers are installed.
Therefore, follow the 3 methods listed in this post to download and install the latest driver for Killer Wireless 1535 drivers manually or automatically on your Windows 11/10 and learn how to fix the network adapter not working properly by updating its driver.
# Method 1: Update Killer Wireless 1535 driver in Device Manager
If you want to make sure your network connection is smooth, or if you want to repair your wireless network issues, you should keep your Killer Wireless 1535 driver latest. Usually, you can directly update the driver through the Device Manager.
Device Manager can reflect its role literally, that is, the tool for managing the device. The device manager has many functions in the computer. It will be responsible for disabling, updating, and uninstalling the driver, etc.
In addition, the device manager will issue corresponding instructions to it when special drivers accident. Therefore, if you want to simply update your Killer Wireless 1535 driver, the device manager is your best helper.
Step 1: Press Windows + S to launch the Search menu, enter Device Manager in the search box, and then click on the relevant search result that appears.
Step 2: Next, double-click on the Network adapters entry to expand and view the various devices under it.
Step 3: Right-click on the Killer Wireless 1535 Wi-Fi adapter and select Update driver from the context menu.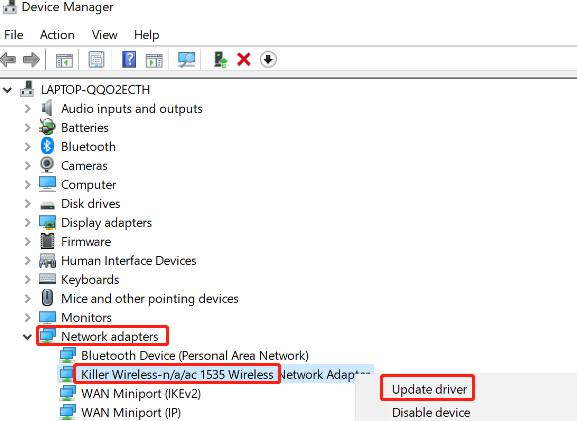 Step 4: Now, select Search automatically for drivers from the options listed in the Update Drivers window that pops up.
Step 5: If there is an available driver for you, follow the prompted instruction to finish the installation process.
Windows will now scan for the best available driver on the system and install it for your Killer network adapter.
# Method 2: Update Killer Wireless 1535 driver Automatically (Recommended)
Due to the outdated, loss or failure of the network adapter driver, there may be common network fault errors in your computer. To solve these problems and improve PC performance, it is strongly recommended to maintain the latest device drivers.
However, for many computer users, it is really difficult to find the most matched driver for their Wi-Fi adapter devices. In this case, Driver Booster software can help you a lot.
Driver Booster is a useful and powerful driver update program that can help users scan outdated, missing and faulty drivers, and provide the latest and most matched drivers to download and install directly from the supplier. It is both fast and safe. In order to bring a safe and qualified driver to users, Driver Booster only includes the driver that passes the strict WHQL test by Microsoft.
The program also provides detailed information such as versions, release dates, size and other drivers to check the security of the driver with the dual inspection. Driver Booster can also help users solve common drivers, such as no sound problems and network failures. Therefore, Driver Booster is the best choice for you to update the driver.
Step 1: Download, install and run Driver Booster on your Windows PC.
Step 2: Click the icon Scan.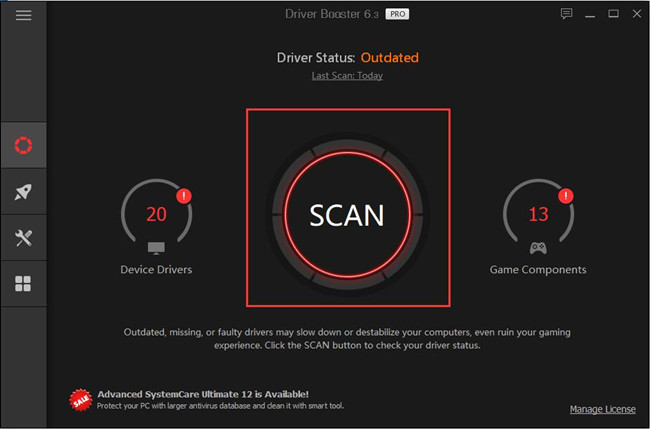 After scanning, Driver Booster displays information on each driver to update to a great length: name, category, current version with date and publisher, new available version with date and publisher.
Step 3: Check the Killer Wireless 1535 and click the Update icon next to the device.
Tips:

A user can choose to update it, ignore it or even uninstall it, as well as an option Update Now at the top right to update all outdated drivers in one click.
# Method 3: Update Killer Wireless 1535 driver on the official site
If the Device Manager cannot help you find a better, the latest driver for the Killer Wireless 1535 device, you can manually download the installation file and install the driver from the manufacturer's website at any time. But this process looks too tricky or intricate. You can always use a reliable third-party application Driver Booster to update the Wi-Fi driver.
But if you must insist on downloading the latest driver from the manufacturer, we will introduce you to how to download the required drivers from Dell's official website.
Step 1: Go to Dell Killer Wireless 1535 driver support page.
Step 2: Scroll down and click the Download icon.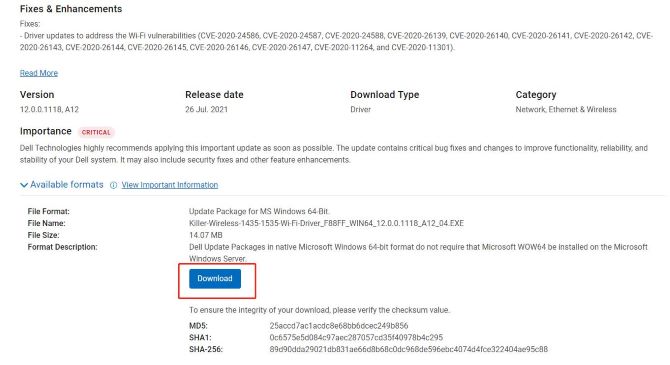 Tips:

This package contains the driver for the Killer 1435 and 1535 Wi-Fi cards.
Step 3: After downloading, follow the remaining prompts to perform the update.
WLAN drivers take no more than 3 minutes to be installed on your system. You can install the updates in the background while using the system.
Step 4: Your system requires a restart after installing the driver. The restart can be deferred but must be completed to ensure that the update is installed.
# FAQ about Killer Wireless 1535 driver
Q1: What is the Killer 1535 Wi-Fi adapter?
Killer 1535 Wi-Fi adapter is the first adapter compatible with 2 × 2 MU-MIMO. It is developed for the game system and is a network card or wireless local area network developed by Rivet Technologies. Based on Qualcomm chips, multi-player games can be supported.
Q2: What does the killer wireless 1535 driver do?
Kill Wireless 1535 driver is the software that helps your operating system to communicate with wireless devices such as wireless cards and network interface controllers.
Q3: Why is my killer wireless 1535 adapter not working?
The reasons for causing Killer wireless 1535 not working issues are various, such as older drivers, incompatible patches, a UDP (User Datagram Protocol) network bug and so on.
Q4: How fast is Killer wireless 1535?
The max wireless throughput of the Killer wireless 1535 adapter is 867 Mbps.
Q5: Do you need a killer Control Center?
Intel Killer Control Center is a program that checks your application and sets priority settings, so that your fastest and most critical application can first access bandwidth. Without it, every application using your Internet connection will be treated equally, which may lead to a slower speed.
More Articles:
Killer Network Manager: What it is and How to Update
Download Killer E2200 Gigabyte Ethernet Controller Drivers
Fix Realtek PCIe GBE Family Controller Not Working on Windows 10/11
Tags :
drivers