Download Xerox Printer Drivers for Windows 10, 8, 7
When you print a document with Xerox printers, it prompts you that "Driver is unavailable" on Windows 10. In this case, it implies that your Xerox printer such as Xerox c8040 driver is missing or corrupted on your PC. As a result, Windows systems fail to detect the printer when you want to print something.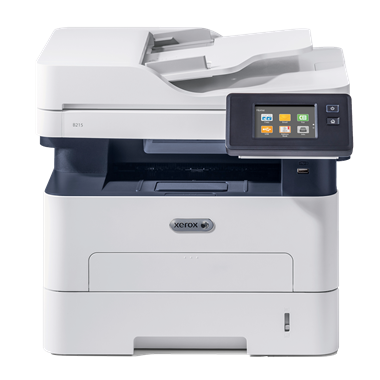 And in most cases, as for the printer driver unavailable error, as per user reports, it is found that updating the device driver helps. Hence, you would better download Xerox drivers to remove the unavailable Xerox printer driver.
How to Download Xerox Printer Drivers for Windows 10, 8, 7?
Especially, once you noticed that your Xerox isn't working after you upgraded your computer to Windows 10, there is much need for you to keep Xerox printer drivers up-to-date. And usually, three options are open to you to download the printer driver such as Xerox global print driver pcl6 x64 or Xerox v4 or v3 driver on 32-bit and 64-bit. You can select one depending on your case. And possibly, it is feasible to download Xerox scanner driver for Windows 10, 8, 7.
Methods:
Method 1: Download Xerox Printer Driver Automatically
Since some of you are not so skilled at fixing computer problems on your own, it is time-saving and easier to utilize a professional driver tool to update Xerox printer driver. And it is said that that may also solve problems like Xerox printer no enough memory to print pages or Xerox printer driver not installing.
Here, Driver Booster is a reliable and useful tool to help you automatically find, download and install Xerox drivers for Windows 10, 8, 7.
1. Download, install and run Driver Booster.
2. Click the Scan button. Driver Booster will start scanning for the device drivers on your PC immediately.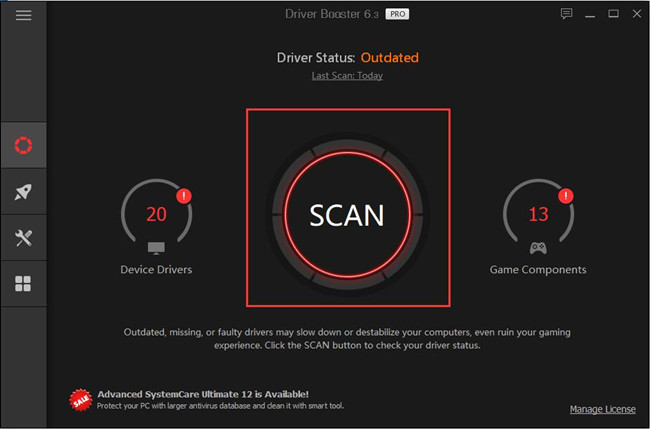 3. Find out Xerox printer driver and Update it via Driver Booster.
Then Driver Booster will install Xerox v3 or v4 drivers or any other Xerox printer drivers for you automatically. And you can see Xerox printer driver unavailable has been fixed.
Method 2: Update Xerox Drivers in Device Manager
Normally, upon recognizing an external device, Windows systems will install a driver to make the device work well. Actually, on Windows 10, 8, 7, there is a Device Manager, which is in charge of managing device and device drivers. That is to say, you can also download Xerox printer drivers, either laser or wireless one, in device manager.
1. Go to Device Manager.
2. Expand Print queues and then right click the Xerox printer driver to Update driver.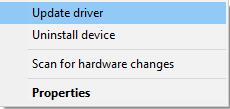 3. Then choose to Search automatically for updated driver software.
If Device Manager finds the Xerox driver compatible with your system, it will show you. Therefore, you can decide to install the driver recommended by Driver Booster to see if Xerox printer not working on Windows 10 will be removed.
Related: Cannot Delete Print Queue on Windows 10
Method 3: Download Xerox Printer Driver Manually
Sometimes, you would like to install Xerox global printer driver for Windows 10, 8, 7, and you are also a veteran of computer, so it is worth a shot to get the Xerox printer drivers manually. On this official website, you will download V3 and V4 Xerox global printer driver PCL 6 or PostScript as you wish.
1. Navigate to Xerox official site.
2. Then under Drivers & Downloads, select an Operating system and Language. Here, for your reference, you can choose Windows 10 and English.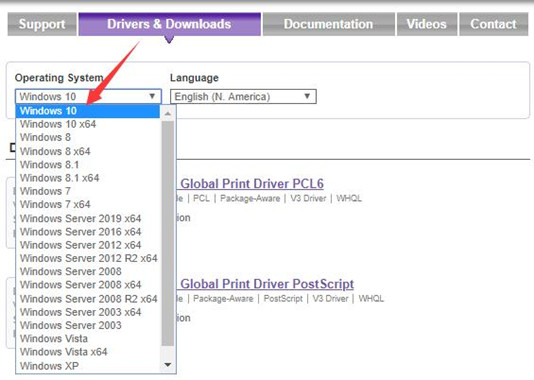 3. Choose one Xerox driver like V3 Xerox Global Printer Driver PCCL 6.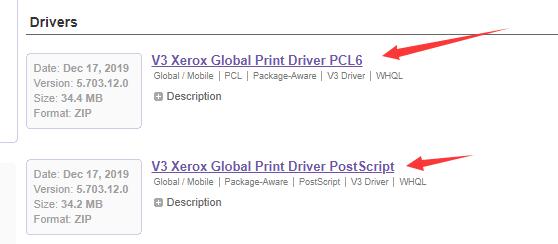 4. Hit Accept to Download the Xerox driver.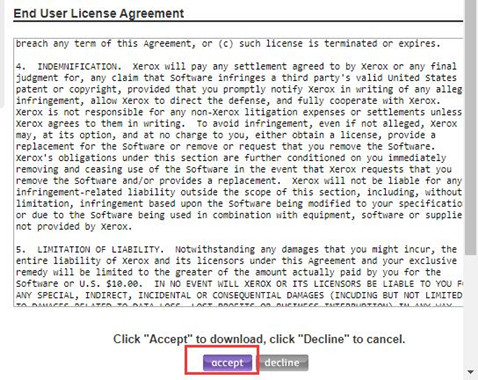 In this way, global printer driver file download will be got on your computer.
5. Install the Xerox driver.
In this way, you can see that Xerox printer driver is downloaded, and Xerox printer will be working.
To conclude, this post will help you download Xerox printer driver using different ways, either manually or automatically. If possible, you can apply them to download Xerox scanner driver.
More Articles:
3 Ways to Download Ricoh Printer Drivers for Windows 10
3 Ways to Download Foxconn Drivers for Windows 10
Tags :
drivers
printer