Download HP Envy 5055 Drivers on Windows 10, 8, 7
Users may need to get the printer driver updated for better performance. Recently, on the HP printer forum, it is debated that HP Envy 5055 driver unavailable or not recognized is frequently to be seen. And some users even complained that HP Envy 5055 isn't working at all as its driver could not be detected by Windows 10, 8, 7 or Mac systems.
Hence, you need to follow up to choose a suitable and effective method to download the latest driver for the HP Envy 5055 printer, a perfect digital color printer. And some of the ways can help you download HP Envy 5055 software for you so that you can use this inkjet printer to print borderless images at a high color resolution.
How to Download HP Envy 5055 Driver on Windows 10, 8, 7?
Below, three methods to download HP Envy 5055 driver are shown for you step by step. Either you are a green hand or veteran in fixing computer problems, there is always a way open to you. And it is worth noting that these three ways are to install HP Envy driver on Windows 7, 8, 10, so if you wish to get an HP printer driver for Mac, you can refer to the similar steps.
Methods:
Method 1: Download HP Envy 5055 All-in-one Printer Driver Automatically
If you want to install HP Envy printer driver quickly and easily, it is a good option to ask Driver Booster help. As the top one driver tool, Driver Booster is capable of finding, downloading and installing the right HP printer driver for Windows 10, 8, 7.
1. Download, install and run Driver Booster.
2. Hit Scan. Immediately, Driver Booster will start searching for outdated, missing and even damaged device drivers on your computer.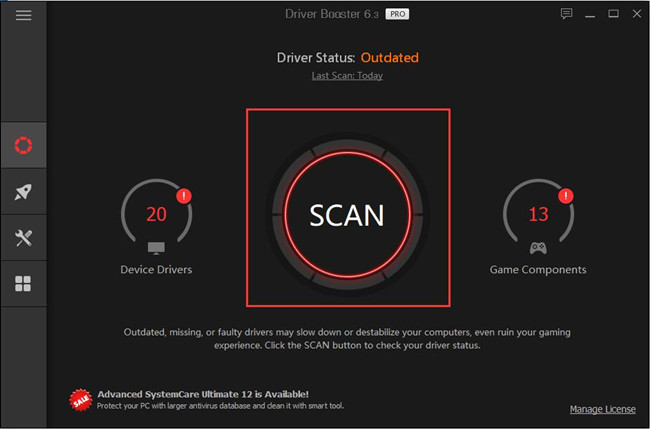 3. Find out Print queues and Update HP Envy 5055 driver automatically by Driver Booster.
4. Wait for Driver Booster to install the HP printer driver on Windows 7, 8, 8.1, 10.
With HP Envy 5055 all-in-one printer driver downloaded, check whether the printer driver unavailable persists in Device Manager.
Method 2: Update HP Envy 5055 Driver in Device Manager
Usually, Device Manager, like Driver Booster, can also help update the driver for Windows 10, 8, 7. And it is reported that this device managing tool will find drivers online so as to turn the device to work again. Therefore, when your HP Envy 5055 all-in-one printer doesn't work, you might as well turn to Device Manager to fix it.
1. Open Device Manager.
2. Expand Print queues, and then right click the HP Envy printer driver to Update driver.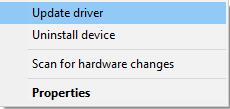 3. Then Search automatically for updated driver software.
You can see that Device Manager is searching for the driver you need online. If there is any available driver, Device Manager will prompt you to install it.
Method 3: Download HP Envy 5055 Driver Manually
In order to fix HP Envy printer driver issues or to get better printing experience, it is feasible to navigate to HP's official site to download HP Envy 5055 driver manuals. Besides, HP users are also entitled to download HP Envy printer software from the HP site.
1. Head to HP official site.
2. Select an Operating system or allow the HP website to detect it automatically.
Here, it is automatically detected that this PC is on Windows 10 64-bit. Of course, if your device is on Mac, just select Mac OS.

3. Scroll down to Download HP Envy 5055 All-in-one printer driver and software.

Note: From the HP official website, it is said that sometimes, HP Envy 5000 All-in-one print driver is compatible with the HP Envy 5055 printer. Therefore, if there is no exact HP Envy 5055 driver, try to download HP Envy 5000 series' driver for Windows 10, 8, 7 or Mac.
Once you have installed the driver for HP Envy printers, check if HP Envy 5055 all-in-one printer driver is available and your HP printer driver is working well.
In conclusion, the HP printer is widely used, so many users would like to find and download HP printer drivers, especially HP Envy series' drivers. This article focuses on downloading and installing HP Envy 5055 driver for Windows and Mac systems, but if you wish to download the latest drivers for other HP printers such as HP Envy x360, 4520, 13 drivers, it is feasible to use the similar ways.
More Articles:
HP ENVY 5540 Drivers Download on Windows 10, 8, 7, Vista, XP
Download HP Envy 4520 Drivers for Windows 10, 8, 7
Tags :
hp
printer