Solved: Enter Network Credentials Access Errors on Windows 10/11
When you joined a HomeGroup where PCs can share files and use a common printer, you will mostly be prompted the error that enter network credentials the username and password is incorrect on Windows 10/11.
Here comes the normal case for many of you, immediately when you are asked to enter network credentials, you will unconsciously enter your local account and password. But soon after that, Windows security will remind you that the access is denied or network credentials isn't working on Windows 10/11.
If the enter network credentials error persists for a long time on Windows 7, 8, or 10, you may need to remove the network credentials access error as soon as possible.
How to Fix Enter Network Credentials Access Issues?
Normally, when you are unable to open the shared files, folder, or can't connect to the printer on a network for Home Group, Windows security will function to urge you to enter network credentials if you wish to access the sharing files or add the printer.
Unfortunately, even if you know how you can find network credentials username and password, enter network credentials access denied message constantly show up on Windows 10.
Therefore, depending on your case, you are supposed to try targeted methods to fix Windows 10 asking for network credentials password problem.
Solutions:
Solution 1: Turn off Password Protected Sharing
Usually, there is a password option used to prevent file theft, which is called password protected sharing. If you turn off this choice, you won't need to sign in the PC on which the files lie, otherwise, if you choose to turn on password protected sharing, you have to login onto other computers.
On this occasion, once you run into enter network credentials access error or you have no idea where to find the network credentials on Windows 10, you would better disable password protected sharing. And some people reported that it works for Windows 10 1803 version.
Prior to doing that, you need to try to run Windows 10 with administrative privileges. And if you happen to pop-up window Enter network credentials on Windows 7, you can do the same.
1. Open Control Panel.
2. In Control Panel, locate Network and internet.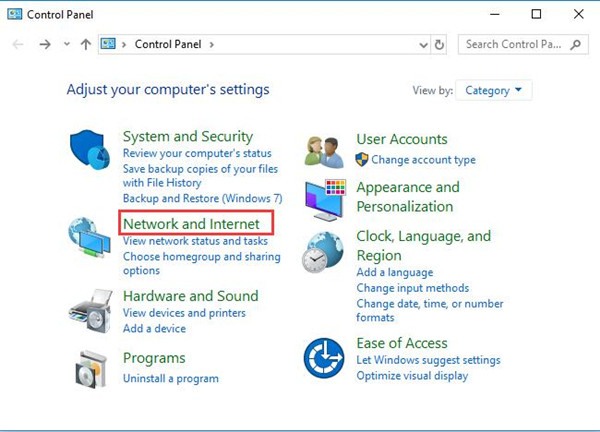 Here to find out it more quickly, choose to View by Category.
3. Then select Network and Sharing Center.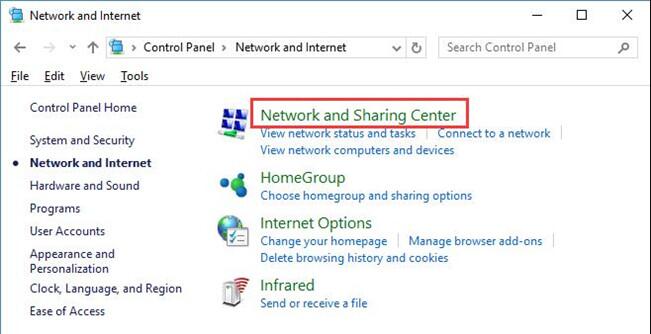 4. Click Change advanced sharing center.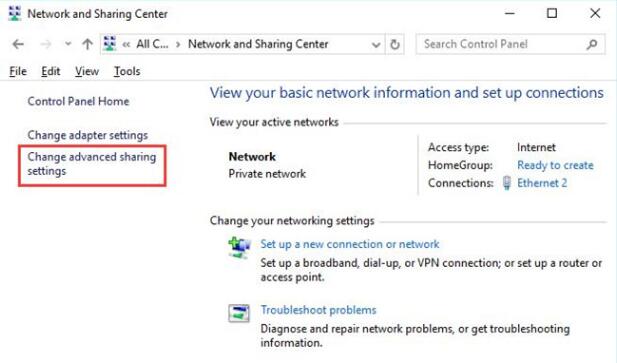 5. In Advanced sharing center, locate and expand All Networks.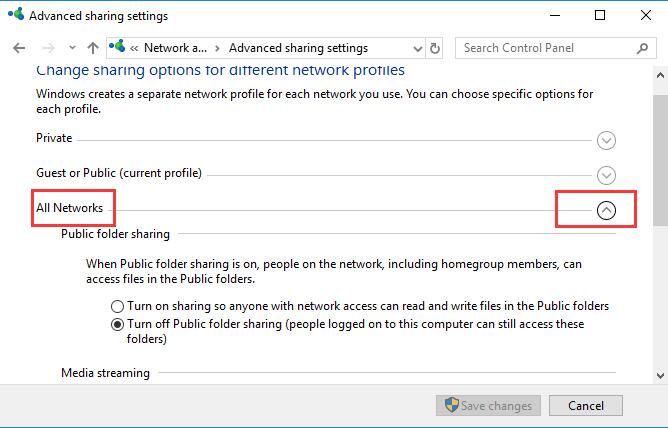 6. Under All Networks, scroll down to find out and then tick the circle of Turn off password protected sharing to disable it.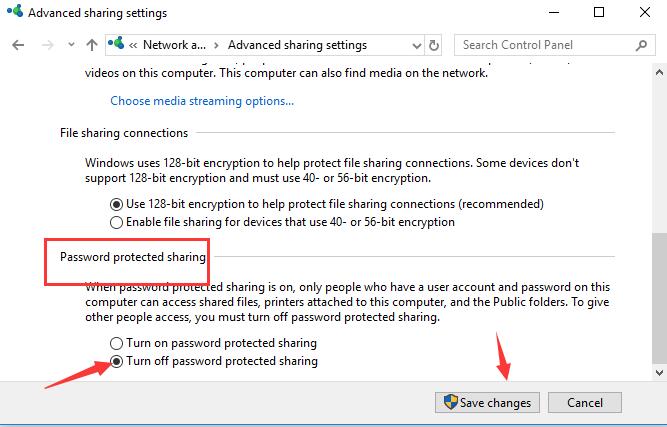 7. After that, hit Save changes.
In this case, enter network credentials will disappear and there is no need for you to enter the username and password for Windows security.
Now you are able to access files and print with shared printers on Windows 10/11.
Solution 2: Set Windows 10 Network Private
Sometimes, if you joined the HomeGroup with a public network, but to find Enter network credentials user name and password is incorrect or unavailable, you may as well change your network profile into private.
It is said that some HomeGroup connections in Private network can be helpful to fix enter network credentials not working problem.
So for clients who set Guest or Public as current network profile, you should change it to Private at first and then make some adjustments to Private network.
1. Go to Start > Settings > Network&Internet.
2. Under your network, Ethernet or WIFI, click the Network connected.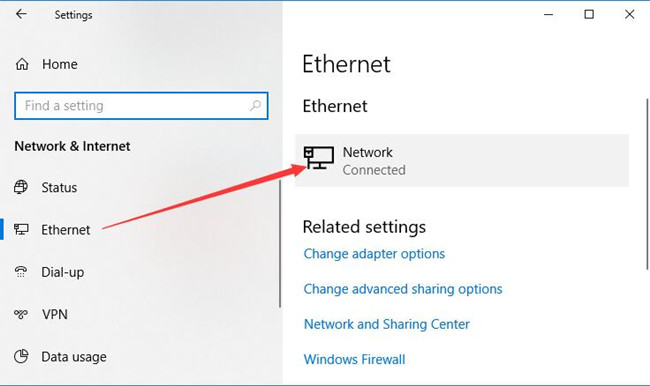 3. Then change the Network profile to Private.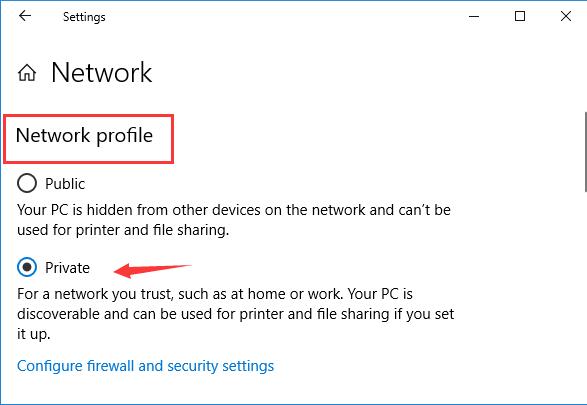 After altering the network profile to Private, to fix enter network credentials issues on Windows 7, 8, 10 and Windows 11, make sure the Private network sharing settings work fine on your PC.
4. Search Advanced sharing settings in the search box and then click Enter to Manage Advanced sharing settings.
Or you can also get into it using the way in solution 1.
5. Then in Advanced sharing settings, you can see the current profile has become Private.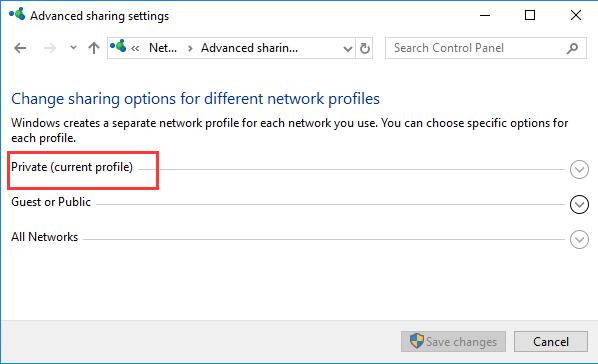 6. Under Private, find out File and printer sharing and then decide to Turn on file and printer sharing.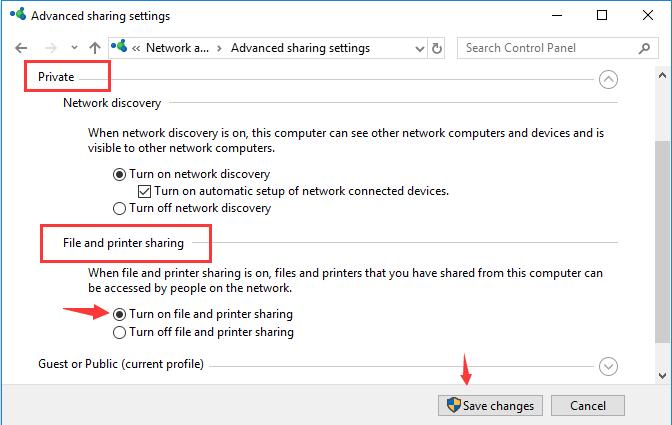 7. Here for some users who are in a HomeGroup, under File and printer sharing, attempt to open the option of HomeGroup connections and then Allow Windows to manage homegroup connections (recommended).

From then on, your network will be changed into private and the HomeGroup connections can also be controlled by Windows 10 as well.
Windows 10 network credentials incorrect problem won't pop up again.
Solution 3: Use Microsoft Account on Windows 10/11
Many of you are now signing in to Windows 10 with Microsoft account, and as you see, it is Microsoft account rather than your local account that is preferred by some programs.
So it is also advisable to take Microsoft account name and password as network credentials user name and password to see if it works. In doing so, it won't matter even if you know nothing about how to find network credentials username and password.
In a large sense, your Microsoft account can help fix the trouble that enter network credentials leads to inaccessible sharing files or programs.
Solution 4: Add a Windows Credential
Now that you are asked to enter network credentials but the user name and password is incorrect, why not add one by yourself?
No matter you feel like viewing files or utilizing printer on other computers, get the username and password on them and then add the network credentials on your PC.
1. Type in credentials in the search box and then hit Enter to slip into Credential Manager.
2. In Credentials Manager, pinpoint Windows Credentials, and then hit Add a Windows Credential.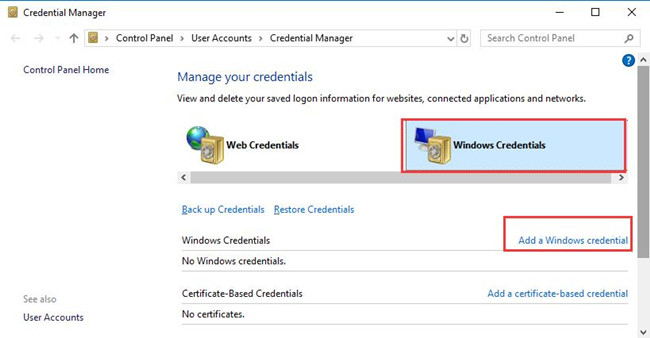 3. Then enter the Internet or network address, User name, and password so as to add other PCs' network credentials.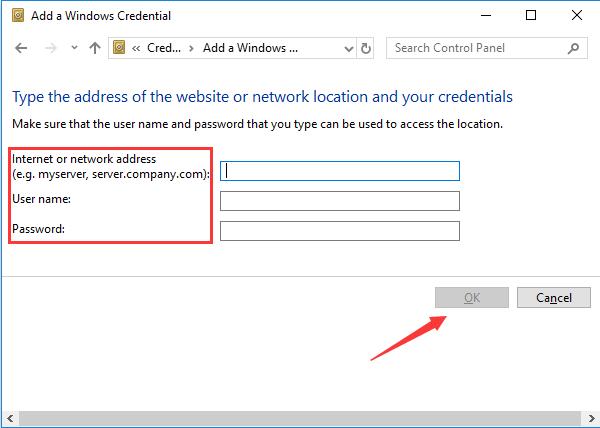 In this part, you need to make sure you have entered the correct network credentials.
Only in this way can you resolve enter network credentials not working issue and access to the programs on other computers.
Solution 5: Set Static Windows 10/11 IP Addresses
Enter network credentials warning will come to you if your network IP address has been changed from static to automatic. Undoubtedly, the static IP addresses can make it easier for you to access the network devices or HomeGroup files.
The reason consists in that the static IP addresses don't change whereas the dynamic IP addresses change automatically as they are assigned by the network.
In this situation, much as you tried, you need also properly assign the IP addresses instead of finding network credentials all the time.
1. Go to Start > Settings > Network & Internet.
2. Under Ethernet or WIFI, hit Change adapter options in Related settings.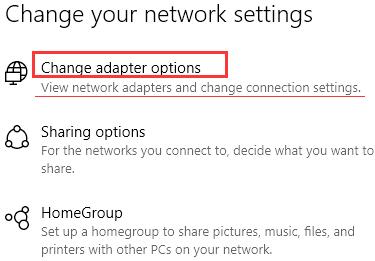 Here the network type is Ethernet, if you are using WIFI, you can see here it shows WIFI rather than Ethernet.
3. In Network connections, right click the Ethernet to get into its Properties.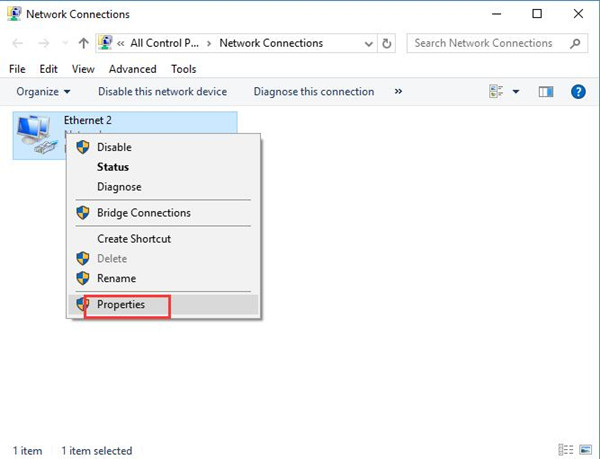 4. Then double click Internet Protocol Version 4 to navigate to its Properties as well.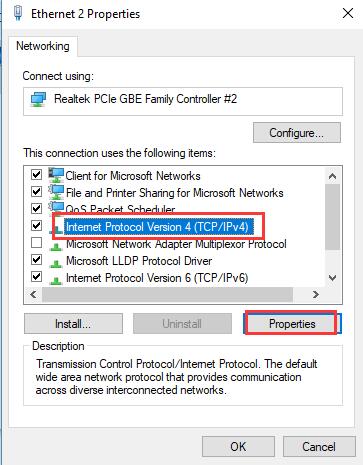 5. Then determine to Use the following IP address and DNS server address.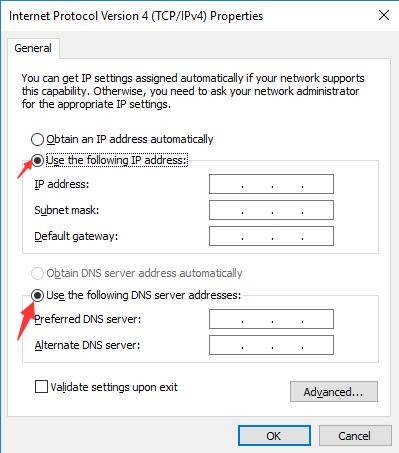 Tips:
To check your IP address, you can run ipconfig in Command Prompt and then it will display.
As for DNS server, you might as well set the Preferred DNS server as 8.8.8.8 and Alternate DNS server as 8.8.4.4.
So long as you make the IP address static, you will notice more available access on Windows 10 since enter network credentials error is removed successfully.
Under this circumstance, luckily, you can always find a way to fix enter network credentials errors on Windows 10, 8, and 7.
More Articles:
Solved: Your Connection Was Interrupted A Network Change Was Detected. ERR_Network_Changed
How to Update Teredo Tunneling Pseudo-Interface Driver Windows 10/11
Fixed: Windows Could Not Automatically detect this network's proxy settings
Tags :
account
password