[Fixed] Cannot Adjust Screen Brightness on Windows 10
Contents:
Cannot Adjust Screen Brightness Overview
How to Fix Windows 10 Brightness Cannot be Changed?
Cannot Adjust Screen Brightness Overview:
For the screen brightness, there are several problems you will meet. When you press the brightness keys on the laptop, the screen cannot adjust to bright or dark.
And when you follow Settings > System > Display to move the brightness control to change brightness, the screen has no change. The brightness control is out of work. Too bright or too dark screen display will affect your vision especially when you view the video. And we need to adjust the screen brightness to adapt to different environments.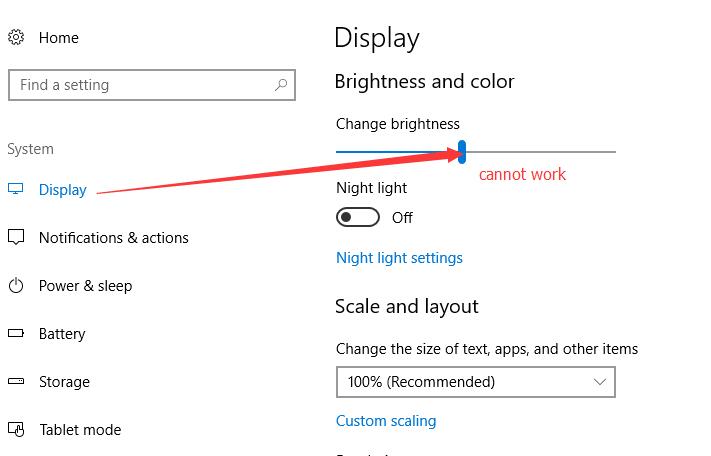 So solve this problem and keep the brightness control working is necessary.
How to Fix Cannot Adjust Screen Brightness on Windows 10?
If you find your screen brightness cannot be adjusted, do not worry, this will caused by the graphic card driver. When you enter the device manager, you will find there is a Microsoft basic display adapter in Display adapters.
So the graphic changed. You are not use the really graphic card. All the screen are only using the Microsoft basic display adapter, so it cannot supports the advanced settings such as adjust brightness. After you know why the screen cannot adjust, you can solve it.
Of course, sometimes, it not showing as Microsoft basic display adapter, but you need to update it. So updating the graphic driver will help solve this problem.
Update Graphics Driver in Device Manager:
1. Open device manager.
2. Expand Display adapters. You will find the graphic card.
3. Right-click Microsoft basic display adapter or your graphic card driver, and select Update Driver.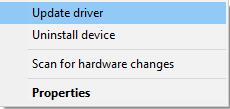 4. Choose Search automatically for updated driver software.
This will let Windows install the really graphic driver. After that, you can test to adjust the screen brightness.
There is a common problem that using device manager to update the driver in some conditions will not succeed. So if you find after the driver is updated, but in Display adapter, the graphic card also shows as Microsoft basic display adapter. I think you need to update the graphic in other ways.
Update Display Driver Automatically:
And normally, if you do not use the device manager to update graphic card, you can manually update it or use Driver Booster to update it.You can use Driver Booster to download and update the graphic driver automatically. And it can fix all the driver issues easily and fast.
1. Download Driver Booster on Windows 10.
2. Then install and run it quickly. Then hit Scan to find all the device drivers.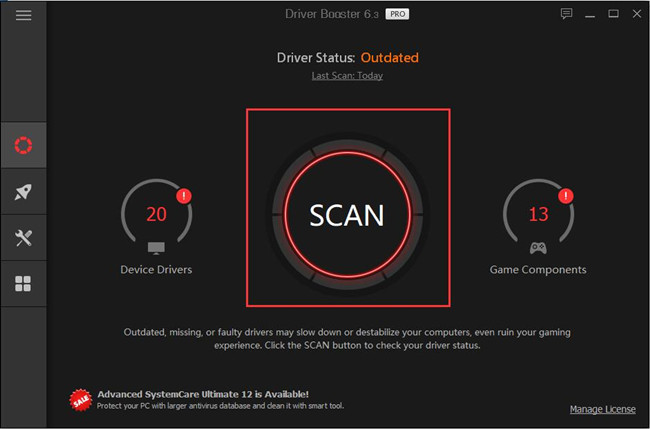 3. Pinpoint Display adapters and then click Update to get your graphics driver updated.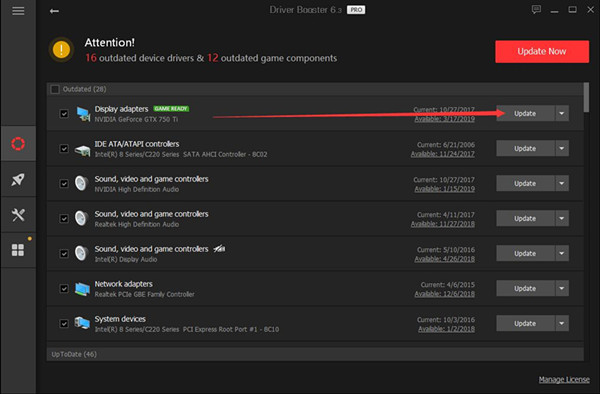 Or you can turn to the manual way to find the graphic card model, and then enter the graphic card official download center, download the latest version of the graphic driver. After that, find it on the local disk and install it manually.
With the up-to-date graphics driver, you may be able to change Windows 10 brightness as you wish.
In short, after updating the graphic card driver, you can adjust the screen brightness anytime and in any way. And of course, the brightness control can work again.
More Articles:
How to Adjust Screen Resolution on Windows 10?
How to Change Screen Refresh Rate on Windows 10?
Tags :
screen