How to Send Output Audio to Multiple Devices
Contents:
How to Send Output Audio to multiple Devices?
How to Fix Can't Output Audio to Multiple Devices?
When you feel like to listen to your favorite music with someone using one computer, you may have a question: Could I output the audio to 2 persons? Can I make a dual output happen on Windows 10 or Windows 11?
Some people claimed that there was a stereo mix option which enables clients to send audio to different devices. But now it disappeared from Windows 10 audio settings. Follow this post and you can not only get the stereo mix option back again but also output audio to various devices on Windows 10.
How to Send Output Audio to multiple Devices?
In terms of outputting audio to multiple devices, one choice is to take advantage of Windows 10 Stereo Mix, and the other one is to utilize a certain audio application.
Methods:
2: Free Download Audio Software
Method 1: Enable Stereo mix
Now that you have noticed there is no choice for you to send audio to different persons. It may be feasible for you can choose to activate the Stereo Mix on Windows 10 so as to make output audio sent to several devices.
1. Search Sound in the search box and stroke Enter to open Sound settings.
2. Click Speaker and Set Default. Here you are to choose to set the Speaker as default device on Windows 10.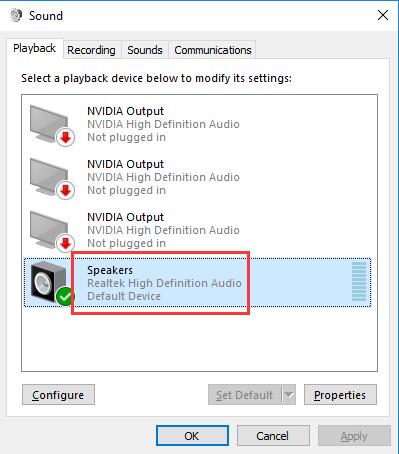 3. Under Recording tab, right click the blank place to Check Show Disabled Devices.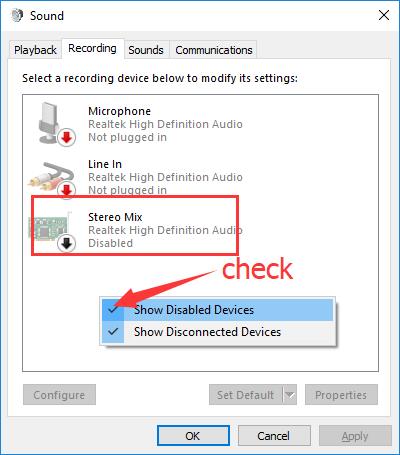 After you ticked the box to show disabled devices, you can see the option Stereo Mix or Wave out Mix or Mono Mix.
4. Right click the Stereo Mix to Enable it.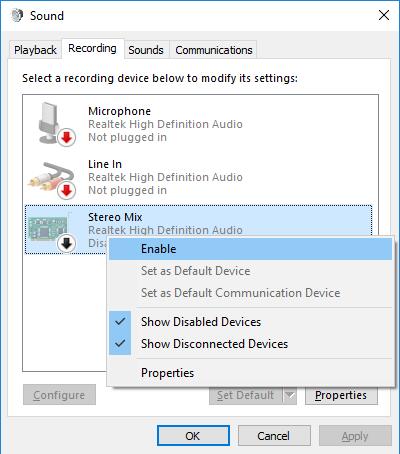 5. Click Stereo Mix and then choose Set Default.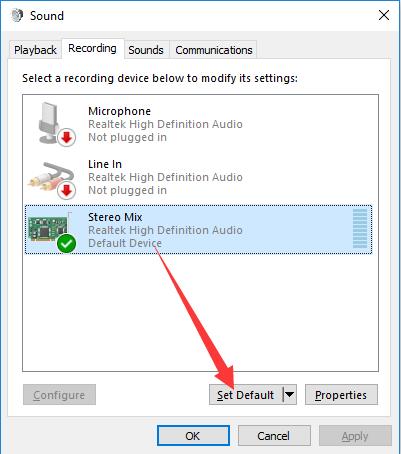 In this way, you will have successfully activated the Stereo or Mono Mix or Wave out Mix on Windows 10 or Windows 11.
6. Double click Stereo Mix to enter its Properties.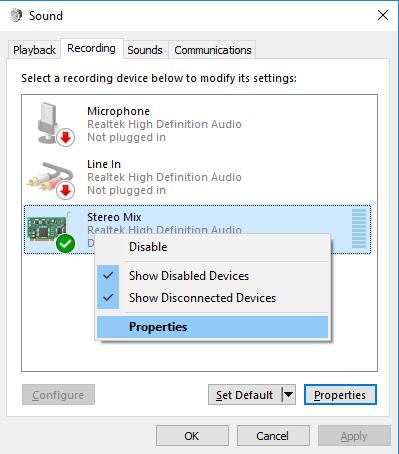 7. Under Listen tab, tick the box of Listen to this device and Scroll down to choose your HDMI device from Playback through the device. Finally, click OK to save the changes.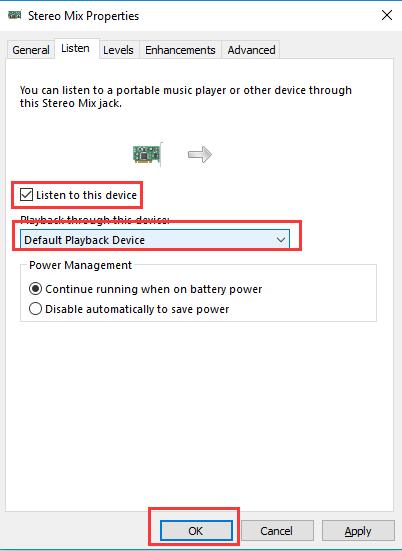 Then when you close the Sound settings, try to listen to a song with different devices, you would become fascinated by this little trick. Or you feel it has nothing changed, move on to further solutions.
Related: Microphone Not Working on Windows 11/10
Method 2: Free Download Audio Software
If you would rather fix this audio problem and send output audio to other devices in no time, it is advisable for you to download a third-party software freely on Windows 10.
Voicemeeter is a free utility which is endowed with Virtual audio device managing any audio device to one or more audio devices. You can choose to download Voicemetter Exe file or Zip package and then install it on your PC.
After some basic settings, you would be enabled to output audio to another or more audio devices on Windows 10.
How to Fix if Can't Output Audio to Multiple Devices?
Once you noticed you are unable to send audio output to multiple devices with Stereo mix or audio software, perhaps it is due to the outdated or corrupted audio driver. You can try to fix this audio error from these two perspectives and then play audio through two devices.
Solutions:
Solution 1: Update the Audio Driver
It is a universal known setting on Windows 7 or 8 to use a multimedia audio on Windows 10 to send audio to various clients at the same time.
However, when you have upgraded to Windows 10, though at the very beginning you find there is a Stereo Mix option in Sound settings, later you have just lost it. If it really happens to you, you may as well manage to update the audio driver to fix this audio issues on Windows 10 or Windows 11.
1. Open Device Manager.
2. Find out and expand Sound, video, and game controller and right click the audio device to Update Driver.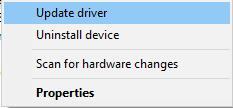 3. Click Search automatically for updated driver software. Windows 10 is Searching online for drivers.
If possible, you are able to find the audio driver in Device Manager, but if not, you can turn to other ways.
Or you can also make full use of Driver Booster to help you download the up-to-date audio driver for Windows 10. Driver Booster is the professional and safe driver updating tool with 3-plus million drivers. It is worth signifying that Driver Booster is capable of fixing no sound error. If you found output audio to multiple devices failed, attempt to use it.
1. Download and install Driver Booster on Windows 10 or Windows 11.
2. After running Driver Booster, you can choose to Scan for the outdated, missing, or faulty drivers.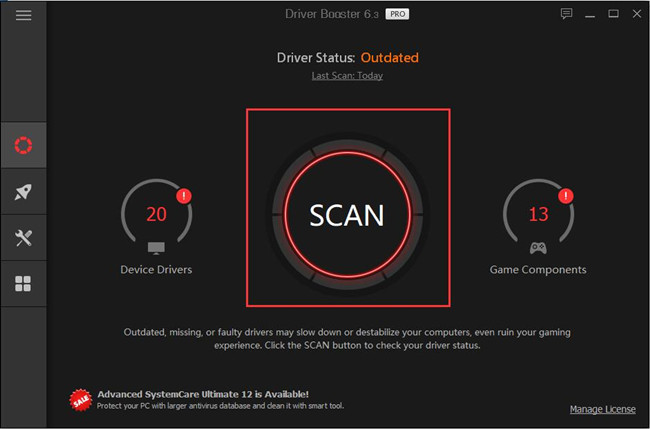 3. Then in the scanning result, locate Sound, video and game controllers and then decide to Update the audio driver.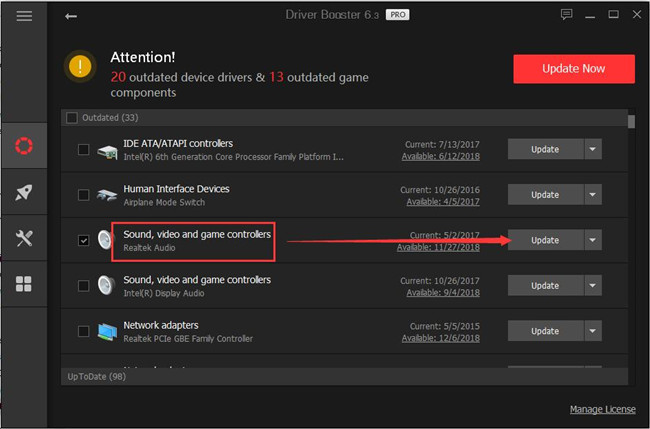 Tips: How to Use Driver Booster to Fix No Sound Issue on Windows 11/10?
On the right pane of Driver Booster, hit Tools and then choose Fix No Sound on the right pane.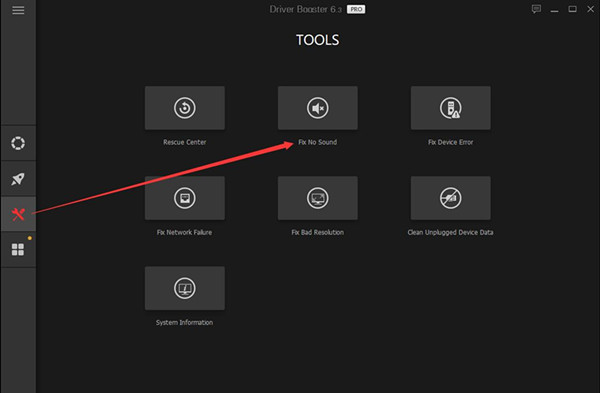 With the latest NVIDIA or Realtek or Intel High Definition audio drivers, the issue: Cannot send output audio to different devices would have disappeared from Windows 10/11.
Solution 2: Run Audio Troubleshooter
Windows troubleshooting is an extremely useful tool to detect various system device errors and set the right settings. Accordingly, you can take advantage of it to detect your audio issues, including now working or disappeared Stereo Mix option. So if your computer cannot send output device to multiple device, you can use troubleshooter to fix it.
1. Type Troubleshoot in the search box and choose the best-matched one.
2. Under Troubleshoot, locate Playing Audio and click Run the troubleshooter.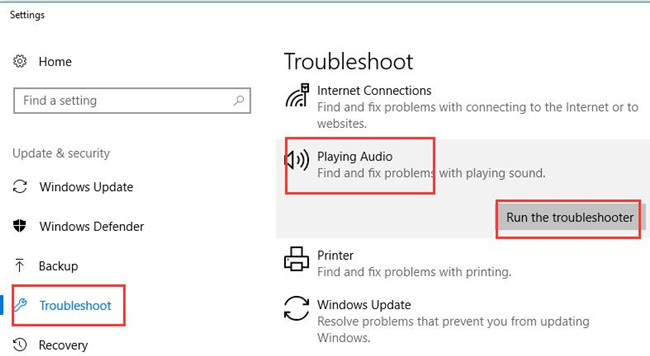 After that, audio troubleshooter on Windows 10 would detect the audio problems on your PC, for instance, no audio output device is installed. No matter you are using NVIDIA or Realtek or Intel High Definition audio on Windows 10, the issues can be fixed in this way. You can now use multiple audio outputs on Windows 10.
All in all, people who would like to send output audio to other ones would often feel confused about what to do to regain the Stereo Mix and fix this multimedia transmitting audio issue on Windows 10. This article would be a necessary saver.
More Articles:
Realtek HD Audio Manager Won't Open Windows 11/10
Fix Realtek Audio Stuttering on Windows 11/10
Tags :
audio issues