Fixed: Lenovo Camera Not Working on Windows 11, 10, 8, 7
Contents:
Lenovo Camera Not Working Overview:
Most users need to use the laptop camera in some telecommunication applications, like Skype. But unfortunately, more often than not, for Lenovo clients, you will often hit upon Lenovo inbuilt camera not turning on or not working after Windows 10/11 upgrade.
You can only see a greyed-out camera icon with a cross surrounding it when opening some applications to use the webcam on Windows 10/11. It means that your Lenovo webcam is not available for use and you cannot make the camera suit for the color, details, or the light anymore. Or more specifically, videos on Lenovo are not working in such applications like Skype on Windows 7, 8, 10 or 11.
Related: Skype Camera Not Working on Windows 10/11
Why is the Camera on My Lenovo Not Working on Windows 10/11?
Diving into it, it is not difficult to find that both the Lenovo webcam hardware and camera software can be the potential causes for the Lenovo laptop camera not working.
It is understandable that the physically broken webcam won't work on Lenovo laptops. On the same note, the outdated Lenovo camera driver, the problematic Lenovo program and Lenovo settings can all be the culprits of the Lenovo Yoga camera not working on Windows 10/11. Lastly, if the Lenovo webcam on your PC is hindered by some applications or the system, of course, you are unable to use Lenovo Easy Camera.
How to Fix Lenovo Camera Not Working on Windows 10/11?
You may be rather familiar that Lenovo Yoga, Vantage, and IdeaPad camera fails to work on Windows 10. Upon Lenovo webcam not working coming up, you can fix it as soon as possible in accordance with the reasons for it. You can troubleshoot this laptop camera unavailable issue with in-depth and targeted methods.
Solutions:
Solution 1: Check Lenovo Camera Hardware
First off, when encountering Lenovo camera not working on Windows 10, try to check if the webcam is physically configured well on your Lenovo Yoga 320, 330, Lenovo Vantage, Lenovo IdeaPad, etc.
1. Try to check if the laptop camera is covered with dust and needs cleaning.
2. Check if the camera connected is closely connected to the PC. If you have got it loose last time you set apart the Lenovo laptop. Of course, it demands computer skills to check the webcam connection here.
3. Try another app to check whether the Lenovo camera works well.
In scarce cases, it is really your camera hardware that makes it not function anymore. So once you noticed the Lenovo camera is still not working on Windows 10, get down to fixing video not working with Lenovo camera when using Lenovo devices.
Solution 2: Enable Lenovo Webcam
In terms of Lenovo camera, there is especially a keyboard activating key for it. That is F8 or F10 for some Lenovo laptops. In most situations, you can press F8 to quickly turn on Lenovo webcam on Windows 10.
Therefore, don't worry, just hit F8 to elevate the webcam on Lenovo devices. Or for most cases, if it is the Dell camera out of work on Windows 7, 8, 10, you can also use the Fn key for Dell laptops to turn the camera on.
Since many of you may have carelessly disabled the camera using the Fn key, that may help a lot to hit the keyboard key to fix laptop camera not available.
Solution 3: Turn on Webcam Privacy Mode
Like what you have been told, Lenovo settings can also be one of the culprits causing Lenovo camera to stop working on Windows 10/11.
Hence, there is much need for you to configure the best settings for Lenovo camera, of which, the most closely associated one is the Privacy mode. It is said that once Lenovo Privacy mode is on, it won't share the images to others when you are having a video call with others.
1. Type in Lenovo in the search box and then press Enter to go to Lenovo Settings.
2. In Lenovo Settings, locate and click Camera.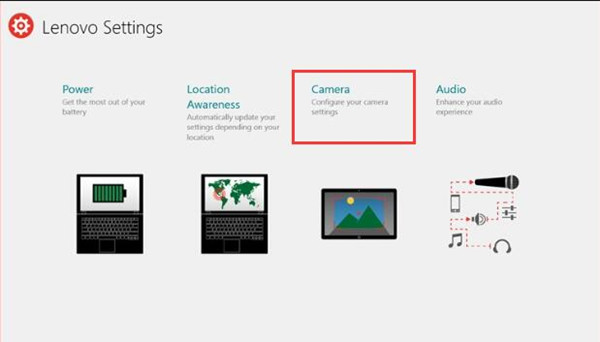 3. Then in Camera settings, choose to Turn on Privacy Mode.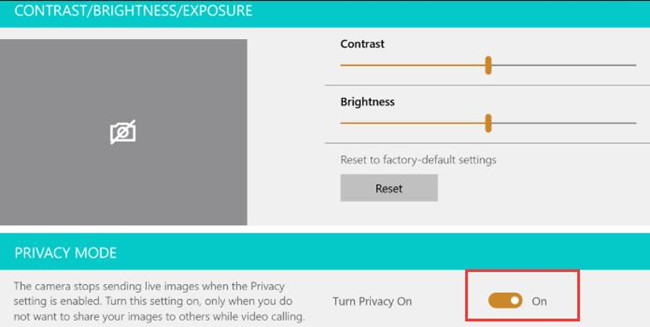 In doing so, there won't be any programs sharing images when the video is calling on your PC. And the Lenovo camera not working will disappear as well.
Solution 4: Update Lenovo Webcam Driver
For users who come across Lenovo IdeaPad 320/330, or Yoga 720/920 camera is not turning on after upgrading from Windows 7, 8 to Windows 10 or Windows 11, it is of great necessity to update Lenovo camera driver. It may be the corrupted or outdated Lenovo driver that gives rise to the inbuilt camera not working on Lenovo devices.
Here for the sake of convenience, you may as well take advantage of Driver Booster. As the top one driver updater, Driver Booster is more capable of finding and downloading the webcam drivers for Lenovo Vantage, Yoga, IdeaPad, etc. More significantly, it can detect and then fix some device errors on your PC.
1. Download, install and run Driver Booster.
2. Then hit the Scan. Driver Booster will immediately scan your PC from 0% to 100% to check the driver condition on your PC.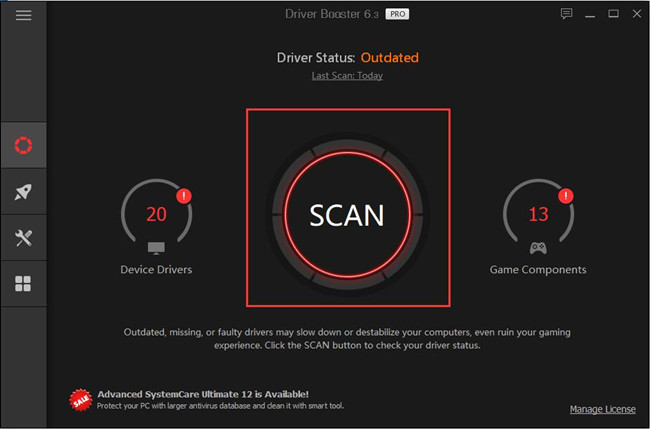 3. In the search results, find out Imaging Devices and then choose to Update Lenovo Easy camera driver.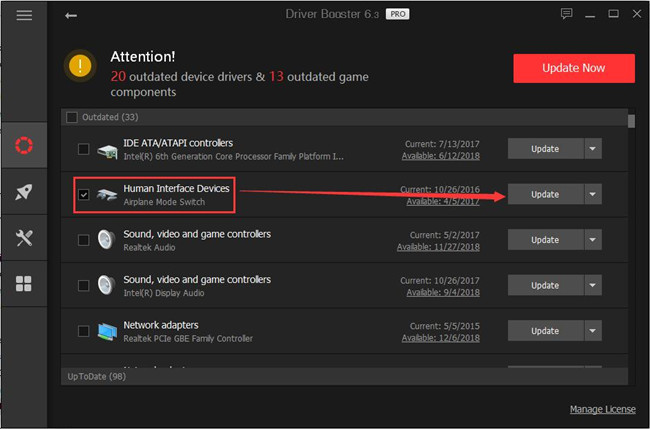 As you can obviously see, Driver Booster is installing the updated easy camera driver for Windows 10/11. Instantly when the latest camera driver is installing, you can see Lenovo Yoga 720 camera works fine now. That won't be any Lenovo webcam not working on Windows 10, 8, 7.
Solution 5: Uninstall and Reinstall Lenovo EasyCamera Software
For Lenovo users, it is well-known that Lenovo software is necessary if you wish to set up the webcam for your Lenovo laptop cameras.
But it also makes sense that the unresponsive camera on Lenovo laptop comes into being due to the misconfigured or corrupted Lenovo camera program, namely, Lenovo EasyCamera. Therefore, after fixing Lenovo hardware, setting, and driver issue, it is high time that you took time for Lenovo software for the camera.
1. Go to Control Panel.
2. Try to View by Category and then pinpoint Uninstall a program > Programs.
3. In Programs and Features window, locate Lenovo EasyCamera software and then right click it to Uninstall.
4. Reboot the PC if needed.
Related: How to Uninstall Programs on Windows 10 (Including Won't Uninstall Solution)
Now that the erroneous or problematic Lenovo EasyCamera software is removed, you are supposed to get a new one on Windows 10/11. Normally, Lenovo official site can offer you one to install the camera software on your computer.
All in all, when it comes to fixing Lenovo not working on Windows 7, 8, 10, 11, these ways above cam gain the Lenovo camera back. If not, it is also your privileges to refer to Lenovo site for professional help.
More Articles:
Fix 0xA00F4244 NoCamerasAreAttached Camera Error
Fix Logitech C920 Webcam Not Working on Windows 10/11
Tags :
camera