Fixed: CSR8510 A10 Driver Unavailable Error on Windows 10/11
Normally, a CSR8510 A10 driver will be automatically installed the instant you connect the Bluetooth dongle on the PC.
However, the Bluetooth stopped working after Windows 10/11 update, and when you check the Bluetooth adapter in Device Manager, just to find CSR8510 A10 driver is unavailable.

This Bluetooth 4.0 or 5.0 dongle allows users to connect the computer to different devices like the headset or mobile phone, for instance, you can connect your Xiaomi phone to laptop via Bluetooth. Of course, you need to turn on Bluetooth on your computer to use this Bluetooth receiver.
Therefore, sometimes, users can't use any external devices due to the unavailable csr8510 A10 driver. So you may need to troubleshoot this Bluetooth dongle error.
What is a CSR8510 A10?
Developed by Qualcomm Technologies International ltd, CSR8510 A10 WLSCP is a single-chip radio and baseband IC for Bluetooth 2.4 GHz systems including EDR to 3 Mbps.
Dedicated signal and baseband processing are included for full Bluetooth operation. In short, it is a highly applicable Bluetooth dongle to connect devices on computers.
How to Fix CSR8510 A10 Driver Issues in Windows 11/10?
When your CSR8510 A10 Bluetooth 4.0 or 5.0 driver is not unavailable, it means that the driver is outdated or corrupted on Windows 10. Or the Bluetooth services stop the system from recognizing the csr8510 A10 Bluetooth driver.
That may be one of the culprits of your Bluetooth keyboard not connected. Hence, you may as well get down to dealing with this CSR8510 A10 not detected as Bluetooth error as soon as possible.
Solutions:
Solution 1: Uninstall and Update CSR8510 A10 Driver
Now that Windows 10 prompts you that the CSR8519 a10 driver is unavailable, you need to try some ways to get the system to detect the driver so that this Bluetooth dongle can go back to work on Windows 10 after being recognized. You can remove the outdated or corrupted Bluetooth driver and then install the latest driver for this Bluetooth 4.0 dongle.
Part 1: Uninstall the Problematic Bluetooth Driver
1. Open Device Manager.
2. Expand Bluetooth, and then right-click the CSR 8510 A10 to Uninstall device.
Here if you cannot find this Bluetooth dongle under Bluetooth, it is likely that you can access it in Unknown devices.
3. Tick the box of Delete the driver software for this device and then Confirm to uninstall.
Part 2: Update Bluetooth Driver
After you get rid of the unavailable CSR8510 driver, take time to download the newest driver for the CSR8510 A10 Bluetooth dongle. In order to fix the unavailable driver error more quickly.
Here Driver Booster, the rated top one driver tool, is recommended to you to find, download, and install the latest Windows 10 Qualcomm Bluetooth driver.
1. Download, install and run Driver Booster.
2. Hit Scan. The tool will start searching for all the outdated or corrupted drivers.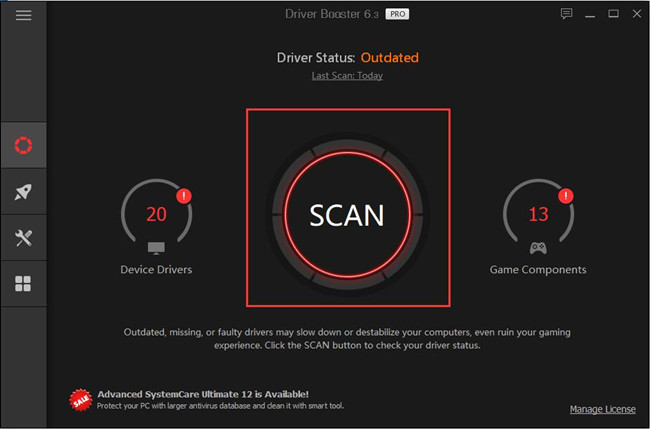 3. Under Bluetooth, find out CSR8610 A10 to Update it.
Then you can observe that Driver Booster is downloading Windows 10 csr8510 a10 4.0 or 5.0 driver. You can then check whether the Bluetooth receiver driver is still not available in Device Manager Driver Properties. If needed, you can refer to more ways to update Bluetooth drivers.
Solution 2: Roll Back the CSR8510 A10 Driver
An incompatible Bluetooth driver will also likely result in CSR8510 A10 driver unavailable error on Windows 10, so you can try to roll back the drive to the previous version to see if it can make the system recognize this driver and allows the Bluetooth dongle to work. You can try to install the previous 4.0 or 5.0 Bluetooth dongle driver that is already installed on your computer.
1. Open Device Manager.
2. Expand Bluetooth, and then right-click the CSR8510 A10 to open its Properties.
3. Under Driver, hit Roll Back Driver.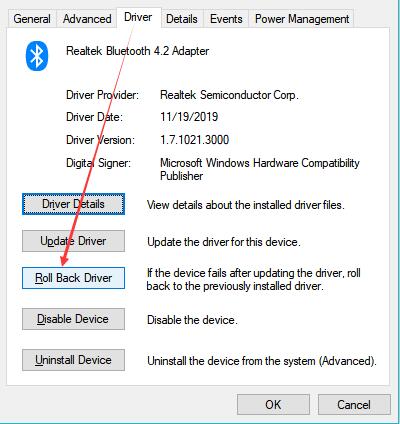 4. Windows system will then install the previous Bluetooth dongle driver.
For instance, the system may have installed the generic Bluetooth driver. You can connect your headset or smartphone to the computer with your CSR8510 A10 4.0 dongle to see if it works.
Or when you open Device Manager, the error that This device is not configured properly (code 1) may have disappeared, and you can connect Bluetooth headphones to PC as normal.
Solution 3: Enable Bluetooth Support Service
The Bluetooth Support service will also affect the performance of your Bluetooth devices. Sometimes, the csr8510 driver not available may be caused by the misconfigured Bluetooth service settings.
So it is worthwhile to enable the related Bluetooth services to ensure your Bluetooth receiver or dongle works well on Windows systems.
1. Type in Services in the search box and then hit Enter.
2. In Services, scroll down to locate and right click Bluetooth Support Service to open its Properties.
3. Under General, set the Startup type as Automatic and Service status as Start.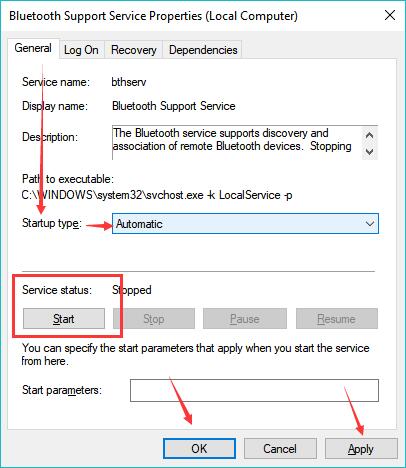 4. Hit Apply and OK to save changes.
If you find there is also a Bluetooth Hands-free service, try to start it and change its startup type to automatic. After all these related services are enabled, you won't see that the CSR8510 driver is unavailable in Bluetooth settings again.
Solution 4: Check for Updates
As discussed, some users hit upon unavailable csr8510 4.0 driver on Windows 10 after upgrade from Windows 7 to Windows 10 or upgrade from Windows 10 to Windows 11. If you have not installed the latest system patch, your csr8510 5.0 driver may be incompatible with the system, which is why it shows you the driver is unavailable.
Or sometimes, new update packages will bring your system new features of fixes to solve some problems like Bluetooth driver not detected.
1. Go to Start > Settings > Update & Security.
2. Under Windows Update, click Check for updates.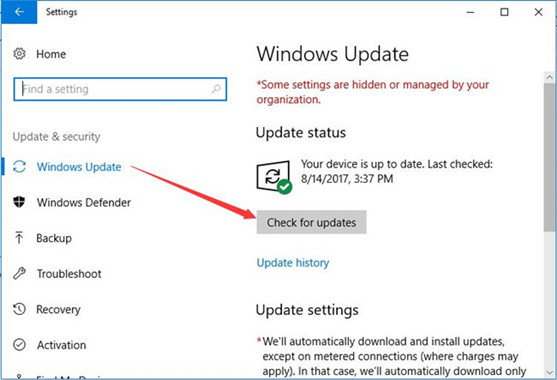 When a new system patch installed, you can reconnect the mobile phone to the computer via Qualcomm CSR8510 Bluetooth 4.0 or 5.0 Windows 10.
In summary, this csr8510 a10 driver unavailable error results from an outdated or corrupted Bluetooth dongle driver on the Windows system, so you need to install a proper driver to get the dongle detected.
More Articles:
Fixed: Printer Driver Is Unavailable Windows 11, 10, 8 and 7
Download and Update Realtek Bluetooth Drivers on Windows 11, 10, 8 and 7
Tags :
Bluetooth