How to Manually Update GeForce Drivers on Windows 10
If you want to solve the NVIDIA driver issues, or you simply want to download the latest NVIDIA GeForce drivers for Windows 10, you can refer to this passage for the steps at length. And updating its driver can solve the graphic card not working error and improve the game experience.
How to Check What Graphic Card My Computer Use?
This is very easy, you can open the device manager and expand Display adapter. Then the NVIDIA GeForce type will come into sight. And here is a complete guide to check graphics card on Windows.
So after you have figured out what type of graphics card you are using, you now can go to official site to update it. Here you are to NVIDIA or GeForce Website to acquire the latest NVIDIA GeForce drivers manually.
But to update NVIDIA GeForce drivers, compared to the GeForce Site, NVIDIA site is more convenient and quick, in this way, here will teach you how to update GeForce drivers from NVIDIA Website.
How to Manually Update GeForce Drivers for Windows 10?
As discussed before, when it comes to you to update your NVIDIA GeForce driver, the first thing comes to your mind is to navigate to the official site, which is due to the fact that the NVIDIA site offers the most resourceful GeForce.
Step 1: Go to the NVIDIA Website directly. Here provide two ways to download the GeForce drivers.
One is manual find the driver and download it, and another is automatically found drivers for your GeForce device. Here choose the first option to manually update NVIDIA GeForce drivers.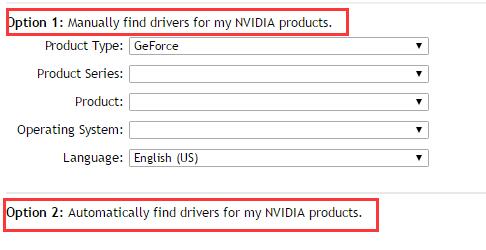 Step 2: Find the GeForce device model from the options, here choose to update NVIDIA GeForce drivers for the purpose of showing you the detailed steps:
Product Type: Choose GeForce.
Product Series: GeForce MX100 Series(Notebook)
Product: GeForce MX150
Operating System: Windows 10 64-bit
You can clearly find your NVIDIA product in that it has classified the NVIDIA GeForce into various types, especially notebook is marked, so you will not make a mistake in finding your GeForce type. You can also find GeForce GTX 1070 device driver from here.
Step 3: Hit Search. Then it will search the Windows 10 NVIDIA GeForce driver for you.
Step 4: Download NVIDIA GeForce drivers.

Here you can see the driver details such as the driver version, release date, operating system and so on.
Step 5: Install the GeForce driver on your PC. You can install it simply by obeying the guideline.
Then you will have successfully installed the NVIDIA GeForce drivers in the end.
As you can see, the NVIDIA GeForce drivers have already updated to the latest version of yourself. What is more, you can also find that the NVIDIA driver issues are solved in this way. And there is another way you can use : update NVIDIA drivers on Windows 10 automatically.
More Articles:
Fix NVIDIA G-Sync Not Working On Windows 10
Solved: Need to Reinstall NVIDIA Drivers Every Reboot
Fixed: NVIDIA nForce Networking Controller not Working Windows 10
Tags :
drivers
nvidia