4 Ways To Record Periscope Videos/Live Streams On PC and Mobile
Streaming services have gained popularity in recent years, and Periscope is one of the great live video streaming apps that many people enjoy. While watching Periscope, you may still try to record them to re-watch at any time. So, can you record Periscope?
The answer is definitely YES. Although Periscope gives no built-in option to download or save streaming videos for offline watching, it is possible to make a copy of its online content by recording Periscope.
In this article, we have collected a set of working ways to record Periscope videos on various devices. Follow us to capture Periscope videos as well as live-streaming on PC, Mac, iPhone, and Android with ease.
What is Periscope, and How Do I Use it?
Periscope is a social networking service that enables individuals to both create and view live-streamed video content. It could be accessed by visiting the platform's website or by downloading its mobile apps (available on Android and iPhone devices).
As Periscope is owned by Twitter Inc., you can also log in using your Twitter account. Once logged in, a variety of live-streaming options will be displayed, giving users the ability to choose from them. Additionally, you can engage with streamers by posting comments in the chat.
In the following, we will present 4 methods for recording Periscope on various devices. Find the most suitable approach based on your specific needs.
Note:

While this article focuses on recording Periscope, you can also refer to instructions on recording YouTube live streams if you are interested in capturing streams from other platforms.
How to Save Periscope Videos on a PC
If you are using Windows 10 or a later version, you might be familiar with the Xbox Game Bar, a built-in screen recording provided by Windows. You can easily capture Periscope by simply pressing the Windows key + Alt + G on your PC.
However, the built-in recording tools in Windows may not suffice for those with more advanced recording requirements. Consequently, an increasing number of people are opting for third-party software that offers more customizable recording options.
One highly recommended option is iTop Screen Recorder. This professional screen recording software lets you record Periscope of HD quality, offers a flexible screen area to choose from, and also provides a built-in video editor to trim your recorded videos.
Advantages of iTop Screen Recorder
Unlimited Recording: The number of Periscope videos that iTop Screen Recorder can capture is unlimited, and there is no time limit on each recording.
Record in High Quality: iTop Screen Recorder can make a video in 4K and 1080P. This will make your Periscope recordings more enjoyable.
15+ File Formats: iTop Screen Recorder allows you to export the recording in various video formats like Mp4, AVI, FLAC, and MOV for transferring.
Flexible Recording Region: You have complete control over your Periscope recording to record part of the screen, the entire screen, a window, or at a fixed ratio.
Edit Recording: You can edit the Hallmark Channel recordings using the advanced video editor provided by iTop Screen Recorder.
Now, follow us to learn how to record Periscope videos on PC with iTop Screen Recorder.
Steps to Save Periscope Videos using iTop Screen Recorder
1. Download, and install iTop Screen Recorder on your PC, then run it.
2. Head to Record > Screen, and click Full Screen. You can select the screen size of the Periscope recording or record a part of the screen.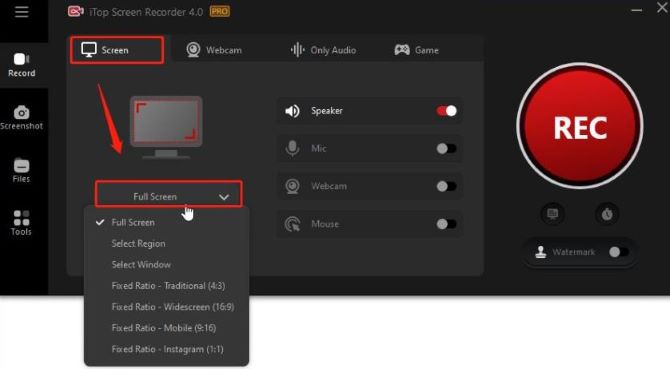 3. Turn on Speaker to include audio from the Periscope video.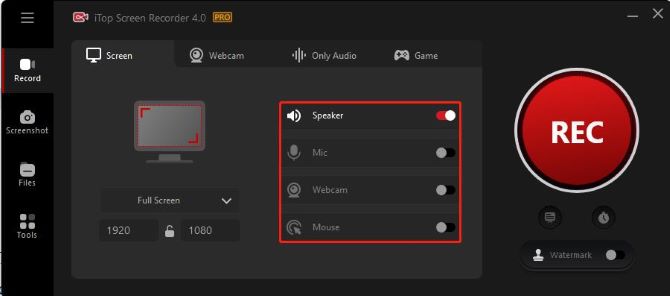 4. (Optional) Click the options icon at the top right corner, select Settings from the list, and click Format to get more settings. You can set the video format, bitrate, frequency, etc. under the Video option.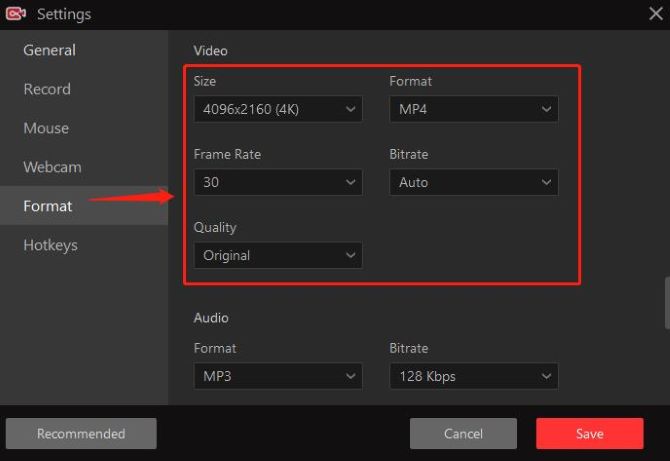 5. After setting up everything, play your Periscope live stream video, and click on the REC button from iTop Screen Recorder to start recording.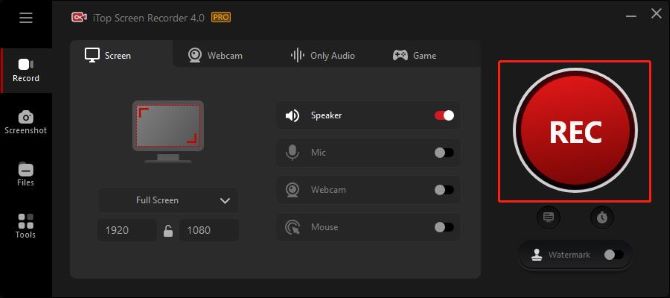 6. Click on the Stop button on the floating toolbar to stop recording on Periscope.

You can find the recorded Periscope video file under Files > Video. You can edit the recordings with the built-in video editor and add filters, effects, or other layers.
How to Save Periscope Videos on Mac
If you are looking to record Periscope on a Mac, the native QuickTime player is a great option as it offers a straightforward process for recording.
There are two ways to record a Periscope stream on your Mac: one involves installing the Periscope app and recording from it, and the other entails directly recording the Periscope website on your Mac.
For either of the above methods, the following step-by-step guide can be used.
Steps to Save Periscope Videos using QuickTime Player
1. From the launchpad, search for QuickTime Player, and click on it to run.
2. From the top bar on your screen, click File > New Screen Recording. A toolbar will pop up and your mouse arrow is replaced with a picture of a camera.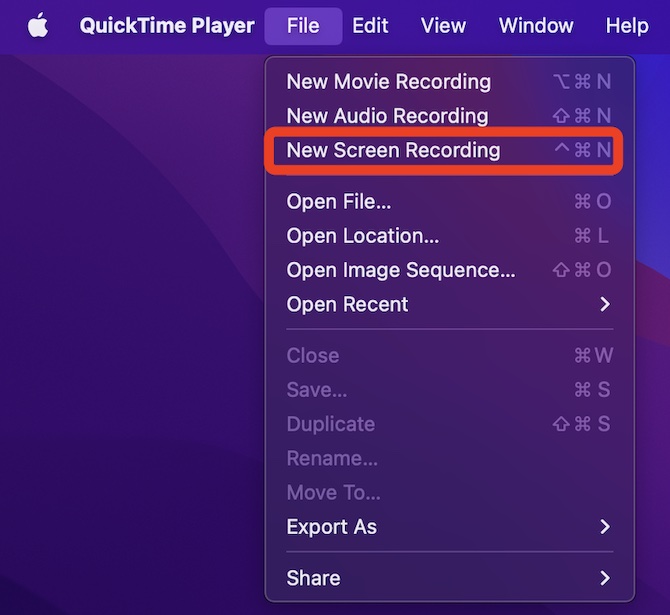 3. Choose from icons on the toolbar to Record Entire Screen or Record Selected Portion using the draggable frames.

4. Click on Options. Record Periscope with audio by selecting the microphone. Select the storage location. Set a 5 or 10 seconds timer to have a delay for recording.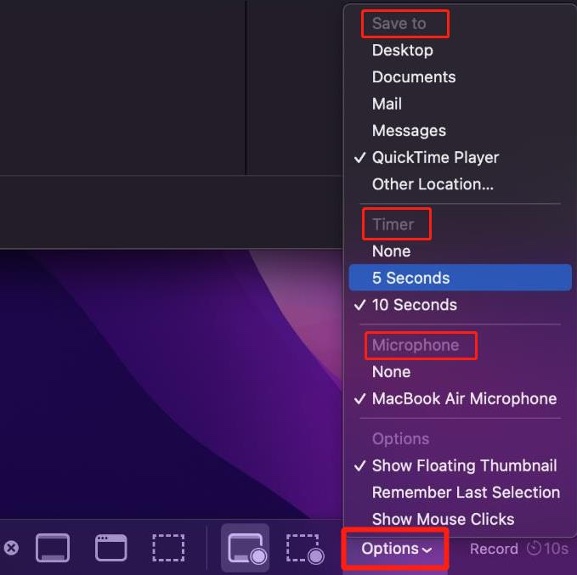 5. Press the Record button, and play the Periscope live stream you want to record.

6. Click the Stop icon at the top right when you are finished.

How to Record Periscope on iPhone/iPad
If your iPhone or iPad has been updated to iOS 11 or later, you can use the built-in recording function to capture Periscope on these devices. It is also the quickest and easiest way to record Periscope for free without a watermark.
Let's take a look at the detailed steps below:
1. Open the Periscope app on your iPhone/iPad and play what you want to record.
2. Pull up your iPhone/iPad's control center from the bottom and look for the Record button.
3. Click on the Record button, and your Periscope video will start to get recorded.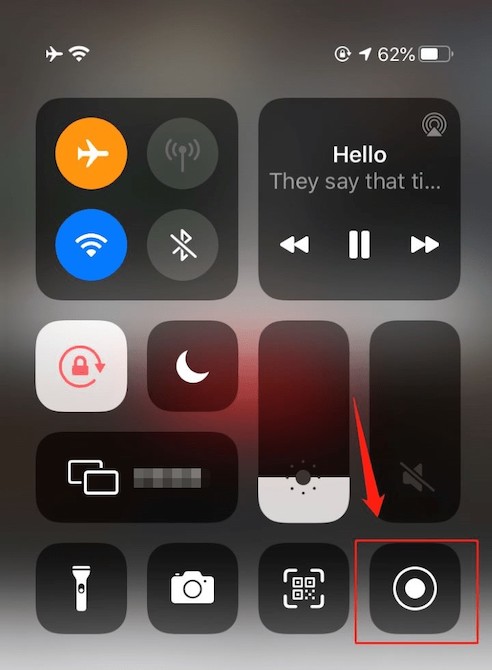 4. Tap the red Record button in the control center to stop recording. Or, tap the red status bar at the top of your screen to stop.
Note:

If you do not find the Record button, go to Settings > Control Center, and tap the "+" icon next to Screen Recording on More Controls to add it to Control Center.
How to Record Periscope on Android
Similar to iOS devices, Android devices also have a built-in screen recorder that allows you to capture Periscope live streams. Here is a guide on how to use it for recording Periscope on your Android smartphone.
1. Open the Periscope app and go to the live streams that you wish to record.
2. Pull the notification menu from the top of your phone screen. From the various options presented, tap the Screen Recorder icon.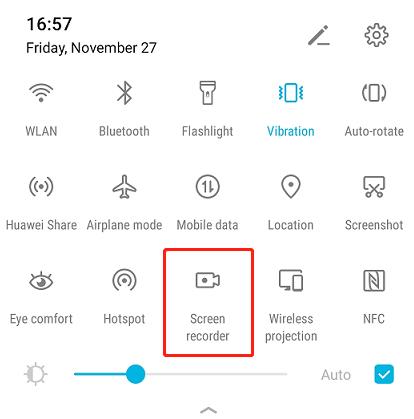 3. To start recording Periscope, click on the Screen Recorder icon and select Media Sounds > Start Recording.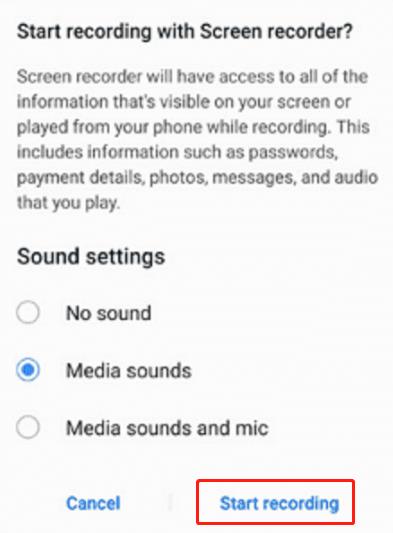 4. Stop the recording by swiping down the notification bar and clicking Tap to stop on the screen.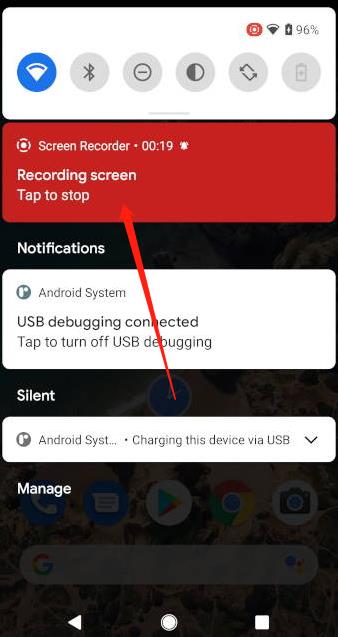 5. You will find the recorded Periscope content in the Gallery on your Android.
FAQs About Periscope Screen Capture
Q1. Can I record Periscope live streams?
A: Yes, you can record Periscope videos and streams using screen recording tools available on your device.
Q2. Are there any limitations to recording Periscope streams?
A: Periscope itself allows the replay of broadcasts for up to 24 hours. However, the ability to record live streams depends on the screen recording capabilities of your recorder and any applicable restrictions in your region.
Q3. Can I view and save Periscope streams on PC?
A: Yes. You can watch Periscope on your computer by logging in to the official website and selecting the different streams you'd like to watch. To save the Periscope stream videos, you will need to use a screen recorder for Windows, as Periscope itself does not provide a native screen recording feature.
Q4. Is it legal to record Periscope streams?
A: It depends. If you are recording videos from Periscope for personal use or to share with a small group of friends, there should not be any issues. However, if you intend to publish or broadcast the recorded Periscope videos for commercial purposes, you might encounter difficulties or potential legal complications.
Q5. Can I record Periscope streams without the knowledge of the broadcaster?
A: Yes, you can record screens on Periscope without them knowing. We recommend that you choose a professional Periscope recorder like iTop Screen Recorder, which can help you record Periscope without restrictions.
Tags :
screen record