Fix Roblox Error Code 279: Failed to Connect to the Game
Did you fail to join games on Roblox? Users keep receiving the error message "DISCONNECTED: Failed to connect to the Game. (ID=17: Connection attempt failed) (Roblox Error Code 279)" for known reasons.

As a platform empowering gamers to design games and play various games developed by other gamers, Roblox has been widely accepted worldwide in recent years.
Gamers can design and play games created by others on this online platform on Windows-based, iOS-based, and even Android-based devices, so the Roblox error code 279 failed to connect to the game is a game issue to be resolved immediately since it affects so many users. Now, get started to remove this Roblox not working issue on Windows, Mac, or Android.
What does Roblox Error Code 279 Mean?
Why this Roblox connection issue pops up perplexes many users. To put it in simple words, the Roblox error code 279 id=17 means that the network connection on your device hits upon errors, as the error message "failed to connect to the game" shows.
Meanwhile, even if the device tried to connect to the network and allows your Roblox to run, the connection failed anyway. Without the network connection, naturally, Roblox won't connect to the game server as normal, thus prompting you the Roblox error code id 17.
What's more, if this online platform is blocked by Windows Defender Firewall or any third-party antivirus programs like Avast, odds are that error code 279 Roblox will show up and prevent you from designing and playing games.
How to Fix Roblox Error Code 279?
In light of the meaning and causes of "Roblox could not connect to the game", you need to disable both system-based and third-party programs to make sure there is no program blocking the Roblox. You also need to check the network connection in case it is a network error with your system that causes Roblox connection failure.
Solutions:
Solution 1: Turn off Windows Firewall and Third-party Antivirus Program
Since Roblox is an online platform, your antivirus programs may prohibit it from running when detecting it trying to connect to a special server. In some cases, the antivirus software may just misinterpret Roblox or the browser as a threat to your computer. Hence, you might as well just turn off both the system and downloaded the antivirus program.
Turn off Windows Defender Firewall:
1. Search Windows defender firewall in the search box and then press Enter key.
2. On the left pane, select Turn Windows Defender Firewall on or off.
3. Under Private network settings, tick the circle of Turn off Windows Defender Firewall.
4. Under Public network settings, tick the circle of Turn off Windows Defender Firewall.
5. Hit OK to save changes.
You can also open your third-party antivirus software to turn if off temporarily. In this way, Windows Defender Firewall and third-party programs will not block Roblox from running, thus Roblox connection failed error code 279 on Windows or any other devices will be fixed as well.
Solution 2: Change to another Browser
If error code Roblox 279 id=17 happens when you were trying to play or design games on Roblox on a browser like Firefox, Microsoft Edge, or Internet Explorer, or Google Chrome, it is a good option to run the Roblox on another browser to see whether the "failed to connect to the game" problem will occur again.
For instance, if you encounter Roblox issue 279 again and again on Firefox after you restarted this browser many times, you can try to navigate to the Roblox website and log on to your Roblox account on Google Chrome.
Once you noticed that the error code 17 Roblox disappeared on Chrome, it manifests that this game error results from your browser problems. If not, you need to fix the issue on the device.
Solution 3: Update the Browser
You can get the updates of the browser to gain new features that may help fix the bugs with the online platform Roblox. For some users, the updated browser can remove corruptions so that the Roblox not connecting to the game will also be solved.
Here take updating Google Chrome as an example to resolve the error 279 code on Roblox. You can refer to the steps to update other browsers on which you play the Roblox like Firefox.
1. Double click Google Chrome from the Desktop to launch this browser.
2. Enter chrome://settings/help in the Chrome search bar and then press the Enter keyboard key to go to the Help page of Google Chrome.
3. Then Check for updates to allow Chrome to install new updates itself.
You can observe that Chrome is automatically downloading and installing the update packages. After that, it will restart itself to take effect.
Upon booting Chrome up again, try to play Roblox again to see whether Roblox browser error that "DISCONNECTED: Failed to connect to the Game. (ID=17: Connection attempt failed) (Roblox Error Code 279)" will pop up again.
Solution 4: Open Roblox Ports
As an online game, there is a range of ports of Roblox to allow this game to run properly. Without proper ports available for Roblox on your device like the computer, Roblox won't be connected and will disconnect as it failed to connect to the game correctly. In this case, if you stumble upon error code 279 on Roblox, it is worth opening the required ports for the Roblox on your PC.
1. Navigate to the network router control panel as administrator.
2. Choose to Custom Service for Roblox.
3. Find out Port forwarding.
4. Input the IP address and then enter a port range of 49152-65535, and then choose UDP as the network protocol.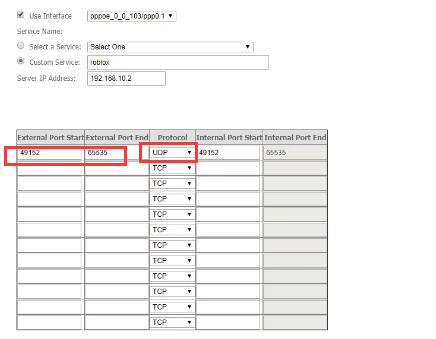 5. Restart the network router to take effect.
Go to Roblox online game on your browser. You can open the game and design or play a Roblox game smoothly without meeting with the error code 279 Roblox.
In short, if you are worried about how to fix Roblox error code 279, failed to connect to the game, do not hesitate to resort to this article for ways out. It will help you get the Roblox connection back to normal so that you can enjoy designing or playing games as you wish.