Fix Sim Not Provisioned mm#2 on Android and iPhone
When you have just bought a new phone, you might be trying to transfer the telephone numbers from the SIM (subscriber identity module) card on the older phone to your new phone.
However, you got an error saying "MM#2 Phone SIM not provisioned". In some cases, when users try to call a friend, the SIM not provisioned error occurs to your phone. The call failed with the "SIM not provisioned for the voice" issue.
Overview:
What Does "SIM Not Provisioned" Mean?
Once you encounter "SIM not provisioned MM#2", it means that your phone, either Android or iPhone, is unable to share information with the service provider, AT&T, for instance. Therefore, you can't call or text anybody except the emergency call (911).
Why is my "SIM not provisioned MM#2"?
There are several causes of the "SIM card not provisioned MM#2" error.
The SIM card is broken. Sometimes, if you have used a SIM card for a long time, odds are your SIM card can't be provisioned.
Your SIM card is not activated successfully or deactivated for unknown reasons. An inactive SIM card won't be provisioned.
The SIM not provisioned happens after the SIM card is improperly inserted.
Many culprits are to blame for the "Sim not provisioned mm#2" error. You need to figure out what causes your SIM card not to work and try some solutions to fix the problem.
How to Fix "SIM not provisioned MM#2" on Android and iPhone?
Since you have known about the main reasons for the SIM card not provisioned issue, you need to troubleshoot your SIM card.
Unlike other computer problems involving more complicated hardware and software issues, a SIM card not provisioned can be tracked back to your broken or problematic SIM card as the card is more about a hardware problem.
You can fix the mm#2 SIM not provisioned by either replacing one or getting it activated by the service provider. There are some things worthy of checking to find out what on earth your SIM card problem is.
Solution 1: Check the Hardware Issues with the SIM Card
Firstly, you may well check whether your SIM card is broken, properly inserted into its holder, and activated on your phone. To do that, follow specific steps.
Check whether your SIM Card is Broken:
1. Turn off your Android or iOS phone.
2. Open the holder of the card via a needle.
3. Take the card out of the card holder.
4. Check the physical condition of the SIM card, for instance, whether there are scratch marks or damages.
If you noticed any damages to the SIM card, turn to the SIM carrier such as AT&T, T-Mobile, and Ultra Mobile, and ask the staff to replace a new one for your phone by copying all the data with the older SIM card.
Check whether your SIM Card is inserted into the holder properly:
Possibly, your SIM card is slightly moved after a fall. Or you did not insert your new SIM card into the phone properly, the SIM card cannot allow your phone to share information with the carrier.
Hence, the call failed, and "SIM not provisioned" MM#2 showed up. You need to open the card holder with a specialized needle and then take the SIM card out of the holder. After that, check the position of the card and make sure that it is aptly placed in the holder.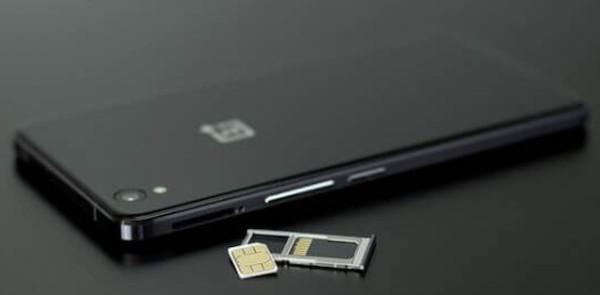 Check whether your SIM Card is Activated:
The way to activate a new SIM card differs from a carrier to another. In some cases, users are supposed to call the SIM carrier with an activated card on another phone to ask for activation. While some users may have ignored the procedure to activate the SIM card after purchasing the card.
After that, you also need to sign in to your account for this carrier to use it on your phone without receiving the "SIM not provisioned" error. Given the wide popularity of AT & T carriers, steps to activate a new AT & T SIM card are offered.
1. Navigate to AT & T's official website.
2. Locate and hit SIM card only.

3. Follow the instructions on the following window to activate your SIM card.
As you can see, the AT & T official website has introduced the procedure to activate an AT & T card step by step. In particular, if you are a new consumer, you can directly insert your new SIM into your phone.
While if you are just transferring the number from another service provider, you need to go to the AT & T activation center for activation. After activating your SIM card, for iPhone users, you can also set up your Voicemail to play the messages if needed.
Try to Use the SIM Card on Another Phone
You can attempt to insert the SIM card into the holder of another phone to see the call function is available without the not provisioned SIM card issue. If your SIM card is working well on another device, it implies the culprit lies in your phone, so you need to take your phone to the phone repairers to troubleshoot the phone errors.
While if the SIM has not provisioned issue persisted after you used it on another device, you need to contact the SIM service provider.
Solution 2: Consult the Service Provider
Even if you have checked all the relevant aspects of your SIM card, SIM is still not provisioned with MM#2 Phone error. You may have to resort to the technicians of the service provider like those technicians or staff of AT & T to ask them to check whether your SIM is deactivated. If so, ask them to activate the card for you.
Summary:
You can fix the hardware and activation issues with your SIM card to fix "SIM not provisioned MM2" error effectively and quickly. In so doing, you can find the SIM card can be provisioned to share information with the carrier and allows you to call as you wish.