Fix Steam Pending Transaction Error: A Complete Guide
Overview:
Are you waiting for too long to complete a transaction in Steam? Many Steam users reported that they run into Steam transaction pending error when trying to purchase something on Steam. Some may receive error messages like "Your transaction cannot be completed because you have another pending transaction on your account" or "You have another pending transaction on your account error".

The purchase failed due to a pending transaction. People are wondering why Steam does not let you buy a game. As many users asked for solutions, some of them even tried to solve Steam network not connecting, but Steam pending sales Roblox remains.
Some people even cannot cancel PayPal transactions on Steam, Steam purchases pending lingers. Hence, this post tries to walk you through this Steam purchase error.
Why is my Transaction Pending on Steam?
Steam purchase stuck on working can be caused by different factors. Among them, the problematic Steam network server is a potential cause since Steam purchase will fail if the network server stops working.
Besides, Steam transaction pending may originate from your improper operations during the purchase, for instance, re-submit a transaction.
Or sometimes, your payment method is not supported on Steam, so Steam is stuck in the transaction process. Anyway, you need to check the transaction history on Steam, Steam account error, and the payment to ensure they will not lead to purchase pending when you want to buy a game or anything else on this platform.
To make things worse, some users found that the pending transaction is not in purchasing history. That may also be a reason why the transaction is pending when you even can't view the wrong transaction and remove it.
How long do Pending Transactions Take Steam?
Normally, gamers can pay for games or any other products or services quickly on Steam. However, a pending transaction, a recent card transaction that has not yet been fully processed by the merchant, occurs to you when something goes wrong with the purchase process.
The steam pending transaction can last 7 to 10 days if the merchant doesn't take the funds from your account. After 7 to 10 days, the Steam pending refund will be finished as the money will return to your account or credit card.
How to Fix the Pending Transaction Steam Error?
There are many ways to get out of the purchase pending in Steam. But you need to troubleshoot this purchase transaction issue on Steam patiently. Actually, there are many problems when people try to pay on Steam for something, a game for instance.
The solutions in this post are proved helpful to fix the following Steam transaction errors:
The transaction is pending on Steam.
This purchase is pending while steam attempts to collect payment.
Your transaction cannot be completed because you have another pending transaction on your account.
You have another pending transaction on your account error.
Steam pending transaction not showing in the purchase history.
Therefore, whatever error message you have received or whatever case you are in, you need to take some measures to eliminate the pending Steam transaction or just canceling the purchase.
Solutions:
Solution 1: Check Steam Network Server
A server is designed to process requests and deliver data over the internet or a local network. Steam also provides network servers for gamers to play different games in different countries or regions. However, once the server is not working, naturally users are unable to pay on Steam.
To check the Steam server, you need to:
1. Navigate to Steam Status Website.
2. View the service status.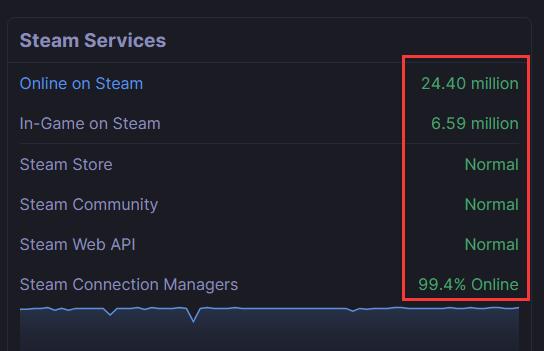 If you noticed that the server you are using is offline, you may need to contact Steam's official website to consult them about why the server is offline and when it will go online. Of course, the offline server may also result in purchase failure on Steam. With an online server, sometimes the Steam disk write error may also be resolved.
Solution 2: Check the Computer Network Settings
For the security and data protection of gamers, Steam does not allow gamers to pay when it detects the gamers' unknown proxy. Therefore, you need to turn off the proxy or VPN temporarily to see whether the Steam pending transaction will appear again.
1. Go to Start > Settings > Network & Internet.
2. Under Proxy, turn off the option – Use a proxy server.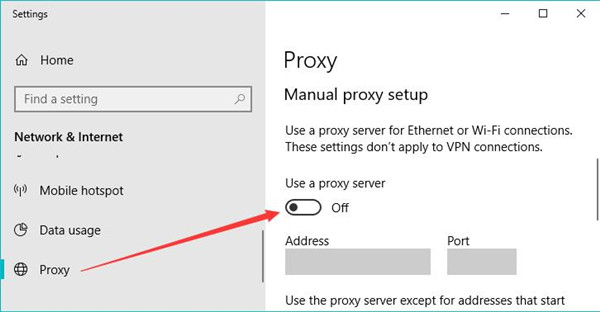 3. Click Save to save the changes.
4. Under VPN, choose to disconnect the VPN.
With any proxy or VPN network interruptions, try to purchase the game on Steam to see if Steam purchase stuck on working persists.
Solution 3: Cancel the Pending Purchase
Just do as the warning message shows you, "Cancel This pending purchase. This purchase is still pending. Your payment provider has not yet told us if they will charge you for this transaction.
This will cancel the purchase on Steam. If you haven't canceled this purchase with your payment provider, do so now to make sure they don't charge you." That will not only avoid Steam charge you but also avoid conflicts when you try to pay again. You can try to cancel the pending transaction from the purchase history and then re-pay again on Steam.

1. Launch the Steam app and find out Account Details.
2. Hit View purchase history to open the history of your Steam transactions.

3. Here you can view Steam's pending transaction history as well as the total fund needed to buy the game.
4. Select the Pending Purchase and then click the Cancel my purchase option.

If there is more than one pending purchase, try to cancel them all.
Reboot your computer.
After you restarted the computer, you can open Steam and re-purchase the game. Perhaps there is no purchase pending in Steam and you can buy any game as you wish.
Solution 4: Pay via Steam Website
Most users tend to play games on the Steam app. Therefore, in most cases, you may stumble upon Steam purchase failures in the Steam app. However, some gamers expressed that even if they failed many times to pay on Steam software, they complete the transaction on Steam's official website.
On this website, gamers can also purchase any game they want and then play the game on the Steam app. In this way, you can also try to pay for the game on the Steam website. That can be a good alternative when you noticed transactions pending in the Steam app.
Solution 5: Use Other Payment Methods
Most gamers tend to pay via Paypal, which is undeniably a convenient and popular payment method. However, when you encounter a Steam purchase pending for a long time, you have to cancel the Paypal purchase and turn to another payment method.
According to Steam's official website, users can purchase games or any products or services using such payment methods as Paypal, Visa, MasterCard, American Express, Discover, and JCB. Therefore, it is worth a shot to pay via another method.
Or sometimes, paying via another credit card may be viable. So repeat the purchasing process and change to another method to see if the purchase will be pending in Steam.
In summary, so long as you run into Steam pending transaction error with whatever error message, you can just browse this article to remove the pending purchase.