How to Update AMD CPU Drivers on Windows 10, 8, 7
So long as you wish your PC runs faster with good performance of both hardware and software, there is much need for you to make sure the CPU (Central Processing Unit) driver is updated. Here this post is designed for AMD processor users, and you can refer to the methods below to update the AMD Ryzen drivers on Windows 10, 8, 7.
Meanwhile, if you stumble upon AMD 1603 error AMD driver partially or not installed, you can also come here for help.
What Kind of AMD CPU is on My PC?
Usually, CPU can be categorized into processors, microprocessors, and central processors. More often than not, laptops may be embedded with an AMD microprocessor on a tiny chip.
Specifically, as you all know, AMD corporation is famous for its AMD Graphics card. But when it comes to AMD CPU, you may be using not only processor like AMD Ryzen processors but also AMD Processor with graphics such as AMD A-Series, FX-Series, Athlon, E-series, C-series processors.
How to Download AMD Processor Drivers for Windows 10, 8, 7?
After knowing for sure what AMD CPU is on your PC, it is time to get the right AMD CPU driver. Normally, you can turn to the Device Manager or AMD site. But if you have no time and patience, rely on a professional tool will also be advisable.
Methods:
1: Update AMD CPU Drivers Automatically
2: Update AMD Processor Drivers in Device Manager
3: Update AMD CPU Drivers Manually
Method 1: Update AMD CPU Drivers Automatically
In a large sense, users are unable to locate the proper processor or microprocessor driver for Windows 10. Or in some cases, there are no special updates for your AMD processor, so you are supposed to update the driver with the help of Driver Booster.
Driver Booster will automatically find the driver for your AMD CPU card to render programs more quickly and smoothly.
1. Download, install and run Driver Booster.
2. Then click the Scan. Driver Booster will start scanning for all the device drivers to see if they are outdated, corrupted, or faulty on Windows 10.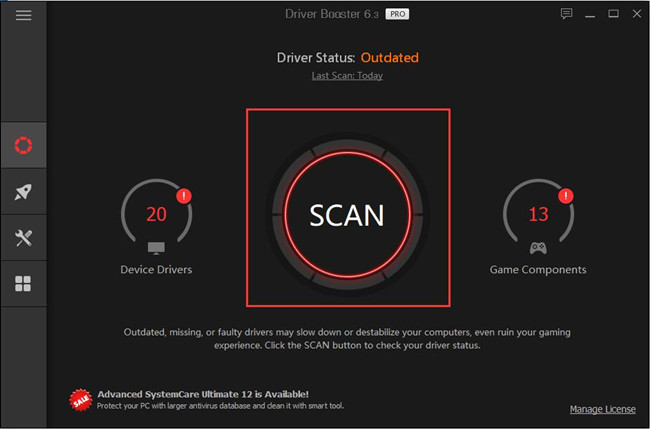 Find out Processors and then decide to Update the Processor driver automatically.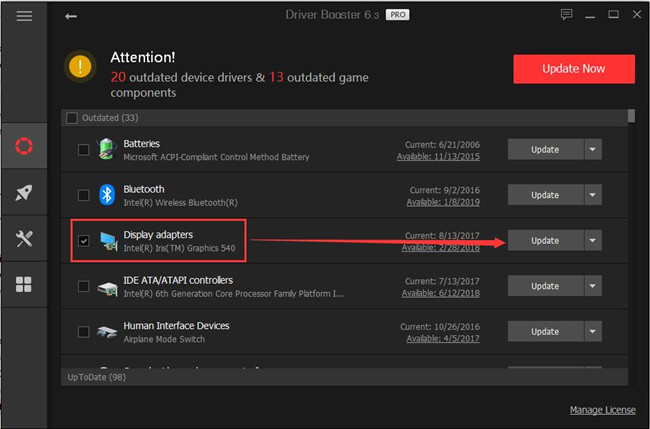 Driver Booster is downloading and installing the AMD CPU driver on your PC.
Here it is likely that Driver Booster can also update AMD graphics drivers for you, such as AMD Radeon graphics card. And in this way, a general error during AMD driver installation won't come up to your PC.
Method 2: Update AMD Processor Drivers in Device Manager
Of course, it is also available for you to search for the AMD Ryzen processor driver within the system. That is to take advantage of Device Manager. In some senses, this device management tool is capable of getting the AMD driver for you.
1. Head to Device Manager from the search box.
2. Expand Processors and then right click your AMD processor driver to Update driver.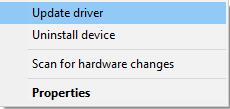 3. Determine to Search automatically for updated driver software.
The time Device Manager find the driver for your AMD Ryzen, FX-series processors, etc. you will notice your games and many other programs run much faster.
Method 3: Update AMD CPU Drivers from AMD Official Site
Understandably, users can't help resorting to AMD support for AMD processor drivers. Though a little troublesome, AMD site offers all the driver updates, AMD CPU, graphics card, and chipset drivers, etc.
1. Bound for AMD Support.
2. On AMD site, Select your product and then Submit.
You can either choose to select from all products or from the list. Here try to select from the list AMD Processors with graphics > AMD Ryzen Processors > AMD Ryzen model.
3. Under the category of Drivers and Software, find out the AMD CPU driver and then Download.
Upon installing the AMD Ryzen or A-series, Athlon processor drivers, check if error 1603 AMD driver partially or not installed persists on Windows 7, 8, 10.
To sum up, whether you hope to update the AMD processor driver for better PC performance or to fix AMD driver issue like AMD error 182, from this tutorial, you will get what you want for your AMD processor i3, i5 or i7.
More Articles:
Solved: AMD Catalyst Controller Center Cannot Be Started
How to Use AMD Virtual Super Resolution on Windows 10
Tags :
amd
cpu usage
drivers