What is CTF Loader (ctfmon.exe) and How to Disable it
Contents:
How to Disable CTF Loader on Windows 10/11?
CTF Loader Service Overview:
Normally, there will be a ctfmon.exe in task manager. It will not take up so high CPU or disk usage on Windows 10. But few of you know for sure what Windows CTF loader is on your PC, not to mention how to disable ctfmon on Windows 10. Now, this post will walk you through the CTF loader (ctfmon.exe) in detail.
What is ctfmom.exe?
Is CTF safe? Is it a virus? That is often the question plaguing you. The answer is Not. You can see from what this CTF loader is used for on Windows 10.
The ctfmon.exe is closely related to CTF loader, in which CTF is short for Collaborative Translation Framework). This task manager process is mainly used to offer service language and speech recognition on Windows 10. At the same time, ctfmon.exe devotes to waking up Microsoft Office language bar and Alternative User Input Text Input Processor.
Firstly released on Windows Vista, CTF loader can play its part in various text services, like text, speech recognition, handwriting and on-keyboard functionality.
From this perspective, it is not wise for you to disable ctfmon.exe service.
But if any anti-virus program, such as Avast, detects that the CTF loader is infected, there is much need to ascertain whether or not ctfmon.exe turned into a virus.
How to Disable CTF Loader on Windows 10/11?
Before you begin to remove ctfmon.exe from your PC, you may as well decide to figure out if the CTF loader in Windows 10/11 has become a virus.
Methods:
1: Detect CTF Loader Error on your PC
2: Disable ctfmon.exe Service in Windows 10/11
3: Disable CTF Loader Automatically
Method 1: Detect CTF Loader Error on your PC
Under normal circumstances, your ctfmon.exe file is located at C:\Windows\System32 folder, or System 64 folder. While once your anti-virus program tells you this CTF loader becomes a potential virus, the ctfmon.exe file will be found elsewhere.
At this moment, go on to check the working condition of the ctfmon.exe on your PC.
1. Double click This PC from your Desktop to open it.
2. In This PC, navigate to C:\Windows\System32. And then find out exe in System 32 folder. Here if your PC is on 64-bit, you should open the System 64 folder.
3. Then right click the ctfmon.exe file to go to its Properties.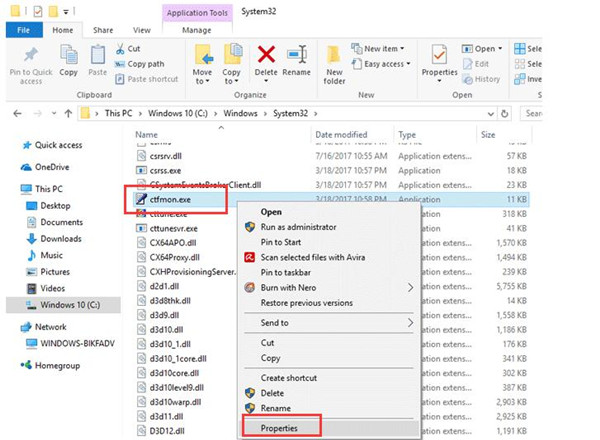 4. In ctfmon.exe Properties, under the Details tab, make sure the Digital Signature is Microsoft Corporation.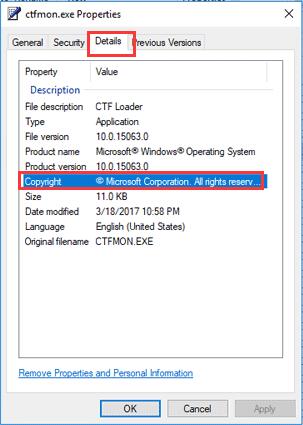 Upon the time you checked the location and digital signature of the CTF loader process. You are able to decide whether you need to remove this ctfmon.exe from Windows 10/11.
If you can find it in the designated folder and the digital signature matches well with the right one, it means the CTF loader is not a virus on your PC. And you may as well do not to disable it on Windows 10.
But if you cannot locate it or the digital signature is incorrect, it is available for you to stop it on your PC.
Method 2: Disable ctfmon.exe Service in Windows 10
Only when you have no need to use the alternative input method or the CTF loader service is problematic would you better choose to stop the ctfmon.exe.
At the very beginning, you are to check if CTF loader is performing well in the task manager as you can see from the screenshot. On the basis of that, follow the steps below to disable CTF loader at startup on Windows 10/11.
1. Hit Windows + R to activate the Run box and then type in services.msc in the box. Then click OK to move on.
2. Then find out and right click Touch Keyboard and Handwriting Panel Service to open its Properties.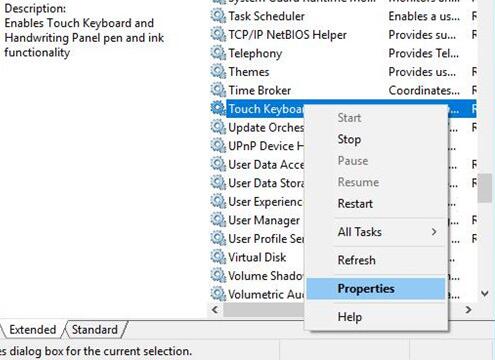 This service is relevant to CTF loader.
3. Then in Touch Keyboard and Handwriting Panel Service Properties, locate Startup type and then set it as Disabled.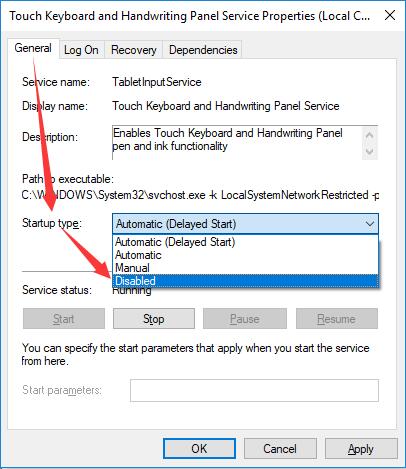 4. Finally, click Apply and OK to save changes.
In this sense, your ctfmon.exe will be disabled successfully. From then on, there will be no more CTF loader running on Windows 10.
Method 3: Disable CTF Loader Automatically
Here if you wish to manage ctfmon.exe more effectively, you may as well make the most use of Advanced SystemCare. Startup Manager in it will make it more convenient and user-friendly to enable or disable or even delay CTF loader service.
If you failed to disable ctfmon.exe on Windows 10, it is necessary and helpful to turn to Advanced SystemCare Startup Manager.
1. Download, install and run Advanced SystemCare.
2. Then locate the Toolbox tab and hit Startup Manager to get it running in Advanced SystemCare.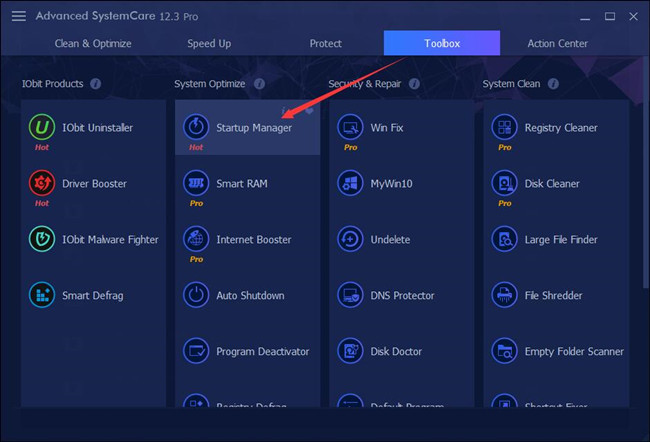 3. In IObit Startup Manager, under the tab Services, find out and then choose to set ctfmon.exe as Disabled.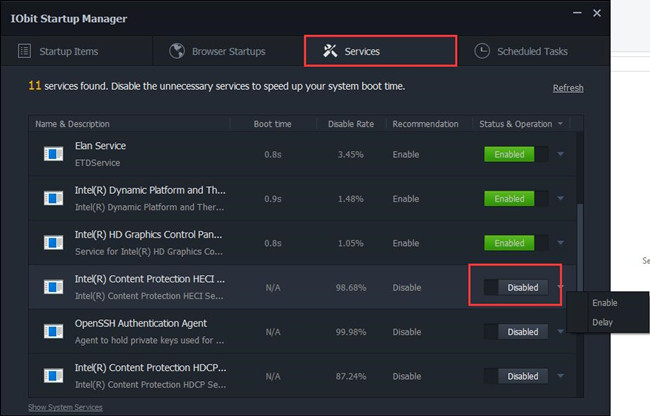 4. Or under Startup Items, if you see ctfmon.exe, disable it as well.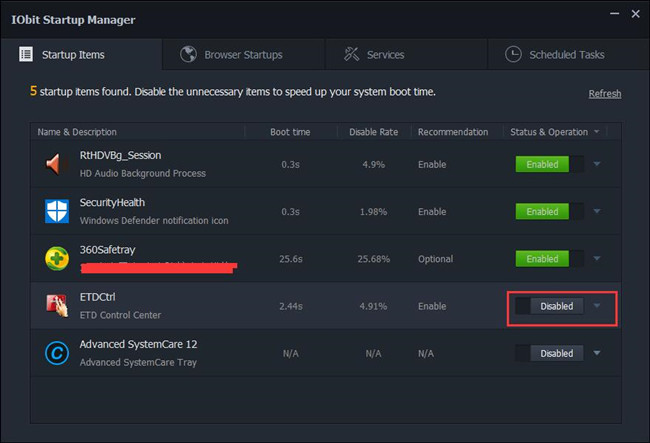 It is also accessible to delay the CTF Loader service if it causes problems to certain programs.
To make a summary, if you would like to know more about the ctfmon.exe file, you would better come here to get through that with the help of this post.
More Articles:
How to Fix Unsecapp.exe Issue on Windows 10/11?