What is IAStoricon.exe Delayed Launcher and How to Disable it
All of a sudden, you stumble upon delayed launcher or iastoricon.exe high CPU or application error for unknown reasons.
Contents:
IAStoricon.exe Overview
When you open Task Manager, just to see there is a Windows 10 process named iastoricon.exe eating much CPU of your PC.
Like other files in form of .exe, such as the mrt.exe file, the iastoriconlaunch.exe can be somewhat dangerous on your PC as it is a kind of executable files on Windows 10/11.
There is much need for you to penetrate this Intel IAStorIcon.exe system error on your computer.
Then in the first place, it is advised that you learn about the concept of this Intel Rapid Storage Technology and what it is used for on Windows 10.
On that basis, things would be much easier to solve iastoricon.exe application errors. And you can decide if you are to disable the iastoricon.exe.
What is IAStoriCon.exe?
This Intel IAStorIcon.exe is also called Delayed Launcher, which belongs to Intel Rapid Storage Technology (RST) released by Intel Corporation.
In terms of the function of this iastoticon.exe Windows process, it is used to delay Windows startup for 30 minutes when you start the PC with a user account. In this way, this RST makes it possible that the Intel Rapid Recovery Technology to restore the hard disk from your recovery partition on Windows 10/11.
When the RAT works on your PC, IAStorIcon will pop up and run before any other programs installed on your PC. That is why you can notice the icon if Intel Rapid Storage Technology after you used the delayed launcher at startup Windows 10.
To put it in simpler words, the iastoriconlaunch.exe is capable of delaying your system when the recovery option is needed in the login-in interface.
Thus, this Intel iastoricon.exe is needed at startup.
Can I Remove IAStorIcon.exe on Windows 10/11?
Though the iastoticonlaunch.exe delayed launcher is compensable in some cases, you can also uninstall it if that is what you wish.
The iastoricon.exe won't take up much CPU on your PC. And if it is needed, you can try to disable it for Windows 10 as the delayed launcher is not so vital on Windows 10.
Especially upon the time you run into iastoticon.exe has stopped working error Windows 10, if you have no idea how to fix this delayed launcher, you would better manage to remove the IAStorIcon.
How to Fix IAStorIcon.exe Application Error on Windows 10/11?
Any problems with the iastoriconlaunch.exe delayed launcher, high CPU or stopped working, there are certain methods you can try in order to run the Intel Rapid Storage Technology well.
Solutions:
Solution 1: Run SFC and DISM
When it comes to an error related to file, you can make use of the System File Checker (SFC) to scan for your system files, there is no exception to iastoricon.exe file on Windows 10/11.
And there is also another tool named DISM, namely Deployment Imaging System Management. It can resolve the system image issue on your PC.
Maybe the file corruption fixing is capable of getting rid of the iastoricon.exe error.
1. Search in Command Prompt in the search box and then right click it to Run as administrator. Hit OK to move on.
2. In Command Prompt, type in sfc/scannow and then press Enter to run SFC.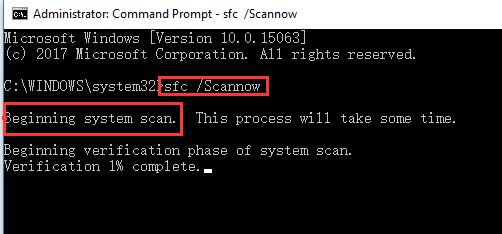 Then you can observe the System File Checker begins its searching and if it finds any corruptions in files, it will automatically correct it for you.
After that, in Command Prompt, try to copy and paste the command dism /online /cleanup-image /restorehealth to perform DISM.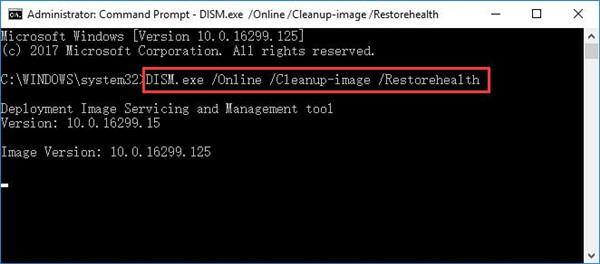 Once the image and file problems are removed, you may as well choose to activate the Intel Rapid Storage Technology and check whether it can work or not on Windows 10.
Solution 2: Check for Windows Updates
Sometimes, the Windows 10 updates are able to bring you new features that better suits your needs. In the case where you are plagued by iastoticon.exe has stopped working in the startup on Windows 10.
1. Go to Start > Settings > Update & Security.
2. Under Windows Update, hit Check for updates.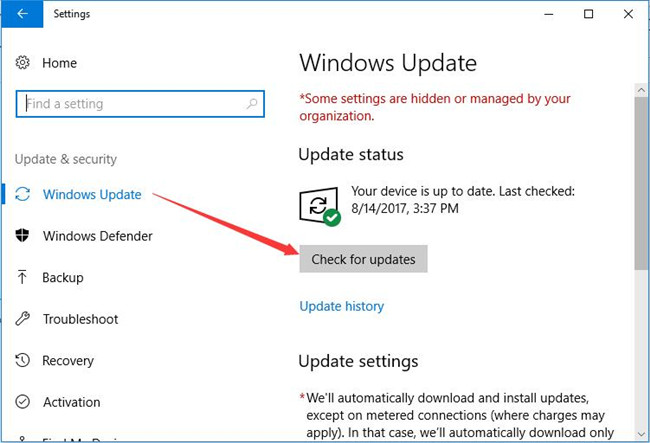 At this moment, if Windows system is updated, you can see the RST by Intel would also back to normal in recovery option.
And iastoticon.exe Windows process is not using high CPU in Task Manager as well.
Solution 3: Disable IAStorIcon.exe Delayed Launcher
If you noticed that it is useless to solve file or image error on Windows 10 so as to make iastoricon.exe system error disappear, it is high time you decided to remove this delayed launcher from your PC.
1. Right click Start and then select Task Manager from the list.
2. In Task Manager, under the Processes tab, scroll down to locate the IAStorIcon.exe process and then right click it to End task.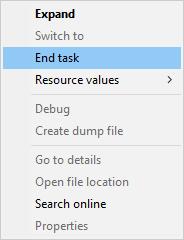 Then restart your PC to take effect. Of course, there is no more IAStorIconLaunch.exe system error Windows 10.
Solution 4: Disable IAStoricon.exe Service Automatically
In some cases, if you noticed that the IAStoricon.exe can't be stopped on Windows 10 as certain malware pretends to be Windows program using it, there is another way out. That is to say, try to use Advanced SystemCare to manage the IAStoricon.exe automatically with its Startup Manager.
Advanced SystemCare will not only afford you to disable, enable but also delay the IAStoricon.exe process on Windows 10, thus fixing IAStoricon.exe application errors.
1. Download, install and run Advanced SystemCare.
2. Under Toolbox, click Startup Manager to get it to run immediately.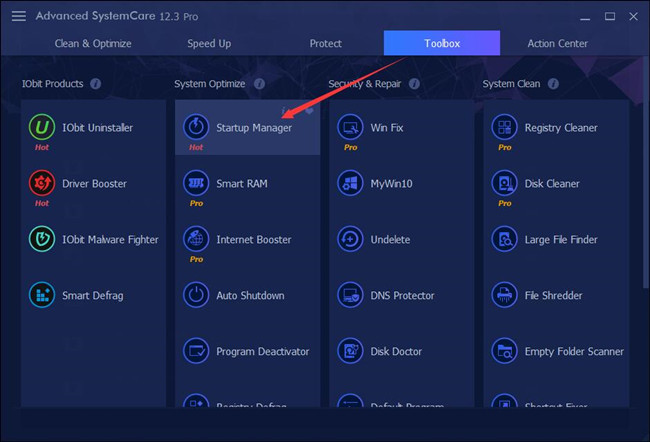 3. In Startup Manager, under Services, find out IAStoricon.exe service and then set it Disabled.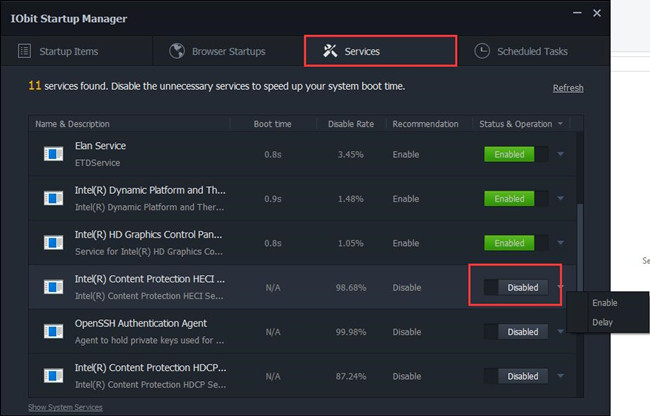 4. Or you can also locate Startup Items and disable IAStoricon.exe at startup.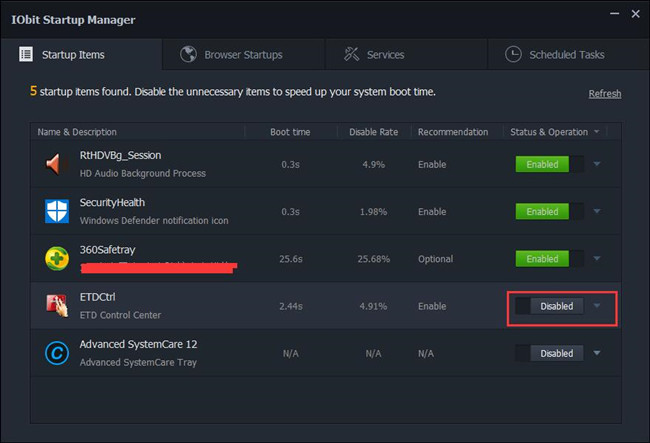 On that occasion, IAStoticon.exe high CPU, RAM or application error will disappear when you have disabled it from being used by problematic software or programs.
In summary, you can know basic information about this .exe file iastoricon.exe, including what the iastoricon delayed launcher is and how you solve IAStorIcon.exe not working on Windows 10.
More Articles: