Fixed: No Caps Lock Indicator on Keyboard Windows 10, 8, 7
It is often reported that when Windows users have just upgraded to Windows 10, their caps lock indicator disappeared and stops working anyway. Every time when they sign in, they have to enter silent passwords, which indicates they have no idea whether they are inputting with capital letters or the small ones. And it is rather tedious for them if they have typed wrong passwords just as there is no caps lock indicator on Windows 10.
Solutions:
4: Use Third-Party Keyboard Programmes
You may be extremely anxious to solve this problem for your computers, such as HP and Lenovo, at no time, just throw a glance to the methods below, you can handle it quickly and enjoy the Caps lock indicator features.
Solution 1: Turn on Toggle Keys
When you press the Caps Lock key, but there is no light, maybe you can try to turn on toggle keys to through the sound to remind you.
1. Goes to here: Start Menu > Settings > Ease of Access.
2. Locate at keyboard tab. In the right side, find the Toggle Keys to turn it on.

After you turned the toggle keys, when you press the caps lock key, scroll lock key and NUM lock key, you will hear a tone.
3. Locate at Other options tab.
4. In the right side, find the Visual notifications for sound, changes None option to one of the other options.

For these two options, if necessary, you'd better to turn off them to save the battery life.
Solution 2: Update Keyboard Drivers
If it happens to you that before you upgraded to Windows 10, the Caps lock indicator boasts of the features it possesses. But once you have logged on to Windows 10, the Caps lock or the Num lock indicators disappeared. This phenomenon may naturally remind you of the outdated or incompatible keyboard driver for Windows 10.
So try to update the keyboard driver to the latest version can be the first thing you need to do.
1. Search Device Manager in the search box and stroke Enter to open it.
2. Find out Keyboard and click it to open Keyboard Driver. Here it shows itself as HID Keyboard Device. Maybe yours is Logitech keyboard.
3. Right click the Keyboard driver to Uninstall.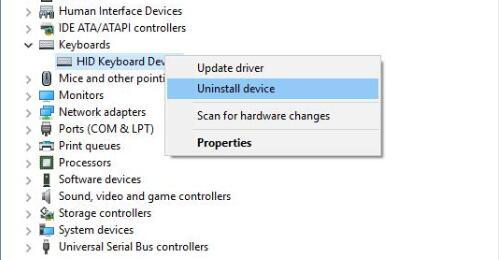 4. Confirm to Uninstall the Keyboard device driver.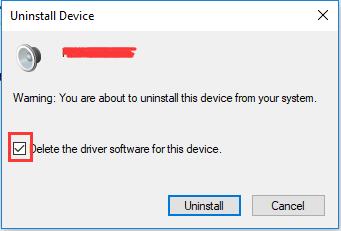 5. Restart your PC to let Windows 10 update your Keyboard driver automatically.
But if you want to make the process more convenient and quicker, it is wise of you to turn to Driver Booster for help, which focuses on helping people update any outdated or corrupted device drivers. You can gain the latest keyboard driver within one click.
1. Download, install and run Driver Booster on your computer.
2. Click Scan. After that, Driver Booster will scan all the devices including the keyboard devices, and find out the missing, outdated and faulty drivers.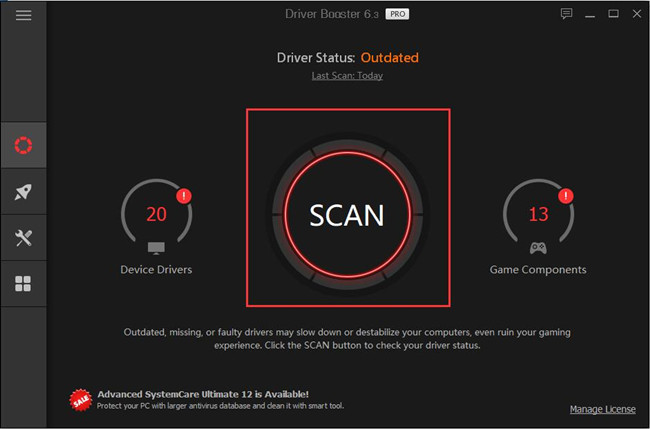 3. Click Update. Find your keyboard devices and click Update. This will helps download and update keyboard drivers automatically.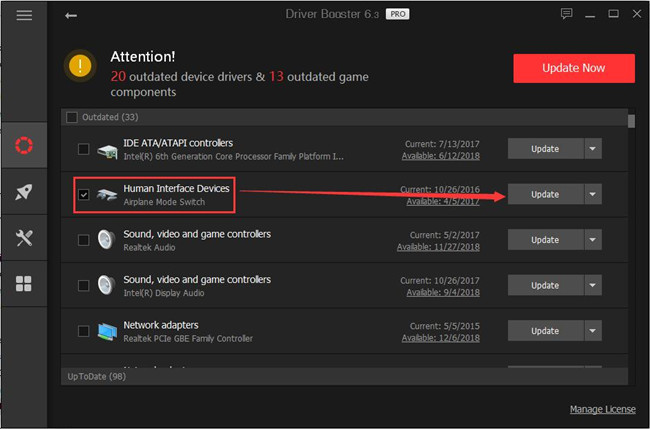 When you have gotten the updated keyboard driver for Windows 10, you can reboot your PC and check if the not working caps lock indicator has returned to normal.
Solution 3: Open On-Screen Keyboard
For people who have met with the Windows 10 Caps lock indicator not working issue, you would better to come up with a way to fix it rather than be confused about it. It is a feasible patch for you to open on-screen keyboard when you login to Windows 10.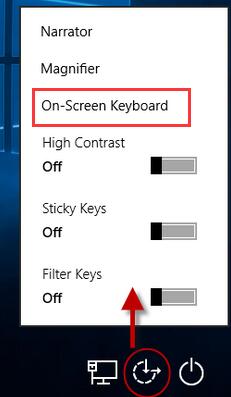 When you choose to use the On-screen keyboard, you are able to enter the passwords without the caps lock indicator on Windows 10.

The on-screen mouse can be a good alternative for you if there is no caps lock indicator on Windows 10 when you are inputting the passwords.
Solution 4: Use Third-Party Keyboard Programmes
For some Windows 10 clients, when you failed to use the caps lock indicator, to make things easier, you might as well download some useful software freely and safely.
Keyboard LEDs is a free utility with which you can use any Cruise Control keys as you like. In this way, you have no need to worry about why you have no caps lock indicator on Windows 10. When you installed and set up it well, you can also choose to set it at the system tray.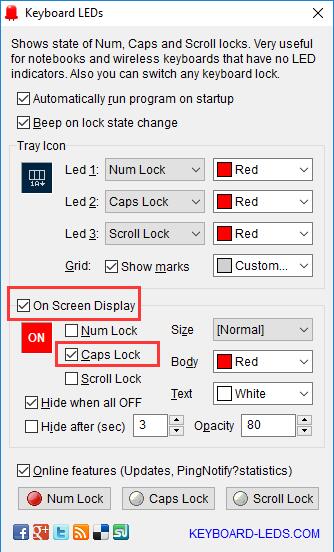 As long as you have installed it on your HP or Lenovo or any other computers, you are enabled to take advantage of it automatically.
Another one you can use is TrayStatus, which shows you the status of some keys, such as Caps lock, Num lock, and Scroll lock.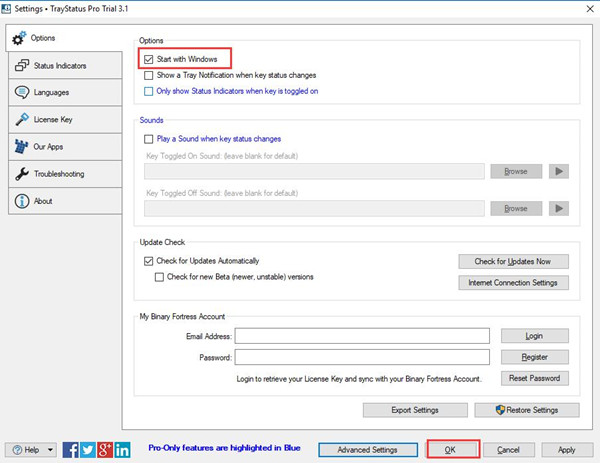 After you installed it on your PC, you can make a series of settings for TrayStatus, just make sure you have checked the option Start with Windows.
Solution 5: Fix it for Lenovo Users
Here if you are Lenovo users, there is also a way for you. When you find there is no power management there but Windows management is still running. You can manage to download and install the Lenovo Power Management driver which is independent of Lenovo display setting. Of course you can through update all lenovo drivers to install Lenovo power management.
Generally speaking, with these solutions devoting to fix the Windows 10 no caps lock indicator error, you are assured to solve this Windows error easily.
More Articles:
Solved: Function Keys Not Working Windows 10, 8, 7
Fixed: Start Menu Not Working Windows 10
Tags :
keyboard
shortcuts