5.1 Channel Surround Sound Not Working on Windows 10
Sometimes, many of you may meet the audio sound issue that your 5.1 surround sound is out of work. To be more specific, your audio sound channel –5.1 gets zero sound, and even when you are to press test, you can only get the error that it failed to play test tone. Without the 5.1 Channel surround, you may find you can only play the music on Stereo, which brings great inconvenience.
As for why speaker not working error happens to you, in a large sense, it lies in the audio driver issues, for instance, the audio driver is outdated or missing or corrupted or even damaged.
Therefore, this post will principally teach you how to resolve this surround channel 5.1 fails to work issue in terms of drivers. But for Realtek HD audio, you can also try to change the sound bit and frequency to see if it works.
Solution 1: Turn on Speaker Fill
As it has been suggested, in some cases, audio function of Speaker Fill can create virtual environment for playback of stereo audio sources on surround speaker system. Therefore, turning on Speaker Fill does work for some people who are confronted with surround sound not working on Windows 10.
If you can find out Speaker Fill in Sound settings, it is wise to enable it to see whether there is sound from the speaker.
1. Right click the Sound icon in the left corner of the Desktop and then select Sounds from the list.

2. Under the Playback tab, right click your audio device to open its Properties.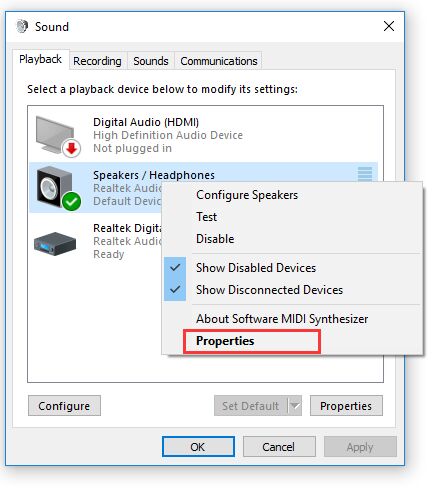 Here it is a speaker.
3. In Speaker Properties, under the Enhancements tab, choose to check the box of Speaker Fill and then hit Apply and OK to save changes.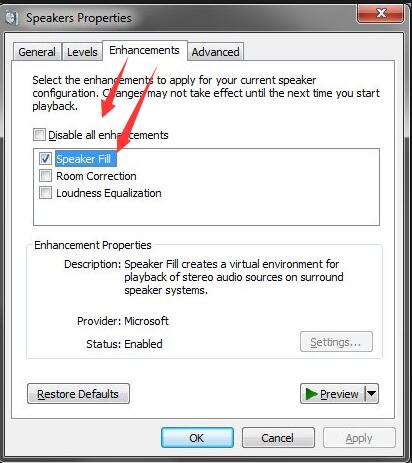 \
4. Restart Windows 10 to take effect.
For some clients, probably, Realtek 5.1 surround sound stops working will be fixed. But it doesn't matter even if you can't find Speaker Fill. Just move on for further steps to fix Windows 10 no sound issue.
Solution 2: Uninstall and Reinstall the Audio Driver
Usually, the outdated, missing or corrupted audio driver can result in your 5.1 channel surround sound problem, hence you would better try to uninstall the problematic audio driver and reinstall a new one.
2. Expand Audio inputs and outputs.
3. Right click the audio driver under Audio inputs and outputs to Uninstall it.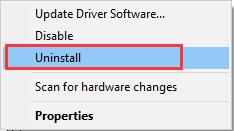 4. Confirm Uninstall Device.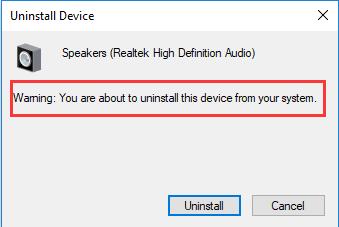 5. Navigate to the Action tab and choose Scan for hardware changes.
Then Windows 10 will automatically search online for the latest audio driver for you, you may also find your surround sound channel 5.1 is able to work normally with the new audio driver, such as Realtek HD audio driver on Windows 10.
Solution 3: Update Audio Driver
It is often the case that Windows 10 cannot install the compatible or latest audio driver for most of you, if it is the case, you are prompted to update the audio driver via the third-party software – Driver Booster, which is not only professional but also full of up-to-date device drivers, such as Realtek HD audio driver, Dolby audio or M-audio drivers.
Driver Booster is capable of downloading and updating Windows device drivers within clicks if you can make full use of it, and you can benefit a lot from it in solving 5.1 channel surround sound not working on Windows 10.
1. Download Driver Booster and install it on your PC.
2. After running it on Windows 10, hit Scan in Driver Booster to let it look for any missing, outdated, and faulty drivers.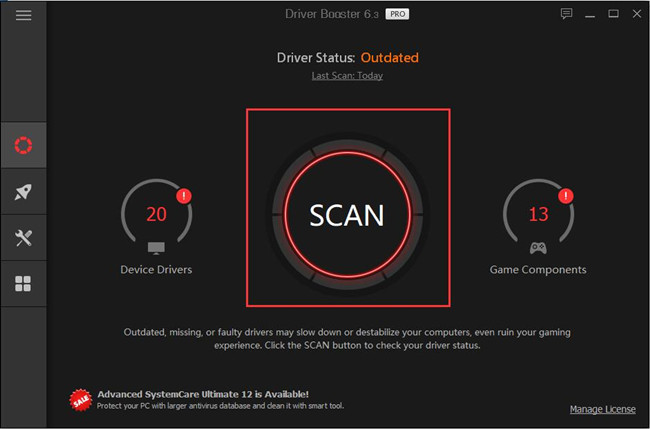 3. Then pinpoint the Sound, video and game controllers to Update the audio driver.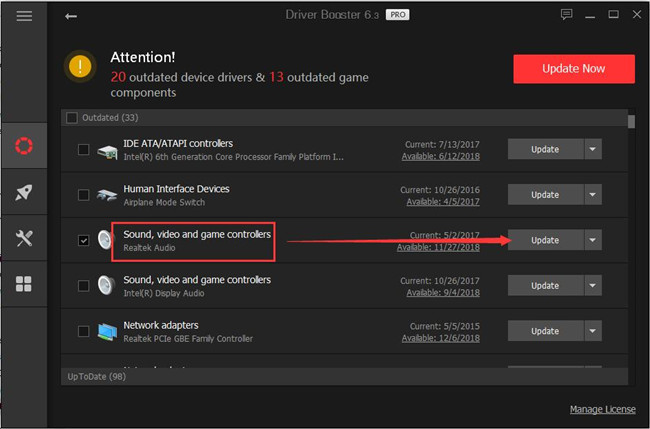 Driver Booster will download and install the latest Realtek 5.1 surround sound driver once it found your sound driver is incongruent with Windows 10. Or if Windows 10 5.1 surround sound error continues to hang over, you are supposed to take advantage of Fix No Sound functionality of Driver Booster.
4. Click Tools on the left side of Driver Booster and then hit Fix No Sound.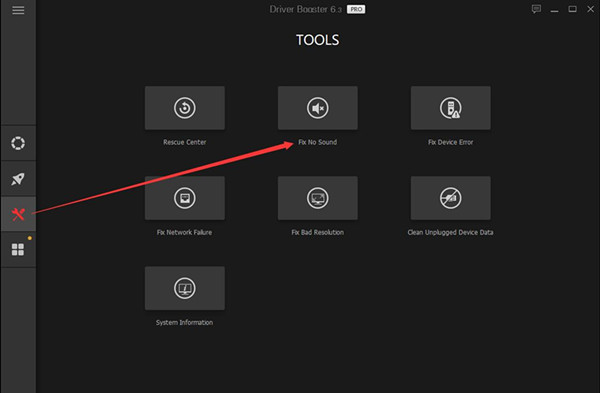 After Driver Booster updated the sound driver and detect the audio issue for you, attempt to play songs, movies to check if Windows 5.1 surround sound is working.
However, if you are obsessed to download or update the audio driver by yourself, you can also go to the official site of your audio, such as Realtek/IDT HD audio. Generally speaking, with the latest audio driver, your audio sound issue with 5.1 channel surround can be resolved. Nevertheless, if you are using Realtek HD audio, there is still a way out you can take to solve the 5.1 Channel surround sound not working with Realtek HD audio.
Solution 4: Change Default Format
AS long as you are taking advantage of Realtek HD audio device, either the Headset or speaker, you can choose to change the sound bit and frequency of the audio device in Realtek HD audio manager.
Open Realtek HD Audio Manager > Default format tab > change Default format.
Here you can change the sound bit and frequency until the Realtek HD audio can perform correctly on Windows 10.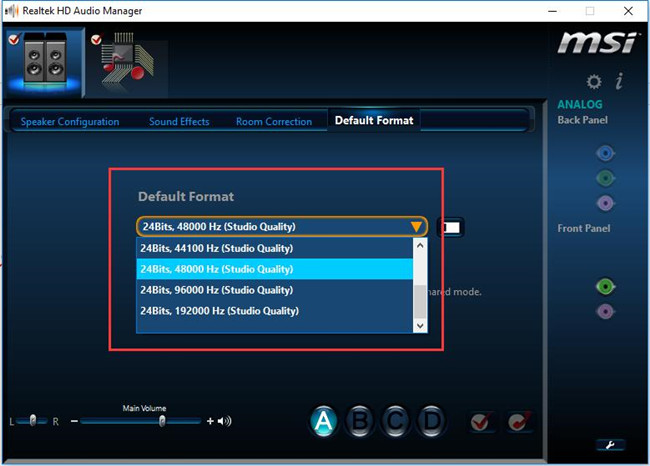 Having set the new default format, the 5.1 channel surround sound is available on Windows 10 now.
And here is the solution to fix Realtek HD Audio Manager missing or won't open on Windows 10.
Solution 5: Run SFC
On some conditions, even all the solutions above are useless. 5.1 Channel Surround Sound is just not working in Windows 10. Many of you tend to doubt about Windows system error. Especially, after you upgraded to Windows 10 1809 or whatever, this sound error keeps popping up. There is a high probability that system file corruption exists on Windows 10 after the upgrade or update, so you would better use System File Checker to detect and correct the corrupted files.
1. Type in Command Prompt in the search box and then right click it to Run as administrator.
2. In Command Prompt, enter the command sfc/scannow and then stroke Enter key to run SFC.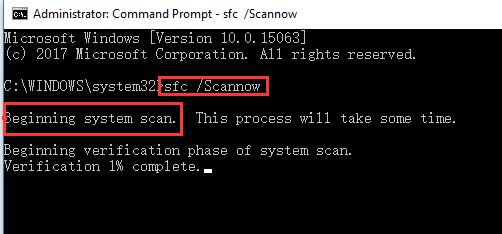 As you can see, SFC will start detecting system files and fixing the file error if possible. It is likely that SFC can fix Windows 10 audio problem.
In a word, to solve the 5.1 channel surround sound not working on Windows 10, the first thing you would be advised to do is solving the audio driver issue, for it is the main cause of this audio sound error on Windows 10, but as for Realtek HD audio, you are offered a different way, which is resetting the default format of the Realtek HD audio.
More Articles:
Fix Sound Icon Missing on Windows 10
3 Ways to Update Conextant Audio Drivers for Windows 10
Tags :
audio issues