Fix Actionuri OOP Server Keeps Running Windows 10
Contents:
Actionuri OOP Server Keeps Running Overview
There are various programs in Task Manager that controls the performance of Windows 10. Sometimes, when there is poor performance on Windows system, you can't wait to check the services running in Task Manager.
It is common that you see a process named Actionuriserver.exe living in the Task Manager with much CPU or high memory. Usually, that can lead to Blue Screen of Death or some other system errors, especially game stuttering with fps drops.
By referring to this thread, you are able to learn what Action Uri OOP Server is and how to resolve the ActionuriServer.exe error on Windows 10.
What is ActionUri OOP Server?
It is said both the programs Actionuri OOP Server and Reminders Winrt OOP Server are related to Windows 10 Cortana.
ActionUriSever.exe is the process used for Cortana to send information to Microsoft. And as for the reasons why you find this Actionuri OOP Server keeps using in Task Manager lie in that Cortana will often need it to perform itself.
Even if you have ended this program, it is likely that the ActionUriServer.exe comes back to Windows 10 as long as Windows Cortana is still running in the background.
After you got the main idea about the concept of Cortana process Actionuri OOP Server, now it is time for you to start to deal with Windows 10 ActionUri OOP Server remains running in the background.
How to Fix ActionUriServer.exe Keeps Running on Windows 10/11?
Just as it has been mentioned that the process Actionuri OOP Server is one of the components of Windows 10 Cortana, if you feel like to disable it to solve Windows 10 ActionuriServer.exe keeps running in Windows 10, you are to turn off Cortana feature with the following methods.
These ways can also be applied to Remainders Wirnt OOP Server high CPU or high memory Windows 10.
Solutions:
Solution 1: Fix Actionuri OOP Server Keeps Running Automatically
If you hate Actionuri OOP server keeps working on Windows 10, the first thing you need to do is disabling Cortana completely. That will prevent Cortana from using Actionuri OOP Server all the time. Here to save your time and energy, you can depend on Advanced System Care to automatically turn off Cortana on your PC, which is used among numerous users.
1. Download, install and run Advanced SystemCare.
2. Under Toolbox, hit MyWin10.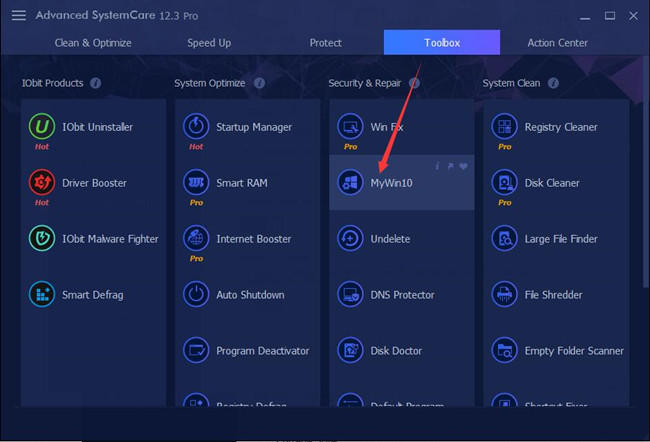 You can see Advanced SystemCare is installing this toolbox for you directly and quickly.
3. In IObit MyWin10, under Cortana Settings, switch off Enable Cortana option to Disable Cortana.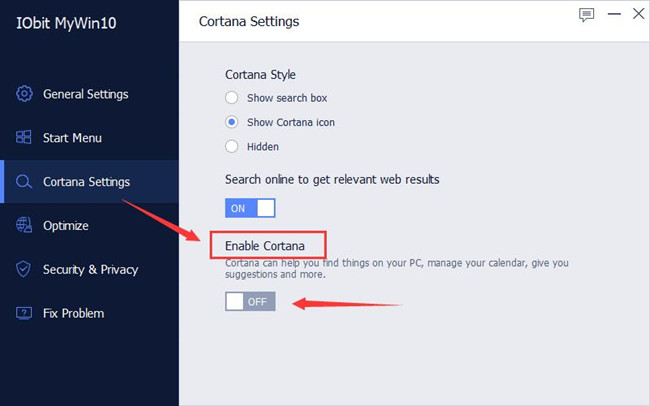 Go back to Windows 10 Desktop, it is likely Cortana is not showing up in the taskbar and Actionuri OOP Server won't always run on Windows 10.
Tips: Use Advanced SystemCare to Monitor and Protect your PC
In order to avoid other programs using Actionuri OOP Server and keeping it running, there is much need to detect the file, spyware, and registry with Advanced SystemCare.
In ASC, under Clean & Optimize, check the box of Select All and then hit Scan to give a comprehensive scan for your computer. Then Fix all the erroneous applications, registries, etc. Besides scanning for problematic items, ASC is also capable of speeding up the PC for games.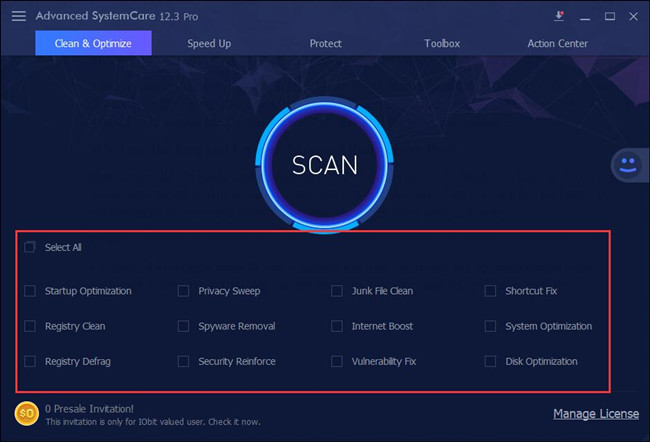 Solution 2: Turn Off Cortana Completely in Group Policy Editor
Since the Action Uri OOP Server and the Reminders Winrt OOP Server are the part of Cortana on Windows 10, to remove Background ActionUri OOP Server from background programs, the most effective way is to disable Cortana on Windows 10.
You would better attempt to stop Cortana from running in the background in Group Policy Editor. But you may know that there are different versions of registry editor on different Windows systems.
For your reference, take Windows 10 Home Local Group Registry Policy as an example. If you are on other Windows systems, just make some changes to some steps.
1. Press Windows + R to activate the Run box and then type in gpedit.msc in the box. Finally, stroke OK to move on.
Here as this computer is on Windows 10 Home edition, Local Group Policy Editor will be elevated.
2. In Local Group Policy Editor, go to Computer Configuration > Administrative Templates > Windows Components > Search.
3. Under Search, find out Allow Cortana and double click it to open its setting window.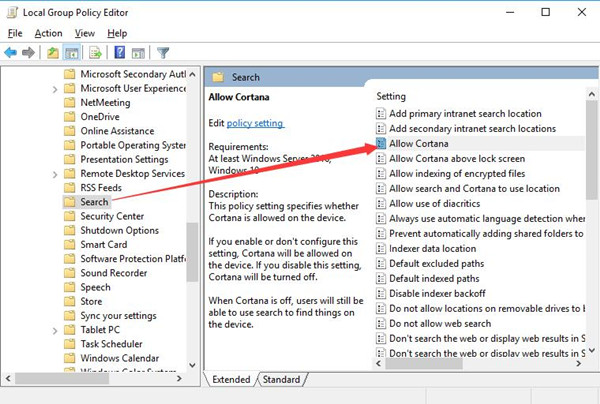 4. In Allow Cortana window, tick the circle of Disabled and then hit Apply and OK to save changes and take effect.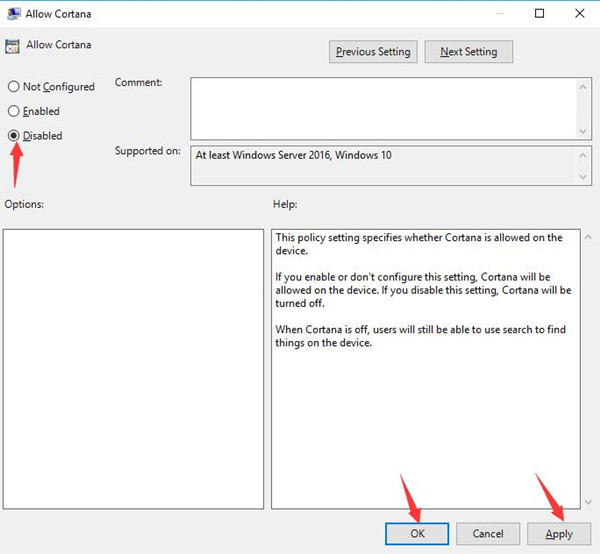 5. Then back to Local Group Policy Editor again, under Search again, on the right pane, locate Do not allow web search and open it by double clicking it.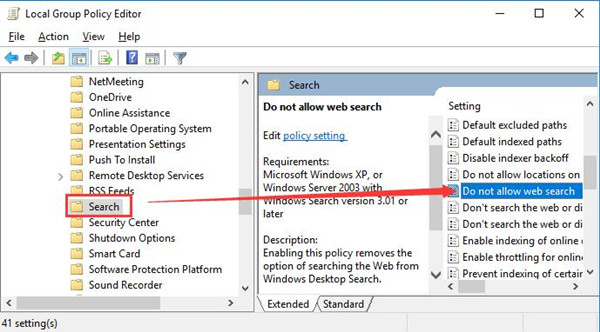 6. In Do not allow web search window, choose to set it as Enabled and then click Apply and OK to save changes.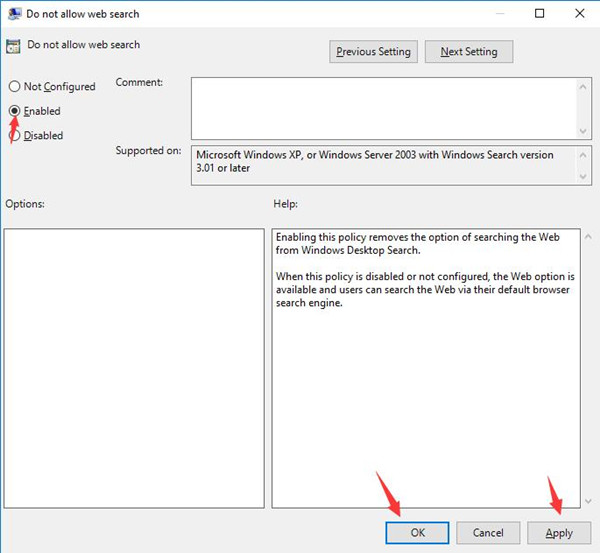 7. After that, you might as well manage to do the same to set Don't search the web or display web results in Search as Enabled.
In this sense, you will have completely removed Cortana as the assistant, though the Cortana as a process embedded in Windows 10 has not been uninstalled. While even if you have not successfully disabled Windows 10 Cortana, you can consult more ways to disable Cortana completely.
At this moment, it is possible that the Cortana error ActrionUriServer.exe is still used on Windows 10 or Reminders winrt oop server high CPU Windows 10 is resolved without the presence of Windows 10 Cortana.
Solution 3: Perform System File Checker to Solve Windows 10 Action Uri OOP Server Keeps Running
This time, you are supposed to make use of SFC (System File Checker) to scan for the corrupted or damaged system files and that related to Cortana ActionUriSever.exe process Windows 10. And then help you correct these files automatically.
1. Press Windows + R to elevate the Run box and then enter cmd in the box. At last, click OK to get into the Command Prompt.
Here you need to make sure you have the administrative privileges on Windows 10.
2. In Command Prompt, input sfc/scannow and then hit Enter to run System File Checker.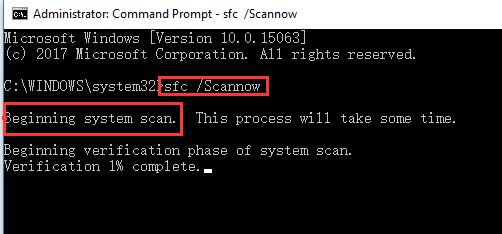 3. SFC is detecting the problematic files on your PC and fixing them for you automatically.
Soon after you removed the Action Uri OOP Server file corruption, it is obvious that Actionuri OOP Server will not remain in Windows 10 even if Cortana keeps running in the background. Maybe Reminders Winrt OOP Server high CPU disappeared, too.
Solution 4: Reload Windows 10 Drivers and Programs to Fix this Cortana Background Process Error
To avoid the possibility that it is the system issue causing Windows 10 to meet with ActionUri OOP Server keeps running in the background, it is suggestible that you try to run a clean boot for Windows 10 and then move into a Normal startup to load drivers again.
Prior to the time when you reload all the services, drivers, and programs for Windows 10, you should do a clean boot, and then you can tackle Action Uri Server.exe runs all the time in the background when Cortana keeps opening in Task Manager.
Now try to get to Normal startup in Windows 10.
1. Stroke Windows + R to open the Run box and then enter msconfig in the box.
2. Then in System Configuration window, select Normal startup and then click Applyand OK to save changes.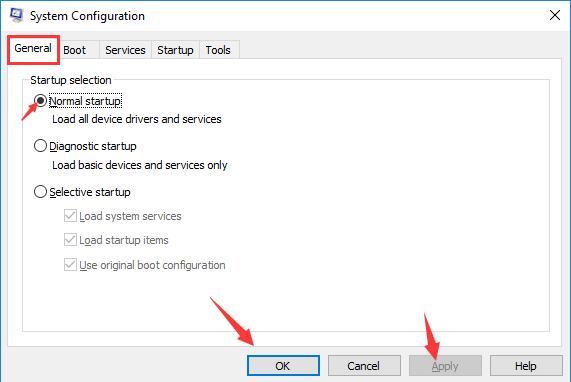 Then you will be reminded to restart your computer, at that time, hit Restart.
After you boot your PC the next time, check if the Actionurisever.exe is still running in Task Manager.
All in all, with regard to the Cortana problem-ActionUri OOP Server persists in running in Windows 10 though you have prevented Cortana from using, the most efficient way is to disable Cortana. You can try to do it by searching for this article.
More Articles:
How to Setup Cortana on Windows 10
How to Use Cortana on Microsoft Edge