Solved: Adobe Flash Player Not Working in Chrome
In normal cases, you will be asked to install the adobe flash player in such browsers like Google Chrome, Firefox, Opera, etc. when you want to hear an audio or watch video on the browsers. But sometimes, after you get the flash plugin on the browser, the flash for Chrome is not working.
While you are encountering this adobe flash player issue, the audio or video content will be unavailable for you on Chrome. So what is Adobe Flash Player? In brief, this adobe flash player is the software or plugin working on Adobe Flash platform to enable users to access video and audio on browsers like Google Chrome.
How to Fix Adobe Flash Player not working in Chrome?
Usually, when flash stops working on Chrome, it implies that something goes wrong with it or the settings related to it on the browser. Based on this fact, it is urgent that you try measures to fix this flash issue for Chrome on Windows 10, 8, 7 or Mac.
Solutions:
Solution 1: Enable Flash Player for Chrome
Understandably, even if the flash plugin has been installed in Chrome, you will also be prompted that the flash doesn't work in Chrome if you have not yet enabled it on your PC. Now get started to permanently enable flash for Chrome.
1. Open Google Chrome software.
2. In the search bar, copy and paste chrome://settings/content/flash and then hit Enter.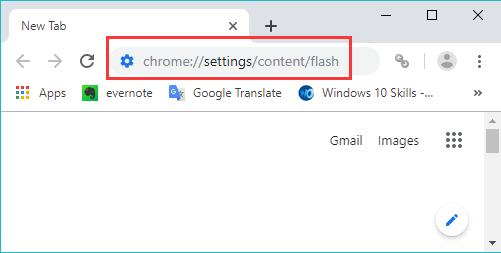 3. In Flash settings in Chrome, turn on Ask first (recommended) option and then make sure no sited added under Block. Or if there are certain websites unable to use flash player, you can also choose to Allow them in Chrome.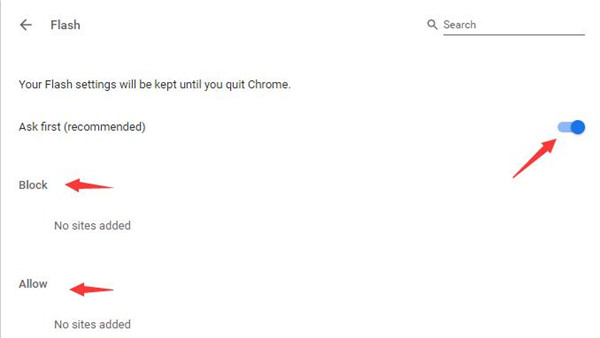 4. Restart Google Chrome.
Then try to listen to audio or watch a YouTube video on Google Chrome to see if the adobe flash player for Chrome not working will persist on Windows 10.
Solution 2: Check Flash Settings on Websites
For users who stumble upon Chrome flash not working on some specific websites, it is necessary for you to check the specific site settings for flash on Chrome. If the flash is blocked to work on these sites, it is natural that flash player is not working in Chrome. From this perspective, you would better make sure the flash runs well on the websites.
1. In Google Chrome, navigate to the site where adobe flash player is not working.
2. Then go to View site information > Site settings.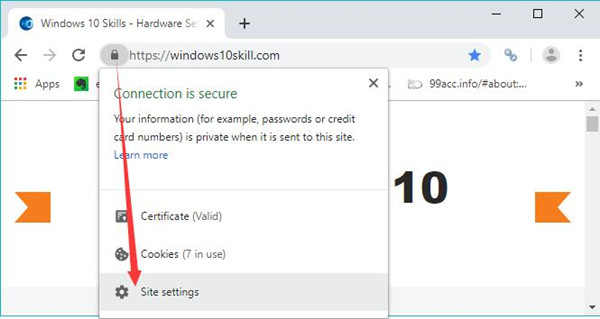 3. Then scroll down to find out Flash and Allow it to run on the sites.

4. Restart Chrome.
Open Google Chrome and head to this site again to check if the flash can work.
Solution 3: Update Adobe Flash Player
It is said that if the adobe flash player for Chrome is outdated or corrupted, it won't work for you. Hence, there is a surge of need to make sure this Chrome component is up-to-date on Windows or Android or Mac.
1. In Google Chrome, search chrome://components in the search bar and then press Enter.
2. Slide down to locate Adobe Flash Player and then Check for update.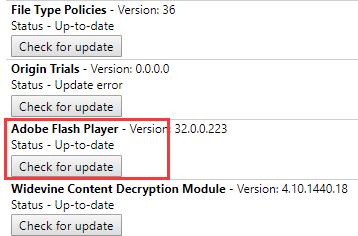 The moment flash for Chrome is updated, restart Google Chrome on your PC and then you will notice the flash plugin in Chrome works well on all websites. Here you can see that you are able to update Chrome components as you wish.
Solution 4: Update the Graphics Card Driver
To some degree, the problematic display driver can also cause flash not working in Chrome, making you fail to watch YouTube videos. In this sense, it is worth a shot to update the graphics driver so as to smoothen the working of adobe flash player.
Here if you have limited time, you might as well try Driver Booster to automatically help you update the driver. Driver Booster will search, download, and then install the latest driver for you.
1. Download, install and run Driver Booster.
2. Then click Scan. Driver Booster will start scanning for all the missing, outdated, and corrupted drivers on your PC.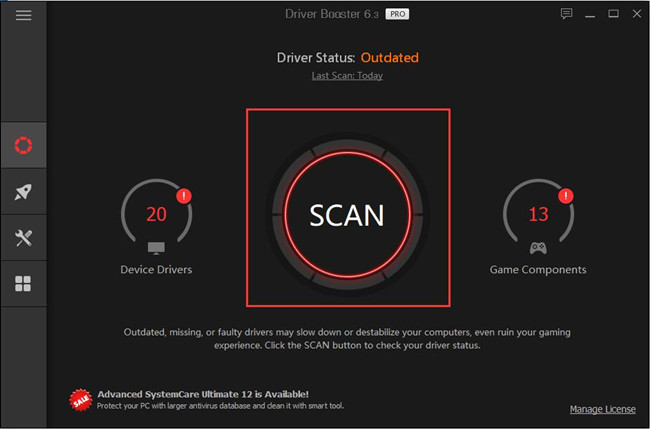 3. Find out Display adapters and then Update the display driver automatically.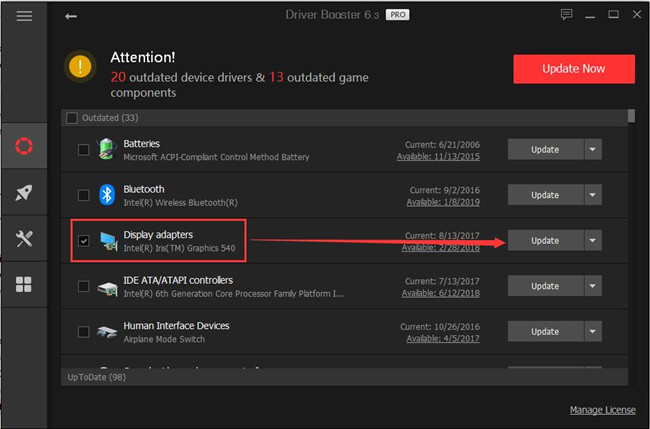 You can see Driver Booster is installing the driver automatically. Here if needed, try to allow Driver Booster to update the audio driver as well.
Solution 5: Update Google Chrome
Otherwise, there is also much need for you to update the Chrome browser for Windows 10. Perhaps the outdated Chrome affected the performance of the flash and it is possible that the new version of Chrome will bring more functionality that works well with the flash player.
1. In Google Chrome, hit the three-dot icon and then select Help > About Google Chrome.
2. Then Chrome will automatically check for updates.
After Google Chrome is updated, you can try opening the websites to hear the audio or watch the video again to see if the adobe flash player for Chrome is working properly now.
In a nutshell, it is wise to troubleshoot this flash not working in Chrome issue from the perspective of various aspects, like the flash itself, Chrome, and the graphics driver.
More Articles:
How to Enable Adobe Flash Player on Windows 10
What is Adobe GC Invoker Utility And How to Disable it at Startup
Tags :
chrome