Failed to Initialize BattlEye Service: Driver Load Error (1450)
BattlEye is an anti-cheat software that ensures that no player cheats during the game. Many games use this software as a defense mechanism. However, several users have reported recently that when launching the game, the BattlEye screen appears with the following error message: Failed to initialize battleye service: Driver Load Error (1450).
If you also encounter this error, don't worry. This article is designed to help you. In this post, we will provide five most suitable solutions that you can try to solve this error successfully.
# What causes BattlEye Service: Driver load error (1450)
BattlEye Service: Driver load error (1450) generally occurs in games with BattlEye anti-cheat service, such as PUBG, Fortnite, ARMA 3, Tom Clancy's Rainbow Six Siege, etc. This error message can be caused by the reasons listed below:
Antivirus software or firewall. They are preventing the BattlEye service from performing its operations freely.
Driver software is outdated. This can also cause potential problems because if the driver is not working, BattlEye will not load it.
Third-party collaboration tools, such as Discord, interrupt BattlEye's service.
Solution 1: Restart your BattlEye Service
To fix Failed to Initialize BattlEye Service: Driver Load Error (1450), the first solution you need to try is to restart the BattlEye service.
To restart BattlEye Services on your Windows PC, do the following:
Step 1: Press Windows key + R to open the Run dialog.
Step 2: In the Run dialog box, type services.msc and hit Enter to open Services.
Step 3: In the Services window, scroll down and locate the BattlEye service.
Step 4: Right-click on your BattlEye service, then select Restart.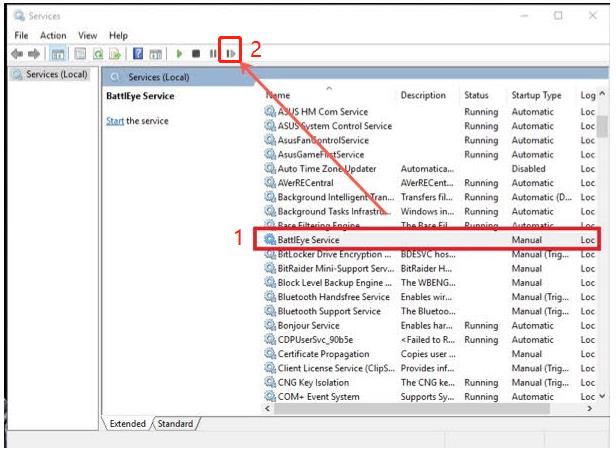 Step 5: Relaunch your game and check whether the error disappears.
If the error persists, move to the next solution.
Solution 2: Turn off test mode
During development and testing, drivers should test signed with a digital signature. And unsigned drivers are only allowed to be loaded in test load. You may get this error if you have any unsigned drivers on your computer and test mode is turned on. You can try turning off test mode to prevent unsigned drivers from working and solve this error:
Step 1: Click the Search icon on your taskbar.
Step 2: Type cmd.
Step 3: Right-click Command Prompt from the results, then select Run as Administrator.
Step 4: Once Command Prompt is up, run the command below:
bcdedit -set TESTSIGNING OFF
Step 5: Exit Command Prompt, then restart your computer.
Now you can check if your problem is resolved. If not, try solution 3.
Solution 3: Update your device drivers
Corrupted or outdated device drivers can also cause Failed To initialize battleye service: Driver Load Error (1450). Therefore, you should update your device drivers to better solve your problem. This article provides two methods of updating drivers: manual and automatic methods.
# Update device drivers manually
You can update drivers manually through Device Manager. But keep in mind that updating drivers yourself is a tedious, time-consuming, and complicated process. There is also a risk of installing wrong drivers which can lead to system instability issues. But if you are confident enough in your computer technology, you can also follow the instructions below to update the drivers in Device Manager.
Step 1: In the search box on the taskbar, enter device manager, and then select Device Manager.
Step 2: Locate if any error icon is shown in a particular device driver from the list.
Step 3: Right-click on it and choose the Update Driver option from the context menu.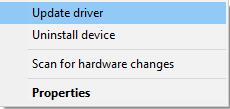 Step 4: Select Search automatically for drivers.
Windows will start to look for a newer version of the driver from the Internet. If the newer version of the driver is found, proceed with the installation.
Step 5: Restart your PC.
# Update device drivers automatically
As mentioned above, manual methods to update drivers are not for newcomers to computers, so we recommend using a driver update tool called Driver Booster to do it automatically.
With Driver Booster, the updating process becomes much easier and safer. After downloading this software, it will automatically detect your system and find suitable drivers for all outdated, missing and faulty drivers on your PC.
Besides, more than 8,500,000 drivers can be scanned and updated automatically, quickly, and safely. So, once the process is complete, you will notice a significant increase in the speed and performance of your PC.
Step 1: Download, install and run Driver Booster on Windows 11 or Windows 10.
Step 2: Click Scan.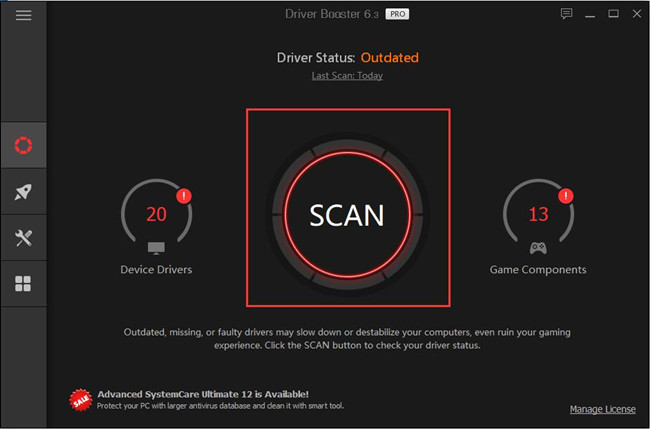 When clicking the icon Scan, Driver Booster will scan all the drivers installed on your PC and give you a list of outdated and missing drivers.
Step 3: Click Update Now at the top right to download and install all drivers automatically from the vendors.
Tips: You can also update drivers solely by checking the drivers you want to update and then clicking the option Update next to it.
Solution 4: Disabling Antivirus and Firewall
It's also possible that your antivirus software or firewall is blocking BattlEye. Antivirus software has been reported by users to cause certain issues and restrict driver access to BattlEye. So you can turn off all antivirus software on your computer and run the game as administrator to see if that fixes your problem.
To disable antivirus software, find its icon in the notification area of the taskbar (usually in the lower right corner of the desktop) or in the system tray. Right-click the icon and select the option to disable or quit the program.
Once you have disabled your security software, you can run the game as an administrator. You can right-click the game's executable (.exe) file or the game's desktop shortcut and select Run as administrator.
Solution 5: Check for Windows updates
This Failed To initialize battleye service: Driver Load Error (1450) error can also be caused by missing system patches. You can update your system and see if it helps your problem. You can do this:
Step 1: Right-click Start > Settings > Click on the Windows Update at the left pane.
Step 2: Locate and click the Check for updates button on the right panel.
Step 3: The system will start to search for and then download the newest Windows update if available.
Step 4: Click the Restart Now.
That's all there is to it about Failed to Initialize BattlEye Service: Driver Load Error (1450). Hope the five methods listed above can effectively help you resolve this error.
More Articles:
[10 Ways] Error Code Diver (6) in Call of Duty: Warzone
Windows cannot load the Device Driver for this hardware because a previous instance of the Device Driver is still in memory
Tags :
error code