[10 Ways] Error Code Diver (6) in Call of Duty: Warzone
Warzone is a popular battle royale video game for Windows PC, PlayStation 4/5, and Xbox One. However, sometimes the game also encounters various errors, and error code Diver and error code 6634 are common for most players.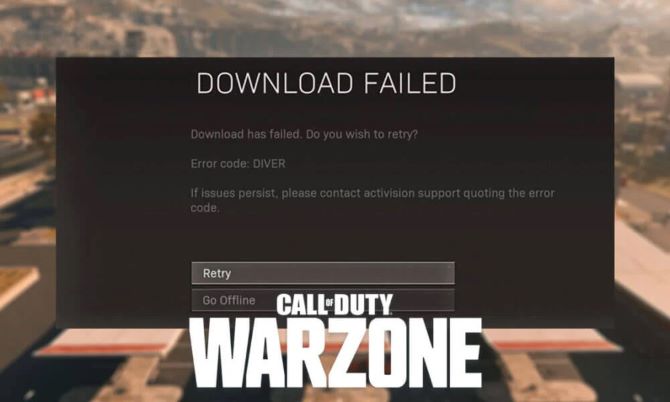 According to players, every once in a while, it raises its ugly head and prevents players from running the game properly. Activision has no clear guidance on what actually caused error code 6 (Diver) to occur. However, you shouldn't worry, there are ways to bypass it.
This article analyzes three main reasons in detail to explain why this error occurs and lists 10 effective ways to circumvent this error.
# The Main Causes of The Error Code Diver
After analyzing numerous user reports and articles, we found that error code Diver are often related to network issues or problematic device drivers. Also, corrupt or missing game files, server issues, firewall interference, and even system files can cause this error.
But the following can be considered as the main reasons:
Network Issues: Warzone may display the error Diver if a router restricts Warzone's access to important online resources.
Interference from Windows Firewall: Interference from firewalls that prevent Warzone from accessing essential online resources (or local directories), can cause Warzone Diver errors.
Corruption of basic system files: If the basic system files are corrupted or lost, you may encounter the Warzone error code Diver.
# Method 1: Restart the Game and PC
Oftentimes, problems with the game itself or the computer crash can cause the error code Diver in Warzone. And for the user, the oldest and easiest, and most effective fix for re-running the game is to restart the game, or better yet, restart your PC. This works for many players in Warzone who want to get back into the game and not waste any time fixing this error.
Step 1: Close the game.
Step 2: Right-click on Windows, select Task Manager, and end all the processes related to Warzone.
Step 3: Then restart Warzone and check if the error disappears and the game works well.
Step 4: If not, close the game again and shut down your system.
Step 5: Restart your PC and next launch Warzone to check if the error code dies away.
# Method 2: Restart the Router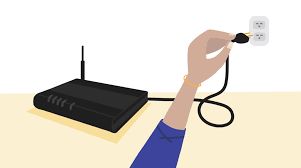 If you find that restarting your game and the system still doesn't work, another method you should try is to check if it's a local network problem. Your router may have been overloaded with data or some other issue that disrupted your internet, which could explain why you're getting this error code 6. In this case, restarting the router might fix it.
Step 1: Unplug the internet router from the socket.
Step 2: Hold the Power button on the back of your router until the router is turned off completely.
Step 3: Wait at least 5 minutes and re-plug the router into the socket again and press the Power button to restart it.
Step 4: Once the router is properly powered on, launch Warzone again to check if the game runs properly.
# Method 3: Try Another Network to Remove Error Code Diver
Problems with the type of network connection, such as a malfunctioning Wi-Fi card or interference with wireless signals from other electronic devices, can also cause this error code 6. In this case, you can fix the Diver error by trying another network.
Some players who have experienced the error code in COD Warzone have reported that they have fixed it by switching to a cellular data connection. So try switching your internet connection to your cellular data before downloading or updating the game to see if it fixes error code 6.
# Method 4: Check for Server Issues
If the error code Diver in Warzone still appears, you can check for any game server issues. While error code 6 is not caused by any specific server failure, if you keep getting this error code during an update or the process of playing, you should consider checking to see if the problem is with the game server itself, as the failure may not be on your side.
Click here: the official site of Activision to open the Activision support page and select Call of Duty: Warzone from the drop-down menu to check if all platforms are online.
If the service is down or under maintenance, all you need to do is wait until the server is back online. Alternatively, you can also follow their social media profiles for any latest updates.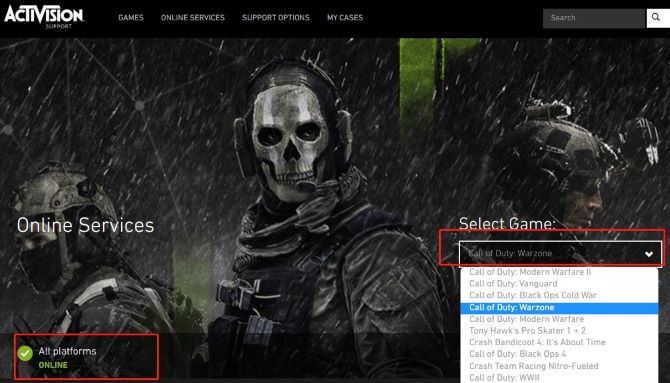 # Method 5: Scan and Repair Your Game Files
Error code 6 or Diver in Warzone may appear when some game files are missing or corrupted because such games need their own data files to manage the game's system. Of course COD: Warzone won't even function properly without them.
To check this, you can choose to scan and repair any lost or deleted game files in the Battle.net client. Specific steps are as follows:
Step 1: Launch your Battle.net client and log in to your account.
Step 2: In the left menu, choose Call of Duty: MW.
Step 3: Then click Options > Scan and Repair.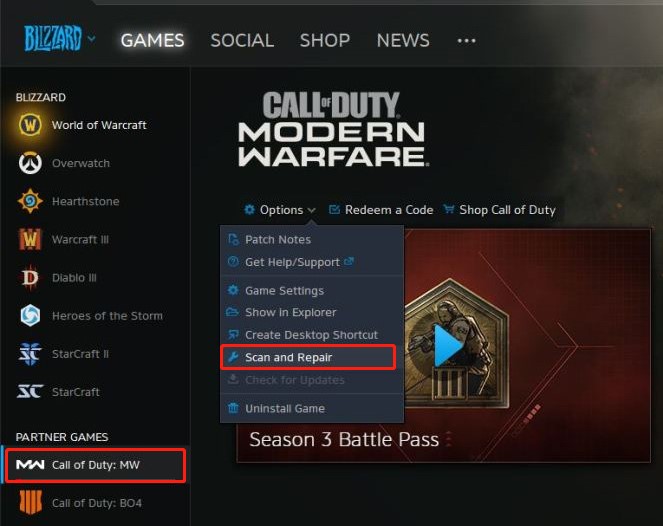 Step 4: Click on Begin Scan to start repairing the game.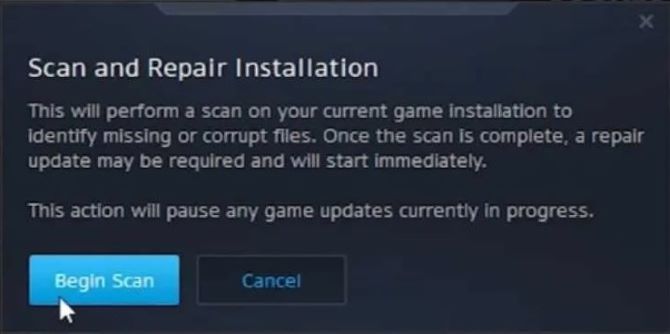 Once repaired, restart the game and see if the error code diver is cleared.
# Method 6: Update Your Device Drivers
Device drivers are critical to the proper functioning of hardware components on your computer. If you're encountering Error Code Diver in Warzone, it's likely that the drivers installed on your computer are corrupt, outdated, or otherwise incompatible. Once the driver is outdated or corrupted, you may encounter various issues, such as Modern Warfare error code 6. Therefore, you should update the driver to see if it solves the problem.
Driver Booster is an excellent software to download the latest drivers automatically for you. It scans all the outdated and missing drivers on your PC and updates them to the latest version in minutes. No need to worry as it is a proven software that can manage your drivers and update them accordingly without any threats.
Step 1: Download, install and run Driver Booster on your Windows PC.
Step 2: Click the icon Scan and the Driver Booster will start detecting all the outdated and missing drivers on your PC.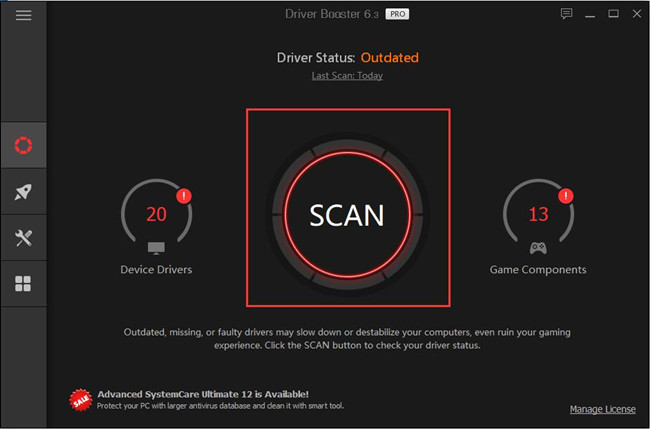 Step 3: After scanning, you can update all the drivers by one-clicking the Update Now on the top right.
# Method 7: Update the Game
It's a common rule for you to keep games up-to-date so that you can realistically run them with few issues. Because for a game like Warzone, if the game is not updated to the latest version, the game may not work as you want as it may cause incompatibility with your system or host servers.
Here, updating the Warzone game to the latest version may fix the problem. Please follow these steps:
Step 1: Close the Warzone game and end all the processes related to Warzone in the Task Manager.
Step 2: Now open the Battle.net launcher and select Warzone.
Step 3: Expand the Options menu at the top of the game page screen.
Step 4: Click on Check for Updates.
Tips:

If there are any updates available to download, wait for them to complete downloading. If not, allow the game to compile shaders in the main menu and then launch it.
# Method 8: Enable Firewall Network Access to the Game
Windows Firewall is a built-in Windows feature that protects your system by blocking external requests for data from your local computer. Sometimes error code Diver of Warzone is triggered due to over-protection of your firewall or antivirus program.
In this case, you should ensure that you have allowed your game to communicate through Windows Firewall.
Many people on Reddit have reported that this fix worked for them, and there's a good chance it will work for you as well. So it shouldn't be too difficult for you to achieve it by following the steps:
Step 1: Type Control Panel in the search box and then open it.
Step 2: Select the Windows Defender Firewall from the context menu.
Step 3: Click on Allow an app or feature through Windows Defender Firewall from the left pane.
Step 4: Click on Change settings.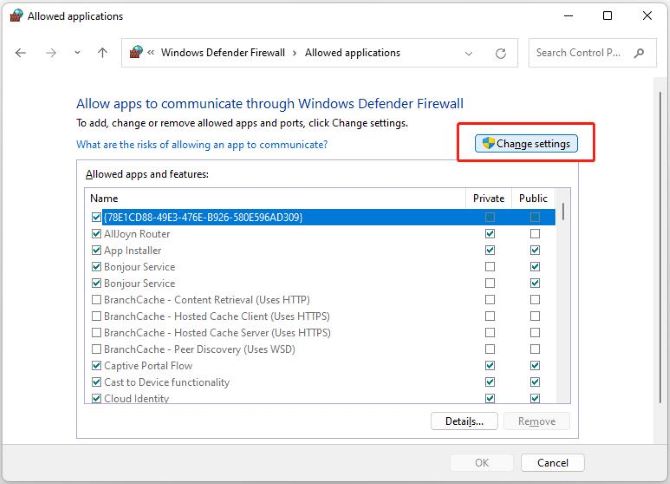 Step 5: Scroll down and find Warzone and then tick the checkbox for both Private and Public networks, and click OK to save the change.
# Method 9: Run SFC Scan to Repair Error Code Diver
Error code 6 in Warzone may occur due to corrupt or missing system files. To rule this out, you can check system files with the SFC utility. System File Checker (SFC) is a handy feature on Windows that helps scan your system files and repair missing or damaged system files. Here's how to do it:
Step 1: Click on the Windows logo key and type cmd. Then right-click on Command Prompt and click Run as administrator.
Step 2: In the command prompt window, type sfc /scannow and press Enter.

After that, the SFC tool will scan and try to repair the corrupted system files, and you can restart your PC for the change to take effect and see whether the error is cleared.
# Method 10: Uninstall and Reinstall Warzone
If you still get error code 6 of Warzone after trying all the methods above, you may want to consider uninstalling the entire game and reinstalling it.
Right-click the Start menu and select Apps and Features, then select the game from the list of installed programs and click Uninstall.
After uninstalling, you can re-download a new package from the game's official website and install it on your PC.
Keep in mind that this is an aggressive method as it requires you to download the entire game and updates, which is over 100 GB.
That's the end of this post. We hope the above 10 different types of methods helped you fix error code 6 in Call of Duty: Warzone.
More Articles:
Solved: Dev Error 5763 on Modern Warfare & Warzone
Fixed: Steam Error Code 80 (2022 Update)
Fixed: 0xc004e016 on a Computer Running Microsoft Windows non-core Edition
Tags :
error code